US Tire Market Size,Trends, Forecast & Risk 2020-2025
December 30, 2019

Request Sample
COMING SOON
Multi User License - $2,500
US TIRE MARKET
The U.S. Tire market grew by ~3% in 2018 and total U.S. tire sales grew to ~328 Million units and is expected to remain stagnant in 2019 .Although 80% of the market demand is generated from replacement, most tire manufacturers aim to get more OE contracts as it brings more visibility and credibility to the brand. The OE tire market in US is not as profitable as the replacement market but serves and important role in building brand equity.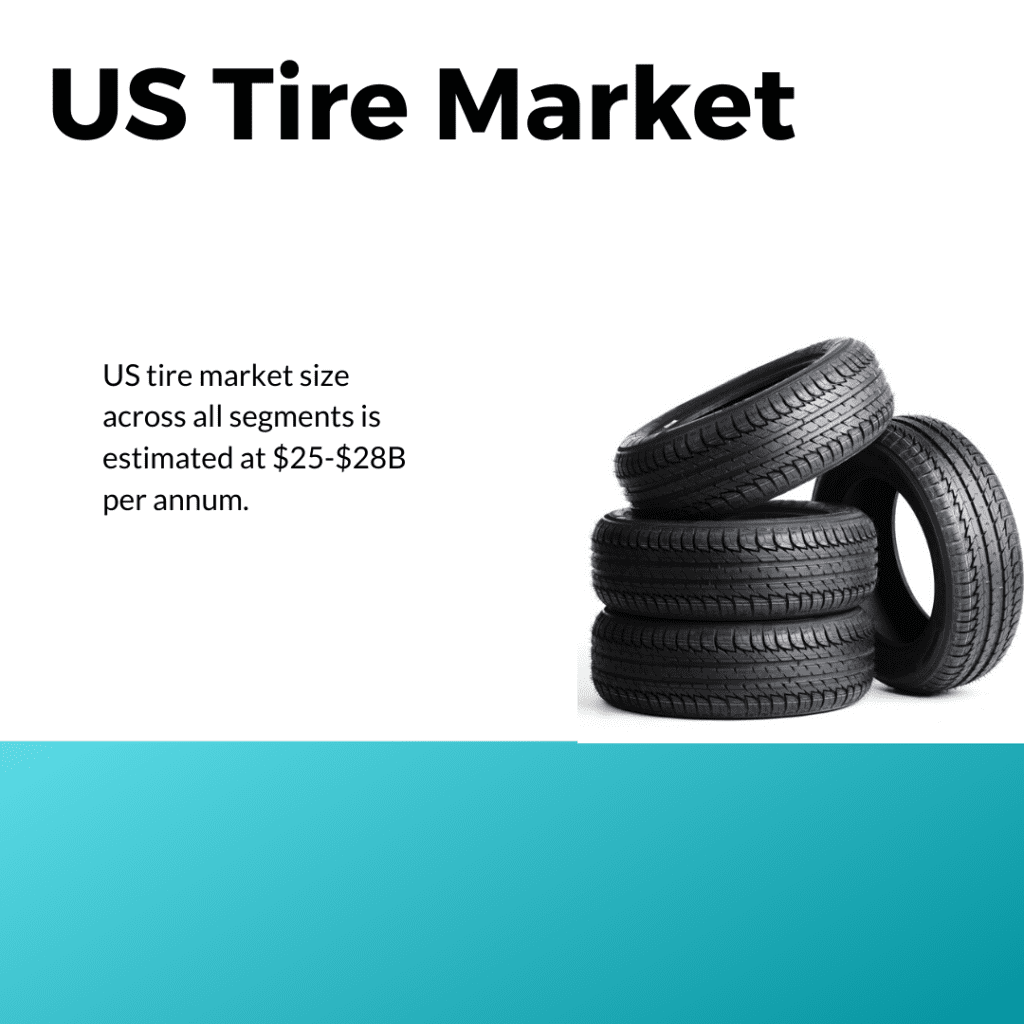 NEW PRODUCT LAUNCH
Dec 2019– Yokohama unveiled regional-haul trailer tire, the 114R Ultra Wide-Base which has advanced compound, offers cut and chip resistance with low rolling resistance or wear performance
Dec 2019– Hankook tire announced an AI based predictive model which could slash time required  to develop tire compounds,by 50%
Oct 2019– Continental unveiled its intelligent steer tires(identify punctures,slow air loss,stone ejectors) for trucks at the North American Commercial Vehicle Show
Sep 2019– Hercules tires launched dedicated winter tire for CUVs and SUVs
Jan 2019– Goodyear,launched its Endurance LHS in mid-2018 and in jan 2019 said that the new tire delivered an increase in wear range of up to 25% when compared to G399A and other steer tire models
MARKET SEGMENTATION
MARKET SIZE AND FORECAST
US tire market size across all segments is estimated at $25-$28B  per annum. 
The growth in Crossovers and SUVs which now command 55% share of new car sales in US will fuel growth in tire sizes.Traditional body-on-frame SUVs have remained relatively stagnant.The car manufacturers have introduced crossovers in all segments. For example, there are compact /subcompact crossovers, performance oriented luxury crossovers  and three-row, full-size crossovers. 
The market trend will shift from 17 -18 inch wheels at present to growth in 19, 20, 21 inches  as more OEMs offer more trim packages with bigger wheel options.There is also a growing demand demand for all-terrain tires which can offer  balanced performance on on/off road.
In the replacement market,there is also a growing demand for the all-weather tires, which have more than average mileage expectations and are snowflake certified.We expect tire manufacturers to add new well differentiated CUV and SUV tires in the same size segments to try to attract consumers to their unique offerings.
COMPETITIVE LANDSCAPE
The US tire market has more than 15 players but the market is consolidated, with top 3-4 players accounting for more than 60% market share. With ongoing increase in raw material cost of tires, six foreign tire makers have committed to projects totaling $3.28 billion in 2016-2019. The new entrants will exert competitive pressure in the OE as well as replacement tire market. For example, Hankook Tire America, built its first U.S. plant in  in 2017 and it  has already won contracts to supply certain platforms of  Volkswagen, Ford, Honda, Toyota and Nissan.
COMPANY PROFILES
THIS REPORT WILL ANSWER THE FOLLOWING QUESTIONS
  Market Size and Forecast of US tire market (Volume and Value)
  Market Trends,risks, drivers and opportunities in US tire market
  Market share of tire manufacturers in US
  Growth strategy and expansion plans of tire manufacturers in IUS
  Impact of growing online tire sales on US tire market replacement demand
| | |
| --- | --- |
| Sl no | Topic |
| 1 | Market Segmentation |
| 2 | Scope of the report |
| 3 | Abbreviations |
| 4 | Research Methodology |
| 5 | Executive Summary |
| 6 | Introduction |
| 7 | Insights from Industry stakeholders |
| 8 | Cost breakdown of Product by sub-components and average profit margin |
| 9 | Disruptive innovation in the Industry |
| 10 | Technology trends in the Industry |
| 11 | Consumer trends in the industry |
| 12 | Recent Production Milestones |
| 13 | Component Manufacturing in US, EU and China |
| 14 | COVID-19 impact on overall market |
| 15 | COVID-19 impact on Production of components |
| 16 | COVID-19 impact on Point of sale |
| 17 | Market Segmentation, Dynamics and Forecast by Geography, 2020-2025 |
| 18 | Market Segmentation, Dynamics and Forecast by Product Type, 2020-2025 |
| 19 | Market Segmentation, Dynamics and Forecast by Application, 2020-2025 |
| 20 | Market Segmentation, Dynamics and Forecast by End use, 2020-2025 |
| 21 | Product installation rate by OEM, 2020 |
| 22 | Incline/Decline in Average B-2-B selling price in past 5 years |
| 23 | Competition from substitute products |
| 24 | Gross margin and average profitability of suppliers |
| 25 | New product development in past 12 months |
| 26 | M&A in past 12 months |
| 27 | Growth strategy of leading players |
| 28 | Market share of vendors, 2020 |
| 29 | Company Profiles |
| 30 | Unmet needs and opportunity for new suppliers |
| 31 | Conclusion |
| 32 | Appendix |