Global Virtual Reality Headset Market 2020-2025
November 9, 2020

Request Sample
Coming Soon
Multi User License - $2,500
GLOBAL VIRTUAL REALITY HEADSET MARKET
INTRODUCTION
Virtual Reality(VR) headsets were formally and famously introduced for the gaming communities to make the games much more realistic and to be able to interact more. We have now come a long way from that time where VR headsets are now being used for much more than just games. These headsets have also attracted attention in the field of education, travel, medicine, architecture, aerospace, etc.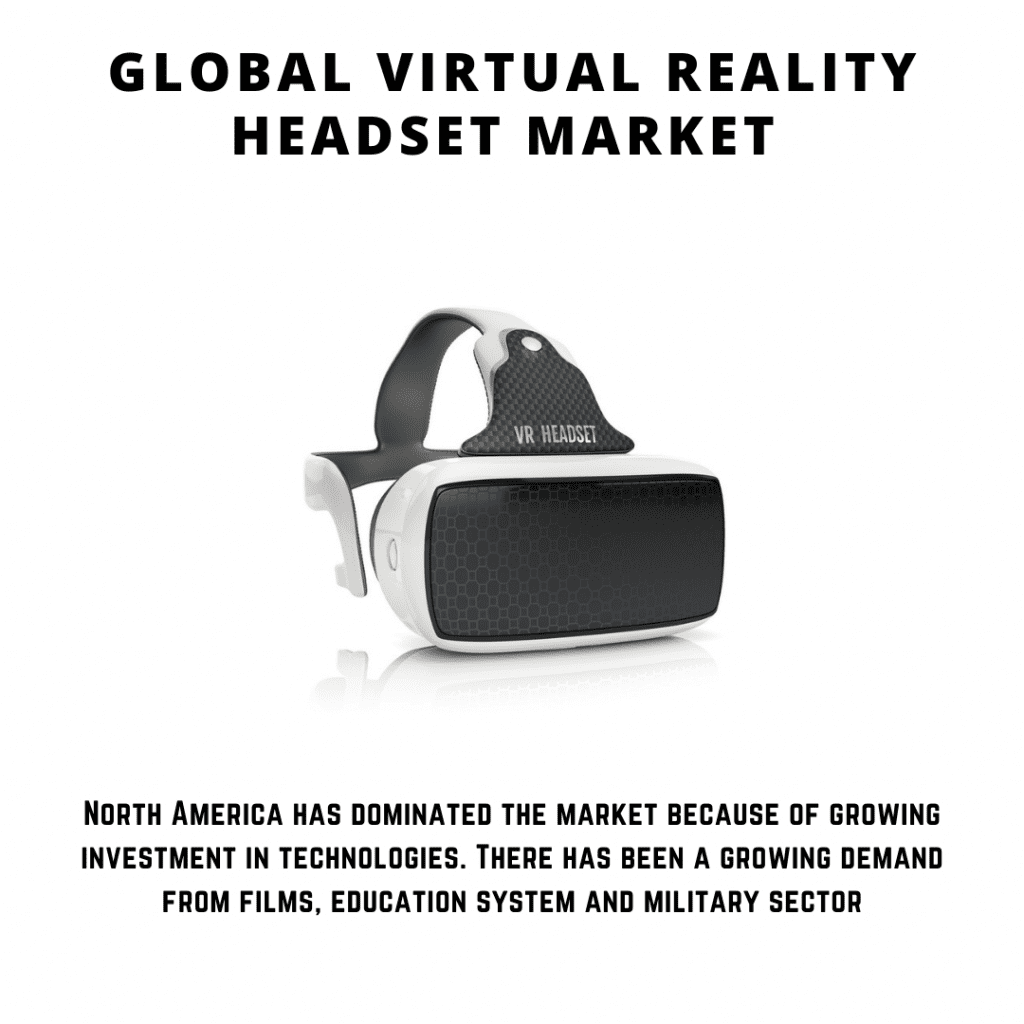 MARKET DYNAMICS
 While the headsets have been widely popular and saw a major investment by Facebook in Oculus since 2012, the pick up has been slow due various reasons. One of those are Headset's design, cost and implementation of the technology, compatible with games or applications, etc. Some headsets are also not compatible with apple phones losing out on significant market opportunity.
MARKET SIZE AND FORECAST
North America has dominated the market because of growing investment in technologies. There has been a growing demand from films, education system and military sector.
Growth in Asia-Pacific with a high CAGR due to growing technological advancement in these regions and the rise of middle class and high income houses. Growing innovations in the quality, size, and build of display, headset, etc is also expected to lead to low cost of production and thus more affordable headsets which will lead to more sales.
The Market is also set to grow post COVID era where the new normal would be of more employees working from home and attending meetings and conferences at home, which would be made into a better experience with VR headset technology.
In addition to this, the field of education would also set to gain from this technology as more online than offline classes are set to be taken. Same is the case with the tourism and medical sectors.
One of the restraints that the market would have to face is the restraints of the size and compatibility of these headsets with a wide variety of add-on machines and affordability by a large part of the population. Not only that but some roadblocks in specific factors like scoping the surrounding using cameras or sensors which would make the headset more realistic than game like, will affect the market.
COVID-19 IMPACT ON VIRTUAL REALITY HEADSET MARKET
COVID-19 has affected all market spaces in one way or another. While the market was negatively affected in some ways the pandemic had also accelerated the growth of VR headset.
One of the examples is seen in Germany, where the German National Tourist Board (GNTB) gave viewers an opportunity to go on trips in the country, and be a part of its Baltic and North Sea coasts. This is a great application of VR technology as it can be an exceptional way to help make clients feel more comfortable to travel after the pandemic.
On one hand the market for the production of VR was negatively affected during the pandemic due to production stoppage and transport, just like any other market. On the other hand, the absence of travelers, tourism boards, hotels and destinations have turned to virtual reality (VR) to attract the attention of travelers and make them feel comfortable to travel back safely after the pandemic.
It emerged as a way of remote training, collaboration, entertainment, and keeping in touch with the loved ones. COVID is also expected to impact the healthcare sector positively with the increase in patience and doctors preferring remote diagnosis.
On contrary to all of this, some local markets had also been hit with closure and reduced traffic and transport. The pandemic also hit some supply chain issues and in-demand devices, but the market is expected to jump back on.
COMPETITVE LANDSCAPE
Oculus and Samsung are the leading companies in this sector and have invested in VR headsets more than any other headset makers.
The market share of any company depends on various factors, like the build of the product, quality, offerings (quality motion tracking, high-resolution screens, and the best graphics possible, etc.) and overall cost. And due to only a subpar level of technology existing in the field the market has had problems picking up on the VR headset craze.
As mentioned earlier, some headsets not being compatible with mobile phones and requiring setting up of PCs with high resolution graphics and more memory, also pose as a roadblock for companies who are targeting a wider set of population other than VR enthusiasts, which are a handful.
COMPANIES PROFILED
| | |
| --- | --- |
| Sl no | Topic |
| 1 | Market Segmentation |
| 2 | Scope of the report |
| 3 | Abbreviations |
| 4 | Research Methodology |
| 5 | Executive Summary |
| 6 | Introduction |
| 7 | Insights from Industry stakeholders |
| 8 | Cost breakdown of Product by sub-components and average profit margin |
| 9 | Disruptive innovation in the Industry |
| 10 | Technology trends in the Industry |
| 11 | Consumer trends in the industry |
| 12 | Recent Production Milestones |
| 13 | Component Manufacturing in US, EU and China |
| 14 | COVID-19 impact on overall market |
| 15 | COVID-19 impact on Production of components |
| 16 | COVID-19 impact on Point of sale |
| 17 | Market Segmentation, Dynamics and Forecast by Geography, 2020-2025 |
| 18 | Market Segmentation, Dynamics and Forecast by Product Type, 2020-2025 |
| 19 | Market Segmentation, Dynamics and Forecast by Application, 2020-2025 |
| 20 | Market Segmentation, Dynamics and Forecast by End use, 2020-2025 |
| 21 | Product installation rate by OEM, 2020 |
| 22 | Incline/Decline in Average B-2-B selling price in past 5 years |
| 23 | Competition from substitute products |
| 24 | Gross margin and average profitability of suppliers |
| 25 | New product development in past 12 months |
| 26 | M&A in past 12 months |
| 27 | Growth strategy of leading players |
| 28 | Market share of vendors, 2020 |
| 29 | Company Profiles |
| 30 | Unmet needs and opportunity for new suppliers |
| 31 | Conclusion |
| 32 | Appendix |