GLOBAL WAREHOUSE AUTOMATION MARKET
INTRODUCTION
Warehouse is a strategic decoupling point in the supply chain, which helps businesses to match demand with supply and help tackle the uncertainties. Warehouse has five basic operations to perform they are: Receiving, Put-away, storage, order picking and shipping.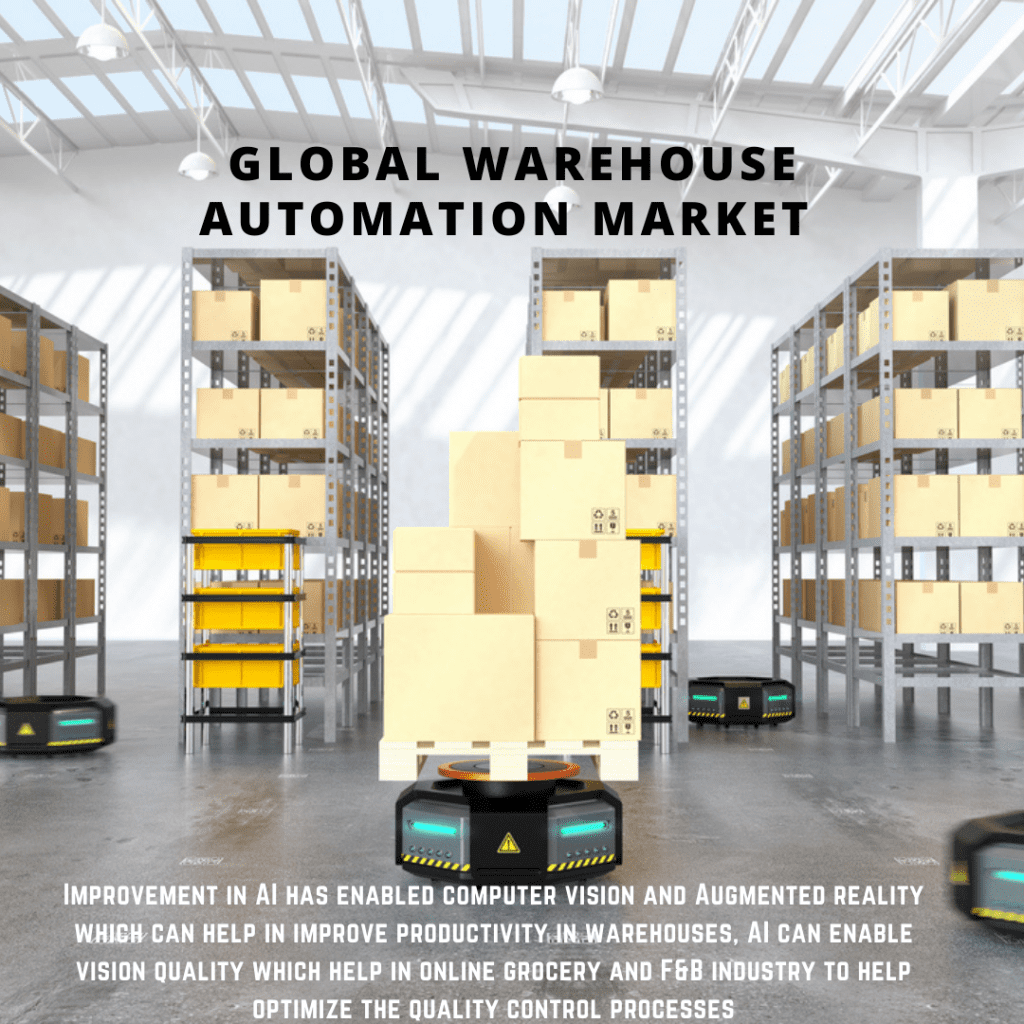 The exact number of operations depend on type of warehouse (Warehouse, Distribution Center, Cross dock facility), product and type of orders that are received. Automation helps businesses help improve their business performance metrics, which are key for their business success.
DRIVERS OF CHANGE
The upcoming trends are mostly driven by two major changes in technology: 5G and Artificial Intelligence.
With 5G the latency has reduced drastically which has improved the productivity and performance of many of the autonomous vehicles, Technologies like Fiber, DOCSIS 3.X, LPWAN in the fixed coverage segment can also enable performance but the adoption rate of 5G is much higher.
Improvement in AI has enabled computer vision and Augmented reality which can help in improve productivity in warehouses, AI can enable vision quality which help in online grocery and F&B industry to help optimize the quality control processes, also AI helps in reading texts and recognizing images helping in enabling worker's performance.
Blockchain is one other technology which still in the nascent stage as the adoption is expected at an industry level rather than at a warehouse level, but this technology can help in improving the inventory verification processes and help in optimizing inventory at a multi echelon level.
UPCOMING WAREHOUSE AUTOMATION TECHNOLOGIES
| | | | | | |
| --- | --- | --- | --- | --- | --- |
| Technology | Description | Area of operation | Improvement Metrics | Industry of application | Companies that provide |
| Picking Robots | Robotic arms that help in picking and sorting of packages & parcels | Receiving and Shipping | Responsiveness | e-commerce, online grocery, Courier delivery, FMCG, Automobile, Chemicals | 6 River Systems, Fetch Robotics, Geek+, Fabric |
| Optical recognition using computer vision | A scanner system which is driven by computer vision to read information on parcels and packages for assortment | Receiving and Shipping | Reliability and Responsiveness | Courier delivery, post | Geek+, Righthand Robotics, Fabric |
| Multi shuttle system/ automated storage/retrieval systems (AS/RSs) | System that helps in storage of goods in large racks, with robotic shuttles moving in three dimensions on rails attached to the structure | Put-away and order picking | Responsiveness | Courier delivery, e-commerce, online grocery | 6 River Systems, Fabric |
| Goods-to-Person technology (G2P) | Similar to AS/RS, G2P technology includes goods-to-person picking robots that deliver items to picking stations, where operators are stationed to fill orders as items are delivered. | Put-away and order picking | Responsiveness | Courier delivery, e-commerce, online grocery, Automotive | 6 River Systems, Geek+ |
| Unmanned Aerial Vehicles (UAV) | Drones are used for pick and place orders; they can be used for parcels or packages of lesser weight | Put-away and order picking | Responsiveness and Cost | Courier delivery and Post | 6 River Systems |
| Augmented Reality (AR) Glasses | AR wearables enable the workers in assisting their work, like helping them with directions, sorting, etc. | Receiving, Put-away, Order picking and Shipping | Responsiveness, Agility | FMCG, F&B Cross Dock, Automobile, Chemicals, Agri Products | Jasoren, SCANDIT |
| Automated Guided Vehicles (AGV) | Vehicles that move freely on digital tracts with instructions to move goods with warehouse | Put-away and order picking | Cost and Agility | Automotive, Chemicals, Agri Products, FMCG | 6 River Systems, Fetch Robotics, Geek+, Locus |
| Autonomous Mobile Robots (AMRs) | Operations personnel can reliably automate data collection workflows 24/7 and pinpoint inventory through automatic identification and data capture at any moment | Storage | Reliability | FMCG, Automobile | 6 River Systems, Fetch Robotics, Geek+ |
| Warehouse Management Systems | Management system to integrate the planning, forecasting along with inventory management functions | Storage | Cost, Reliability and Asset Utilization | All Industries | Righthand Robotics |
| Blockchain | Helps integrate various business functions and gives business the transparency needed for inventory management, which helps in accurate planning and forecasts | Storage | Cost, Reliability and Asset Utilization | All Industries | Openledger, Everledger, Openport |
COMPANY PROFILES