Wired Broadband Market in India 2020-2025
August 31, 2020

Request Sample
Coming Soon
Multi User License - $1,800
WIRED BROADBAND MARKET IN INDIA
OVERVIEW
As per the reports received  by TRAI (Telecom Regulatory Authority of India)  from 344 operators in the month of May,2020, the number of  broadband subscribers increased from 676.14 million at the end of Apr-20 to 683.77 million at the end of May'20 with a monthly growth rate of 1.13%. 
The rate of wired broadband subscribers also witnessed a rise. Currently estimated at 574 million, the number of monthly active internet users has also risen up to 24% over that of 2019, indicating an overall penetration of 41%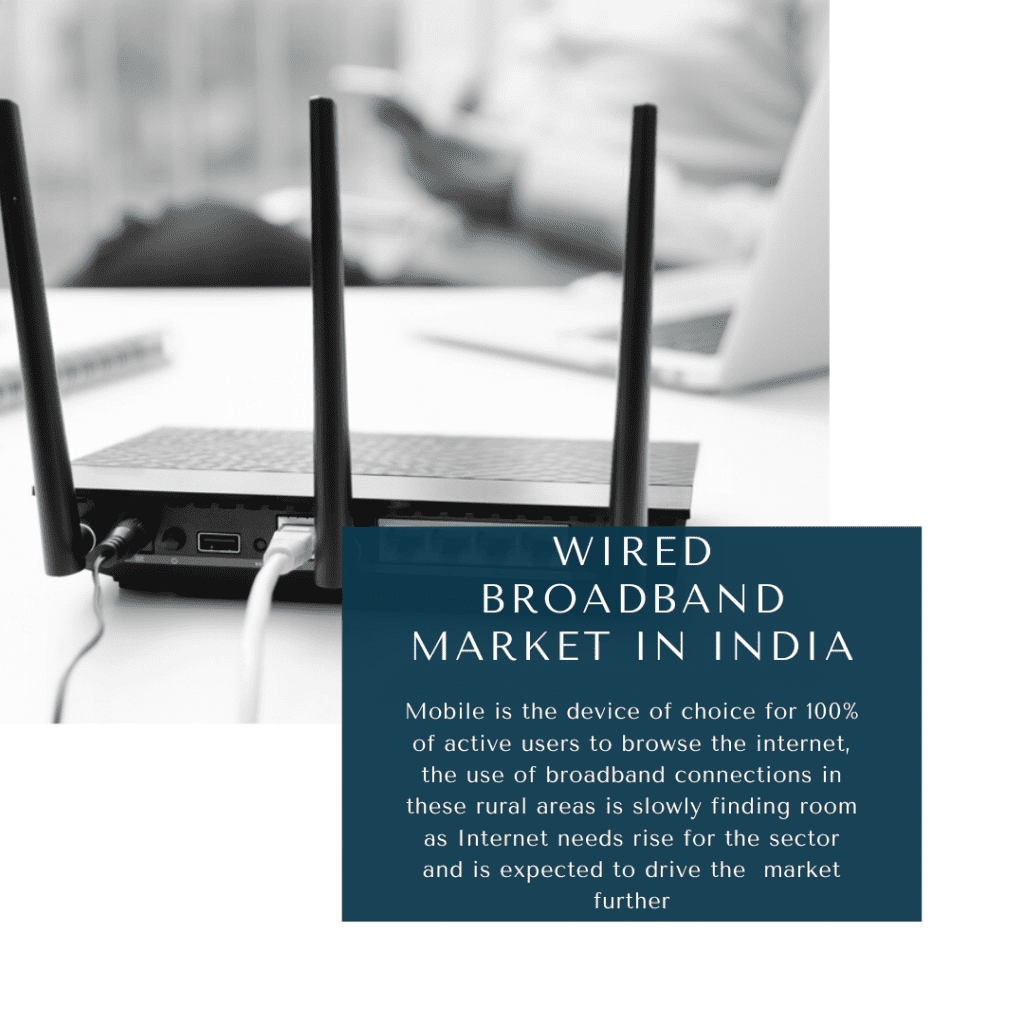 According to Telecom Regulatory Authority of India (TRAI), as of March 2019, there were 18.42 million wired broadband subscribers in India compared with around 545 million wireless broadband subscribers. The India broadband market is anticipated to move towards the road of expansion and growth in the upcoming years due to the change in preference pattern of consumers regarding internet consumption in India.
Increasing applications of Internet and communication services, bundled internet plans and increasing connectivity in urban and rural areas of India are expected to further drive the Wired Broadband market in India.
With the introduction of wireless mobile internet connectivity, specifically 4G and the price wars that this sector witnessed, there was almost no growth in wired broadband connections for a few years. People realised that, since most of their work-related needs would be met at office, cheap mobile internet, even with data limits for daily consumption, was perhaps a better bargain. However, this understanding is slowly changing now. 
The lack of pricing aggression non-attractive bundle pricing packs kept the wired broadband market an unpopular choice with limited disruption in the market, but thanks to introduction of new developments like that of JioFiber and the demand for one device fits all needs, things are looking promising for this market in the forthcoming years.
MARKET SEGMENTATION
BY TYPE
Digital subscriber line (DSL)
Coaxial cable
Fiber to the home
BY APPLICATION
Residential
Commercial
Industrial
BY SPEED
Upto 1 Mbps
2-8 Mbps
9-40 Mbps
40-100 Mbps
Above 100 Mbps
BY REGION
North
South
West
East
Rural vs Urban
MARKET TRENDS
With cities being locked down as a measure to control the spread of the novel Covid19 in the country and people forced to stay at home to meet their daily needs, the Internet is being considered as a saviour for people on this earth. All the people around the world are dependent on the internet and this dependency has inflated Internet traffic by 30 % all over the world.
In the face of COVID- 19, the IT sector is experiencing a boom due to the increased demand for communication services all around the world.
Since it was mandated that all work will be done from home, besides schools deciding to hold online classes due to the outbreak of Covid19 all across the globe , mobile internet was not enough for most Indian families. People had to opt to get wired broadband connection to meet their requirements and were introduced to a world of high speed and limitless internet data plans.
There has been a surge of 30% in the demand for new connections since the lockdown. There has also been an increase of 60-70% average data use per customer, as customers are using more data to be able to stay connected to work, school, family and friends.
Lucrative bundle packs and change in consumption pattern
The Internet Service Providers in India are noticing a continual change in the way customers are consuming the internet. There is a rise in the overall data traffic as people are spending more time on data driven video services like Zoom and other teleconferencing solutions for work, study, friends and family meetups, as well as on OTT video platforms like Hotstar, Netflix and Amazon Prime Video.
As more consumers remain at home, mobile networks besides being overburdened are also facing extra difficulty to provide proper indoor coverage. On top of it, since the entire business Internet traffic has shifted from business districts into residential areas, some networks face even more challenges. Therefore, the distinction between having a proper wireline Broadband connection and mobile internet is becoming clearer in the minds of consumers now as they opt for a full fledged broadband service to provide for their increased consumption of Internet services.
MARKET DRIVERS
Introduction of Jio Fiber
The Introduction of  Reliance Jio's fiber-to-the-home (FTTH) services, Jio Fiber, is expected to further expand the market and increase the scope for all operators to grow, including Airtel, due to its pricing model and multi-utility features since the home broadband penetration in India.
The Jio Fiber base plans start at 100 Mbps, and can go up to 1 Gbps, with prices ranging from ₹700 to ₹10,000 depending on usage. Customers opting for the Jio Forever plan in Jio Fiber can also enjoy additional benefits like an HD 4K LED TV and a 4K set-top box free. This is sure to lure consumers into making a purchase, like in the case of Jio Internet services earlier. Additionally, Jio Fiber subscribers will also be able to make voice calls from home to any Indian telecom network for free. The international calling tariffs will also be lower. Jio Fiber will also include subscriptions to several top premium OTT applications.
The wired telecom sector has certainly created significant interest over the past few weeks with the entry of Reliance Jio. On a comparative basis, the biggest competitor of Jio Fiber in the Indian market is Bharti Airtel with its Airtel V-Fiber broadband service that too offers lightning-fast speeds of up to 100 Mbps and an introduction to their streaming platform "Airtel Xstream" to stand its ground in the market.
Bridging the gap between rural and urban population
India's rural areas are not far behind, and are driving its digital revolution, with a 45% growth in internet penetration in 2019 as compared to urban India' s 11%. According to TRAI, Rural India had 264 million internet users in 2019 and this is expected to rise further in the upcoming years.
Local language content and video drive the internet boom in rural India, with a 2.5 times rise in penetration in the last four years. Although  Mobile is the device of choice for 100% of active users to browse the internet, the use of broadband connections in these rural areas is slowly finding room as Internet needs rise for the sector and is expected to drive the  market further thus bridging the anticipated digital divide in India.
COMPETITIVE LANDSCAPE
Wired  broadband has been an under-penetrated market in the country. Reliance Jio's entry could expand it and ultimately benefit other broadband players. According to recent data released by the Telecom Regulatory Authority of India (TRAI), As on 31st May, 2020, the top five Wired Broadband Service providers were BSNL (7.93 million), Bharti Airtel (2.41 million), Atria Convergence Technologies (1.64 million), Hathway Cable & Datacom (0.97 million) and Reliance Jio Infocomm Ltd (0.97 million)
There is potential for consolidation. India has more than 300 broadband providers, and most of them are small or local operators. Reliance Jio's entry is likely to spur merger activity, much as it did in the wireless mobile Internet service sector. The broadband industry is expecting to grow as customers require stability and speed to increase productivity from home. This switch is also expected to continue post Covid-19 lockdown as customers would not immediately want to rely on mobile internet speed and also continue their Internet consumption patterns much the same.
COMPANIES PROFILED
| | |
| --- | --- |
| Sl no | Topic |
| 1 | Market Segmentation |
| 2 | Scope of the report |
| 3 | Abbreviations |
| 4 | Research Methodology |
| 5 | Executive Summary |
| 6 | Introduction |
| 7 | Insights from Industry stakeholders |
| 8 | Cost breakdown of Product by sub-components and average profit margin |
| 9 | Disruptive innovation in the Industry |
| 10 | Technology trends in the Industry |
| 11 | Consumer trends in the industry |
| 12 | Recent Production Milestones |
| 13 | Component Manufacturing in US, EU and China |
| 14 | COVID-19 impact on overall market |
| 15 | COVID-19 impact on Production of components |
| 16 | COVID-19 impact on Point of sale |
| 17 | Market Segmentation, Dynamics and Forecast by Geography, 2020-2025 |
| 18 | Market Segmentation, Dynamics and Forecast by Product Type, 2020-2025 |
| 19 | Market Segmentation, Dynamics and Forecast by Application, 2020-2025 |
| 20 | Market Segmentation, Dynamics and Forecast by End use, 2020-2025 |
| 21 | Product installation rate by OEM, 2020 |
| 22 | Incline/Decline in Average B-2-B selling price in past 5 years |
| 23 | Competition from substitute products |
| 24 | Gross margin and average profitability of suppliers |
| 25 | New product development in past 12 months |
| 26 | M&A in past 12 months |
| 27 | Growth strategy of leading players |
| 28 | Market share of vendors, 2020 |
| 29 | Company Profiles |
| 30 | Unmet needs and opportunity for new suppliers |
| 31 | Conclusion |
| 32 | Appendix |