Global Wireless Earbuds Market 2020-2025
July 28, 2020

Request Sample
Coming Soon
Multi User License - $2,500
GLOBAL WIRELESS EARBUDS MARKET
INTRODUCTION
Wireless earbuds with no wires running between headphones and phone, provide flexibility in movement, especially during commuting and exercising which makes them a desirable product for a large chunk of smartphone users.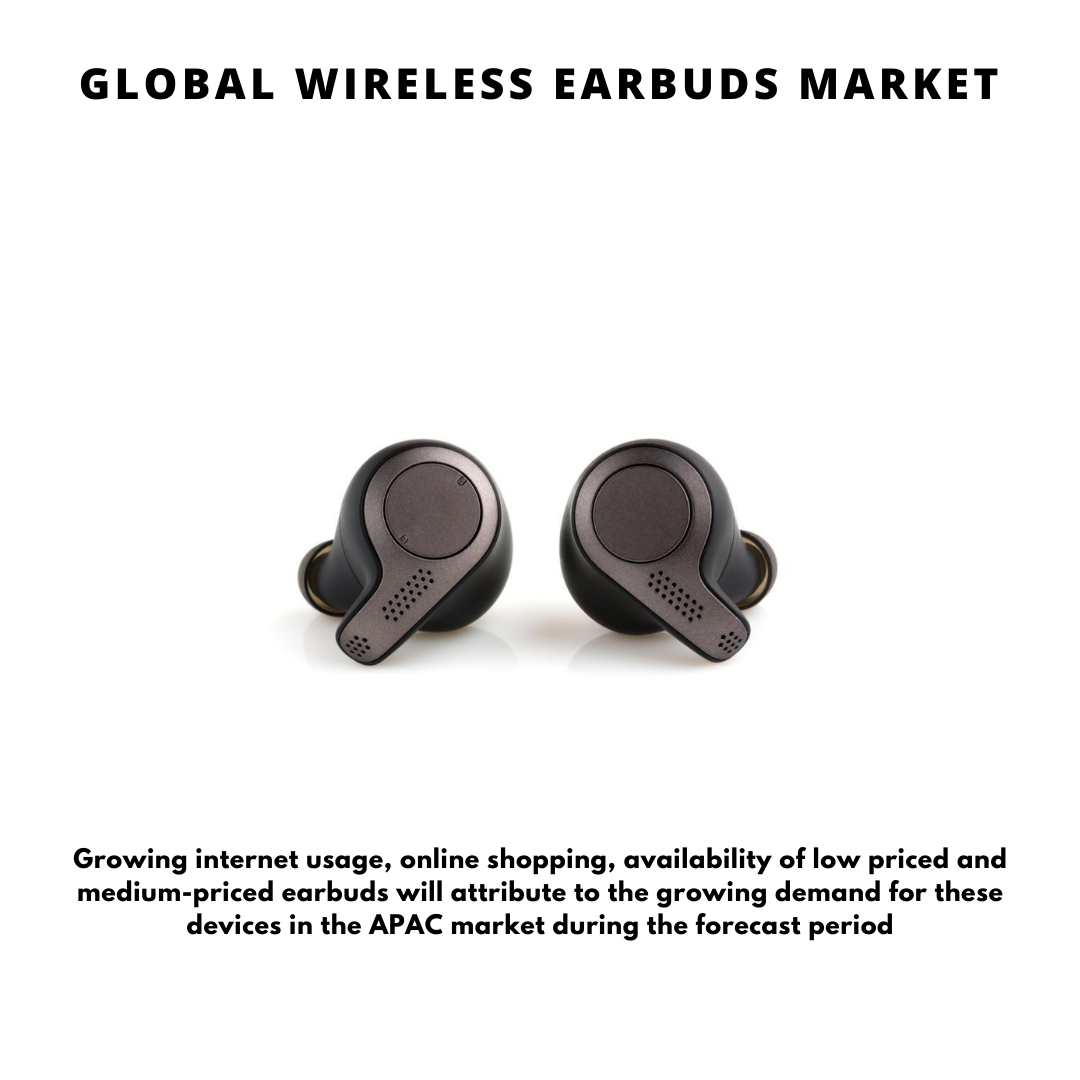 The launch of smart wireless in-ear headphones by Bragi back in 2015 introduced and propelled the development of the global earbuds market. In the year 2017, Apple launched their flagship product Air-pods which eventually became the highest selling wireless earbuds in American and Canadian Market. 
MARKET SEGMENTATION
By Geography
Asia-Pacific
Europe
North America
Latin America
ROW
By Price
Premium ($100 and above)
Medium ($50 to $99)
Low ($49 and below)
By Features
Smart (Touch, WIFI etc.)
Non smart (water resistant e)
MARKET DYNAMICS
The high-resolution audio compatibility, digital noise cancelling technology, beat response control and other are propelling the demand of wireless earbuds in the market. 
Other important features driving consumer adoption is water resistant and the fast charging technology with superior hands-free experience and high-quality sound output. 
The development of inbuilt contact points that enable charging and chargeable carry case, without using any cables to connect to the buds or the left and right ear piece is revolutionizing the charging mechanism in these products. 
IMPROVEMENT IN NEW PRODUCTS LAUNCHED 
Some models are now even offering hands-free access to personal assistants like Amazon Alexa, Google Assistant. 
Cambridge`s melomaniac are now equipped with a triple-core processor, a beam-forming mic for clearer calls, and Bluetooth 5.0.  
In Apple Aiirpods, with the launch of iOS13 added Audio Sharing, allows a second pair of AirPods to connect, and listen, to a single iPhone. And one can even reply to incoming messages with voice. 
Samsung`s Icon X has a 3.4GB internal memory – to store up to 1,000 tracks making it independent of phone`s battery and well suited for outdoor fitness exercises. 
SoundMagic E11BT has a 20-hour battery life possibly the highest across the globe. 
MARKET SIZE AND FORECAST
Growing internet usage, online shopping, availability of low priced and medium-priced earbuds will attribute to the growing demand for these devices in the APAC market during the forecast period. 
US is the biggest wireless earbuds market as of Sep 2020. 
The global wireless earbuds market is estimated at $XXM in 2020, growing at –% CAGR till 2025 
COMPETITIVE LANDSCAPE
Apple, Alphabet, Bragi, Samsung are among the market leaders in global wireless earbuds market. 
All players are constantly working to improve wireless connectivity, battery life and sound quality fo their products. Additionally, players are focusing on the sports segment and launching headphones that are sweat and water resistant to boost the sales and revenues in the global market. 
Other prominent players in the wireless earbuds market are Jaybird, Alpha Audiotronics, Rowkin, Huawei, Avanca, Bang & Olufson, Crazybaby, Earin, Meizu, Motorola, Waverly Labs, and Mymanu. 
Some of the key companies in the market are offering wireless charging stations and using magnetic conductive technology to charge the products. 
The vendors are also implementing various IPX7 certifications to make their earbuds sweat and water resistant. This certification helps companies increase their brand reliability and attract more consumers in the global wireless earbuds market. 
COMPANY PROFILES
Alphabet
Bragi
Nuheara
Jaybird
Alpha Audiotronics
Rowkin
Huawei
Avanca
Bang & Olufson
| | |
| --- | --- |
| Sl no | Topic |
| 1 | Market Segmentation |
| 2 | Scope of the report |
| 3 | Abbreviations |
| 4 | Research Methodology |
| 5 | Executive Summary |
| 6 | Introduction |
| 7 | Insights from Industry stakeholders |
| 8 | Cost breakdown of Product by sub-components and average profit margin |
| 9 | Disruptive innovation in the Industry |
| 10 | Technology trends in the Industry |
| 11 | Consumer trends in the industry |
| 12 | Recent Production Milestones |
| 13 | Component Manufacturing in US, EU and China |
| 14 | COVID-19 impact on overall market |
| 15 | COVID-19 impact on Production of components |
| 16 | COVID-19 impact on Point of sale |
| 17 | Market Segmentation, Dynamics and Forecast by Geography, 2020-2025 |
| 18 | Market Segmentation, Dynamics and Forecast by Product Type, 2020-2025 |
| 19 | Market Segmentation, Dynamics and Forecast by Application, 2020-2025 |
| 20 | Market Segmentation, Dynamics and Forecast by End use, 2020-2025 |
| 21 | Product installation rate by OEM, 2020 |
| 22 | Incline/Decline in Average B-2-B selling price in past 5 years |
| 23 | Competition from substitute products |
| 24 | Gross margin and average profitability of suppliers |
| 25 | New product development in past 12 months |
| 26 | M&A in past 12 months |
| 27 | Growth strategy of leading players |
| 28 | Market share of vendors, 2020 |
| 29 | Company Profiles |
| 30 | Unmet needs and opportunity for new suppliers |
| 31 | Conclusion |
| 32 | Appendix |