Global Yacht Battery Market 2020-2025
September 2, 2020

Request Sample
Coming Soon
Multi User License - $2,500
GLOBAL YACHT BATTERY MARKET
The developments in automotive industry has always had a direct bearing on the marine industry. It is no different in the case of batteries. Due to continued focus on electric cars. Lithium Ion technology in particular has undergone major development.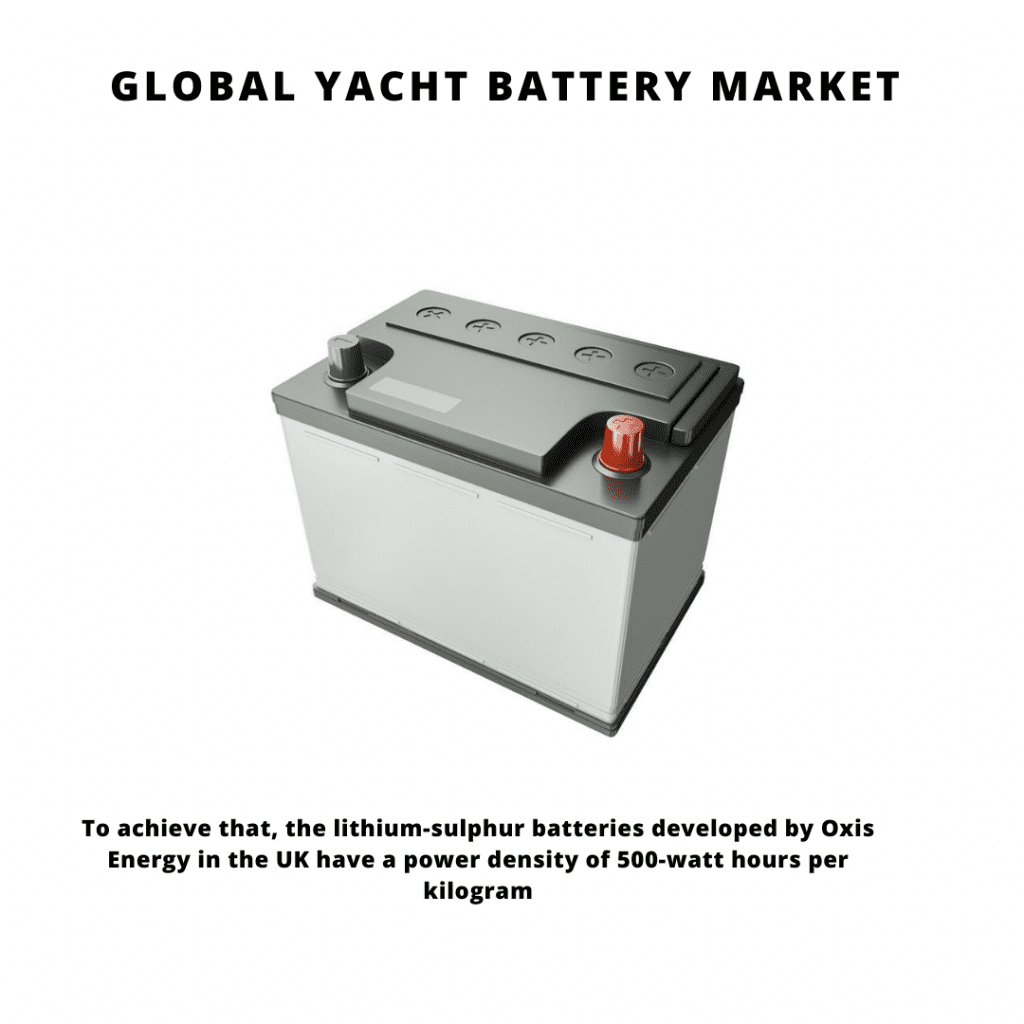 There are definitely a lot of advantages in going electric- efficient powertrain, quiet operation and reduced carbon emissions. But batteries with higher energy density than of existing technologies especially for recreational boats which are used for relatively short runs still have lower price to benefit ratio.
GLOBAL YACHT BATTERY MARKET DYNAMICS
In Lithium ion battery segment, Solar panels are now found on most cruising yachts and vary hugely in quality and price. The main limitations are in available space where they can be mounted without being in shade.
There has been significant development in 3D printed batteries in 2020 and there is a real possibility of developing cheaper, more energy dense and versatile batteries in coming years.
Energy density of 3D printed batteries is higher as the battery modules don't need extra substances to glue and wire them together.
3D printing can greatly improve the cost efficiency as it will eliminate the need to manufacture the cells separately and then assemble them into module.
GLOBAL YACHT BATTERY MARKET SEGMENTATION
By Battery type
By Yacht length
Under 35 ft
36-60ft
More than 60 ft
By Region
US
Europe
Asia
Rest of the world
GLOBAL YACHT BATTERY MARKET SIZE AND FORECAST
The growth of yacht battery market will closely depend on the growth in charging infrastructure. For example, in Netherlands, Skoon energy and Port of Amsterdam launched floating battery terminal powered by renewable energy to bring mobile energy storage into the port and inner city of Amsterdam. 
The global Yacht Battery market is estimated at $XX Million in 2020, growing at –% CAGR till 2025.
COMPETITIVE LANDSCAPE
There are more than 10 players in yacht battery market. Almost all battery manufacturers are actively researching on solid state battery and trying to figure out what the combination of solid electrolyte with different metals and oxides in the electrodes.
The energy density of a battery pack can greatly help in reducing range anxiety in electric boats. To achieve that, the lithium-sulphur batteries developed by Oxis Energy in the UK have a power density of 500-watt hours per kilogram or double of Tesla Model 3 batteries.
Taiwan based Xing Mobility has developed a Modular Battery System where the batteries are immersed in a non-conductive cooling fluid and can be assembled to power any kind of boats/yachts. Every unit is made up of 42 lithium ion cells, surrounded by the coolant
COMPANY PROFILES
Xing Mobility
Sea Drive
Dragonfly Energy
THIS REPORT WILL ANSWER FOLLOWING QUESTIONS
Market Size and Forecast (2020-2025), Units and $M
Market split by region, end use segment and generator Power output
Market share of leading vendors, 2020
COVID impact on Yacht Battery market and suppliers` earnings
Yacht Battery Technology trends
| | |
| --- | --- |
| Sl no | Topic |
| 1 | Market Segmentation |
| 2 | Scope of the report |
| 3 | Abbreviations |
| 4 | Research Methodology |
| 5 | Executive Summary |
| 6 | Introduction |
| 7 | Insights from Industry stakeholders |
| 8 | Cost breakdown of Product by sub-components and average profit margin |
| 9 | Disruptive innovation in the Industry |
| 10 | Technology trends in the Industry |
| 11 | Consumer trends in the industry |
| 12 | Recent Production Milestones |
| 13 | Component Manufacturing in US, EU and China |
| 14 | COVID-19 impact on overall market |
| 15 | COVID-19 impact on Production of components |
| 16 | COVID-19 impact on Point of sale |
| 17 | Market Segmentation, Dynamics and Forecast by Geography, 2020-2025 |
| 18 | Market Segmentation, Dynamics and Forecast by Product Type, 2020-2025 |
| 19 | Market Segmentation, Dynamics and Forecast by Application, 2020-2025 |
| 20 | Market Segmentation, Dynamics and Forecast by End use, 2020-2025 |
| 21 | Product installation rate by OEM, 2020 |
| 22 | Incline/Decline in Average B-2-B selling price in past 5 years |
| 23 | Competition from substitute products |
| 24 | Gross margin and average profitability of suppliers |
| 25 | New product development in past 12 months |
| 26 | M&A in past 12 months |
| 27 | Growth strategy of leading players |
| 28 | Market share of vendors, 2020 |
| 29 | Company Profiles |
| 30 | Unmet needs and opportunity for new suppliers |
| 31 | Conclusion |
| 32 | Appendix |