Global Yacht Engine Market 2020-2025
August 11, 2020

Request Sample
Coming Soon
Multi User License - $2,500
GLOBAL YACHT ENGINE MARKET
INTRODUCTION
Yachts need lot less power to move on water as compared to cars on land. For comparison, as a rule of thumb, 3hp per tonne of displacement, is sufficient to move a yacht whereas a minimum 70hp per tonne is required for an entry level car.
MARKET DYNAMICS
The average power of yacht engines has been steadily increasing in recent years.  The yacht manufacturers typically equip their products with higher output engines so that they run at lower revs, being more economical and suited for long distance cruising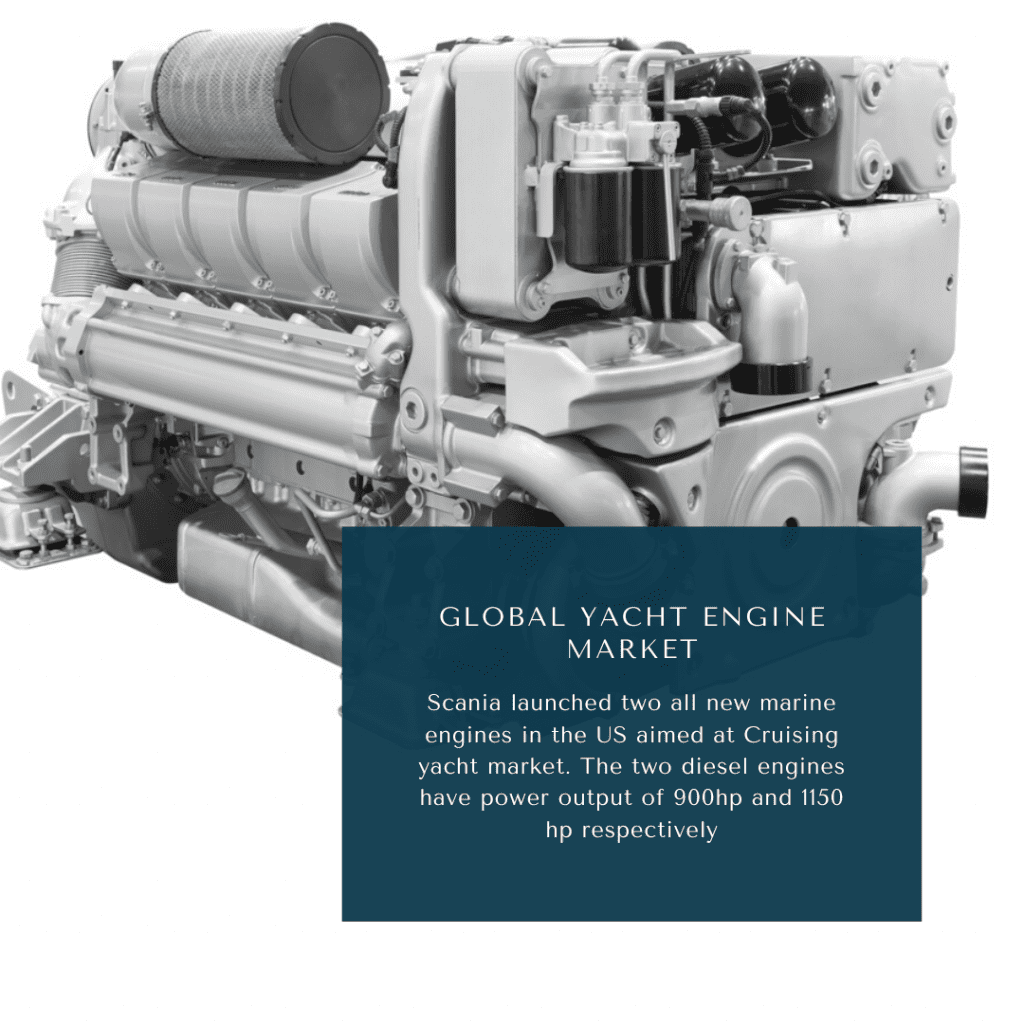 All yacht builders rely on a handful of European engine manufacturers for yacht propulsion solution. Sometimes the agreement or partnership can extend for multiple years and platforms. For example, In Oct 2018 Britain based Sunseeker signed a new framework agreement for the supply of MTU Series 2000 and 4000 engines for its 86Y, 95Y, 116Y, 131Y range of yachts.
Dual engine propulsion are very common on yachts over 40ft in length but Azimut raised the bar when Azimut S6 was launched in Dec 2019 with triple propulsion Volvo Penta IPS 700 system. The inherent advantages of triple propulsion units are improved fuel efficiency, reducing noise and vibrations.
ELECTRIFICATION IN YACHT ENGINE MARKET
Although, much of the market is still captured by Diesel engines, electric propulsion is also catching up thick and fast. For example,
Jan 2020-Germany based Torqeedo signed an agreement with Netherlands based Waterworld to distribute inboard electric motors in Europe.
June 2020– New Zealand based waterjet manufacturer Hamilton unveiled its new EHX range, Electro-Hybrid Drive.
July 2019– Volvo Penta signed a partnership with ABB, and the University of Chalmers to study solutions for rapid charging of dockside vessels
Sep 2018– MAN debuted V12-2000 and V8-1300 marine engines at the 2018 Cannes Yachting Festival
June 2018– Volvo Penta unveiled its first adaptive electric hybrid engine on the counter-rotating IPS engines with market launch planned for 2020-2021
MARKET SIZE AND FORECAST
The global yacht engine market is estimated at $XX Million in 2020, growing at 4.1% CAGR till 2025
NEW PRODUCT LAUNCHES
Aug 2020: Scania launched two all new marine engines in the US aimed at Cruising yacht market. The two diesel engines have power output of 900hp and 1150 hp respectively
June 2019– Volvo Penta launched D4 and D6 engines, with 3.7L and 5.5L displacement respectively with power output range of 150-480hp
COMPETITIIVE LANDSCAPE
Volvo Penta is among the global market leaders in yacht engine market. Till date it has sold more than 105,000 units worldwide. Volvo Penta is also among the biggest innovators with latest generation engines featuring Diamond Like Carbon (DLC) coating on the piston pin to reduce friction and increase durability. The common rail fuel injection system has higher pressure – 2,000 bar at par with automotive engines.
In July 2020, Invictus yacht launched a new TT460 model powered by Volvo Penta`s D6 IPS package.
In Jan 2020, Italian Yacht builder Cranchi unveiled its biggest 78 foot yacht powered by Volvo Penta D13-IPS1350 and North American builder Palm Beach Motor yachts showcased GT60 with the twin Volvo Penta IPS 1350s.
Rolls Royce owned MTU is also one of the leading yacht engine manufacturer. It is now offering integrated bridge systems – MTU Smart Bridge – for both series production yachts and mega yachts. It has developed integrated solution for IMO 3 consisting of propulsion system and SCR exhaust gas aftertreatment system which are optimally matched, designed for flexible installation and low on maintenance. 
In Sep 2019, MTU said it will gradually introduce a range of completely integrated and modular MTU hybrid marine propulsion systems for production yachts with a power range extending from approximately 1000 kW to 4000 kW per powertrain. 
YANMAR MARINE INTERNATIONAL is introduced its new 6LF and 6LT series of marine diesel engines in Jan 2020. Yanmar now offers a complete propulsion package including engine, ZF transmission, and VC20 vessel control system.
COMPANY PROFILES
| | |
| --- | --- |
| Sl no | Topic |
| 1 | Market Segmentation |
| 2 | Scope of the report |
| 3 | Abbreviations |
| 4 | Research Methodology |
| 5 | Executive Summary |
| 6 | Introduction |
| 7 | Insights from Industry stakeholders |
| 8 | Cost breakdown of Product by sub-components and average profit margin |
| 9 | Disruptive innovation in the Industry |
| 10 | Technology trends in the Industry |
| 11 | Consumer trends in the industry |
| 12 | Recent Production Milestones |
| 13 | Component Manufacturing in US, EU and China |
| 14 | COVID-19 impact on overall market |
| 15 | COVID-19 impact on Production of components |
| 16 | COVID-19 impact on Point of sale |
| 17 | Market Segmentation, Dynamics and Forecast by Geography, 2020-2025 |
| 18 | Market Segmentation, Dynamics and Forecast by Product Type, 2020-2025 |
| 19 | Market Segmentation, Dynamics and Forecast by Application, 2020-2025 |
| 20 | Market Segmentation, Dynamics and Forecast by End use, 2020-2025 |
| 21 | Product installation rate by OEM, 2020 |
| 22 | Incline/Decline in Average B-2-B selling price in past 5 years |
| 23 | Competition from substitute products |
| 24 | Gross margin and average profitability of suppliers |
| 25 | New product development in past 12 months |
| 26 | M&A in past 12 months |
| 27 | Growth strategy of leading players |
| 28 | Market share of vendors, 2020 |
| 29 | Company Profiles |
| 30 | Unmet needs and opportunity for new suppliers |
| 31 | Conclusion |
| 32 | Appendix |