Global Yacht Generator Market 2020-2025
August 21, 2020

Request Sample
Coming Soon
Multi User License - $2,500
GLOBAL YACHT GENERATOR MARKET
INTRODUCTION
Yacht generators are an essential component to power all "Hotel loads" whether in a passage or while its anchored at marina or in ocean.
So far, the generators on yachts are either Diesel or hybrid powered with significant carbon emissions depending on power output.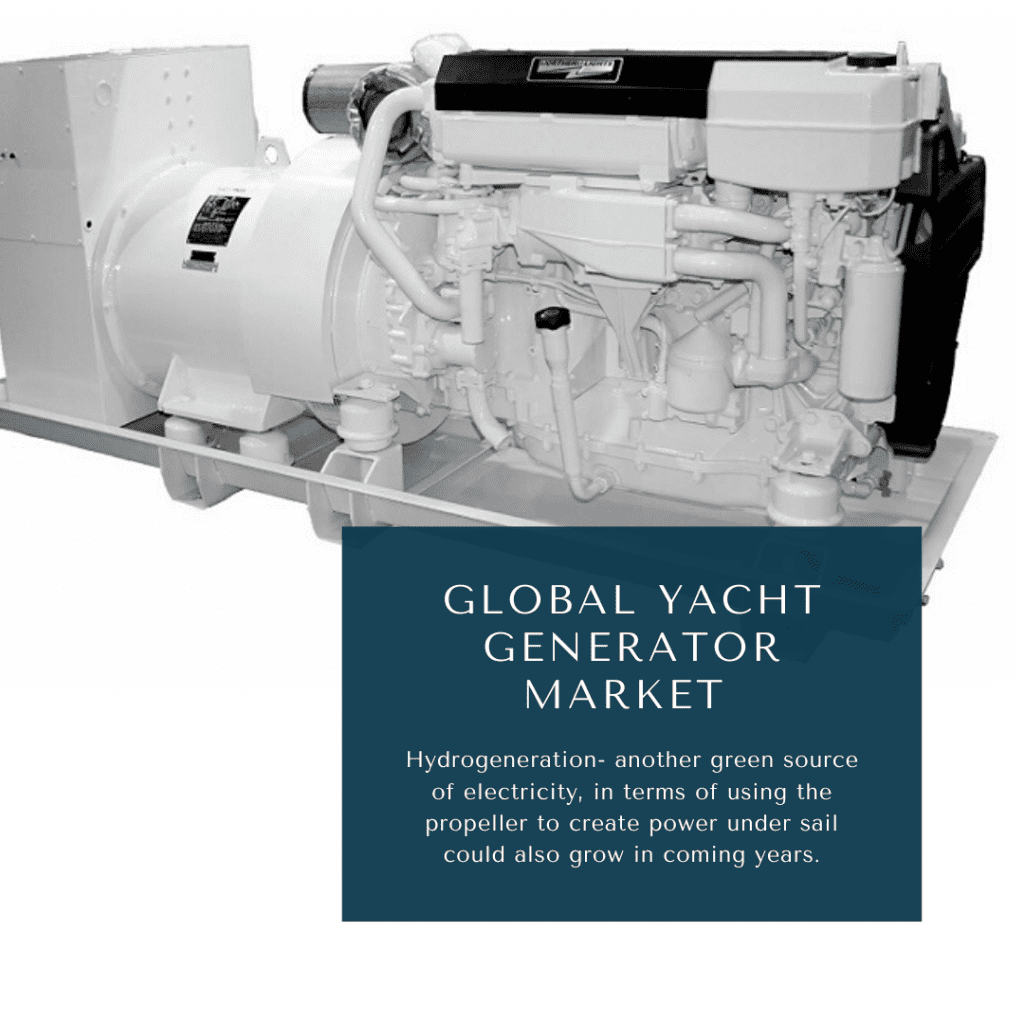 After 2016 Paris Agreement, some radical changes in all lifestyles to meet greenhouse carbon emissions and generating green power on yachts is therefore gaining traction now.
Boatbuilders are now increasingly adopting greener propulsion and sustainable power sources, and therefore looking up to natural and recyclable materials.
GLOBAL YACHT GENERATOR MARKET DYNAMICS
As of Aug 2020, less than 1.5% of marine propulsion systems are electric.
As electrification gains momentum in coming years, serial hybrid power with a large battery bank with a mix of solar and hydro power generation could be a possible solution. This arrangement could reduce carbon footprints by 90%, and with the safety of using a compact, low powered generator meant for emergency purpose or peace of mind.
Hydrogeneration- another green source of electricity, in terms of using the propeller to create power under sail could also grow in coming years.
As electric sailboats gain more traction in the market, the need to be generate electricity not just by passive means (solar panels, wind and hydrogenator) but also by active means i.e. electricity generated by movement of boat under sail mode is growing
LIMITATION OF GREEN GENERATORS
The limitation with green power generation is how much energy can be stored in a battery, because of the energy density of batteries
Torqeedo's Deep Blue technology and use of BMW's top-selling EV, i3`s lithium-ion batteries for superior energy density gives it an edge over others
Boat systems expert Nigel Calder has helped design an alternator which eliminates the need for a generator on board.Mounted on the engine, the alternator(Integrel) can produce 5-10X more power which is then transferred to atleast 10kWh Lead-Acid batteries.
The Integrel can produce 2kW of power without increasing fuel consumption or reducing speed i.e. just by utilising the engine's wasted capacity. It has already been installed on a new Southerly 480, a Malo 46 and a few other boats.
GLOBAL YACHT GENERATOR MARKET SEGMENTATION
By Generator power output
Under 5kW
5kW-15kW
More than 15kW
By Motor type
By Region
US
Europe
Asia
Rest of the world
GLOBAL YACHT GENERATOR MARKET SIZE AND FORECAST
The global Yacht Generator market is estimated at $XX Billion in 2020, growing at –% CAGR till 2025.
COMPETITIVE LANDSCAPE
The yacht generator market competitive landscape is dominated by conventional Diesel generator manufacturers like Volvo Penta, MTU, Fischer Panda.
In March 2020, Cummins unveiled three new models — the 9kW, 11.5kW and 13.5kW, further building on the existing offerings of 4kW and 7.5kW, designed for use in both diesel- and gasoline-powered boats.
In Jan 2020, Fischer Panda, developed a complete brand-new range of variable-speed Hybrid DC Generators for battery-charging.  The new control system allows various set-ups as well as the connection to a CAN BUS system. The new system allows the yacht to be either driven by batteries or in a hybrid mode and the variable-speed Hybrid DC generator. 
In coming years, we expect some aggressive moves from green power companies.
For example, Torqeedo is planning a new range-extending DC generator specifically for hybrid sailing boats. The existing unit is built by WhisperPower and provides 25kW.The upcoming genset will be designed to operate at optimum revs, and DC to DC conversion will decouple the battery voltage from the charging voltage, for higher efficiency.
Oceanvolt has been working on electricity regeneration for more than 15 years and has produced a system based on its ServoProp variable pitch propeller.  The software-controlled variable pitch saildrive adjusts the pitch of the propeller blades to generate optimal power output.
COMPANY PROFILES
Mase Generators
NPS Diesel
THIS REPORT WILL ANSWER FOLLOWING QUESTIONS
Market Size and Forecast (2020-2025), Units and $M
Market split by region, end use segment and generator Power output
Market share of leading vendors, 2020
COVID impact on Yacht Generator market and suppliers` earnings
Yacht Generator Technology trends
| | |
| --- | --- |
| Sl no | Topic |
| 1 | Market Segmentation |
| 2 | Scope of the report |
| 3 | Abbreviations |
| 4 | Research Methodology |
| 5 | Executive Summary |
| 6 | Introduction |
| 7 | Insights from Industry stakeholders |
| 8 | Cost breakdown of Product by sub-components and average profit margin |
| 9 | Disruptive innovation in the Industry |
| 10 | Technology trends in the Industry |
| 11 | Consumer trends in the industry |
| 12 | Recent Production Milestones |
| 13 | Component Manufacturing in US, EU and China |
| 14 | COVID-19 impact on overall market |
| 15 | COVID-19 impact on Production of components |
| 16 | COVID-19 impact on Point of sale |
| 17 | Market Segmentation, Dynamics and Forecast by Geography, 2020-2025 |
| 18 | Market Segmentation, Dynamics and Forecast by Product Type, 2020-2025 |
| 19 | Market Segmentation, Dynamics and Forecast by Application, 2020-2025 |
| 20 | Market Segmentation, Dynamics and Forecast by End use, 2020-2025 |
| 21 | Product installation rate by OEM, 2020 |
| 22 | Incline/Decline in Average B-2-B selling price in past 5 years |
| 23 | Competition from substitute products |
| 24 | Gross margin and average profitability of suppliers |
| 25 | New product development in past 12 months |
| 26 | M&A in past 12 months |
| 27 | Growth strategy of leading players |
| 28 | Market share of vendors, 2020 |
| 29 | Company Profiles |
| 30 | Unmet needs and opportunity for new suppliers |
| 31 | Conclusion |
| 32 | Appendix |