Global Yacht HVAC Market 2020-2025
August 19, 2020

Request Sample
Coming Soon
Multi User License - $2,500
GLOBAL YACHT HVAC MARKET
HVAC is among the key components for any vehicle, be it on land air or water. Air conditioning system is essential on a yacht to provide a comfortable cabin climate for occupants onboard, and also to maintain the required temperature range for the operation of critical electronic equipment.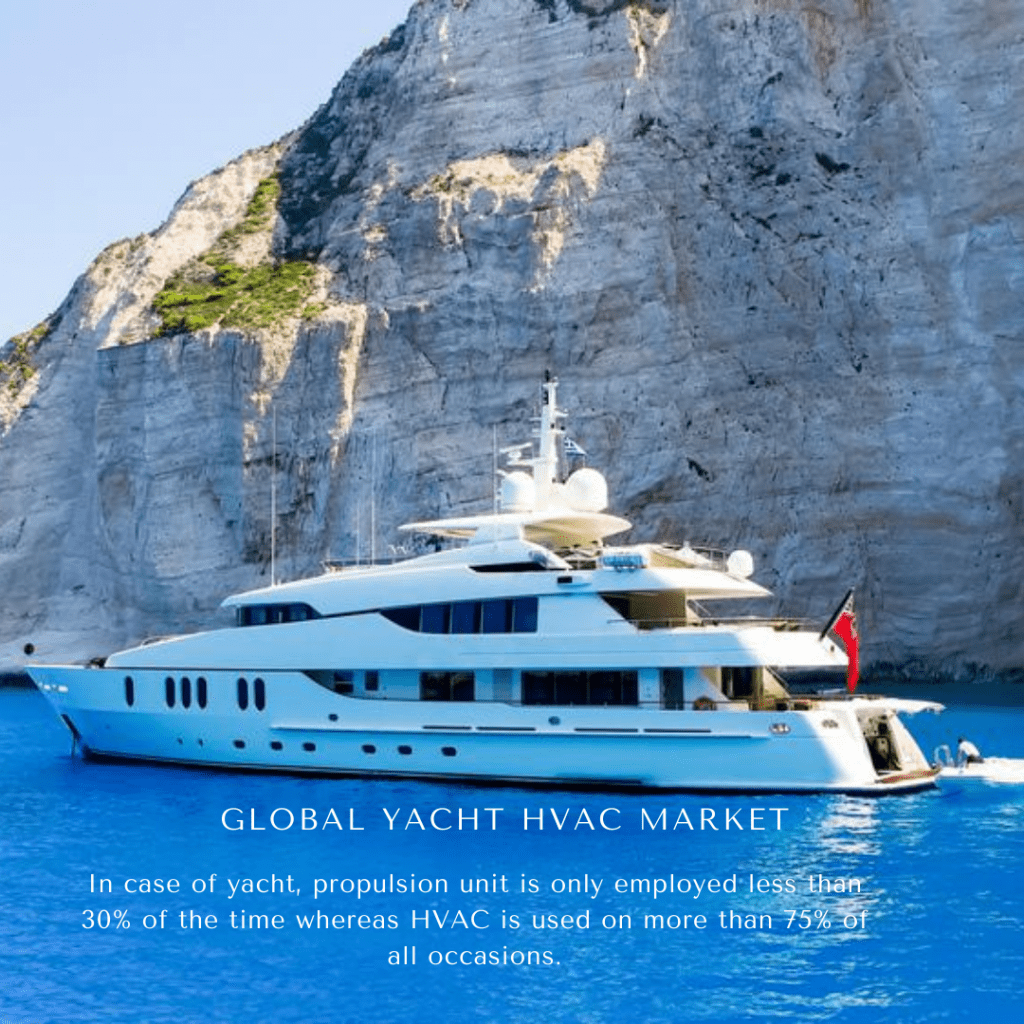 Till late 1990s, HVAC on boats was considered optional. Today, in sharp contrast to old days, an efficient HVAC is expected on yachts as an integral part of their design, with climate control.
GLOBAL YACHT HVAC MARKET DYNAMICS
Most yacht builders rely on their suppliers to design HVAC systems. Most of the HVAC units installed are bought off the shelf and there is hardly any degree of customization despite significant changes in cooling requirement.
For superyachts above 100ft, chilled water circulating through local fan coil units is the preferred option whereas self-contained air conditioners are compact enough to be fitted on less than 50 ft boat.
FOCUS ON REDUCING ENERGY CONSUMPTION IN YACHT HVAC MARKET
Yacht's HVAC system is one of the biggest energy and space consuming system onboard consuming about 50% – 60% of total electrical load be it, at anchor, ocean passages or cruising. Therefore, a lot of focus is now on developing powerful HVAC systems with least possible power consumption in all conditions.
The energy efficiency pf yacht HVAC got further attention when IMO came up with 50% emission reduction deadline by 2050. In case of yacht, propulsion unit is only employed less than 30% of the time whereas HVAC is used on more than 75% of all occasions.
GLOBAL YACHT HVAC MARKET SEGMENTATION
By Product type
Chilled water air conditioning system
Split gas air conditioning system
Self-contained air conditioning system
By End use
By Yacht length
Under 35 ft
36-60ft
More than 60 ft
By Region
US
Europe
Asia
Rest of the world
GLOBAL YACHT HVAC  MARKET SIZE AND FORECAST
Thee overall yacht HVAC market size comprises OE as well as replacement market. In Europe (the biggest market for Superyachts) almost all of them use Variable capacity chillers, so they are more likely to be replaced by the new titanium versions.
The global Yacht HVAC market is estimated at $XX Billion in 2020, growing at –% CAGR till 2025
COVID IMPACT ON YACHT HVAC MARKET
Post COVID, we believe there will be a greater focus on air quality and use of smarter automation systems. Remote monitoring of air quality could be an important requirement for many yacht owners now.
GLOBAL YACHT HVAC COMPETITIVE LANDSCAPE
The competitive landscape of Yacht HVAC market is highly consolidated among few vendors. Majority of the vendors are EU based.
Heinen & Hopman and Dometic are among the leading players of the market.
Many of the Dometic modular water chillers now use titanium condensers as Titanium is unaffected by saltwater, invasive marine life and the harsh acids used for routine cleaning of the condenser coil
COMPANY PROFILES
THIS REPORT WILL ANSWER FOLLOWING QUESTIONS
Market Size and Forecast (2020-2025), Units and $M
Market split by region, end use segment and HVAC type
Market share of leading vendors, 2020
COVID impact on Yacht HVAC market and suppliers` earnings
HVAC material trends
| | |
| --- | --- |
| Sl no | Topic |
| 1 | Market Segmentation |
| 2 | Scope of the report |
| 3 | Abbreviations |
| 4 | Research Methodology |
| 5 | Executive Summary |
| 6 | Introduction |
| 7 | Insights from Industry stakeholders |
| 8 | Cost breakdown of Product by sub-components and average profit margin |
| 9 | Disruptive innovation in the Industry |
| 10 | Technology trends in the Industry |
| 11 | Consumer trends in the industry |
| 12 | Recent Production Milestones |
| 13 | Component Manufacturing in US, EU and China |
| 14 | COVID-19 impact on overall market |
| 15 | COVID-19 impact on Production of components |
| 16 | COVID-19 impact on Point of sale |
| 17 | Market Segmentation, Dynamics and Forecast by Geography, 2020-2025 |
| 18 | Market Segmentation, Dynamics and Forecast by Product Type, 2020-2025 |
| 19 | Market Segmentation, Dynamics and Forecast by Application, 2020-2025 |
| 20 | Market Segmentation, Dynamics and Forecast by End use, 2020-2025 |
| 21 | Product installation rate by OEM, 2020 |
| 22 | Incline/Decline in Average B-2-B selling price in past 5 years |
| 23 | Competition from substitute products |
| 24 | Gross margin and average profitability of suppliers |
| 25 | New product development in past 12 months |
| 26 | M&A in past 12 months |
| 27 | Growth strategy of leading players |
| 28 | Market share of vendors, 2020 |
| 29 | Company Profiles |
| 30 | Unmet needs and opportunity for new suppliers |
| 31 | Conclusion |
| 32 | Appendix |