Global Yacht Market 2020-2025
August 11, 2020

Request Sample
Coming Soon
Multi User License - $2,500
GLOBAL YACHT MARKET
The International maritime Organization has asked the maritime industry to reduce greenhouse gas emissions by 50% by 2050 from pre-2008 levels. As a result, yacht builders and suppliers are working together to develop eco-friendly products with lower carbon foot print.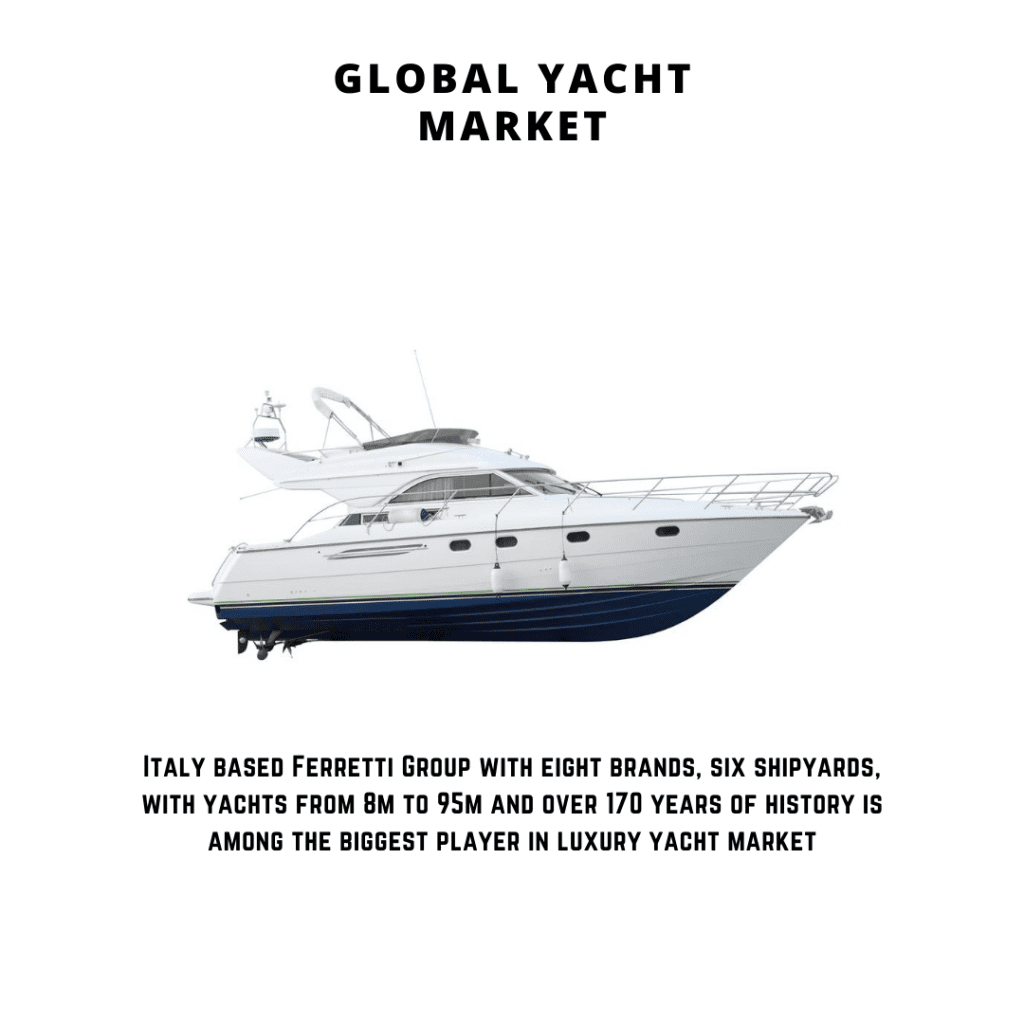 Be it light weight recyclable interiors, environment friendly epoxies or electro hybrid propulsion, the global trend is towards a sustainable mode of maritime transportation even in pleasure boating.
MARKET DYNAMICS
 As we have detailed in our superyacht market report, the use of glass was earlier restricted because it was heavy, but now with better technology, glasses are being used to improve the structural styling of yachts, and not just doors and window.
In sailboat market, there is a significant and growing proportion of sail boat enthusiasts who are now looking for better on-board living convenience, lower maintenance, and a more natural sailing experience.
In catamaran market, there has been a growing interest in solar/battery powered catamaran which can achieve 6-7 knots per hour and about 100 nautical miles per day.
Innovations in boatbuilding like carbon-fibre and modern composites, to make boats lighter and more robust, not to mention highly efficient hull designs now play a significant role in development of new yachts.
MARKET SEGMENTATION
By Yacht type
Cruiser Motor yacht
Sailing yacht (Including catamaran)
Fishing yacht
Megayacht
By Yacht length
30ft-50ft
50ft-80ft
Superyacht (More than 24M/80ft in length)
By Hull type
By Region
US
Canada
Europe
Australia
ROW
By Price
Less than $1M
$1M-$5M
More than $5M
By Propulsion
Diesel
Diesel+ Electric
Electric
ASIA PACIFIC YACHT MARKET
In Asia, Ferretti Group had a great start in 2020, despite Covid-19 situation, it has brought in a solid order intake including 12 new yachts sold, valued at ~$78 Million.
The yacht market could further grow in Asia-Pacific due to rise in rentals in on-demand boat rental market
VALUE CHAIN OF GLOBAL YACHT MARKET
Among the bigger yacht manufacturers, the hulls, decks and other parts, are built with composite materials (primarily fiberglass and polyester resins) along with timber materials for interior. Engines, electronic equipment and navigation systems are purchased from vendors and installed at the production sites.
GROWTH IN USAGE OF CARBON FIBER
Carbon fiber is lighter, stronger and stiffer than fiberglass. Carbon fiber is very similar to glass but requires a higher-grade resin and high precision lamination process, when used with other composite materials. An all-carbon-fiber material build costs multiple times more than a comparable fiberglass material.
Azimut S6 launched in Dec 2019 has a sunroof, swim platform Superstructure, part of the deck and even a tender garage made of carbon fibre.
DEVELOPMENTS IN ELECTRIC YACHT MARKET
There is a growing demand for day boating experiences.Millennials prefer to go out with a friends/family for a shorter duration, 3-4 hours on a weekend and not sleep on the boat. Millennials are also environment conscious and prefer products with lower carbon footprint therefore there could be a bigger market for electric yachts in coming years.
Among the new products launched in the market, The new Voltaire 33 Sky electric power catamaran couples electric propulsion with a flax-fibre composite hull. It is designed by a new company in the electric boat market – Voltaire Yachts –with offices in Germany and a manufacturing plant in the U.S.
The Voltaire Sky is powered by a Torqeedo system( an electric marine motor company) – twin Deep Blue 50kW motors with BMW 42kWh Li-ion batteries. It has a range of 100 nm) or 180km – which is good enough for an intraday or a 4-5 hours quick trip.
Soel Yachts based in Netherlands has been designing and building solar powered yachts since 2011. The SoelCat 12, at a cruising speed of 7 knots has a range of 11 hours on battery alone and 16 hours with draw from the solar panel. The boat's solar array can also feed into an AC grid on shore while anchored or to provide power at remote places where no grid is available.
MARKET SIZE AND FORECAST
The global yacht market is estimated at $XX Billion in 2020 growing at –% CAGR till 2025.
NEW PRODUCT DEVELOPMENT IN YACHT MARKET
Aug 2020- The concept for the new Sunreef MM460 Catamaran was revealed by Malcolm McKeon Yacht Design and Sunreef Yachts. The 26-metre sailing yacht with a 16.65 metre beam features carbon fibre mast and boom weighs in at just under 500 tonnes
July 2020– SAY Carbon will display a new 42ft boat in Cannes yachting festival in Sep 2020
July 2020– Greenline Yachts announced the launch of two new models, the Greenline 45 Coupe and Ocean Class 68
July 2020– Voltaire Electric Yachts (a new US-German company), announced its official start of operations with the launch of its first model – a 32ft all-electric power catamaran
COMPETITIVE LANDSCAPE
Italy based Ferretti Group with eight brands, six shipyards, with yachts from 8m to 95m and over 170 years of history is among the biggest player in luxury yacht market.
In Jan 2020, Group Beneteau reported its full year financials and the 2018-2019 Revenue was ~$1.4 Billion and PAT margin of ~5%. The group generates more than 50% of its Revenue from EU markets followed by ~28% from North America. About 85% of its revenue was generated from boat/yacht business. Roughly ~40% of overall Revenue was generated from Sailing boats/yachts.
COMPANY PROFILES
Pershing
Jeanneau
Falcon
Sea Ray
Custom
| | |
| --- | --- |
| Sl no | Topic |
| 1 | Market Segmentation |
| 2 | Scope of the report |
| 3 | Abbreviations |
| 4 | Research Methodology |
| 5 | Executive Summary |
| 6 | Introduction |
| 7 | Insights from Industry stakeholders |
| 8 | Cost breakdown of Product by sub-components and average profit margin |
| 9 | Disruptive innovation in the Industry |
| 10 | Technology trends in the Industry |
| 11 | Consumer trends in the industry |
| 12 | Recent Production Milestones |
| 13 | Component Manufacturing in US, EU and China |
| 14 | COVID-19 impact on overall market |
| 15 | COVID-19 impact on Production of components |
| 16 | COVID-19 impact on Point of sale |
| 17 | Market Segmentation, Dynamics and Forecast by Geography, 2020-2025 |
| 18 | Market Segmentation, Dynamics and Forecast by Product Type, 2020-2025 |
| 19 | Market Segmentation, Dynamics and Forecast by Application, 2020-2025 |
| 20 | Market Segmentation, Dynamics and Forecast by End use, 2020-2025 |
| 21 | Product installation rate by OEM, 2020 |
| 22 | Incline/Decline in Average B-2-B selling price in past 5 years |
| 23 | Competition from substitute products |
| 24 | Gross margin and average profitability of suppliers |
| 25 | New product development in past 12 months |
| 26 | M&A in past 12 months |
| 27 | Growth strategy of leading players |
| 28 | Market share of vendors, 2020 |
| 29 | Company Profiles |
| 30 | Unmet needs and opportunity for new suppliers |
| 31 | Conclusion |
| 32 | Appendix |