GLOBAL YACHT NAVIGATION SYSTEM MARKET
On a recreational boat or a yacht, it is extremely important to know what lies ahead and beneath.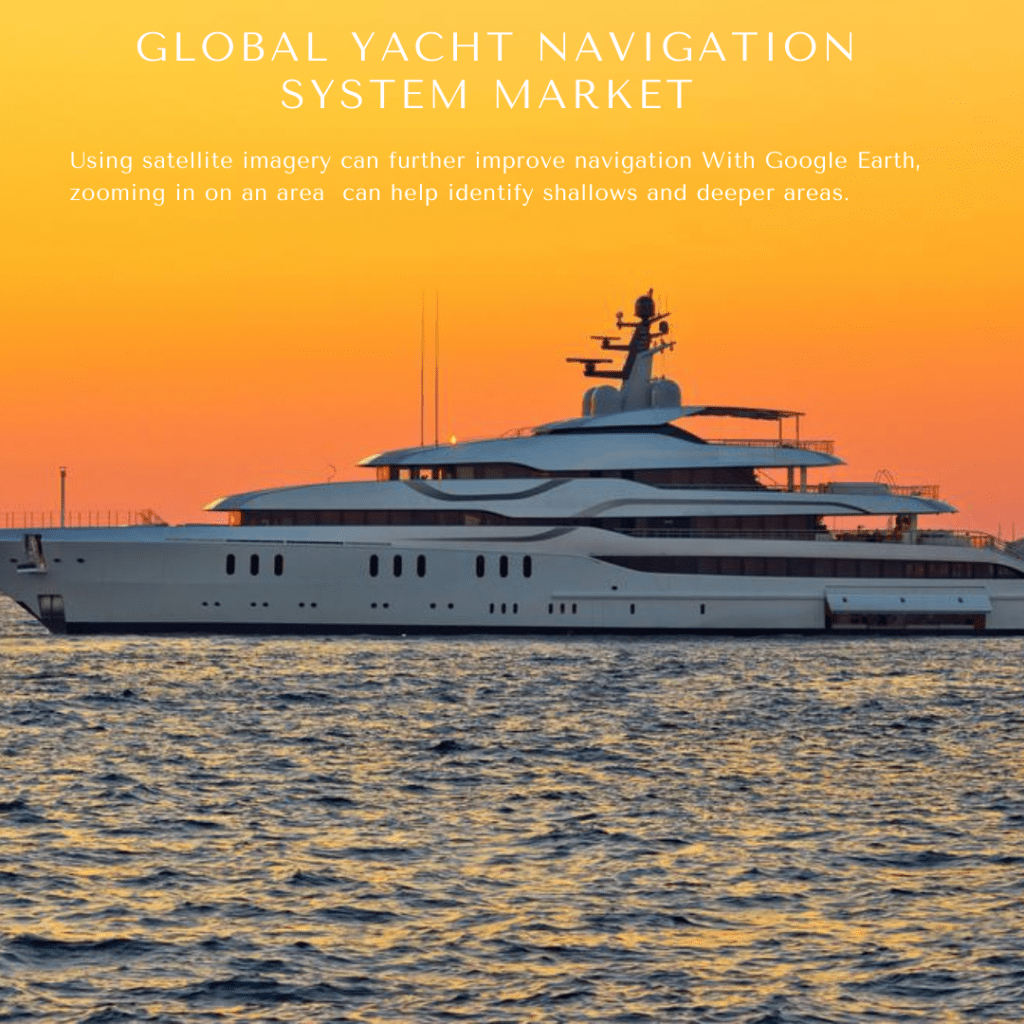 Radar is a collision avoidance tool and can pick up vessels which are not fitted with automated identification system (AIS). Radar can also help in setting up guard zones to automatically alert the crew if an object/vessel enters a zone set up around the yacht. Radar can also be very useful for locating rain and the associated wind shift.
GLOBAL YACHT NAVIGATION SYSTEM MARKET DYNAMICS
In recent years, the term 'broadband radar' or '3G/ 4G radar' has gained prominence. The broadband radars have completely do away with phone signals and can even automatically tune themselves.
Modern broadband radars have a range of upto 35 miles which is good enough for most applications. They have a power requirement of less than 5A and use a continuous radar signal with a changing tone or frequency at a much lower power.
The radar antenna constantly looks for a change in signal and a difference between frequency in the transmitted and returned waves determines target distance.
Active sonar, commonly used on yachts, emits an acoustic signal into the water. If acoustic signal bounces off an object and returns an 'echo' to the sonar transducer, the distance is calculated. 
In Sonars, a lot of effort has been put to improve it over many years and the latest products can be a powerful tool for all type of yachts. Now, Sonars offer sufficient clarity, due to CHIRP transducers that can distinguish between multiple targets through scanning using a varying frequency signal.
INCLUSION OF NEW TECHNOLOGIES IN YACHT NAVIGATION MARKET
Yacht industry has always been among the early adopters of new technologies and it is no different in case of navigation.
AIS( Automatic Identification system) has gained rapidly in recent years and Satellite imagery is further gaining ground.
Using satellite imagery can further improve navigation With Google Earth, zooming in on an area  can help identify shallows and deeper areas.
Many cruisers use Open Source CPN, a chartplotting software on a laptop.
GLOBAL YACHT NAVIGATION SYSTEM MARKET SEGMENTATION
By Product
By Yacht length
Under 35 ft
36-60ft
More than 60 ft
By Region
US
Europe
Asia
Rest of the world
GLOBAL YACHT NAVIGATION SYSTEM MARKET SIZE AND FORECAST
The global yacht navigation system market is estimated at $XX Billion in 2020, growing at –% CAGR till 2025
COVID IMPACT ON YACHT NAVIGATION SYSTEM MARKET
For GARMIN, in Q2-2020, Revenue from Marine segment increased 4% YOY as people spent more time on boating and fishing during the pandemic. The retail sales were strong, led by chartplotters and Panoptix sonars.
As many boat builders were idle during the quarter, it anticipates an extended marine season this year as boat boat builders work through production backlogs to fulfil orders.
COMPETITIVE LANDSCAPE
GARMIN and Raymarine are market leaders followed by Simrad and Humming Bird. GARMIN is the preferred choice of many yacht builders worldwide can be found on boats ranging from 23ft to 100+ft.
Raymarine`s parent company FLIR systems has been building military and aviation technology for many years now and they have leveraged the knowledge of augmented reality in consumer marine electronics.
In  Raymarine's yacht systems ,chart and traffic information appears in a 3-D format making it extremely intuitive.
GARMIN `s  latest Nautix kit provides key sailing data on sunglasses frame. The product is similar to those worn by fighter pilots.
In July 2020, Simrad announced it has been selected as the exclusive marine electronics supplier for Chaparral/Robalo boats. For MY 2021, Simrad will be the only marine electronics option on all 27 Chaparral models and all 22 Robalo models.
COMPANY PROFILES
THIS REPORT WILL ANSWER FOLLOWING QUESTIONS
Market Size and Forecast (2020-2025), Units and $M
Market split by region, end use segment and Navigation type
Market share of leading vendors, 2020
COVID impact on Yacht Navigation market and suppliers` earnings
Yacht navigation technology trends
| | |
| --- | --- |
| Sl no | Topic |
| 1 | Market Segmentation |
| 2 | Scope of the report |
| 3 | Abbreviations |
| 4 | Research Methodology |
| 5 | Executive Summary |
| 6 | Introduction |
| 7 | Insights from Industry stakeholders |
| 8 | Cost breakdown of Product by sub-components and average profit margin |
| 9 | Disruptive innovation in the Industry |
| 10 | Technology trends in the Industry |
| 11 | Consumer trends in the industry |
| 12 | Recent Production Milestones |
| 13 | Component Manufacturing in US, EU and China |
| 14 | COVID-19 impact on overall market |
| 15 | COVID-19 impact on Production of components |
| 16 | COVID-19 impact on Point of sale |
| 17 | Market Segmentation, Dynamics and Forecast by Geography, 2020-2025 |
| 18 | Market Segmentation, Dynamics and Forecast by Product Type, 2020-2025 |
| 19 | Market Segmentation, Dynamics and Forecast by Application, 2020-2025 |
| 20 | Market Segmentation, Dynamics and Forecast by End use, 2020-2025 |
| 21 | Product installation rate by OEM, 2020 |
| 22 | Incline/Decline in Average B-2-B selling price in past 5 years |
| 23 | Competition from substitute products |
| 24 | Gross margin and average profitability of suppliers |
| 25 | New product development in past 12 months |
| 26 | M&A in past 12 months |
| 27 | Growth strategy of leading players |
| 28 | Market share of vendors, 2020 |
| 29 | Company Profiles |
| 30 | Unmet needs and opportunity for new suppliers |
| 31 | Conclusion |
| 32 | Appendix |