What is the autonomous car industry revolution all about?
The bigger cities across the globe have the problem of providing adequate public transport. Many lack  adequate infrastructure to meet the needs of their residents, a void that could be partially filled with cars without drivers. The autonomous car industry could potentially integrate public transport, solving the problem of the first mile and the last mile.The US DOT(Department of Transportation) estimates that every human life has a value of ~$9 million. Therefore, adoption of autonomous vehicle could result in significant savings, such as ,productive man hours,insurance and health costs associated with incident recovery.
Given that over 90% of road accidents are caused by human error, autonomous vehicles could play an important role in reducing this risk. Only in the US, the adoption of autonomous vehicle could eliminate more than 30,000 fatal accidents per year. In addition, older / disabled people, who have to rely on public transport or the assistance of others to travel, could benefit from autonomous vehicles.
Every major automotive OEM wants to be an early mover in the autonomous car space or at least avoid being called a laggard. Giving them company are the tier-1 automotive suppliers like Bosch, Delphi and Denso. Majority of the investment in autnomous car industry is done by world famous automotive companies, their venture arms or the Silicon Valley investors. The bulk of growth, however, is concentrated in North America and Europe where growing popularity of Mobility as a Service has been the major driver in the rise of self-driving vehicle start- ups.
What`s the need for partnerships in autonomous car industry  ?
Companies form partnerships, to fill gaps in their product portfolio or services. It saves them the pain and risk of rushing into a new market segment alone. The same holds true for companies trying to create a name for themselves in the autonomous car industry. In order to flourish in this increasingly competitive automotive market, both suppliers and OEMs will have to move from the reactive stand to a proactive position based on market feedback and customer inclination. The partnerships in the autonomous car industry will become increasingly important as conventional auto suppliers look to fill gaps in their capabilities, which in turn will allow them to deliver complete and fully functional autonomous/ADAS systems. Strategic partnerships will play a pivotal role in closing technology gaps, majorly around important control points of raw data fusion, data processing, and machine learning in autonomous car industry.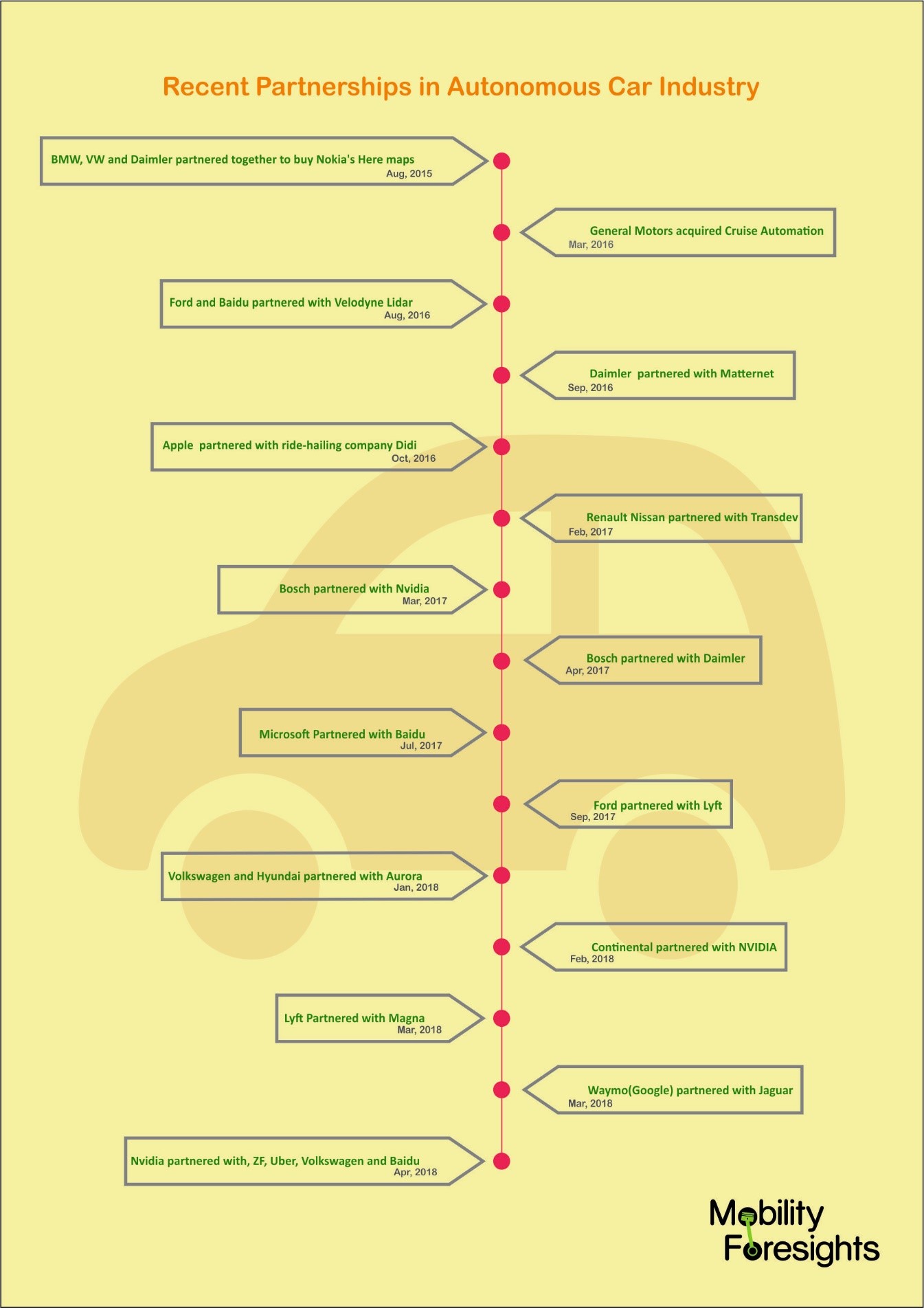 We have been tracking partnerships in this space for past three years and have put below our assessment
August 2015-BMW, VW and Daimler partnered to buy Nokia`s Here maps. This one`s quite obvious, an autonomous car can't run on its own unless there is a database of streets.
March 2016-General Motors acquired Cruise Automation. This was done to add the armory of autonomous tech to the second biggest car manufacturer in the world
Aug 2016-Ford and Baidu invested $150 million in Velodyne Lidar, to mass produce LIDAR sensors at a competitive price.
September 2016-Daimler partnered with Matternet, a start-up building autonomous delivery drones for future drone development. This was more targeted towards customers using Mercedes vans for last mile delivery services.
October 2016-Apple partnered with ride-hailing company Didi. We have to say, not many saw this coming but it was more targeted towards Apple getting more access to the Chinese market in terms of mobility.
February 2017-Renault-Nissan partnered with Transdev to explore the potential of autonomous on-demand taxi services
March 2017-Bosch partnered with NVIDIA to develop AI-powered Self-driving car computer i.e. the brain of an autonomous car
April 2017– Bosch partnered with Daimler i.e the two European giants collaborated to develop an autonomous fleet of on-demand taxis
May 2017– Microsoft partnered with Baidu to expand its positioning outside China
Sep 2017-Ford partnered with Lyft. This was expected, given all the big names in the auto industry were collaborating with tech start-ups to foray in on-demand autonomous taxi space.
January 2018-VW and Hyundai partnered with Aurora. They both want to use Aurora's self-driving technology in their cars by 2021
February 2018– Continental partnered with NVIDIA. Both parties will leverage their expertise to develop semi-autonomous vehicles by 2021 i.e. Continental's sensor technology and NVIDIA's AI software and a central computer will be combined to develop the AI for semi-autonomous cars.
March 2018– Lyft partnered with Magna. Magna will be manufacturing Lyft vehicle's self-driving system, outfitting them on multiple OEM products which will obviously be a part of Lyft`s fleet.
March 2018– Waymo(Google) partnered with Jaguar. The plan is to install Waymo`s self-driving system in Jaguar`s compact SUV, the I-pace and launch a self-driving car ride share service by 2018 Dec.
April 2018– Nvidia announced partnerships with, ZF, Uber, Volkswagen, and Baidu. The driverless car system created by the three companies will use various technologies from each other. The central computer will come from Nvidia, cameras, and sensors from ZF, and the autonomous software platform from Baidu.
Conclusion
From what it looks like, everybody`s rushing to grab a slice of the red-hot autonomous car industry. The market seems so lucrative to all that they seem to have forgotten the bitter and in a few cases even a century old rivalry among them. The biggest question that still remains unanswered is, does the market for autonomous cars actually exist and if it does, by when can we expect us to feel fully secure giving the command of our life to a computer.
The  information has been sourced from our report titled "Global Self-Driving Car Hardware Market 2018-2025".Download free sample to know more.