What could  be the potential role of autonomous trucks in our daily lives?
It all started with research on autonomous cars
Cars without drivers receive a lot of attention and are the talk of the town right now. However, it's a little-known fact that autonomous trucks could bring even a bigger revolution. In fact, autonomous trucks are at the inflexion point of technology and research being applied to them in a way that could improve productivity across the industries and reduce traffic congestion near ports and major distribution areas. Autonomous trucks are already operating on test pilots on US highways and ports.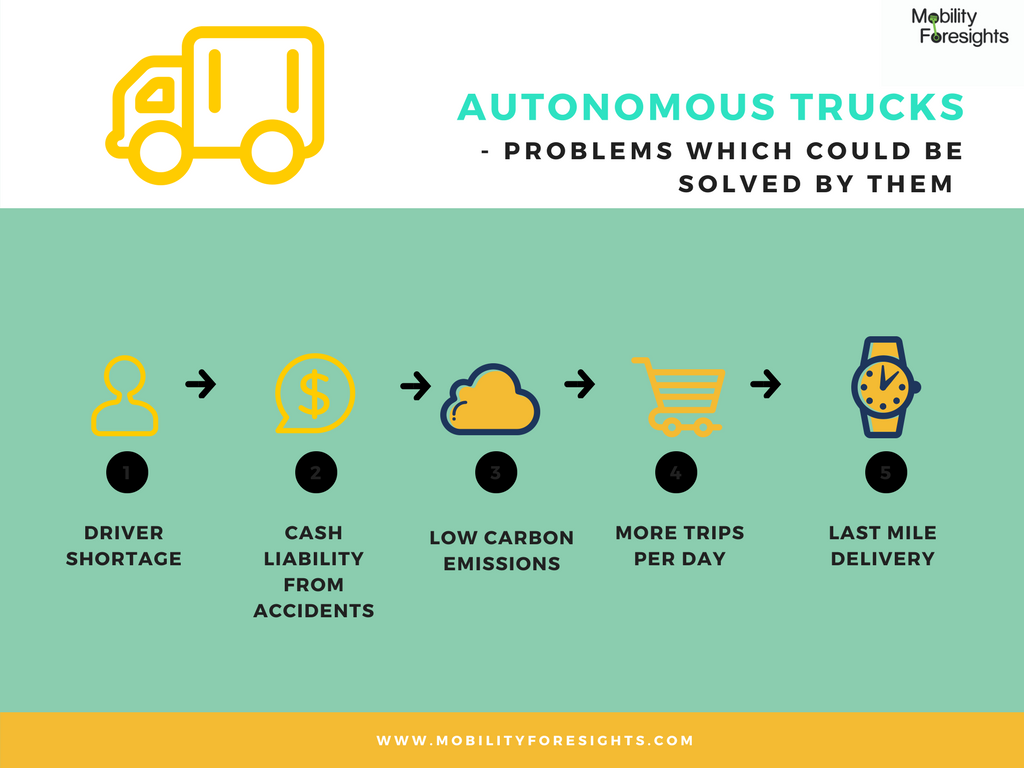 The heavy trucks spend most of their time on highways which are far less complex as compared to urban areas, therefore the technology cost required to get a vehicle rolling there will be far less. Not to mention the truck driver shortage the US trucking industry is facing right now. The Millennial population in the US is just not interested in taking up a truck driving job, the most common reason is their preference for spending quality time with friends and family.
Trucking is one of the largest industries in the US. Every year, nearly $800B is spent on trucking service to move $12T worth of goods. Trucking accounts for 82% of total dollars spent on moving freight. Truck capacity in the US is fragmented, and it's hard for shippers to connect with truckers on short notice. What`s even more difficult is to This raises the question of how this technology will affect the transport of an industry suffering from driver's shortages, but it is also the backbone of how goods move in the United States.
Top 5 Autonomous Truck tech start-ups:
Nikola Motor- Wants to become a full-scale truck manufacturer with autonomous trucking capability. It is valued at over $1B and has recently announced that it will put up a $1B plant in Arizona. Total funding raised so far- ~$110 Million(Excluding the amount generated by pre-bookings)
TuSimple (Beijing, China)- It is also testing its technology in the US. It provides a full-stack solution which brings together technology for perception, localization, mapping, motion planning, control, and actuation. Total funding raised so far- ~$83 Million
Peloton Technologies,(California, US)- Makes Platooning system which is managed by a cloud-based network operations center and connected to trucks via a cellular or Wi-Fi connection. It Has aggressively partnered with OEMs and tier-1 suppliers of class 8 trucks to expedite vehicle integration and calibration of its system. Total funding raised so far- ~$78 Million
Starsky Robotics(California, US)- The company plans to build small robots that can control the existing control mechanisms of a truck physically, instead of on overhauling the truck with modified control systems Total funding raised so far- ~$20 Million
Embark Trucks(California, US)- Is developing technology with neural net-based deep learning approach to autonomous trucking. It is currently testing its technology in Peterbilt Trucks. Total funding raised so far- ~$17 Million
The self-driving trucks are used in other fields like
Mining industry: Mining is one of the first industries to start using autonomous trucks in real-life scenarios. EX: Although the truck drivers in this industry are well paid autonomous trucks are could drive the exact same route for an even longer duration, improving the overall productivity. Australia based Rio Tinto group has been using autonomous trucks for more than a decade now
Postal service. The U.S. Postal Service is already researching and testing Autonomous trucking technology. One of the reasons why the USPS is doing so is, it spends close to $4B every year on contracting its long-haul freight. Having a fleet of autonomous trucks could result in significantly lower expenditure. It plans to go full scale for the distribution of autonomous postal trucks in the next seven years. USPS wants to start with rural routes since there are fewer dangers and pedestrians that appear without warning.
The information has been sourced from our report titled "Global Truck Technology Startups-2018 Edition". Download free sample to know more