Global Air Freight Market 2020-2025
November 8, 2020

Request Sample
COMING SOON
Multi User License - $3,000
GLOBAL AIR FREIGHT MARKET
INTRODUCTION
Since 1903, the year in which Wright brothers flew their first airplane, air travel has transfigured the world of transport in numerous ways. The first air freight (cargo only plane) took place in 1910 to deliver a package containing 200 pounds of silk from Dayton to Columbus, Ohio. Today, the volume of freight transported by air has increased by over million folds per day since its inception.
In late 1910s, number of entrepreneurs realized the significance of aircraft in freight transportation and how air craft could be faster than railroads to carry consignments. This embarked the era of fast freight transportation as number of companies such as Railway Express Agency (REA) , National Air Transport (later, NAT became part of United Airlines), Ford Air started employing airplanes to carry cargos.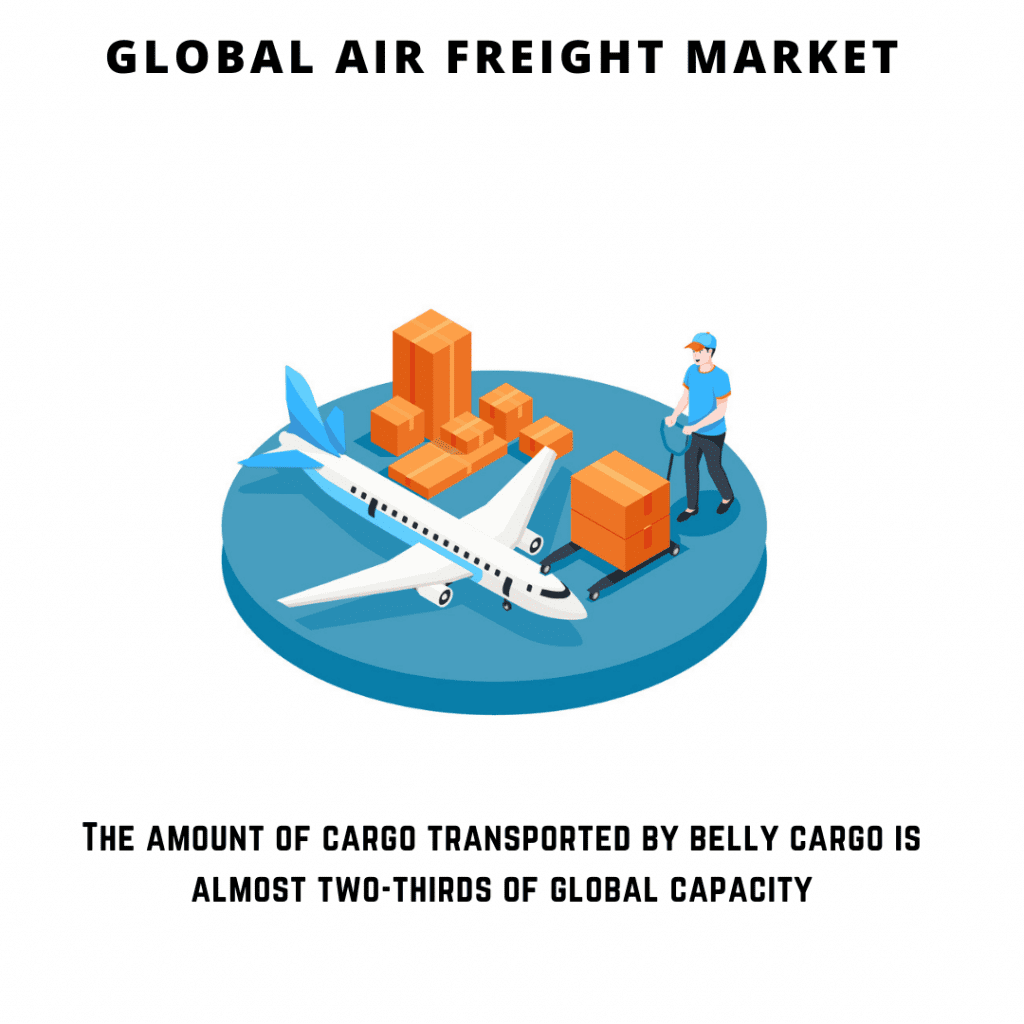 Until early 1940s, airplanes carried majorly high value/low volume consignments. During the World War-II, aviation technology grew exponentially in less than a decade, more powerful engines were designed, which led to development of much bigger aircrafts that could fly larger distance. All the developments used for warfare were later employed in air cargo industry. Therefore, it was post-World War-II that led the immense growth of air freight industry.
Currently, seven out of ten biggest cargo carriers are traditional airlines that operate using both all-cargo aircraft and passenger aircraft. Thus, there are only three cargo-only airline (FedEx, UPS and Cargolux) in world's top ten.
MARKET SEGMENTATION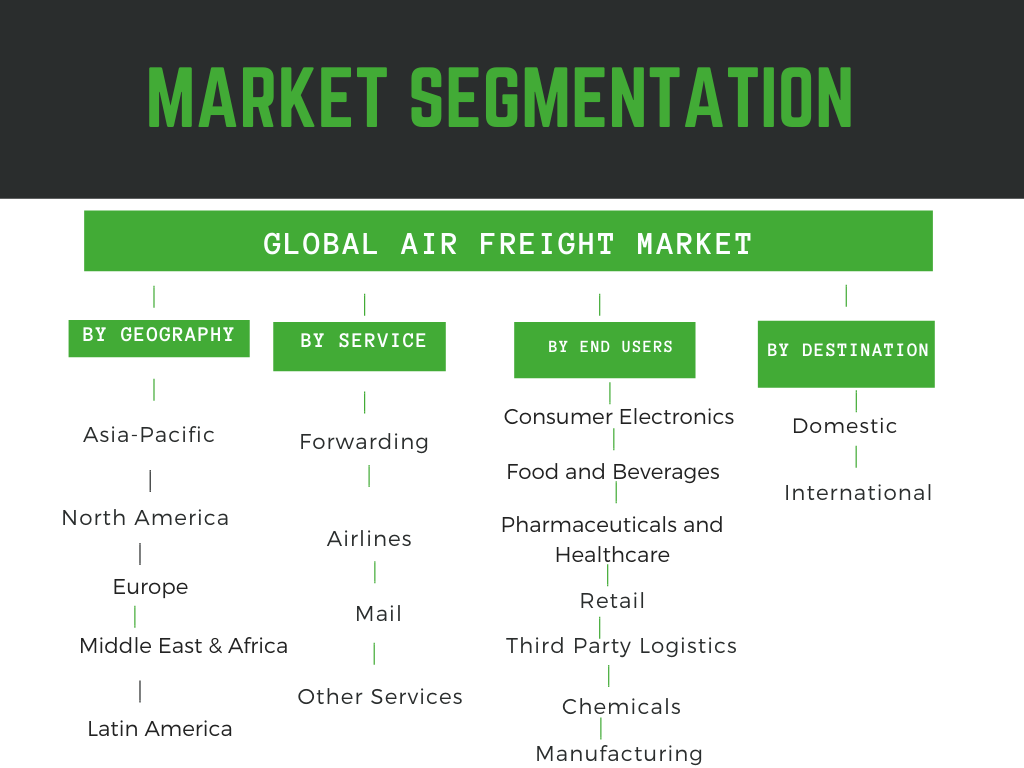 MARKET DYNAMICS
The period of 1960s-1980s is considered as Golden Period in aviation for Air Freight. This was the time when Boeing introduced the four-engines wide body 747, the plane that was able to transport full pallets in its cargo hold. The introduction of new type of aircraft facilitated the development of air freight business.
 FedEx was founded during this time as full-fledged Cargo only Airline, which was new at that time. Soon after, many players got into cargo only market which increased the competition in the business.
The value proposition of these cargo airlines was to deliver the good in lowest time possible, FedEx even had Next-day guaranteed delivery. Subsequent years witnessed enter of more major players, such as United Postal Service (UPS), in Air Cargo industry. Because of rise of FedEx and UPS and other competitions, the amount of air freight has been growing since 1990s. But what really fuelled the growth of Air Freight industry were Technological innovation and growth of global commerce in late 1990s and early 2000s.
Surprisingly, market is dominated by belly cargo airlines instead of Cargo-only airlines. The amount of cargo transported by belly cargo is almost. two-thirds of global capacity. The air freight market has had a few challenging years in recent time, mainly attributed to trade war between the United States and China. In 2019, the industry noted the biggest decline in a decade, with volume falling by more than three percent.
THE COVID EFFECT ON AIR FREIGHT MARKET
The spread of COVID, has almost halted the travel industry, which remarkably had an adverse on cargo capacity.
With most planes grounded, there were no practical way to deliver the freight by air. In March and April 2020, cargo capacity declined by 22.7% and 42% annually. The belly-cargo has been impacted even worse, their capacity has gone down by as much 45% in March and 75% in April.
Although, capacity on dedicated freighters has seen opposite change because of conversion of passenger aircraft to cargo-only flights. Therefore, the blend of disrupted supply chains and a drastic decline in air passenger travel has been a boon for cargo-only airlines. In 2020, the cargo load factor increased by 11.5% year-on-year in April and reached an all-time high since 1990.
MARKET SIZE AND FORECAST
The increase in market size and revenue is attributed to three major factors:
Synchronized Global Economic Expansion
Increased Industrial Output
World Trade Growth
The global air freight market size is estimated at 65 million tons and cumulative revenue of $100 Billion in 2020.
COMPETITIVE LANDSCAPE
The Air Freight industry is mainly dominated by passenger airlines, known as belly cargo. Currently, seven out of ten biggest cargo carriers are traditional airlines that operate using both all-cargo aircraft and passenger aircraft. The major players operate in multiple regions across the world.
COMPANIES PROFILED
| | |
| --- | --- |
| Sl no | Topic |
| 1 | Market Segmentation |
| 2 | Scope of the report |
| 3 | Abbreviations |
| 4 | Research Methodology |
| 5 | Executive Summary |
| 6 | Introduction |
| 7 | Insights from Industry stakeholders |
| 8 | Cost breakdown of Product by sub-components and average profit margin |
| 9 | Disruptive innovation in the Industry |
| 10 | Technology trends in the Industry |
| 11 | Consumer trends in the industry |
| 12 | Recent Production Milestones |
| 13 | Component Manufacturing in US, EU and China |
| 14 | COVID-19 impact on overall market |
| 15 | COVID-19 impact on Production of components |
| 16 | COVID-19 impact on Point of sale |
| 17 | Market Segmentation, Dynamics and Forecast by Geography, 2020-2025 |
| 18 | Market Segmentation, Dynamics and Forecast by Product Type, 2020-2025 |
| 19 | Market Segmentation, Dynamics and Forecast by Application, 2020-2025 |
| 20 | Market Segmentation, Dynamics and Forecast by End use, 2020-2025 |
| 21 | Product installation rate by OEM, 2020 |
| 22 | Incline/Decline in Average B-2-B selling price in past 5 years |
| 23 | Competition from substitute products |
| 24 | Gross margin and average profitability of suppliers |
| 25 | New product development in past 12 months |
| 26 | M&A in past 12 months |
| 27 | Growth strategy of leading players |
| 28 | Market share of vendors, 2020 |
| 29 | Company Profiles |
| 30 | Unmet needs and opportunity for new suppliers |
| 31 | Conclusion |
| 32 | Appendix |