Global Automotive BLDC Motor Market 2020-2025
November 9, 2019

Request Sample
Coming Soon
Multi User License - $3,000
GLOBAL AUTOMOTIVE BLDC MOTOR MARKET
KEY FINDINGS
Toshiba motors in partnership with MikroElektronika developed a new set of Click boards controllers for BLDC motors which will work without any Hall sensor and external controller.
HVAC system demand, which utilizes mostly BLDC motors, to increase in Asia Pacific countries like China and India.
NASA's Mars 2020 mission to have a special drill made of BLDC motor to provide longer life.
ePropulsion NAVY 6.0 which can be remotely controlled features BLDC motor technology for high efficiency and durability.
Nanotec offers a new alternative for AC servo motors with its new BLDC motor series of APBA60.
HEIDENHAIN announces new range of encoders for BLDC motors, which feature compact size and high performance than previous generations.
Toshiba's new high voltage Intelligent Power Device (IPD) can reduce power dissipation by up to 10% in BLDC motors.
INTRODUCTION
A Brushless DC motor or BLDC motor is a kind of synchronous motor with no brushes. It is powered by D.C. supply and commutated electronically. A controller provides a pulse that is used to control the speed and torque of the motor.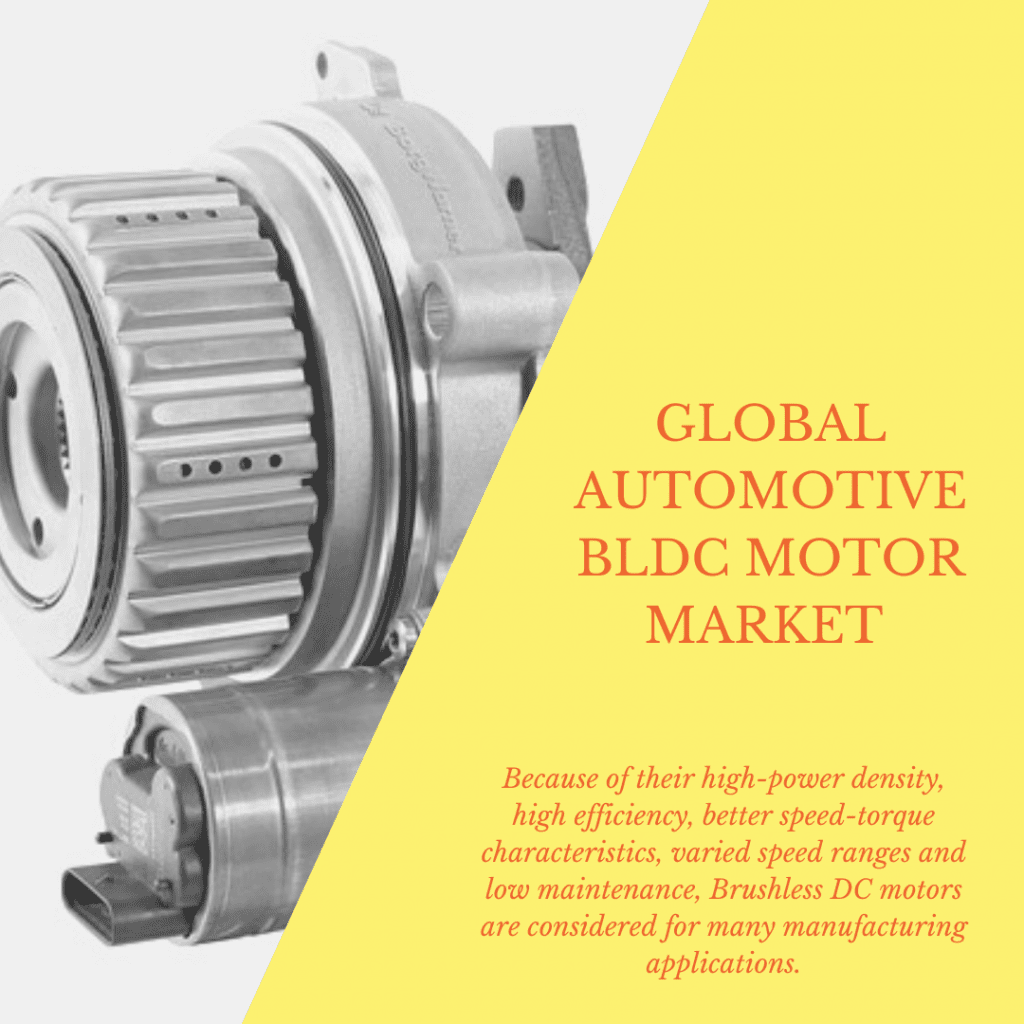 It consists of two parts: Stator and rotor. The rotor is a permanent magnet and Stator consist of stator windings. The magnetic force of stator winding drives the permanent magnets of rotor. BLDC consists of an electronic controller in which a sensor is used to detect the position of the rotor, and correspondingly, the controller energizes the coil of Stator.
BLDC motors possess many advantages such as-
long life
high torque
compact size
lightweight
highly efficient
can run on electric power
low manufacturing cost
low noise
low maintenance
highly reliable
GLOBAL AUTOMOTIVE BLDC MOTOR  MARKET DYNAMIC
BY TYPE
INNER ROTOR TYPE
As the name suggests, the rotor is located inside the motor surrounded by stator windings. Since the rotor is located in the centre and Stator winding outside, heat gets quickly dissipated. This, in turn, increases the performance of the motor and produce more torque.
High-performance magnets are used to obtain high magnetic flux using small magnets. Since the rotor is small, it can respond quickly.
It has a small moment of inertia and is used where compact and higher motor output is required.
OUTER ROTOR TYPE
In this motor design, the rotor surrounds the stator winding (located in the centre). Permanent magnets being used as the rotor doesn't have to be downsized, which ease the coil winding process. The rotor insulates the heat inside and does not allow for heat dissipation, which in turn generates low torque and are operated at low rated currents.
The rotating motor shaft has a high moment of inertia.
BY APPLICATION
AUTOMOBILE
Brushless DC motors are used in E.V.s (electric vehicles), hybrid vehicles along with few types of transporters. Electric Bicycles, self-balancing scooter wheels and electrically powered R.C. models have been using brushless motors for some time now because of its high efficiency.
Few parts in a car where BLDC motors are used-
Headlamp
Wiper
Blower
Water-pump
Power Steering
Sunroof
Door mirror
Electric seat controller
Electric parking brake
Electric trunk
Power window
Fuel pump
Traction stability
Cooling fan
MANUFACTURING
The application of brushless D.C. motors mainly focuses on manufacturing engineering and industrial automation design. In manufacturing, BLDC motors are primarily used for the motion control system, positioning and actuation systems.
Because of their high-power density, high efficiency, better speed-torque characteristics, varied speed ranges and low maintenance, Brushless DC motors are considered for many manufacturing applications. Most common uses of brushless D.C. motors include servo motors, linear motors, actuators, drive motors and feed drive for CNC machine tools.
BY REGION
BLDC motors are in massive demand in HVAC systems because of its high efficiency in the airflow system.
HVAC systems are becoming popular in Asia Pacific countries like China and India. This is likely to increase the market for BLDC motors in this region.
New projects under construction, worth billions of dollars, have been expected in North America and Asia Pacific region. Substantial requirements of the HVAC system will thrive in the BLDC motor market in these regions.
KEY PLAYERS
| | |
| --- | --- |
| Sl no | Topic |
| 1 | Market Segmentation |
| 2 | Scope of the report |
| 3 | Abbreviations |
| 4 | Research Methodology |
| 5 | Executive Summary |
| 6 | Introduction |
| 7 | Insights from Industry stakeholders |
| 8 | Cost breakdown of Product by sub-components and average profit margin |
| 9 | Disruptive innovation in the Industry |
| 10 | Technology trends in the Industry |
| 11 | Consumer trends in the industry |
| 12 | Recent Production Milestones |
| 13 | Component Manufacturing in US, EU and China |
| 14 | COVID-19 impact on overall market |
| 15 | COVID-19 impact on Production of components |
| 16 | COVID-19 impact on Point of sale |
| 17 | Market Segmentation, Dynamics and Forecast by Geography, 2020-2025 |
| 18 | Market Segmentation, Dynamics and Forecast by Product Type, 2020-2025 |
| 19 | Market Segmentation, Dynamics and Forecast by Application, 2020-2025 |
| 20 | Market Segmentation, Dynamics and Forecast by End use, 2020-2025 |
| 21 | Product installation rate by OEM, 2020 |
| 22 | Incline/Decline in Average B-2-B selling price in past 5 years |
| 23 | Competition from substitute products |
| 24 | Gross margin and average profitability of suppliers |
| 25 | New product development in past 12 months |
| 26 | M&A in past 12 months |
| 27 | Growth strategy of leading players |
| 28 | Market share of vendors, 2020 |
| 29 | Company Profiles |
| 30 | Unmet needs and opportunity for new suppliers |
| 31 | Conclusion |
| 32 | Appendix |