Global Automotive Brakes Market 2020-2025
May 30, 2020

Request Sample
Coming Soon
Multi User License - $2,500
INTRODUCTION
Automotive brakes have progressed from drum brakes on both front and rear setup to Front Disc and Rear drum in 1980s and moving on to All disc setup in late 1990s and early 2000s. Now integration of Electric parking brake to rear callipers has been a growing trend for past 5 years.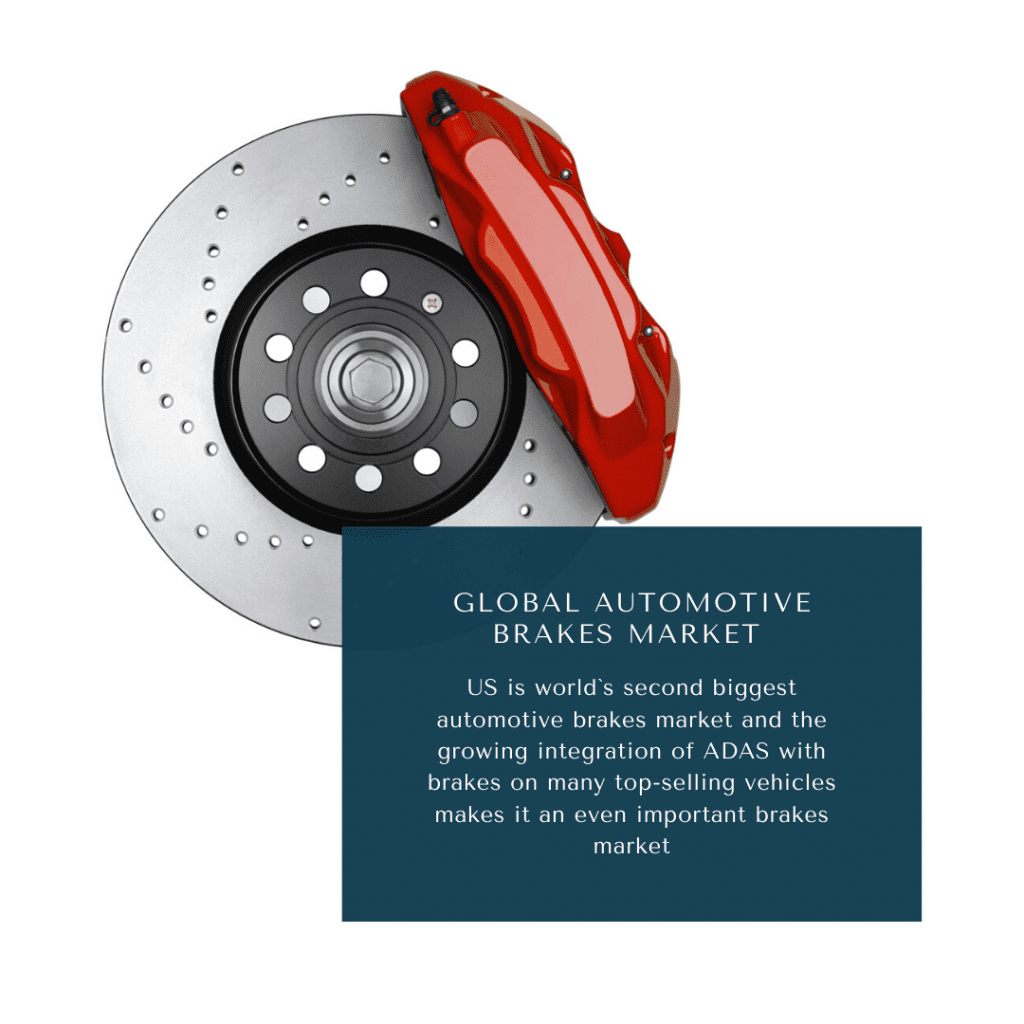 The Auto industry was already battling decline in sales since 2018 due to slowing demand from China, US and India until COVID-19 brought it to a standstill. The impact will be felt for a longer duration by auto manufacturers as well as brake market which is an integral part of the automotive industry.
US AUTOMOTIVE BRAKES MARKET
US is world`s second biggest automotive brakes market and the growing integration of ADAS with brakes on many top-selling vehicles makes it an even important brakes market
Honda offers the same setup i.e. Power-Assisted Ventilated Front Disc/Solid Rear Disc Brakes (front/rear) on all its top-selling vehicles like CRV, Civic and Accord. Since 2019 Honda also offers Honda Sensing ADAS suite as a Standard fitment which includes Collision Mitigation Braking System; Road Departure Mitigation; Lane Keeping Assist System; and Adaptive Cruise Control.
Toyota offers an array of ADAS features(Safety Sense) as a standard fitment on Camry, Corolla, RAV4 among other vehicles.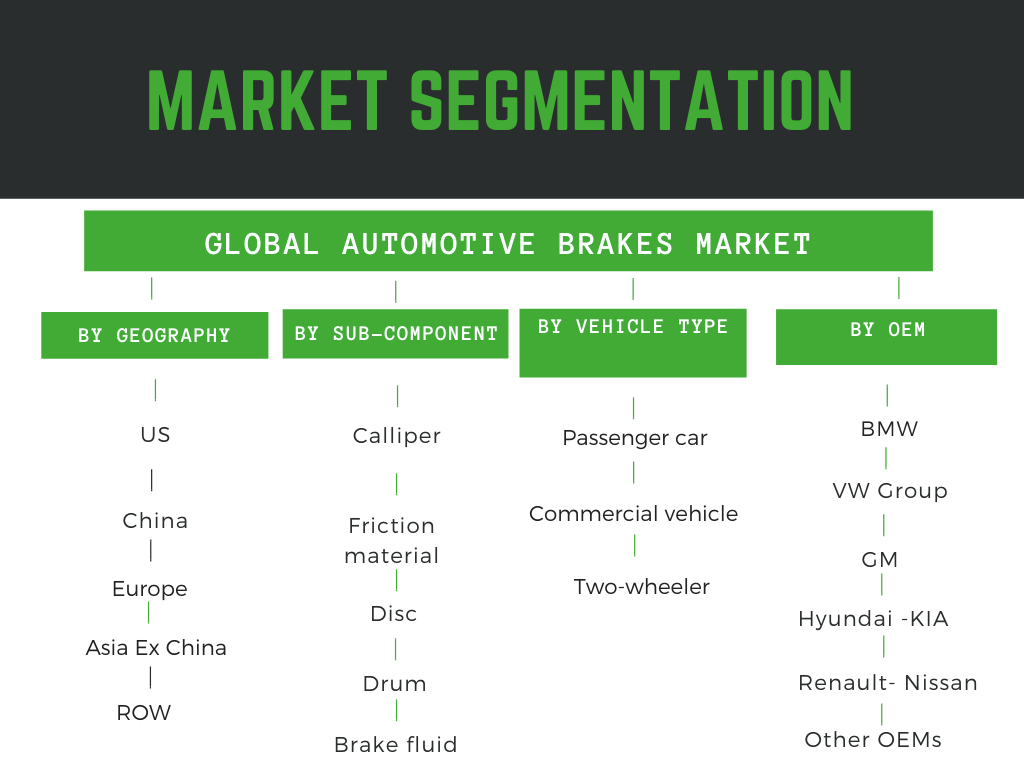 EUROPE AUTOMOTIVE BRAKES MARKET
Europe was the only market where Auto sales grew in 2019(+1% YOY) to 15.1 Million vehicles. In 2020, now that Europe has been adversely affected by COVID-19 we expect sales to come down by 20-25% YOY.
Europe with more than 20% share of premium cars in new car sales has all- disc setup on more than 80% vehicles sold in the region.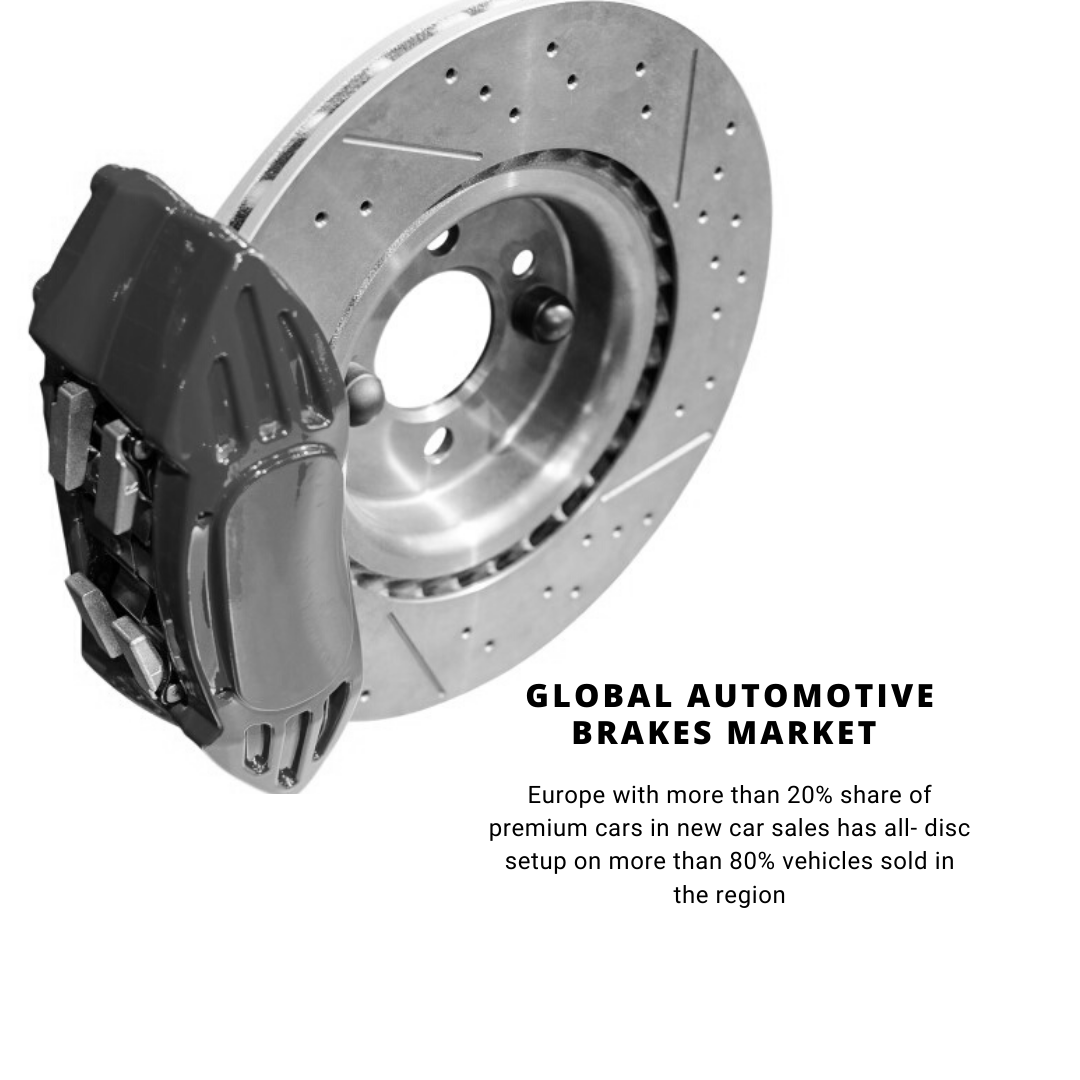 Among top-selling vehicles, A, B segment vehicles like VW Polo, Renault Clio get a Front Disc, rear drum setup on base and mid variants. Even, the higher variants along with Sports variants get an all Disc setup with front ventilated discs in many cases. Citroen C3 gets a front disc, rear drum setup as a standard fitment though.
The average front disc size ranges from 260-280mm with 22/24 mm thickness whereas the rear disc size varies from 250-260mm and 8-10mm thickness.
CHINA AUTOMOTIVE BRAKES MARKET
In China where, 95 OEMs sold 21.1 Million vehicles in 2019(8% decline YOY). In 2020, the auto production is expected to decline by at-least 15% due to COVID-19.
In many low cost domestic compact crossovers, Front Ventilated disc and rear disc setup is a standard fitment. Front Disc, rear drum setup as preferred by many other emerging countries is not that common in China with the exception of Nissan Sylphy(only on base variant).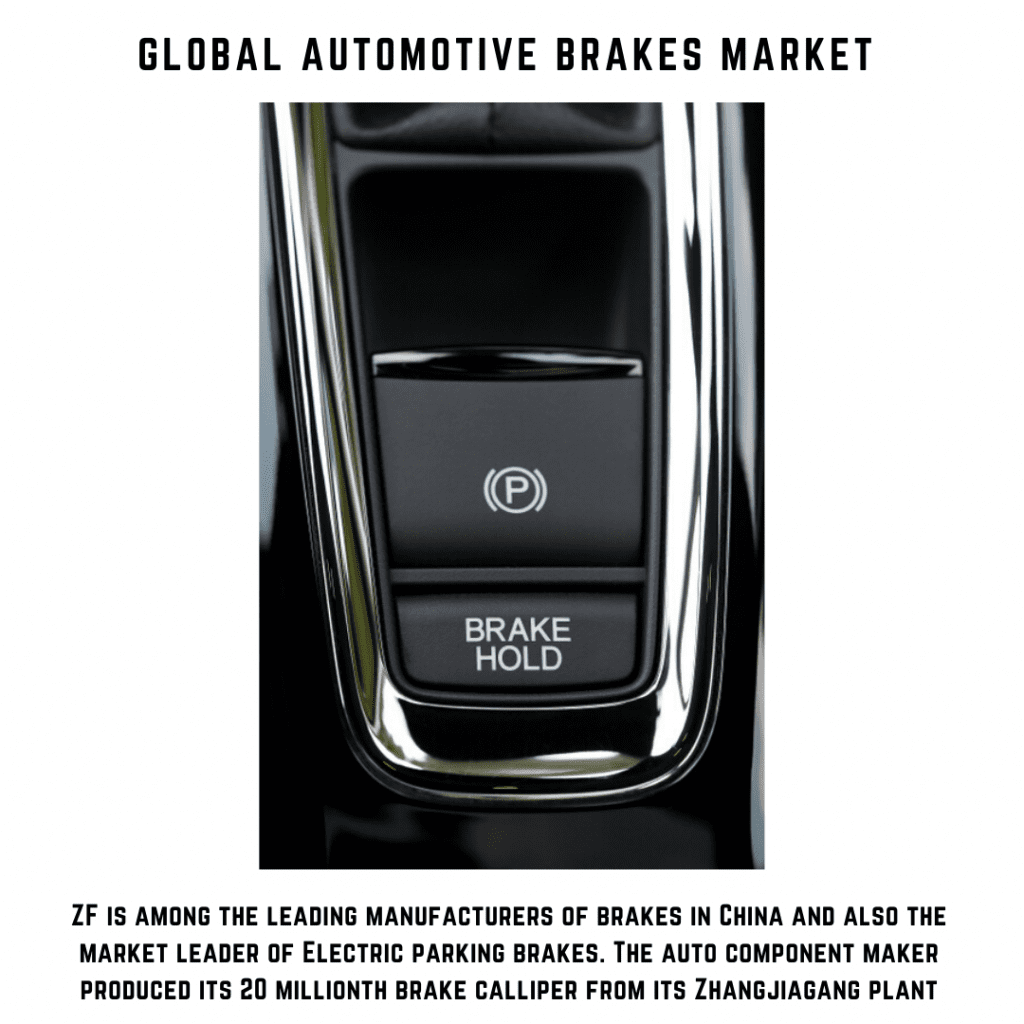 Many top-selling mid-segment vehicles like Toyota Corolla, Haval H6 …… have Electronic Parking brake as a standard fitment.
China is world`s biggest commercial vehicle market and like US and Europe, ABS is mandatory on all heavy trucks.
INDIA AUTOMOTIVE BRAKES MARKET
India auto market declined by 11% in 2019(YOY) and is expected to further decline in 2020 by at-least 20% due to the impact of COVID-19.
Maruti-Suzuki, the market leader in India offers Front Disc, rear drum setup on all cars except Suzuki S- Cross.
Hyundai, the second biggest market player in India offers almost its entire portfolio with Front Disc, rear drum setup. In 2009, Hyundai became the first OEM in India to offer all disc setup on a Premium hatchback with the launch of i20 but soon that setup was swapped with the ubiquitous Front Disc, rear setup.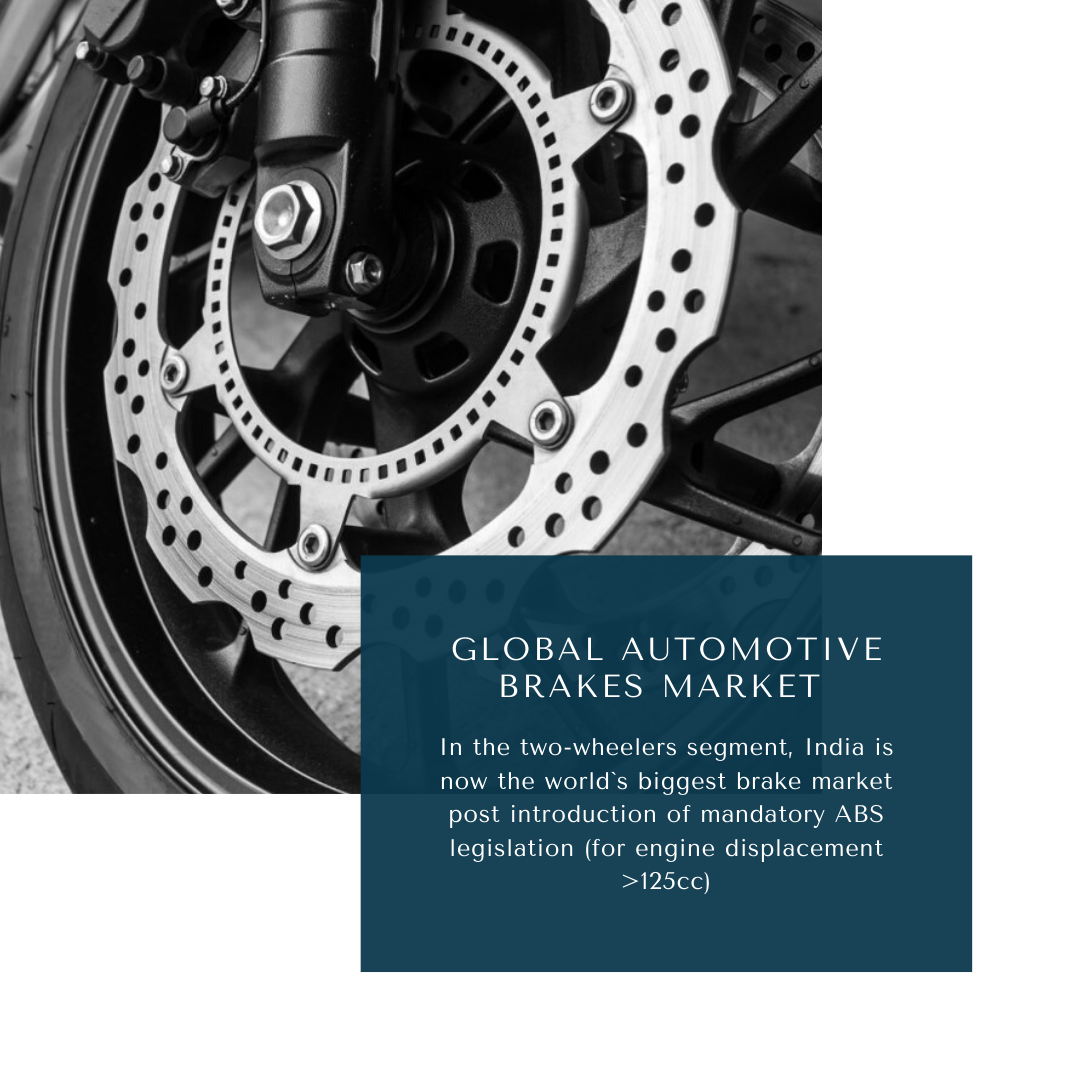 Electric parking brake feature is so far reserved for the premium segment only. As many ADAS features (Radar and camera based) are still not available in India, Brake by wire technology is yet to gain foothold in the country.
In the two-wheelers segment, India is now the world`s biggest brake market post introduction of mandatory ABS legislation (for engine displacement >125cc) coming into force in April 2019.
Although, the two-wheeler sales declined in the domestic market by 10%(YOY) in 2019, it is expected to dip further in 2020 due to the ongoing COVID-19 pandemic
COMPRTITIVE LANDSCAPE
Brake manufacturers relied on integration of ABS and ESC in early 2000s to boost their dollar content per vehicle. Now, Electric parking brakes getting increasingly common in US, Europe and China has increased their Dollar content per vehicle by ~15%.
ZF is among the leading manufacturers of brakes in China and also the market leader of Electric parking brakes. The auto component maker produced its 20 millionth brake calliper from its Zhangjiagang plant on April 20th 2020. More than 85% of the local production was aimed at local market and the remaining for exports.
In the light of COVID-19 we expect some M&A activity, especially from lower margin companies. Veoneer for example has already announced in April 2020 that it will sell its brake business to an unnamed US auto supplier.
COMPANY PROFILES
WABCO
THIS REPORT WILL ANSWER FOLLOWING QUESTIONS
Autonomous Emergency Braking fitment in 2020, by model
Automotive Brakes Revenue by OEM, 2020-2025
Decline in ASP of Brake products due to COVID-19
Market share of leading vendors and OE-supplier alignment
Profitability analysis of major global braking vendors in past 5 years
| | |
| --- | --- |
| Sl no | Topic |
| 1 | Market Segmentation |
| 2 | Scope of the report |
| 3 | Abbreviations |
| 4 | Research Methodology |
| 5 | Executive Summary |
| 6 | Introduction |
| 7 | Insights from Industry stakeholders |
| 8 | Cost breakdown of Product by sub-components and average profit margin |
| 9 | Disruptive innovation in the Industry |
| 10 | Technology trends in the Industry |
| 11 | Consumer trends in the industry |
| 12 | Recent Production Milestones |
| 13 | Component Manufacturing in US, EU and China |
| 14 | COVID-19 impact on overall market |
| 15 | COVID-19 impact on Production of components |
| 16 | COVID-19 impact on Point of sale |
| 17 | Market Segmentation, Dynamics and Forecast by Geography, 2020-2025 |
| 18 | Market Segmentation, Dynamics and Forecast by Product Type, 2020-2025 |
| 19 | Market Segmentation, Dynamics and Forecast by Application, 2020-2025 |
| 20 | Market Segmentation, Dynamics and Forecast by End use, 2020-2025 |
| 21 | Product installation rate by OEM, 2020 |
| 22 | Incline/Decline in Average B-2-B selling price in past 5 years |
| 23 | Competition from substitute products |
| 24 | Gross margin and average profitability of suppliers |
| 25 | New product development in past 12 months |
| 26 | M&A in past 12 months |
| 27 | Growth strategy of leading players |
| 28 | Market share of vendors, 2020 |
| 29 | Company Profiles |
| 30 | Unmet needs and opportunity for new suppliers |
| 31 | Conclusion |
| 32 | Appendix |