Global Electric Parking Brake Market 2020-2025
May 14, 2020

Request Sample
COMING SOON
Multi User License - $2,500
GLOBAL ELECTRIC PARKING BRAKE MARKET
KEY FINDINGS
In China market,1,825 vehicle models are on sale as of March 2020, 41 out of top 50 best-selling vehicles either get Electric Parking brake(EPB) as standard or at-least as an option 
In US Market, 484 vehicle models are on sale, 26 out of top 30 best-selling vehicles either get EPB as standard or at-least as an option
In Europe Market, 560 vehicle models are on sale. A, B&C segment vehicles comprised ~48% of annual sales in 2019. EPB penetration was lowest in A segment vehicles
The global auto production peaked in 2016-2017 and has been declining ever since and Corona virus(COVID-19) could further de-grow production volumes in 2020 but EPB market will remain relatively insulated
INTRODUCTION
Electric parking brake is one of those features which has trickled down from higher segment cars to mass segment and can now be considered a bare minimum requirement across mid and high end segments globally.
BMW was the first OEM to offer electric parking brake in its 2002 model 7 Series, quickly followed by Volvo in 2006 and Audi in 2007.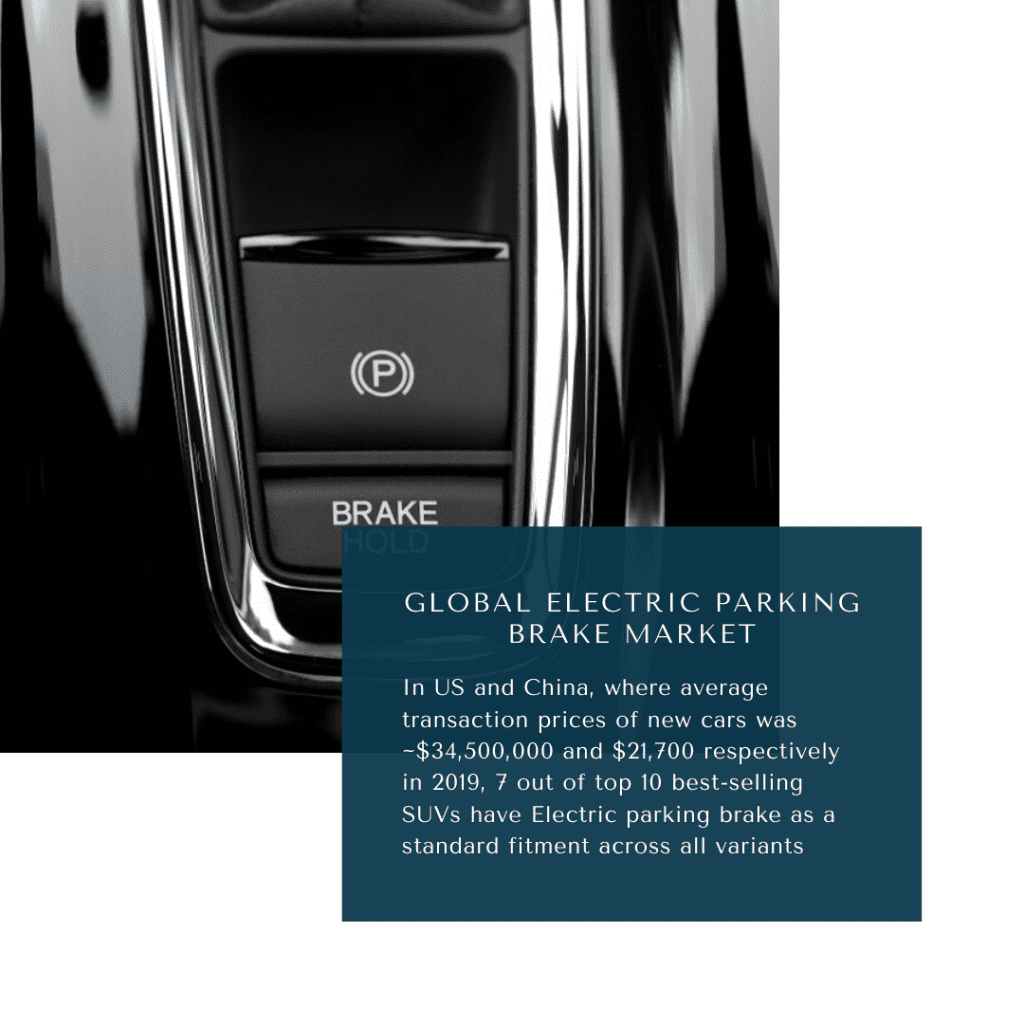 Among the mass segment manufacturers, GM has been using electric parking brake on select models since 2009, PSA and VW since 2008, Mazda Since 2015 and Ford Since 2009.
MARKET DYNAMICS
The electric parking brake market was earlier driven by weight savings (which can range from 10lbs in compact cars to 20lbs in pickup trucks), cockpit enhancement and now vehicle electrification.
In terms of interior space, the absence of lever frees up space, which can be used to accommodate a bigger storage space or semi-autonomous feature in future, especially when vehicle refresh/new generation launch timelines have been declining globally.
A major issue plaguing the electric parking brake market globally is the amount of recalls issued in past 2-3 years owing to faulty gear, circuit board and software. The issues are particularly pronounced in the MY 2015-2016 manufactured vehicles affecting 5 or more platforms and ~ 0.8 Million vehicles.
ELECTRIC PARKING BRAKE RECALLS IN PAST FEW YEARS
Sl no
Timeline
Region
OEM
(MY)Model
Reason for recall
Number of vehicles affected
1
Oct 2018-April-2019
Australia, US
Subaru
(2010-2014) Liberty, Outback
fracture in the electronic parking brake circuit board
~67,000
2
May-2018
Malaysia
Toyota
Alphard and Vellfire
Improper programming of the ECU
~1,900
3
Nov-2017
US & Australia
Toyota
(2018) CHR
Software issue
~34,000
4
July 2017
UK
Volkswagen
(2016)Golf, Touran, Tiguan and Passat
Software issue
~135,000
5
April-2017
US
Tesla
(2016) Model S and X
A small gear in the parking brake
~53,000
6
Oct 2016
Global
Toyota
(2015-2016)
Prius Gasoline- Hybrid
Faulty actuator
~340,000
7
Oct 2016
Japan, North America
Honda
(2016)Honda Civic
Software issue
~350,000
MARKET SEGMENTATION

US ELECTRIC PARKING BRAKE MARKET
Among top-selling pickup trucks, Electric parking brake is now standard on Ford F-150 and RAM 1500 but not on Chevrolet Silverado
Honda offers Electric Parking Brake as a standard fitment on its best- sellers, Accord, Civic and CRV
In the Premium segment, the German trio (Mercedes-Benz, Audi and BMW) sell ~0.9-1 Million cars per annum in US and all have them have Electric Parking Brake as standard
EUROPE ELECTRIC PARKING BRAKE MARKET
As of March 2020, among the top 10 best-sellers, Ford Focus, Vauxhall Corsa, Mercedes A class and Ford Kuga get Electric parking Brake as standard
Volkswagen, the market leader with 12% market share offers Electric parking brake as standard on top-selling models like Passat, T-Roc, Tiguan but with the exception of Golf and Polo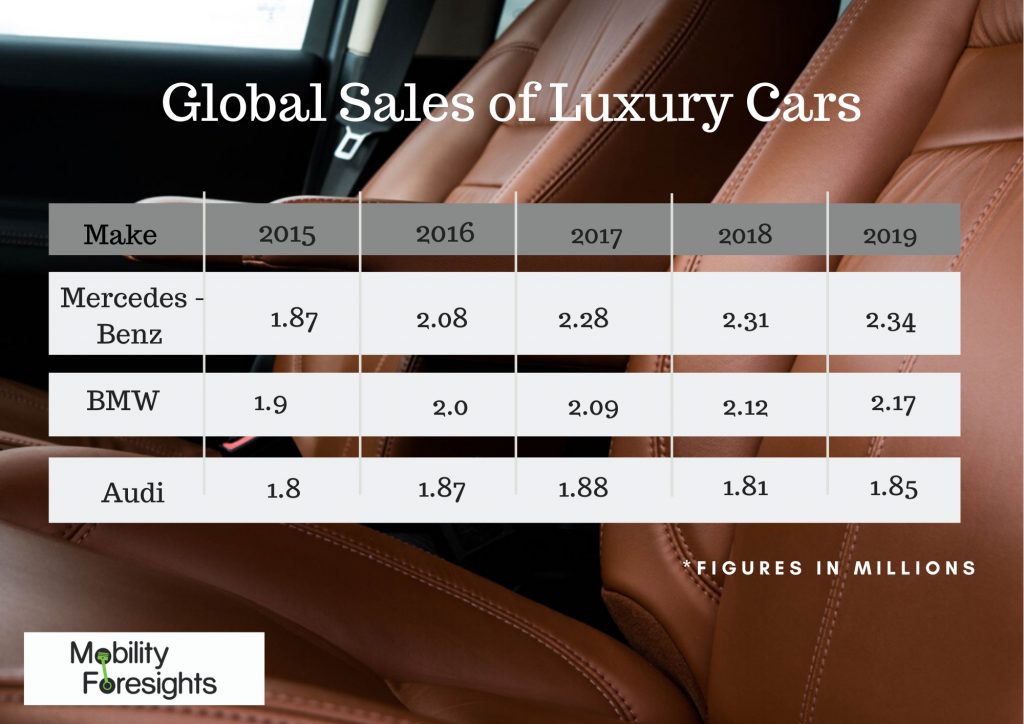 MARKET SIZE AND FORECAST
In US and China, where average transaction prices of new cars was ~$34,500,000 and $21,700 respectively in 2019, 7 out of top 10 best-selling SUVs have Electric parking brake as a standard fitment across all variants. In China, the market leader of SUVs, Great Wall Motors owned Haval offers Electric parking brake as a standard fitment on its best-sellers H2 and H6.
As of March 2020, China has now overtaken Europe as world`s biggest Electric Parking brake market.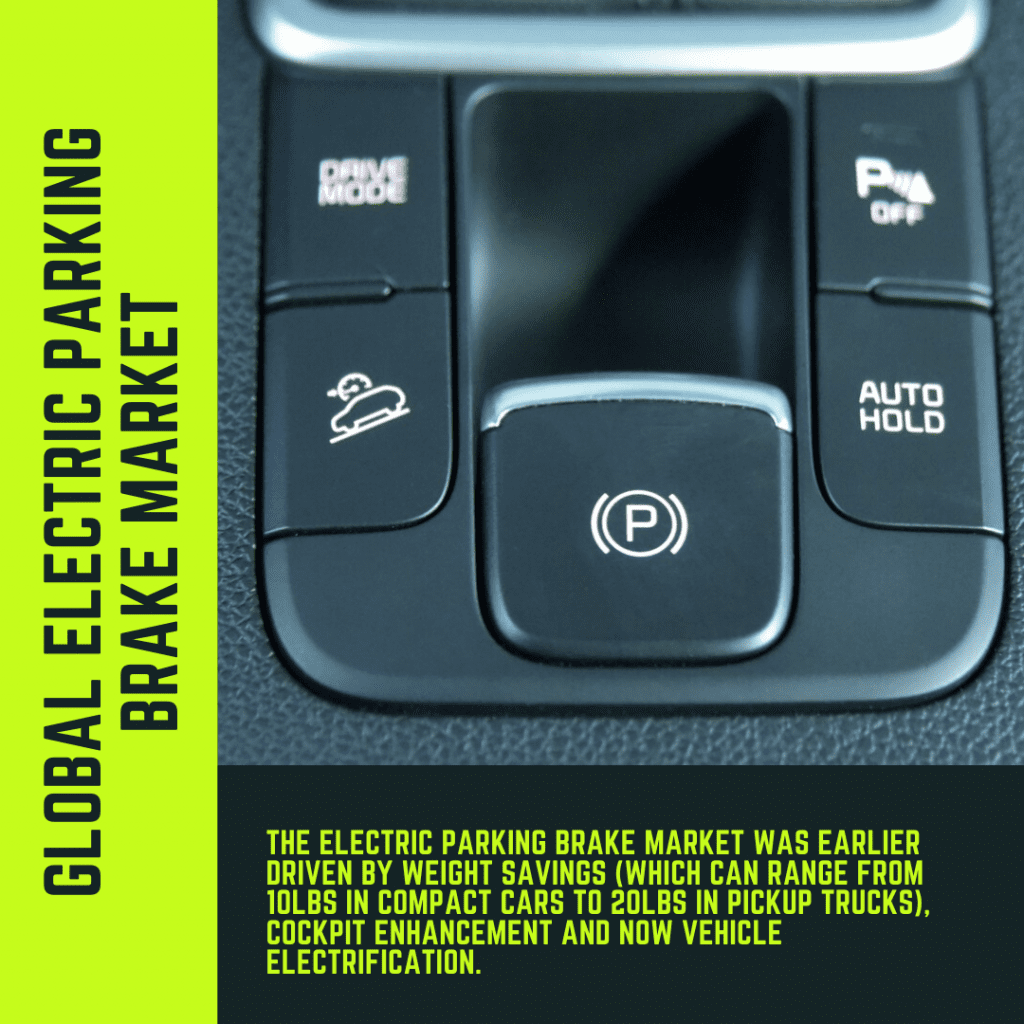 Among the fast-growing EV segment, mass segment EVs like Nissan Leaf and Renault ZOE offer electric parking brake as optional, whereas Chevrolet Bolt and upcoming Corsa-e have it as a standard fitment.Going forward, we expect the electric parking brake to become fully integrated into the brake system with a common cable harness and sensor powering multiple ADAS functions.
The market size of electric parking brake was estimated at XX M units and $YY B in 2019, growing at –% CAGR till 2025.
COMPETITIVE LANDSCAPE
Continental and ZF are among the leading electric parking brake suppliers in passenger car segment globally, supplying to multiple OEMs and platforms.Suppliers like Chassis Brakes International, Hyundai Mobis and Mando are also established players and are supplying to multiple OEMs.
ZF launched world`s first front axle mounted electric parked in March 2020. It is a comparatively low cost product which can be fitted in  A segment vehicles, which comprise ~28% of new car sales(~4 Million units) in Europe. 
Commercial vehicle segment has the potential to become next most important segment for electric parking brake suppliers presently due to low electric parking brake penetration. Akebono, ZF, TRW have already made a move in that direction by launching their compact, high braking force electric parking brakes.
COMPANIES PROFILED
Wuhu Bethel Automotive Safety Systems Co., Ltd
THIS REPORT WILL ANSWER THE FOLLOWING QUESTIONS
Which market and vehicle segments will have highest growth rate?
Average penetration of electric parking brake in top 10 car markets and its growth in next 5 years?
Average B-2-B electric parking brake price in all segments
Latest technology advancements in electric parking brake market and new product development
What are the most important technological and market trends in electric parking brake market?
What are the biggest risks to the electric parking brake market and how can suppliers get over them?
Upcoming conventional and electric vehicle platforms with electric parking brake
The future of manual parking brake? Which geographies and vehicle segments are still relevant for manual/hand operated parking brake?
Impact of growth in EV market on electric parking brake market globally
Growth in commercial vehicle market? Penetration in LCV market
How will suppliers tackle the damage done by recalls?
Electric parking brake manufacturing in US, Europe and China
Global OEM-supplier alignment for electric parking brakes
Market share of leading players in different segments and their future growth strategy
Detailed analysis of electric parking brake value chain and supply chain
       To enquire about the report, write to us at sales@mobilityforesights.com
| | | |
| --- | --- | --- |
| 1 | Market Segmentation | 3 |
| 2 | Executive Summary | 5-6 |
| 3 | Introduction | 7-10 |
| 4 | Insights from Industry stakeholders | 11 |
| 5 | Key criteria for Electric Parking Brake (EPB) adoption by OEMs | 12-13 |
| 6 | Raw material supply chain and Electric parking brake manufacturing in US, Europe and China | 14-15 |
| 7 | New product development and innovation | 16-17 |
| 8 | Global ADAS and semi-autonomous vehicle trends | 18-19 |
| 9 | Global automotive braking trends | 20-21 |
| 10 | Impact of growth in EV market on EPB market | 22-23 |
| 11 | Market Size ,Dynamics and Forecast By Vehicle segment | 25-39 |
| 12 | Market Size ,Dynamics and Forecast By Vehicle type | 40-48 |
| 13 | Market Size ,Dynamics and Forecast By EPB type | 50-58 |
| 14 | Market Size ,Dynamics and Forecast By Geography | 59-80 |
| 16 | Competitive Landscape | 81-82 |
| 17 | OEM-supplier relationship in Electric parking brake market | 83-84 |
| 18 | Company Profiles | 85-97 |
| 19 | Unmet needs and Market Opportunity for suppliers | 98 |
| 20 | Conclusion | 99 |
| 21 | 5 Key predictions | 100 |
| 22 | Appendix | 101 |