Global Automotive HVAC Market 2020-2025
May 28, 2020

Request Sample
Coming Soon
Multi User License - $2,500
GLOBAL AUTOMOTIVE HVAC MARKET
KEY FINDINGS
In terms of automatic AC penetration, Japan has a higher penetration followed by Europe, China, and the US 
Europe has a higher penetration of Multi-zone HVAC followed by US, China and Japan 
Air purifiers along with dust filters and pollen filters have seen increased penetration with China seeing high penetration of PM 2.5 filter
Among the pickups in the USA – Optional automatic ac is present in most of the trims which have manual AC 
Among the vans in Japan – Automatic ac is present in almost all the top-selling vans as a standard feature
Honda offers Dual zone HVAC on most of its beset-selling vehicles including Civic,Accord, CRV in US, EU, China as well as Japan. It is also among the best filration systems like PM 2.5 and Pollen filters in China and Plasma cluster technology in Japan
Among Premium European OEMs, BMW, Volvo and Mercedes had 100% installation rate of automatic HVAC worldwide in 2019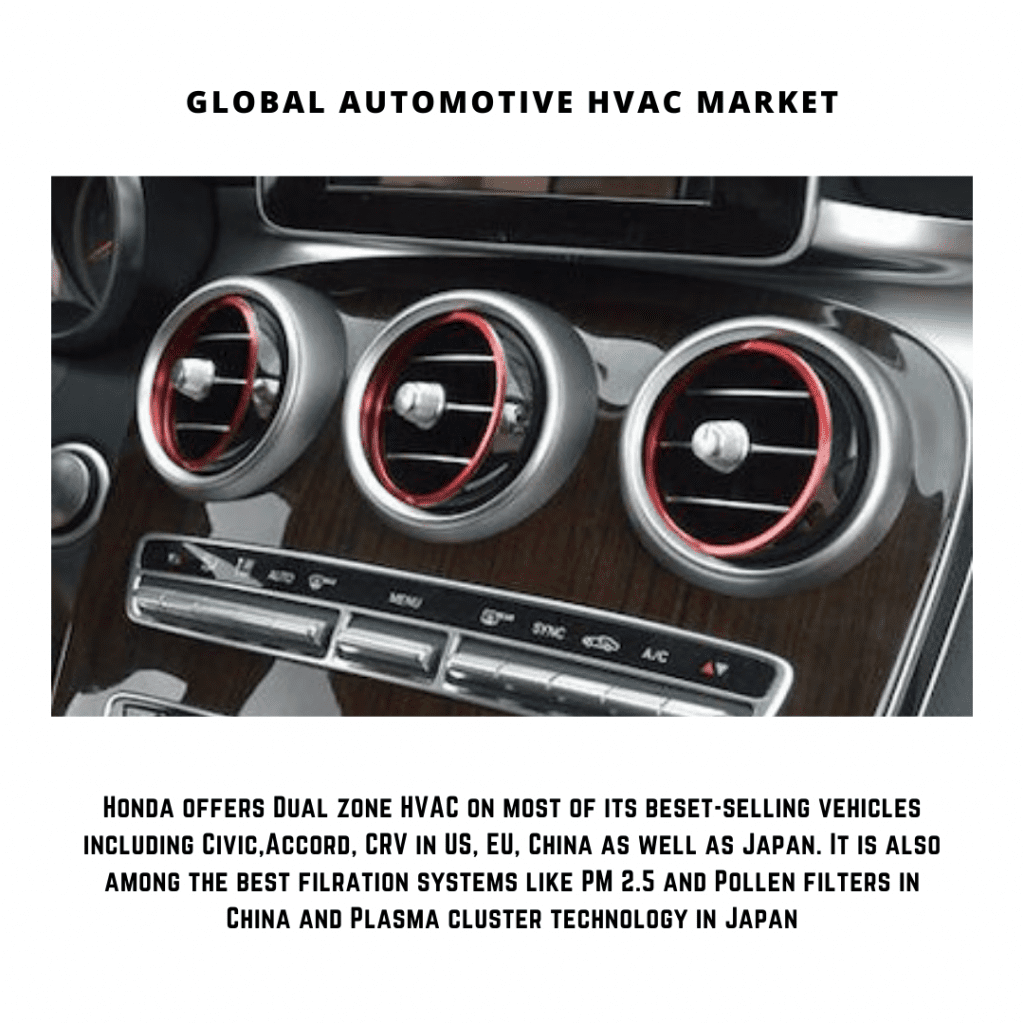 INTRODUCTION
HVAC stands for Heating, Ventilation and Air Conditioning. The primary purpose of HVAC is to clean, cool, heat, regulate, ventilate and dehumidify the air entering the cabin. The desire for more comfort and luxury has led to development of climate control system inside an automobile. Major components of an HVAC are compressor, condenser, evaporator, pressure regulating devices, thermal expansion valves, orifice tubes and accumulator. It is now available in most of the high end passenger cars. However, high maintenance cost is restraining its growth.
MARKET SEGMENTATION
By Technology
By OEM
GM
Toyota
VW Group
Ford
FCA
BMW
Daimler
Honda
Hyundai-KIA
Chinese OEMs
Indian OEMs
Other OEMs
By Vehicle Type
Passenger Cars
Commercial Vehicles
By Geography
US
Europe
China
Asia-Excluding China
ROW
MARKET DYNAMICS
The demand for thermal system and automatic climate control is driving the global HVAC market. Moreover, the need for eco-friendly refrigerants and coolants will propel the HVAC market.  The rise in demand for thermal comfort and increase in penetration of automatic HVAC expected to propel the HVAC market.
AUTOMOTIVE HVAC MARKET BY COMPONENTS
Compressor is the primary component in a HVAC system. The traditional type of compressor was reciprocating type wherein it used to be driven directly by crankshaft of the engine. However, with advancement in technology and rise in EV there has been need for improved compressor and scroll compressors came into market. The development of different components used in HVAC has helped the market grow steadily and will help to expand in future. The below chart depicts the component wise market in HVAC system:
AUTOMOTIVE HVAC MARKET BY TECHNOLOGY
Automatic HVAC System market is expected to grow at rapid rate compared to the manual one. The need for ease in operation and desire for more comfort has directly influenced the automatic HVAC market. These systems require sensors inside the cabin to detect the temperature and outside temperature, so as to function the HVAC accordingly to the comfort of passengers.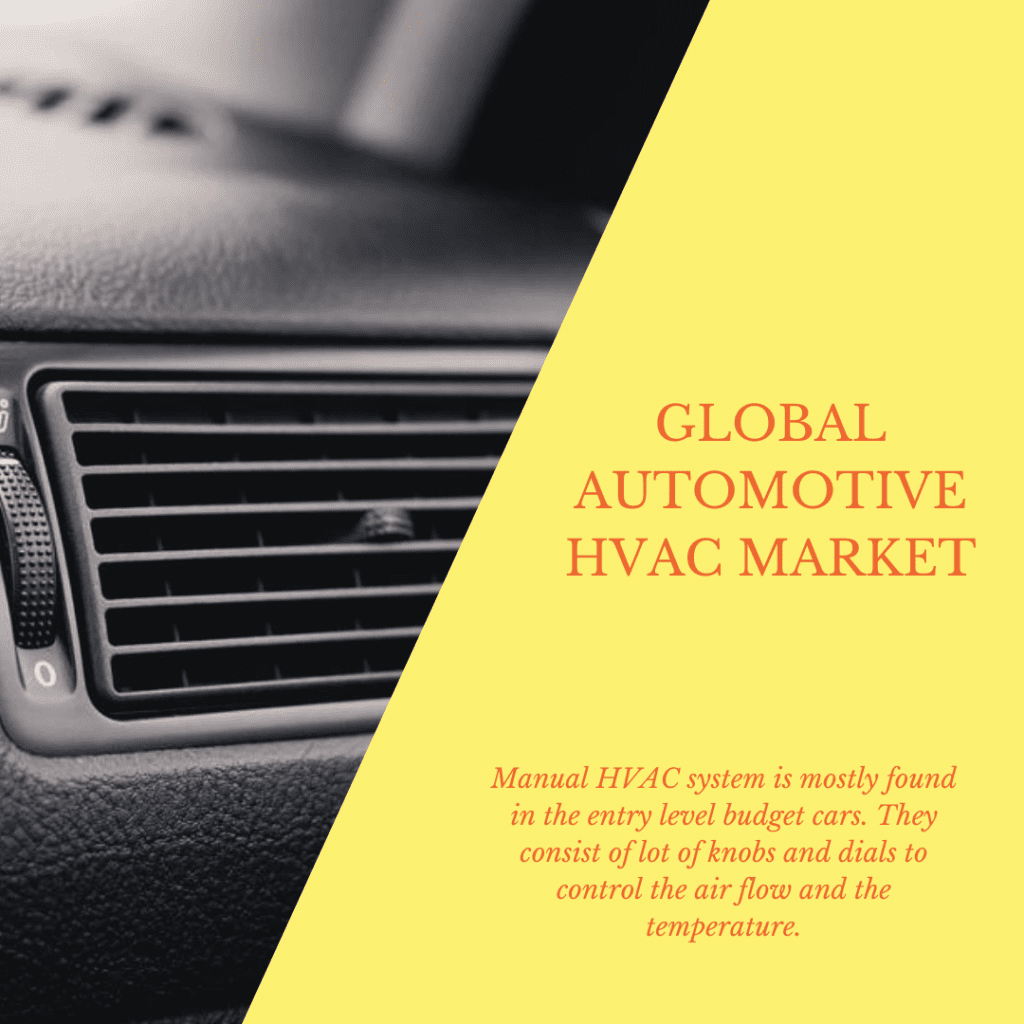 Manual HVAC system is mostly found in the entry level budget cars. They consist of lot of knobs and dials to control the air flow and the temperature. It requires human intervention to start and stop the system. The high cost of automatic HVAC has made the auto manufacturers to settle for manual ones for the budget cars.
AUTOMOTIVE HVAC MARKET BY VEHICLE TYPE
Commercial vehicles are experiencing steady growth in the HVAC market. The major factors being air quality inside the truck cabin, the need to improve it and to increase the thermal comfort of the driver. Increase in vehicles used by E-commerce and logistics sector is expected boost the HVAC market in commercial vehicles. Also HVAC installation in buses and other public transport systems is anticipated to help increase the HVAC market.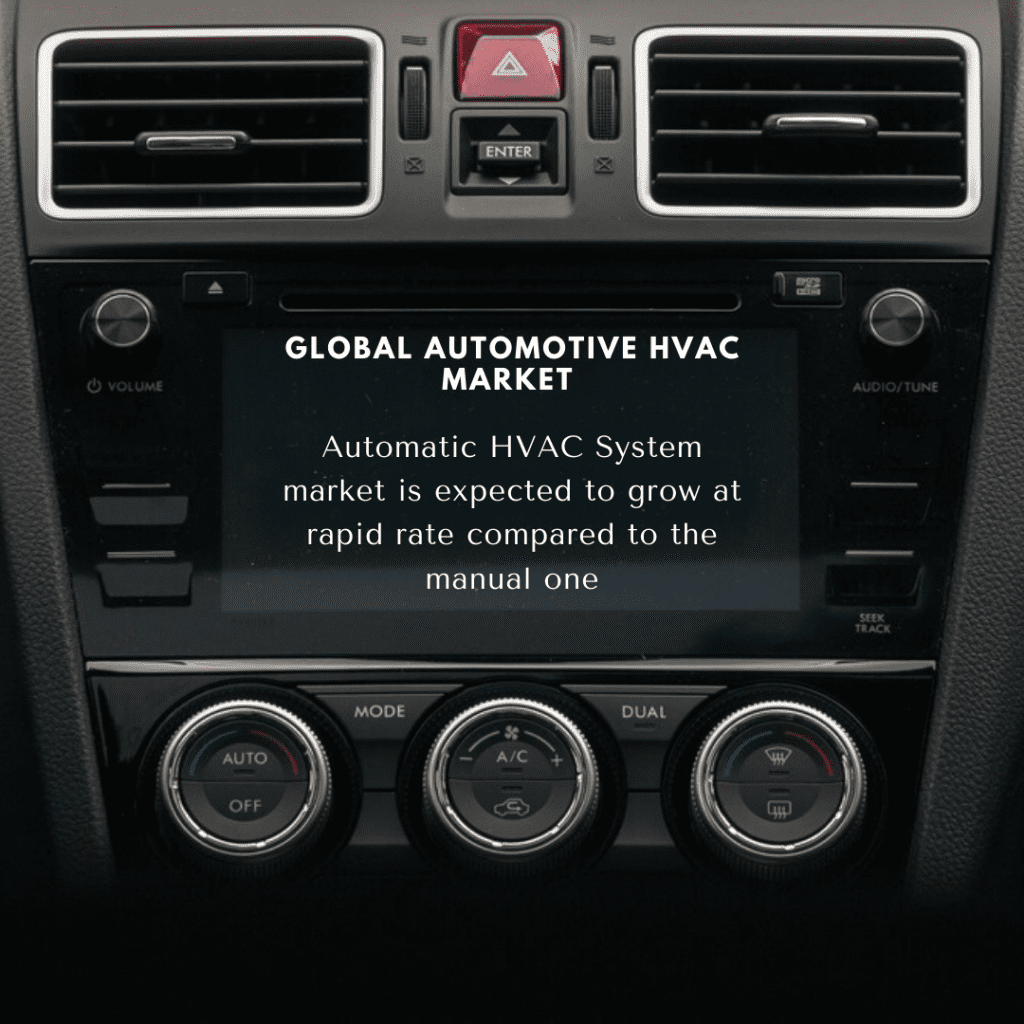 Passenger cars accounted for three quarters of the overall revenue of the HVAC market. Over the years air conditioning in a car has become most standard option. Other climate control features are added as a standard feature in luxury and high end SUVs. However, the entry level cars are equipped with at least manual HVAC systems, if not for automatic ones.
US AUTOMOTIVE HVAC MARKET
The US automotive HVAC market is second biggest globally. The extreme weather conditions either its summer or winter has been major factor for increased HVAC market in passenger cars. Most of the top selling passenger cars are fitted with automatic HVAC control system in few mid and higher variants. 
In the pickup truck segment, the top 3 best-sellers have ~40+% installation rate of manual HVAC which is substantially higher than the overall manual installation in the country i.e. ~25%.
The Japanese OEMs offer Dual/Tri zone HVAC systems on many best-selling vehicles.
EUROPE AUTOMOTIVE HVAC MARKET
Owing to high share of Premium car sales(21% share of new cars) and extreme climate conditions in Europe has been driving the automotive HVAC market.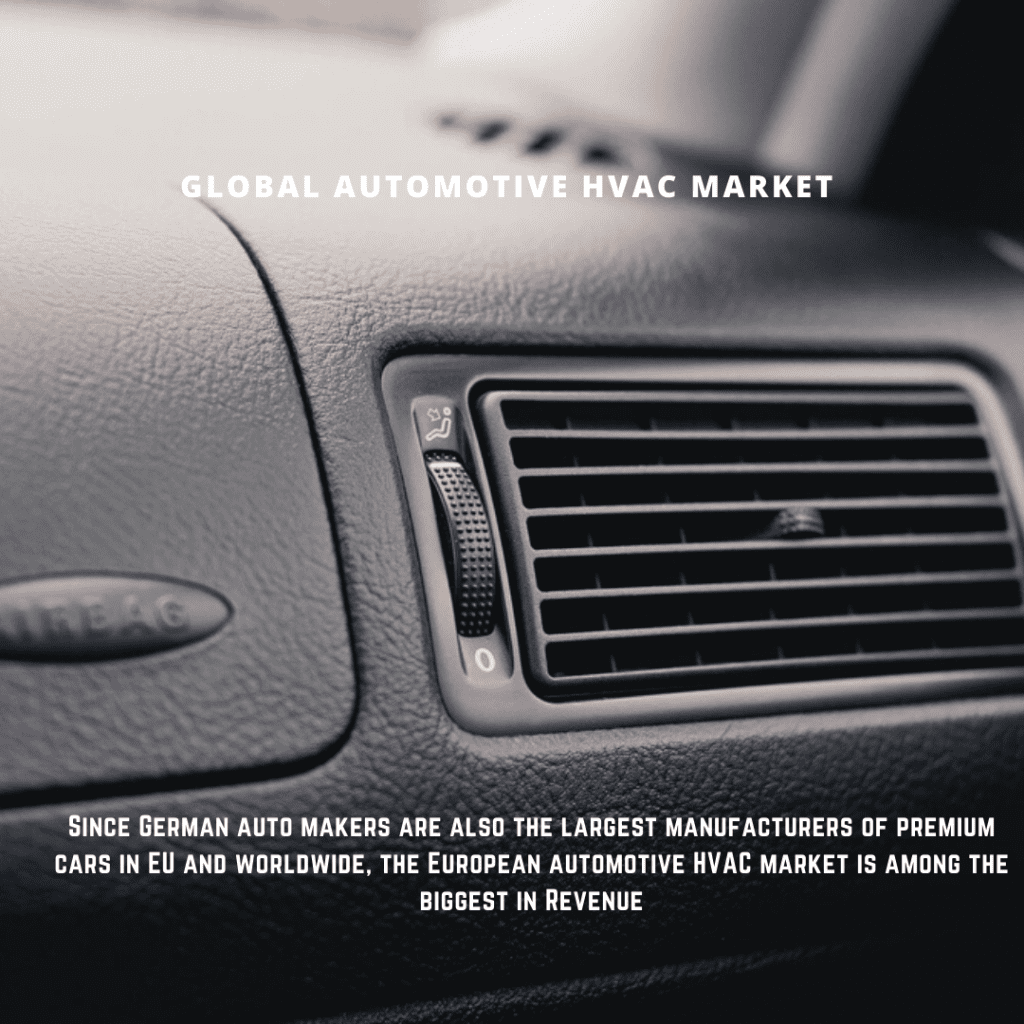 Since German auto makers are also the largest manufacturers of premium cars in EU and worldwide, the European automotive HVAC market is among the biggest in Revenue.
Among the entry level hatchbacks, very few of the top selling A segment cars in Europe are equipped with automatic HVAC, most of them are fitted with manual climate control  on low and mid variants.
CHINA AUTOMOTIVE HVAC MARKET
China is  the #1 HVAC automotive market by volume. In China manual air conditioning is mostly found in top selling budget cars. But in top-selling vehicles like Nissan Sylphy, Volkswagen Lavida, automatic air conditioning is found only on top trims. In Haval H6, Dual zone temperature zone control is available on 8 out of 13 variants.
The premium cars which accounted for 11% of new cars sold in China are also incorporated with PM2.5 filter device in the car. 
INDIA AUTOMOTIVE HVAC MARKET
In India,where average transaction value per car was among the lowest in the world at $10,000 in 2019, automatic climate control(ACC) has less than 40% fitment rate. Many B-segment hatchbacks are now offering it on mid and higher trims.
Maruti Suzuki, the market leader in India with more than 50% market share is now offering ACC on B and C segment vehicles, therefore fitment rate has climbed up sharply between 2016-2019.
Among the domestic OEMs Tata has take the lead by offering ACC on higher trims of budget hatchback Tiago. Mahindra ,the other homegrown major is the only OEM among top 30 best-sellers to offer dual zone climate control offered on mid and higher trims of Mahindra XUV 300.
JAPAN AUTOMOTIVE HVAC MARKET
Japan is among the most biggest individual market in terms of automotive HVAC fitment and Revenue. Manual HVAC fitment is minimal even on the low cost kei cars, which account for more than 35% share in new car sales every year.
Honda is now offering high performance odorizing filter  and Plasma cluster technology as standard  on top0selling vehicles like Freed, Vezel Fit and Shuttle. 
Most of the Standard segment cars sold in the country are fitted with dual and tri-zone climate control.
MARKET SIZE AND FORECAST
Growth in demand for safety, comfort and latest features has led to several technological developments in HVAC. HVAC system contributes to defrosting of windows, demisting windshields and dehumidifying air which improve visibility and safety of passengers. Thus, HVAC by providing safety and favourable conditions inside the cabin is anticipated to propel the automotive HVAC market growth.
The auto manufacturers have been incorporating air purifier for the cabin of the car. Purifiers are integral part of HVAC. The development in this segment is expected to expand the HVAC market globally.
Many manufacturers are striving hard to develop compact and light weight HVAC systems. This will help in less fuel consumption, and help in boosting the HVAC market.
There has been use of passive absorbers in the HVAC system. These absorbers are fitted to reduce the noise generated inside the cabin by these systems. The development in this area of expertise will help increase the HVAC market.
The global Automotive HVAC market is estimated at $XX Billion in 2020
RECENT PARTNERSHIPS IN AUTOMOTIVE HVAC MARKET
Lumax Group has extended its JV with Stanley Electric in HVAC panel products line.
BorgWarner announced that it would be supplying advanced cabin heating technology for a new electric vehicle for a global known EV automaker.
COMPETITVE LANDSCAPE
The top global automotive HVAC manufacturers are Mahle GmbH (Germany), Hanon Systems (South Korea), Mitsibushi Heavy Industries Ltd (Japan), Denso Corporation (Japan), Toyota Industries Corporation.
Among the leading compressor manufacturers, Toyota Industry corporation is now planning to expand the manufacturing of electric compressors outside Japan. In Chinese province of Jiangsu the production was to commence by March 2020, that now likely to have been postponed due to COVID-19 outbreak.
In Shandong, another Chinese province the production is expected to commence by June 2021. The target annual production of 400, 000 units of electric compressors of ESB27 and ES20 models are expected to be achieved in each of the 2 plants.
Mahle-Behr is a leading Euroepan HVAC manufacturer.The activities at R&D centres of conventional air conditioning compressors plant in Luxembourg is proposed to be ceased by mid-2021, as the focus on product development of electric compressor is looming large.
COMPANY PROFILE
Calsonic Kansei Corporation
| | |
| --- | --- |
| Sl no | Topic |
| 1 | Market Segmentation |
| 2 | Scope of the report |
| 3 | Abbreviations |
| 4 | Research Methodology |
| 5 | Executive Summary |
| 6 | Introduction |
| 7 | Insights from Industry stakeholders |
| 8 | Cost breakdown of Product by sub-components and average profit margin |
| 9 | Disruptive innovation in the Industry |
| 10 | Technology trends in the Industry |
| 11 | Consumer trends in the industry |
| 12 | Recent Production Milestones |
| 13 | Component Manufacturing in US, EU and China |
| 14 | COVID-19 impact on overall market |
| 15 | COVID-19 impact on Production of components |
| 16 | COVID-19 impact on Point of sale |
| 17 | Market Segmentation, Dynamics and Forecast by Geography, 2020-2025 |
| 18 | Market Segmentation, Dynamics and Forecast by Product Type, 2020-2025 |
| 19 | Market Segmentation, Dynamics and Forecast by Application, 2020-2025 |
| 20 | Market Segmentation, Dynamics and Forecast by End use, 2020-2025 |
| 21 | Product installation rate by OEM, 2020 |
| 22 | Incline/Decline in Average B-2-B selling price in past 5 years |
| 23 | Competition from substitute products |
| 24 | Gross margin and average profitability of suppliers |
| 25 | New product development in past 12 months |
| 26 | M&A in past 12 months |
| 27 | Growth strategy of leading players |
| 28 | Market share of vendors, 2020 |
| 29 | Company Profiles |
| 30 | Unmet needs and opportunity for new suppliers |
| 31 | Conclusion |
| 32 | Appendix |