GLOBAL AUTOMOTIVE TURBOCHARGER MARKET
INTRODUCTION
As automobile buyer continue to seek better performance, efficiency and productivity, automakers are constantly working to offer high performing vehicles. A turbocharger plays crucial role in enhancing the overall performance of the vehicle, hence there is a need for continuous improvement of turbocharger. Automotive turbocharger market players are focused on increasing the capabilities of next-gen turbochargers.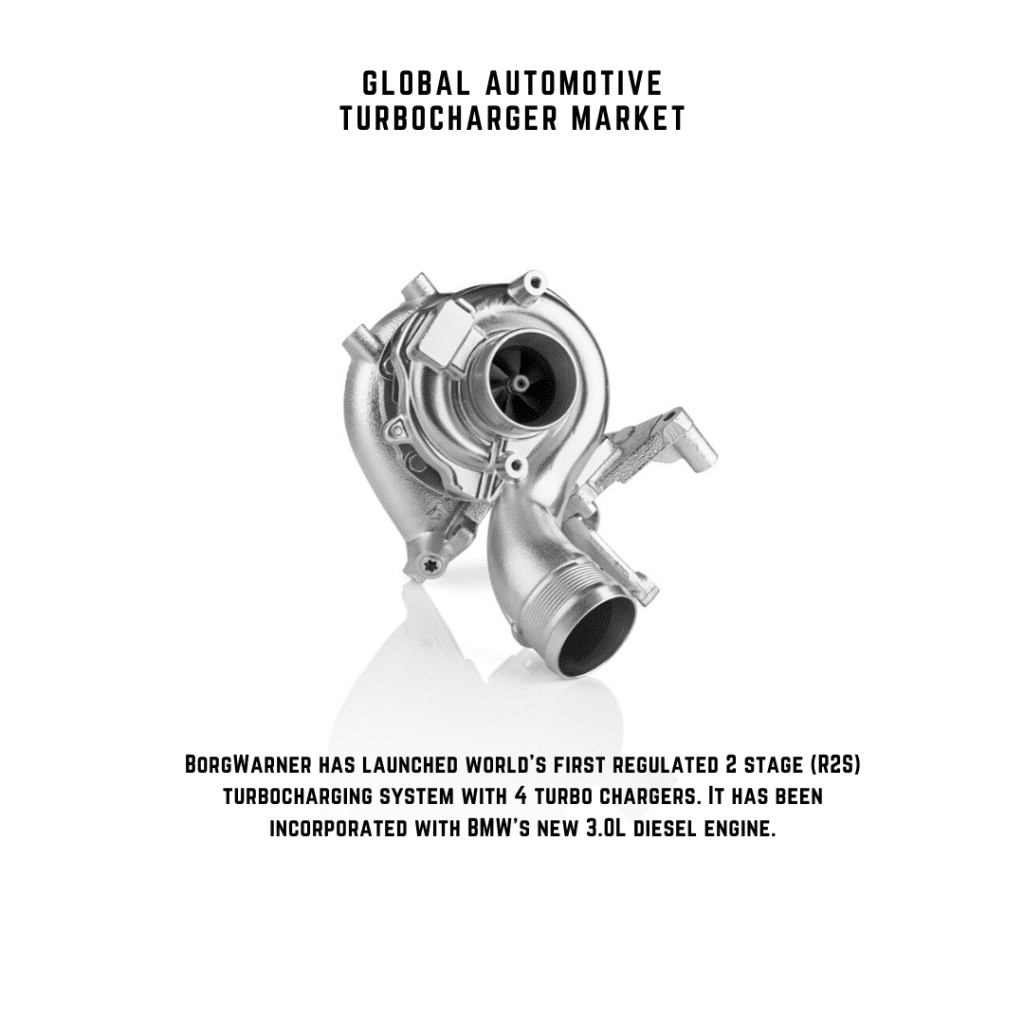 MARKET SEGMENTATION
BY OEMS
BY GEOGRAPHY
Europe
US
China
India
Asia (Ex China & India)
BY TYPE
BY FUEL TYPE
US AUTOMOTIVE TURBOCHARGER MARKET
The continued growth of turbocharging technologies will be driven by requirements for manufacturers to meet End users towing requirement and not global environment regulations. The downsizing of engines in the industry has been going on for past 11 years. This results in shift from large naturally aspirated engines to smaller turbocharged ones in less than 3L engine segment.
Many V6 and V8 engines powering pickups continue to remain naturally aspirated though.
Ford with 56% turbo penetration leads the market in US. GM has about 40% penetration. FCA (Fiat Chrysler Automobiles) with 10% penetration is the least among the leading OEMs in the American market.
EUROPE  AUTOMOTIVE TURBOCHARGER MARKET
Europe still remains the global leaders in the turbo market. Turbo penetration of Europe is close to 75%. Major European OEMs like BMW, Mercedes and Volkswagen use turbocharged engines in more than 85% of their vehicles. Since a typical engine in Europe has 1.2-1.5L engine, the customers feel the urge to improve the performance of the vehicle and this boosts the turbo sales in the European market.

CHINA  AUTOMOTIVE TURBOCHARGER MARKET
Emission regulations in China are getting stringent and the need for the turbo charged engines to tackle this situation has become significant. Due to smaller engines, usually < 1.6L capacity, turbo penetration in China is above 40% significant increase when compared to last few years.
China is termed as fastest growing turbo market globally. Honeywell Turbo Technologies has been supplying turbochargers to leading manufacturers such as Yuchai, NAVECO and Jiangling Motor.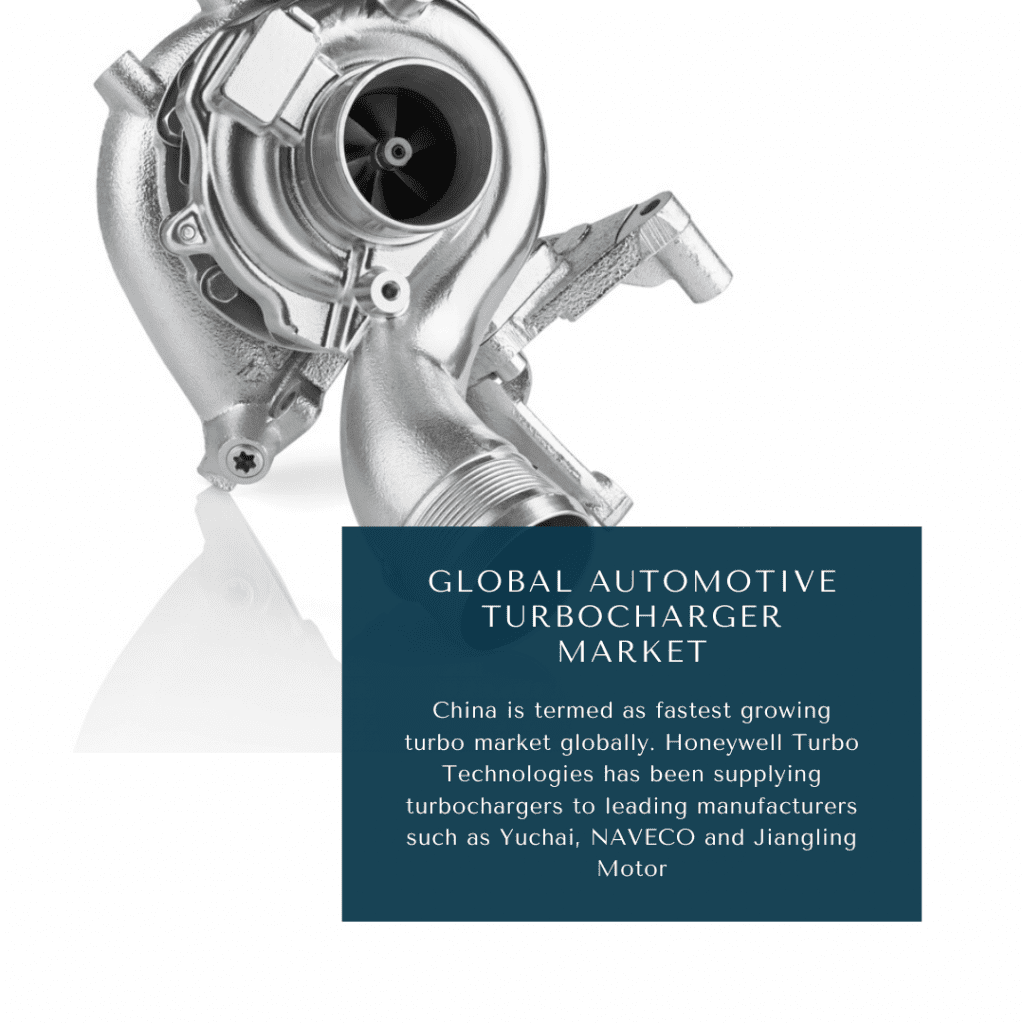 One important point worth noting is that the market leader in China, VW offers two best-selling vehicles with naturally aspirated MPFI engines i.e Lavida and Sagitar.
Among domestic OEMs Haval and Changan have equipped most of their top-selling vehicles with turbocharged gasoline engines.
INDIA  AUTOMOTIVE TURBOCHARGER MARKET
Due to low excise duty on small cars with engine <1.2 petrol and <1.5L diesel is also pushing the turbo penetration, as OEMs can deliver higher power with the smaller engine.
As difference between gasoline and Diesel retail prices continue to shrink, there is asignificant shift towards gasoline engines resulting in higher demand for gasoline turbochargers. The fast growing sub-4 metre SUV segment now has a Diesel: Petrol split of 65:35 (2019) as compared to 75:25 in 2018.
Turbochargers in petrol vehicles is gaining prominence thanks to  improved fuel efficiency and reduced emissions.
MARKET BY TYPE OF TURBOCHARGER USED
The most commonly used turbochargers are Single, Twin, VGT (Variable Geometry Turbocharger) and E-VGT (Electric VGT). Usually lesser powered engines such as 1.0L engine are fitted with Single Turbo. The VGT charged engine gives performance at lower engine rpm, unlike single and twin turbochargers. VGT is limited to passenger vehicles and light duty vehicles. Nowadays almost every vehicle released is attached with E-VGT. E-VGT helps to eliminate the turbo lag and offers a smooth power delivery.

RECENT PARTNERSHIPS IN TURBOCHARGER MARKET
BorgWarner has secured contract with a major European OEM to supply its high performing eTurbo for a passenger vehicle. This paved way to company's first serial production of eTurbo slated to begin in 2022.
Continental German automotive manufacturing company expands turbocharger manufacturing to China. Continental's RAAX turbo charger to be built in Shanghai.
BorgWarner has recently opened turbocharger production plant in Thailand.
RECENT LAUNCHES
BorgWarner has launched world's first regulated 2 stage (R2S) turbocharging system with 4 turbo chargers. It has been incorporated with BMW's new 3.0L diesel engine.
BorgWarner delivers its twin scroll turbochargers to BMW group for its 3.0L inline 6 cylinder petrol engine.
MARKET SIZE AND FORECAST
In US market, Turbocharged diesel engines will continue to be in demand on light duty trucks. By the ongoing trend further downsizing of the engines can be expected.
Due to strict emission norms and gradual increase in turbo powered petrol engines, higher turbo penetration in Indian market can be expected.
COVID-19 is already having a serious impact on global Auto production and sales and it is no different in case of Automotive turbocharger market. Garrett`s two production plants remained shut for the duration of the lockdown and re-started production in Late March 2020.
The global Automotive turbocharger market is estimated at $XX Billion in 2019, will decline by ~18% in 2020 but grow at 4% CAGR till 2025. Gasoline turbochargers segment expected to grow at double digits till 2025
COMPETITIVE LANDSCAPE
The global  Automotive turbocharger market is extremely consolidated. Due to high complexity and Robust R&D requirement in close so-operation, the threat of new entrants has always been low. There are six major Tier-1 manufacturers who supply turbochargers to the OEMs. The market is dominated by US manufacturers.
Garrett Advancing Motion formerly known as Honeywell Turbo Technologies is the leading the turbo market. Closely competing is the BorgWarner from US. These 2 manufacturers hold about 65% market share globally.
In 2019, Garrett grew its gasoline turbocharger business by more than 25% YOY due to higher uptake of gasoline engines and decline in Diesel engines. To counter the possible decline in ICE vehicle sales, Garret has already developed a Fuel cell compressor which can be supplied to multiple Fuel cell based transport applications. 
BorgWarner has consolidated its EGR and Turbo business for cost reduction and Product differentiation. It has also developed an E-turbo which will enter mass production in 2022-23.
As OEMs continue to increase the electrification due to the ongoing vehicle electrification trend, turbocharger suppliers will  have to expand their offering to include E-Boosting technology.
IHI Corporation formerly known as Ishikawajima-Harima Heavy Industries Co., Ltd from Japan is another turbocharger manufacturer completing the top 3. Mitsubishi Heavy Industries and Cummins Turbo Technologies are also other major suppliers in this industry.
South Korea based Hyundai-WIA supplies turbocharger fitted on various Hyundai models.
COMPANY PROFILES
Mitsubishi
| | |
| --- | --- |
| Sl no | Topic |
| 1 | Market Segmentation |
| 2 | Scope of the report |
| 3 | Abbreviations |
| 4 | Research Methodology |
| 5 | Executive Summary |
| 6 | Introduction |
| 7 | Insights from Industry stakeholders |
| 8 | Cost breakdown of Product by sub-components and average profit margin |
| 9 | Disruptive innovation in the Industry |
| 10 | Technology trends in the Industry |
| 11 | Consumer trends in the industry |
| 12 | Recent Production Milestones |
| 13 | Component Manufacturing in US, EU and China |
| 14 | COVID-19 impact on overall market |
| 15 | COVID-19 impact on Production of components |
| 16 | COVID-19 impact on Point of sale |
| 17 | Market Segmentation, Dynamics and Forecast by Geography, 2020-2025 |
| 18 | Market Segmentation, Dynamics and Forecast by Product Type, 2020-2025 |
| 19 | Market Segmentation, Dynamics and Forecast by Application, 2020-2025 |
| 20 | Market Segmentation, Dynamics and Forecast by End use, 2020-2025 |
| 21 | Product installation rate by OEM, 2020 |
| 22 | Incline/Decline in Average B-2-B selling price in past 5 years |
| 23 | Competition from substitute products |
| 24 | Gross margin and average profitability of suppliers |
| 25 | New product development in past 12 months |
| 26 | M&A in past 12 months |
| 27 | Growth strategy of leading players |
| 28 | Market share of vendors, 2020 |
| 29 | Company Profiles |
| 30 | Unmet needs and opportunity for new suppliers |
| 31 | Conclusion |
| 32 | Appendix |