Global Automotive Wiring Harness Market 2020-2025
August 21, 2020

Request Sample
Coming Soon
Multi User License - $2,500
GLOBAL AUTOMOTIVE WIRING HARNESS MARKET
KEY FINDINGS
China's commitment to increase imports of US goods by $200 Billion over the next two years, including purchases of manufacturing products (like connectors, terminals, wires etc.), will boost wire harness market.
Cyient opens new lab in U.S. to have quality production and future ready prototypes in wiring harness.
BizLink Holding Inc, a wire harness supplier to Tesla and also produce components for consumer electronics announced a 113% increase in net income from 2019.
Motherson Sumi to raise more than $50 Million via issue of securities.
Leoni AG is in talks to sale its Wiring and Cable Solution (WCS) business.
Shared vehicles are going to see tough market in coming time impacting the overall wire harness market.
Transitioning from BS-IV to BS-VI, in India, and EURO-IV to EURO-VI, in Europe, is definitely going to give a boost to wiring harness industry.
INTRODUCTION
A wiring harness is a systematized set of wires, connectors and terminals that run through the entire vehicle which help in transmitting information and electrical power. They play a very critical role in linking a variety of components. These wires are made of vinyl, rubber or combination of other materials.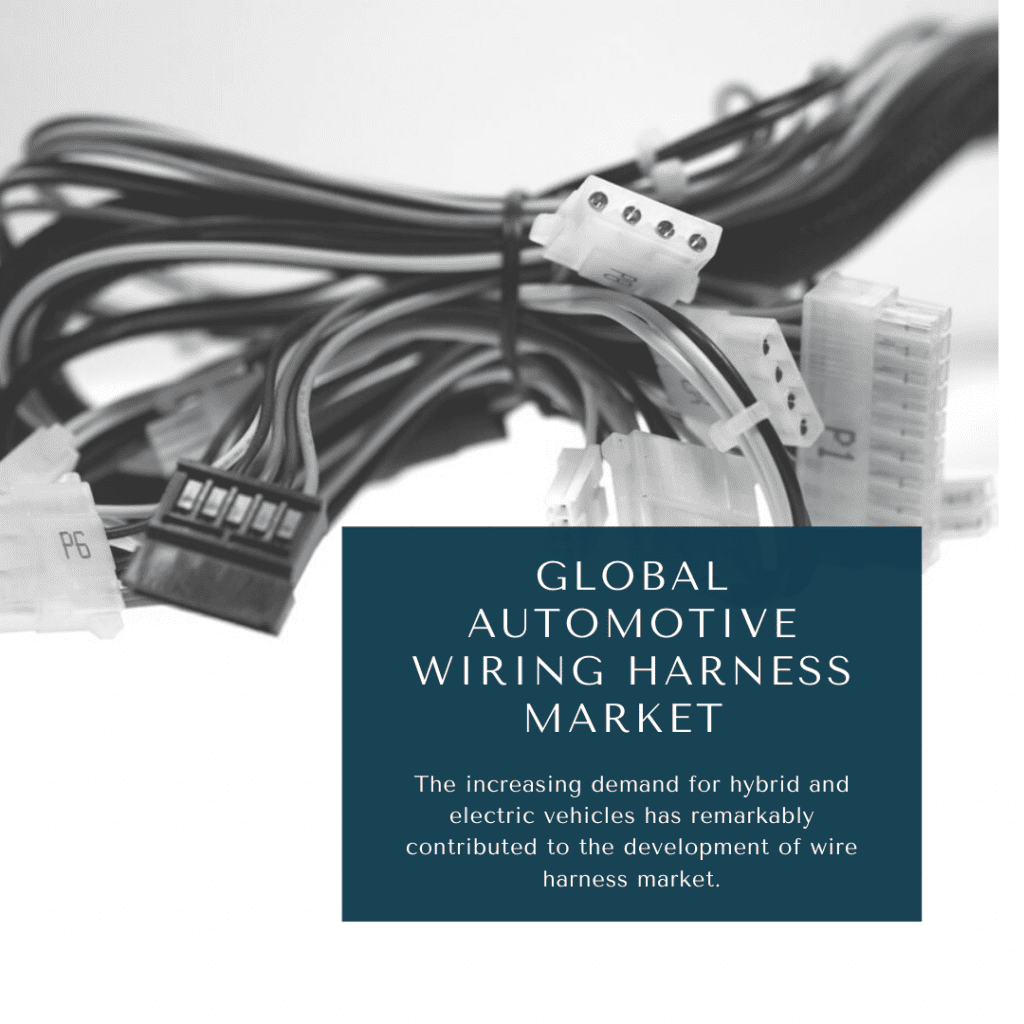 As the features in cars is increasing to provide safety, comfort, luxury etc., so does their component parts and to meet their requirements, they require electronics which can help them save a lot of space. Some automobiles or spacecrafts contains such amount of wires that if extended it could stretch over several kilometres. So, by binding them together in wire/cable harness, they could be secured against several phenomenon such as abrasion, vibration and moisture, which could possibly damage them.
COVID19 IMPACT ON AUTOMOTIVE WIRING HARNESS MARKET
Learning early from lockdown in China, companies around the world have already taken the necessary precautions and steps to have a minimal impact on their business. These steps and precautions will help these companies to start a step ahead from others in post COVID19 era.
Farm equipment sector, medical services equipment and two-wheelers market have gained their momentum as of July,2020 and rest are expected to follow.
Most of the companies in wire harness have not lost much of their pre COVID19 orders, which surely projects fast recovery of market post COVID19.
Local government's aid right from the start of COVID19 is a boon for these companies/firms.
But still there are a whole lot of other complications that companies have to face, like
People intensive work/companies are still closed and will have to reopen in accordance with local governments order.
Labour issue with migrant workers in most part of the world, specially Asia Pacific region, while plants and factories are opening up.
AUTOMOTIVE WIRING HARNESS MARKET DYNAMICS
BY APPLICATION
Every machine and electronic device have varying operative needs. Even though the design of wire harnesses may vary depending on the application of the device or machine, but the three core components remains the same. A wire harness assembly consists of connectors, terminals and wires. Connectors and terminals are important parts of designing and manufacturing a wire harness. Also, theses connectors and terminals ascertain the dependability, stability and performance of the harness.
Some of different types of wire harnesses are:
Body wiring harness
Engine wiring harness
Chassis wiring harness
Electronic wire harness
Electrical wire harness
CONNECTOR TYPES
The sole purpose of a connector is to transmit electric signals for connecting a wire harness to an electrical power source. Electronic signal or power is transmitted through plugs & jack in a connector. Functioning and performance depend on the design of connectors and the setting, in which it will perform, decides the material used, its durability, types of insulation between the pins etc. Depending on the type of application, connectors are designed to perform various tasks in different fields such as medical devices, defence equipment, car components, aerospace equipment etc.
TERMINAL TYPES
 Terminals in wire harnesses are usually made of metals/alloys. They also contain materials like carbon or silicon. Terminals have different designs, shapes and sizes, depending on the type of connection. Many shapes of terminals are available in market likes hooks, rings, spades, quick-disconnect, bullet. Each wire harness application is selective and designed for a precise operation having its own set of constraints and grouping of signals.
Choosing the accurate connector and terminal for an operation is vital to the overall performance of the wire harness.
BY VEHICLE TYPE
Hybrid vehicle
Electric vehicle
ICE vehicle
The increasing demand for hybrid and electric vehicles has remarkably contributed to the development of wire harness market. The trend of integrating cutting-edge features in the vehicles has led in heavy demand for wire harnesses, which ultimately help in growth of the market.
Also, the drift in electrification and advance safety solutions in vehicles has aided in the growth of the market.
BY REGION
 NORTH AMERICA
 With the Government's policies to increase the safety of vehicle, advanced technologies are being installed in the vehicle which has increased the demand in wire harness in the North America region. With most of the major companies in wire harness, this region is the biggest producer and supplier worldwide.
ASIA PACIFIC
Due to increasing demand of premium vehicle and surge of wire harness in HVAC, Asia Pacific has become the hotspot market for wire harness. Infrastructural growth in the region is also one of the key reasons for the increasing demand in wire harness market.
EUROPE
In Europe, governments and consumers are focusing more on advance safety options in vehicles to reduce the number of accidents across countries. This is expected to increase the implementation rate of wire harness, ultimately leading to the growth of the market.
TECHNICAL TRENDS IN AUTOMOTIVE WIRING HARNESS MARKET
 Almost 50% of the labour cost in a vehicle is accounted by wiring harnesses due to lack of automation in the field.
Mainly two types of interfaces (software) are used by wire harness in vehicles till date.
CAN (CONTROLLER AREA NETWORK): – It mainly controls the communication between major components of vehicle such as door modules, weather control module, power seat modules etc.
CAN-FD (an upgrade version of CAN), FlexRay (costly than CAN), MOST etc. are other types of software that can be used in place of CAN.
LIN (LOCAL INTRANET NETWORK): – It controls the other components of vehicle such as motor, heater, cooler etc.
In terms of raw materials used in a vehicle, steel and copper has been replaced with aluminium and copper-based alloy so as to reduce the overall weight of the vehicle because higher the weight of vehicle higher the fuel consumption and lower the battery life. Wire harness innovations and designs are typically aimed at plummeting the metal content use in a vehicle in order to reduce its overall weight.
LEIKO is a new concept in wire harness by BMW along with scientists from Technische Universiteit München, which will overcome the cons of metals such as Aluminium like its corrosion resistance ability.
COMPETITIVE LANDSCAPE
Deflingen, a French automotive supplier, has taken over Schlemmer operations in Romania's Sau Mare.
Motherson Sumi acquired Stoneridge's wiring harness business in 2014 for $65.7 Million.
Motherson Sumi acquired PKC Group Plc, Finland in 2017 for over $550 Million.
Leoni acquired 51% stake in Wuhan Hengtong Automotive Wiring Harness Co. in 2016
KEY PLAYERS IN AUTOMOTIVE WIRING HARNESS MARKET
Delphi
| | |
| --- | --- |
| Sl no | Topic |
| 1 | Market Segmentation |
| 2 | Scope of the report |
| 3 | Abbreviations |
| 4 | Research Methodology |
| 5 | Executive Summary |
| 6 | Introduction |
| 7 | Insights from Industry stakeholders |
| 8 | Cost breakdown of Product by sub-components and average profit margin |
| 9 | Disruptive innovation in the Industry |
| 10 | Technology trends in the Industry |
| 11 | Consumer trends in the industry |
| 12 | Recent Production Milestones |
| 13 | Component Manufacturing in US, EU and China |
| 14 | COVID-19 impact on overall market |
| 15 | COVID-19 impact on Production of components |
| 16 | COVID-19 impact on Point of sale |
| 17 | Market Segmentation, Dynamics and Forecast by Geography, 2020-2025 |
| 18 | Market Segmentation, Dynamics and Forecast by Product Type, 2020-2025 |
| 19 | Market Segmentation, Dynamics and Forecast by Application, 2020-2025 |
| 20 | Market Segmentation, Dynamics and Forecast by End use, 2020-2025 |
| 21 | Product installation rate by OEM, 2020 |
| 22 | Incline/Decline in Average B-2-B selling price in past 5 years |
| 23 | Competition from substitute products |
| 24 | Gross margin and average profitability of suppliers |
| 25 | New product development in past 12 months |
| 26 | M&A in past 12 months |
| 27 | Growth strategy of leading players |
| 28 | Market share of vendors, 2020 |
| 29 | Company Profiles |
| 30 | Unmet needs and opportunity for new suppliers |
| 31 | Conclusion |
| 32 | Appendix |