Global All-wheel drive(AWD)and 4-wheel drive(4WD) Market 2020-2025
March 16, 2020

Request Sample
COMING SOON
Multi User License - $2,500
GLOBAL ALL WHEEL DRIVE(AWD) MARKET
KEY FINDINGS
In Japan, 43 out of top 45 best-selling vehicles, offer 4WD atleast as an option. E-4WD is getting increasingly popular on higher variants of hybrid vehicles 
US is the single largest market for AWD globally, followed by China and Europe
The rise of intelligent AWD and E-AWD is the biggest trend fuelled by growth of compact and mid-size SUV/crossovers
OEM`S IMPROVEMENT IN THEIR ALL WHEEL DRIVE SYSTEM
Toyota's newly developed 4WD system, has a front and rear variable driving force system enabled by a multi-plate clutch. It  transfers the power of the new engine to all four wheels with minimal loss. Toyota also started offering E-AWD for the first time in US market on Toyota Prius Sedan.
The E-AWD doesn`t require  a center differential or other torque splitting device, like front to rear driveshaft. It has an independent electric, motor (without magnet) to power the rear wheels from 0 to 10 kph,  up to 43 mph. It can also sense when AWD is not required.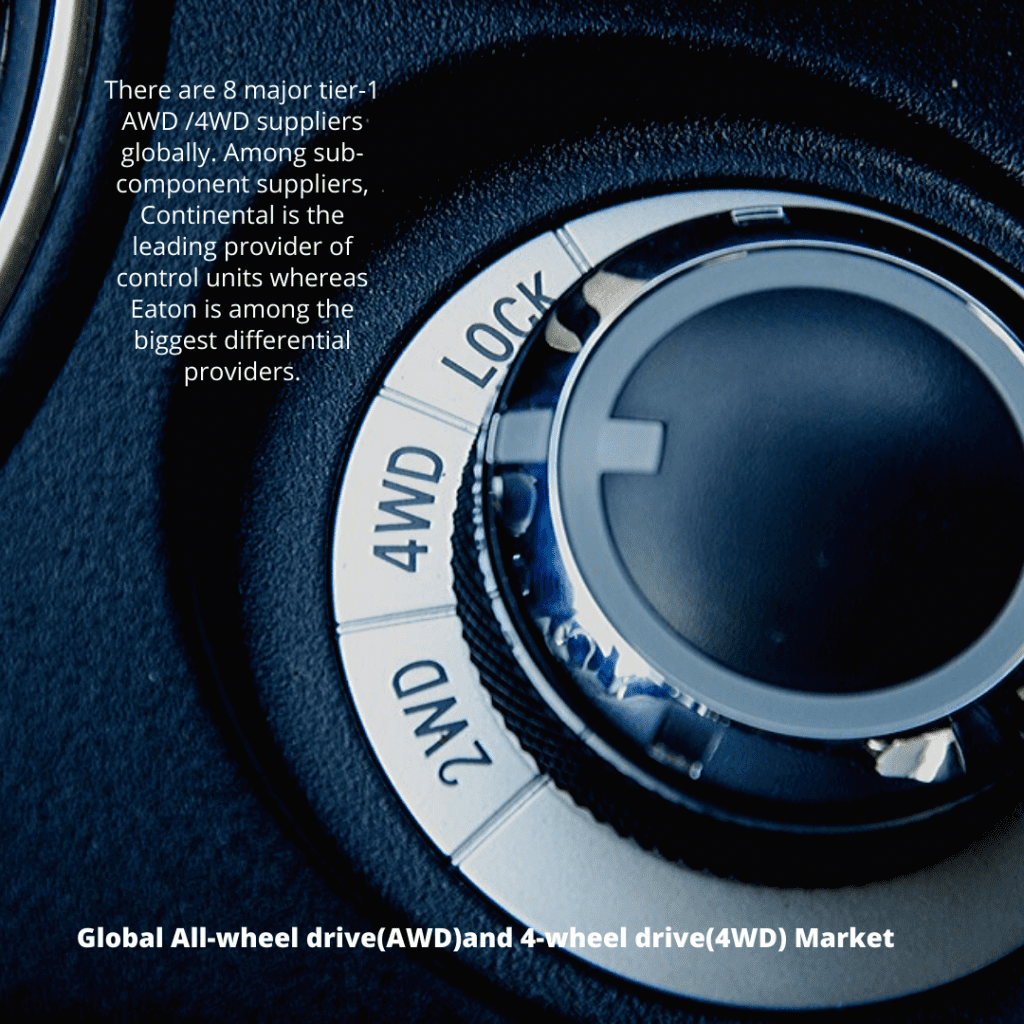 Audi`s new and improved Quattro, wheel-selective torque control enhances handling by ensuring additional traction across each axle through individual-wheel braking, whereas on 2020 RS7, drive forces are distributed to the front and rear axles in a 40:60 ratio via the mechanical center differential. In 2019 Q5 The Q5 55 TFSI, the  all-wheel drive with ultra technology is used in combination with an electric motor. The all-wheel drive system's intelligent control also works predictively i.e. always looking ahead via sensors and the continuous actuation as per data collected on driving dynamics and driver behavior.
Mercedes`s new 4MATIC can send from 0 to 100% of the engine's torque to front or rear axle. A transfer case with a multi-disc clutch can vary the torque distribution as per road condition.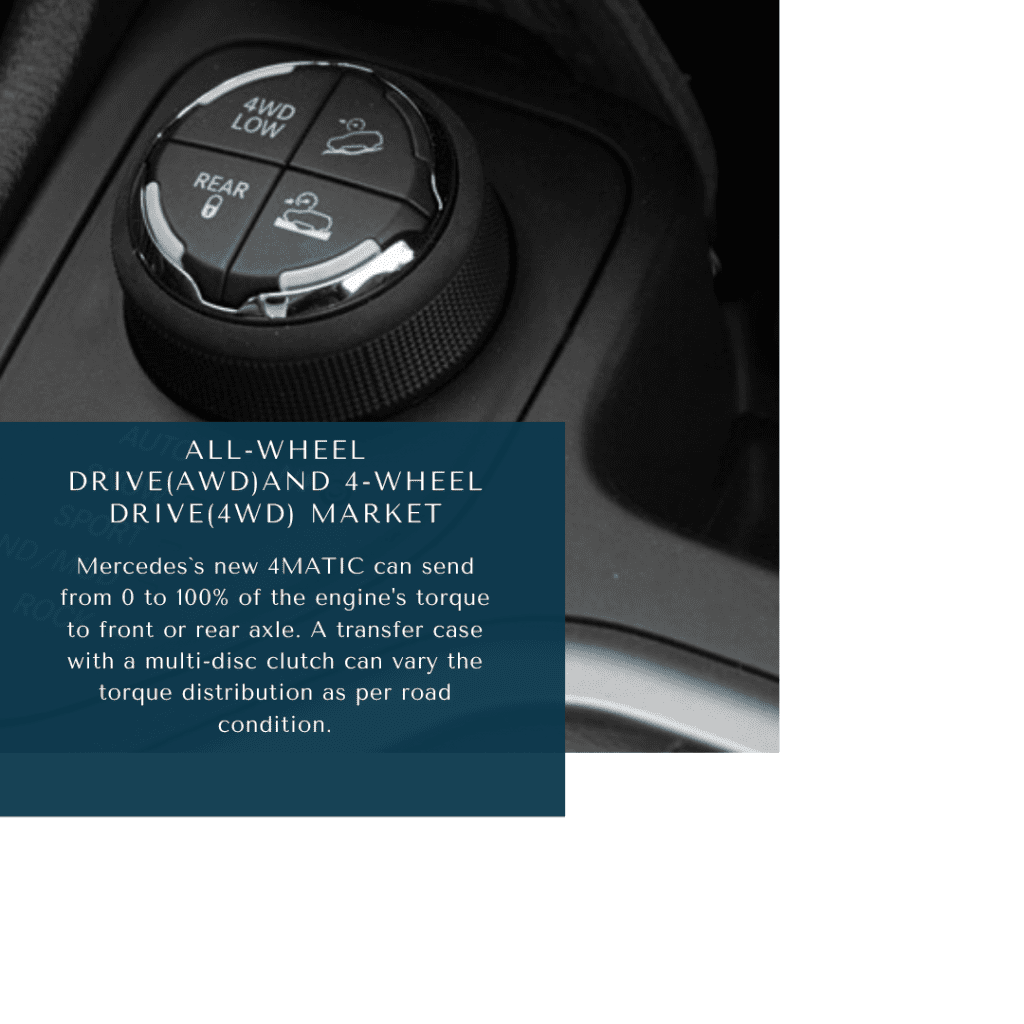 Cadillac introduced a new twin clutch design AWD in the US market on 2017 XT5 . The AWD system is capable of transferring up to 100% of available torque to either the front or rear axle. On the rear axle, the electronically controlled differential can provide up to 100% of available torque to either wheels.
MARKET SEGMENTATION

MARKET SIZE AND FORECAST
SUVs/Crossovers/light pickups accounted for 36% of global light vehicle production in 2018 or ~29 Million vehicles. AWD/4WD was offered on less than 40% of all SUVs sold.

COMPETITIVE LANDSCAPE
There are 9 major tier-1 AWD /4WD suppliers globally. Among sub-component suppliers, Continental is the leading provider of control units whereas Eaton is among the biggest differential providers. BorgWarner, Dana, American Axle are among the leaders in the North american market whereas JTEKT is the leader in the Japanese market.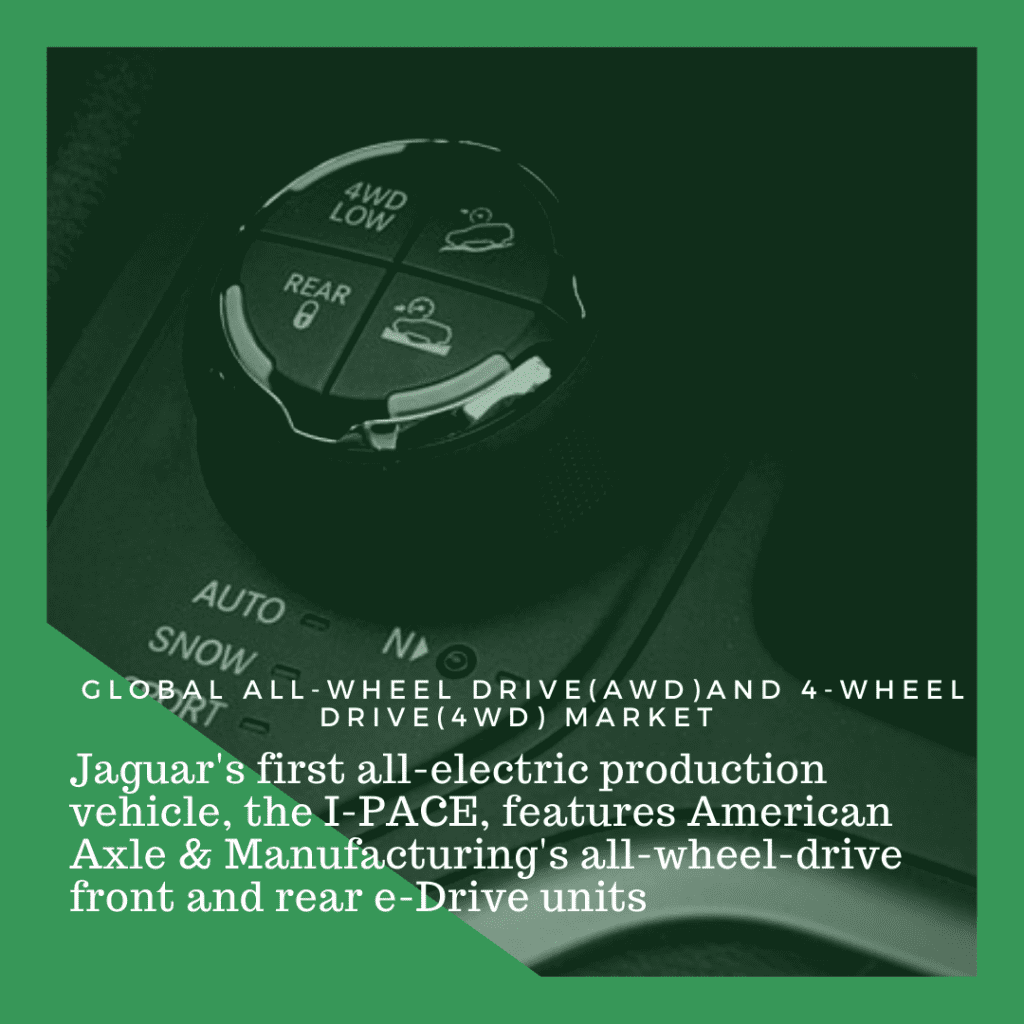 As Vehicle electrification is a prominent trend globally,  Borg Warner optimized its latest generation of its all-wheel drive (AWD) coupling with a compact brushless direct current (BLDC) motor and highly integrated electronics.It also includes  an integrated electronic control unit (ECU) which reduces cost and improves packaging.
South Korea based Hyundai- WIA supplied AWD on various Hyundai and KIA models.
With growing demand for electric drive module:
BorgWarner's electric drive module  entered serial production in Jan 2019.The fully integrated drive module (iDM) also includes developed power electronics which can be integrated either at the front or the rear axle of passenger cars and light commercial vehicles depending on the architecture and the application
DANA is supplying its Spicer AdvanTEK M180 all-wheel-drive axle to the new, Volkswagen Crafter 4 Motion panel van. It is also supplying  Spicer SmartConnect disconnecting all-wheel-drive (AWD) systems for the global 2019 Ford Edge 
Jaguar's first all-electric production vehicle, the I-PACE, features American Axle & Manufacturing's all-wheel-drive front and rear e-Drive units
THIS REPORT WILL ANSWER THE FOLLOWING QUESTIONS
  Market Size and Forecast of global AWD and 4WD market (Volume and Value)
  Market Trends,risks, drivers and opportunities in global all wheel drive market
  Market share of AWD manufacturers in US,Europe and China
  Growth strategy and expansion plans of AWD manufacturers 
  OE-supplier alignment in global all wheel drive market
| | | |
| --- | --- | --- |
| 1 | Market Segmentation | 3 |
| 2 | Executive Summary | 5-8 |
| 3 | Introduction | 9-15 |
| 4 | Insights from Industry stakeholders | 16-17 |
| 5 | 4WD/AWD Manufacturing in US, Europe and China | 18-19 |
| 6 | AWD improvement trends, by OEM | 20-23 |
| 7 | AWD penetration, by OEM | 24-27 |
| 8 | 4WD Penetration, by OEM | 29-32 |
| 9 | Breakdown of new concept vehicles by Driveline | 33-38 |
| 10 | AWD/4WD Light-weighting trends | 39-41 |
| 11 | Improvement in Differential and Transfer case technology | 41-44 |
| 12 | Growth in E-AWD | 44-47 |
| 13 | Global Market split by FWD, RWD and AWD-2019 | 48-51 |
| 14 | Impact of EV sales on AWD Market | 52-55 |
| 15 | Market Size, Dynamics and Forecast by Driveline | 56-75 |
| 16 | Market Size, Dynamics and Forecast by Vehicle type | 76-90 |
| 17 | Market Size, Dynamics and Forecast by Geography | 91-115 |
| 18 | Market Size, Dynamics and Forecast by OEM | 116-130 |
| 19 | Competitive Landscape | 131-133 |
| 20 | OE-Supplier alignment | 134-135 |
| 21 | Market share of suppliers | 136 |
| 22 | Company Profiles | 137-147 |
| 23 | Unmet needs and Market Opportunity for suppliers | 148 |
| 24 | Conclusion | 149 |
| 25 | Appendix | 150 |