Global Car Speaker Market Size, Trends, Forecast & Risk 2020-2025
April 26, 2020

Request Sample
COMING SOON
Multi User License - $2,500
INTRODUCTION
Car speakers are an integral component of In-vehicle entertainment system and make a substantial difference to the driving experience.For most of the last century, car speakers were built on a very old technology and a simple process but in the past two decades, the speaker design and materials used have undergone a major shift to achieve better than ever clarity.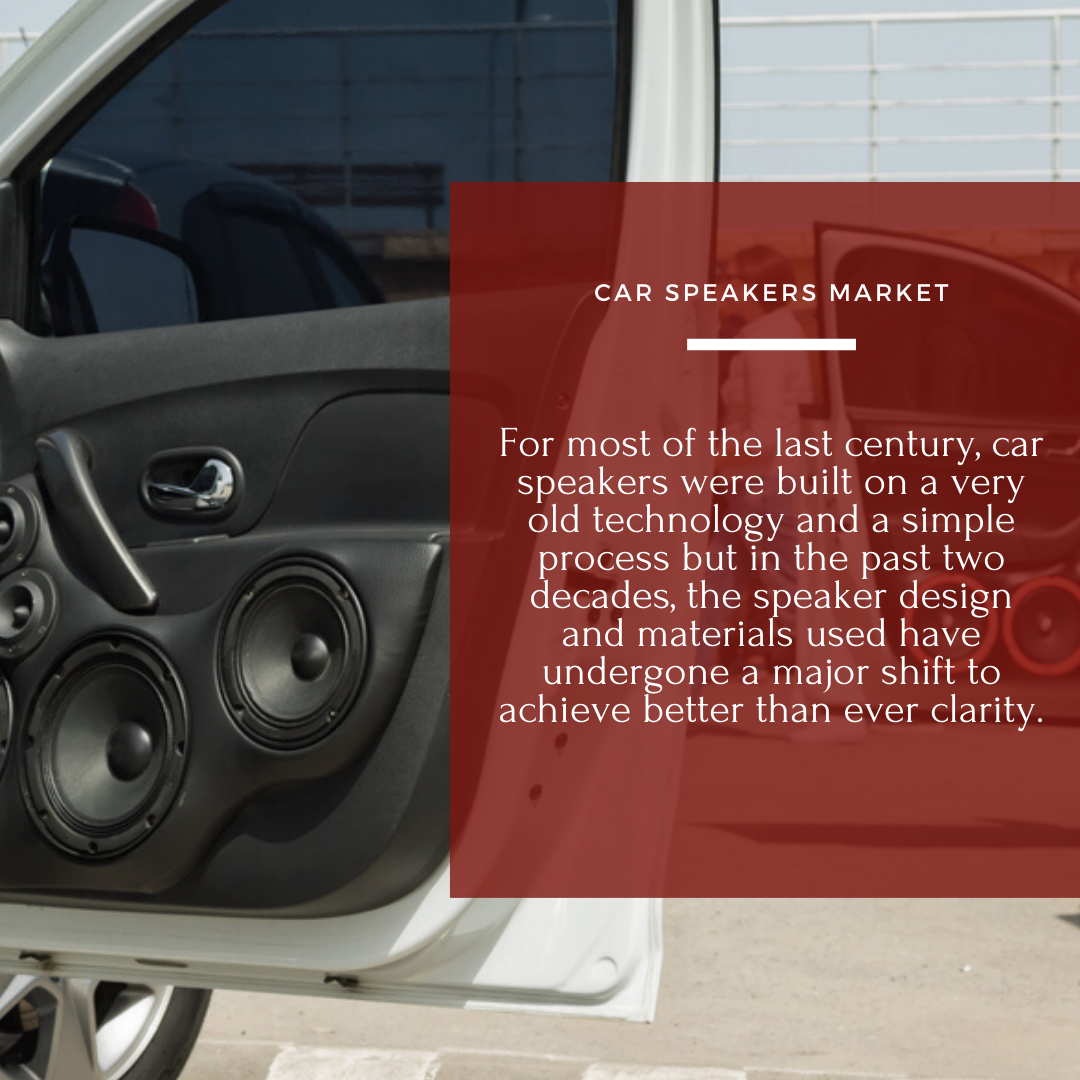 As we have already detailed in our touchscreen infotainment system market report that now manufacturers have developed their own infotainment system with various real time information and audio streaming features. But, they are still reliant on audio companies for car speakers.  
MARKET DYNAMICS
Co-axial speakers are a standard fitment in front and rear doors across many basic and mid- segment vehicles whereas component speakers are common in mid-premium segment.
More than 78% passenger cars sold in Asia are fitted with Co-axial speakers in front and back as compared to US and Europe where the share is less than 70%, owing to high fitment rate of component speakers.
The highest amount of technological innovation has centred around premium audio segment in luxury cars and high priced SUVs, where entire focus has been on creating a "as-live" listening experience.
In the mass segment, speaker manufacturers have been working on reducing dimensions (to improve packaging),low impedance and improving frequency response to generate wider sound dispersion.
MARKET SEGMENTATION
MARKET SIZE AND FORECAST
The global car speaker market size (Units) is closely related to new cars sold per annum and number of speakers per car. The number of speakers in a car can range from 4 (in budget segment cars) to 34 (MY 2015 Cadillac CT6).
The growth of premium audio system will drive market value($B) growth in next 5 years. In the US market, a premium audio system can be specced at an optional package price of $600-$1,800 depending on the type of system and vehicle segment. This is in sharp contrast to emerging markets like India and China, there are very limited options to configure a premium audio setup on a vehicle.
In 2018, 5-10-inch speaker segment was the most popular and accounted for 50+% of global car speaker market.
COMPETITIVE LANDSCAPE
The car speaker market is comprised of 25+ major companies and we have profiled the top 15.
The OE car audio system has now gotten better than ever because of more active collaboration between car manufacturers and audio companies in the premium segment. The premium segment car manufacturers often have long term relationship with their audio system suppliers.
Pioneer, Sony, JVC and Blaupunkt are popular in the aftermarket segment whereas Harman Kardon ,Bowers & Wilkins, Burmester, Bose etc are popular choices in mid-high segment premium audio system. Harman has the widest range of car speaker offerings (7 brands- JBL, Harman Kardon, Lexicon, Infinity, Revel, AKG and Mark Levinson) to suit various price points in OE as well as aftermarket.
Most of the car speaker manufacturers also sell their products in the consumer electronics (home audio) market (Ex Sony, JBL, Bang & Olufsen, Bowers & Wilkins etc).
OE- SUPPLIER ALIGNMENT IN CAR AUDIO MARKET
| | | | |
| --- | --- | --- | --- |
| Sl no | Region | OEM | Audio System Supplier(s) |
| 1 | Europe | Kia | Harman Kardon, Bose |
| 2 | India | Tata Motors | Harman Kardon |
| 3 | North America | FCA | Beats |
| 4 | Global | Audi | Bang & Olufsen |
| 5 | Global | Skoda | Canton |
| 6 | Global | BMW, Volvo, Maserati | Bowers & Wilkins |
| 7 | North America | Nissan | Bose,Fender |
| 8 | Europe | Volkswagen | Dynaudio |
| 9 | US | Toyota | JBL |
| 10 | Global | Mercedes, Porsche | Burmester |
COMPANY PROFILES
THIS REPORT WILL ANSWER THE FOLLOWING QUESTIONS
Which car speaker segment will have highest growth rate in next 5 years and why?
Which speaker type will generate highest demand in both OE and replacement segment in top 10 countries?
Impact of growing connectivity features in car on car speaker market
Average B-2-B car speaker price in all segments
Market share of leading suppliers and their future growth strategies
OEM-supplier alignment in global car speaker market
Key pain points of car speaker distributors in major countries
Future growth of online car speaker retail sales in China, US, Europe, and India
What`s happening in the car speaker raw material supply chain?
Future trend of OE car audio and car speaker manufacturing capacity in US, Europe, China and India
Details on global car speaker market supply chain
Which country is the biggest market for tweeters and sub-woofers?
What are the most important consumer demands in aftermarket (car speakers) in India, China, and US?
Which company has the best distribution strategy and strongest network in aftermarket globally?
Which are the top 5 markets (ranked in terms of opportunity) for new as well as existing suppliers in the global car speaker market?
To enquire or request customization , Please write to us  at Sales@mobilityforesights.com
| | | |
| --- | --- | --- |
| 1 | Market Segmentation | 3 |
| 2 | Executive Summary | 5-6 |
| 3 | Introduction | 7-10 |
| 4 | Insights from Industry stakeholders | 11 |
| 5 | Key criteria for car speaker adoption by OEMs | 12-13 |
| 6 | Raw material supply chain and car speaker  manufacturing in US, Europe and China | 14-15 |
| 7 | All about global online car speaker sales and pain point of speaker distributors | 16-17 |
| 8 | New product development and innovation | 18-19 |
| 9 | Global car speaker trends | 20-21 |
| 10 | Impact of growth in EV market on car speaker market | 22-23 |
| 11 | Market Size ,Dynamics and Forecast By Speaker size | 29-38 |
| 12 | Market Size ,Dynamics and Forecast By Speaker type | 29-38 |
| 13 | Market Size ,Dynamics and Forecast By Power output | 39-48 |
| 14 | Market Size ,Dynamics and Forecast By Geography | 49-65 |
| 15 | Market Size ,Dynamics and Forecast By End-use (OE & Replacement) | 66-78 |
| 16 | Competitive Landscape | 79-82 |
| 17 | OEM-supplier relationship in Car speaker market | 27-28 |
| 18 | Company Profiles | 80-95 |
| 19 | Unmet needs and Market Opportunity for suppliers | 96-97 |
| 20 | Conclusion | 98-99 |
| 21 | 5 Key predictions | 100 |
| 22 | Appendix | 101 |