China Electric Bus Market 2020-2025
October 1, 2020

Request Sample
Number of Pages -78
COVID updated report
Multi User License - $1,900
KEY FINDINGS
BEVs will see an increased growth as compared to PHEVs. Fuel cell vehicles are being experimented across various provinces but the infrastructure development is not at par with electric vehicles hence will require more time to compete substantially with electric vehicles
Majority of the buses sold are sold to governmental organizations to run the public service bus in various cities such as Beijing, Shenzen etc with 100% of the buses used for public transport in Shenzen being electric
Due to the COVID, there was a decrease in production and sales as the factories were shut for ~4 weeks and demand for the buses too. For reference 8,394 units in 10-12 metre category were sold in H1 2020 while 18,232 units were sold in 2019
Regional governments in China are shifting their public transport to electrified vehicles thereby driving this segment across country which is the growth driver. This will see increase till a substantial portion of the fleet is electric which will be coupled with infrastructure development
The domestic market leaders are Yutong, BYD, Zhontong and Winnerway with 47% of the buses being supplied by these 4 OEMs in H1 2020. Yutong is the market leader in China for electric buses and is looking to strike partnerships outside China for manufacturing
The battery supply chain for electric bus is mainly comprised of CATL, Guoxuan, EVE, BYD and Menguli
CHINA ELECTRIC BUS MARKET
The global electric bus market has got to a stage where it is now because of advancements made in Chinese electric bus manufacturers. BYD was among the first bus manufacturers to show an electric bus concept in 2011 in Europe and now its electric buses are in use in more than 100 European cities.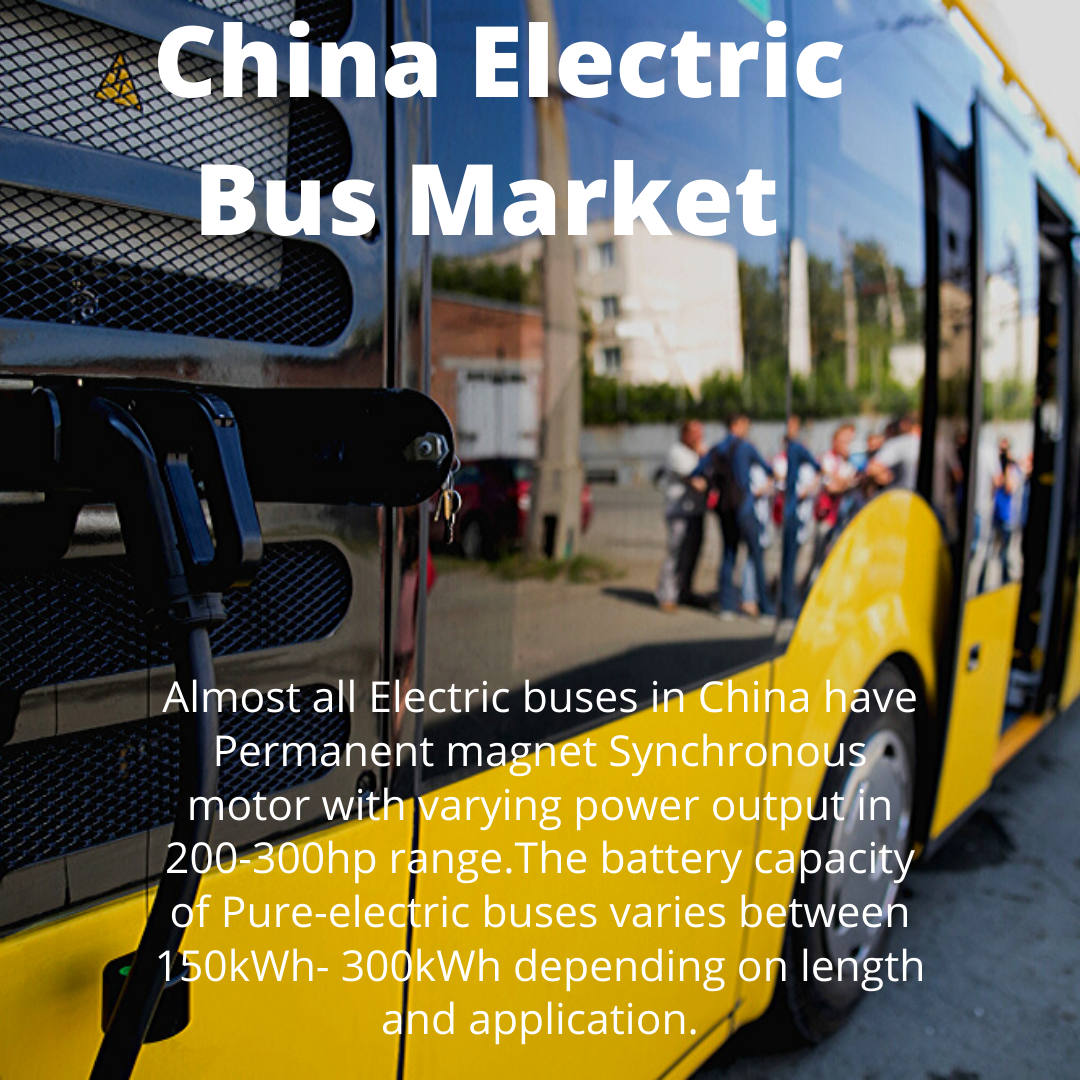 In the global market, Mercedes, MAN, Volvo have launched their all-electric buses with mass production timeline, but none of them are as price competitive as Chinese manufacturers.
MARKET DYNAMICS
Almost all Electric buses in China have Permanent magnet Synchronous motor with varying power output in 200-300hp range. The battery capacity of Pure-electric buses varies between 150kWh- 300kWh depending on length and application.
Much of the China electric bus market has grown on the back of subsidies given by the government. Ankai Bus – a leading electric bus manufacturer announced on 3rd Jan 2020 that the company received the national new energy vehicle promotion and application subsidy to the tune of $5.4 Million.
Foton received an order for 2,072 electric buses(210 pure electric, 1,140 PHEV and 722 range extender EV) on 31st Dec 2019 from Beijing Public Transport Holdings (Group) Co., Ltd, received a total of  92 government subsidies totaling $40 Million in 2019.
In 2018-2019, majority(95%) of the electric bus orders were for pure electric buses, but post withdrawal of subsidies in Aug 2019, we believe, the trend might shift to PHEV and range extender hybrid buses.
Fuel cell electric bus sales have grown to almost 900 units in 2019 and about 300 of them were sold in Shanghai alone.
MARKET SEGMENTATION

MARKET SIZE AND FORECAST
The bus market(ICE+ Electric) in China is estimated at $10 Billion per annum.  The electric bus market in China was estimated at ~70,000 units in 2019 or ~14% of overall bus market in terms of volume, de-growing by 30% YOY. The steep drop happened after generous subsidies by the Chinese government were withdrawn on 7th August 2019.
In 2019, majority of the electric buses in China are sold in a handful of cities like Dongguann, Beijing,Suzhou,Shenzhen,Wenzhou,Zhengzhou and Guangzhou. this is in a sharp contast to 2018 sales where Gunagzhou alone accounted for 15% of total sales.
Chinese bus manufacturers are also looking at South-East Asian, African and other low volume markets for exports, which will allow them to diversify their earnings and mitigate the risks associated with this evolving market.
COMPETITIVE LANDSCAPE
China bus market has 25 players in total, accounting for 0.5 Million units per annum but only 12 players are active in electric bus segment.
In electric bus segment, the cumulative sales of the top ten new energy bus companies in 2019 was 82% of the industry's total sales. Yutong, Zhongtong, CRRC, BYD, and Foton had a cumulative market share of 62% in 2019.
Most of the domestic players are looking for export opportunities outside China. For example, BYD has less than 7% share of the domestic electric bus market but is the #1 player in India electric bus market (India is world`s third biggest bus market) and is actively expanding in Europe and US.
India electric bus market has a requirement of ~5,500 electric buses between 2020-2024, to be fulfilled by various vendors but BYD has already bagged more than 35% of them.
COMPANY PROFILES
CRRC Electric
Haige Bus((Suzhou Jinlong)
Jinlong Bus
Kaiwo Automobile (Nanjing Jinlong)
Zhongtong Bus Holding Co. Ltd.
| | |
| --- | --- |
| Sl no | Topic |
| 1 | Market Segmentation |
| 2 | Scope of the report |
| 3 | Abbreviations |
| 4 | Research Methodology |
| 5 | Executive Summary |
| 6 | Introduction |
| 7 | Insights from Industry stakeholders |
| 8 | Cost breakdown of Product by sub-components and average profit margin |
| 9 | Disruptive innovation in the Industry |
| 10 | Technology trends in the Industry |
| 11 | Consumer trends in the industry |
| 12 | Recent Production Milestones |
| 13 | Component Manufacturing in US, EU and China |
| 14 | COVID-19 impact on overall market |
| 15 | COVID-19 impact on Production of components |
| 16 | COVID-19 impact on Point of sale |
| 17 | Market Segmentation, Dynamics and Forecast by Geography, 2020-2025 |
| 18 | Market Segmentation, Dynamics and Forecast by Product Type, 2020-2025 |
| 19 | Market Segmentation, Dynamics and Forecast by Application, 2020-2025 |
| 20 | Market Segmentation, Dynamics and Forecast by End use, 2020-2025 |
| 21 | Product installation rate by OEM, 2020 |
| 22 | Incline/Decline in Average B-2-B selling price in past 5 years |
| 23 | Competition from substitute products |
| 24 | Gross margin and average profitability of suppliers |
| 25 | New product development in past 12 months |
| 26 | M&A in past 12 months |
| 27 | Growth strategy of leading players |
| 28 | Market share of vendors, 2020 |
| 29 | Company Profiles |
| 30 | Unmet needs and opportunity for new suppliers |
| 31 | Conclusion |
| 32 | Appendix |