GLOBAL CONSTRUCTION EQUIPMENT ENGINE MARKET
INTRODUCTION
With the increasing building activities, the global construction equipment market is projected to reach USD 160.84 billion by 2026, at a CAGR of XX%.
Backhoe loaders and excavators are indispensable for any construction. Their demand is very high in developing countries where urbanization is happening at a fast pace. Bright prospects of the construction industry will, therefore, broaden the outlook of this market in the forthcoming period.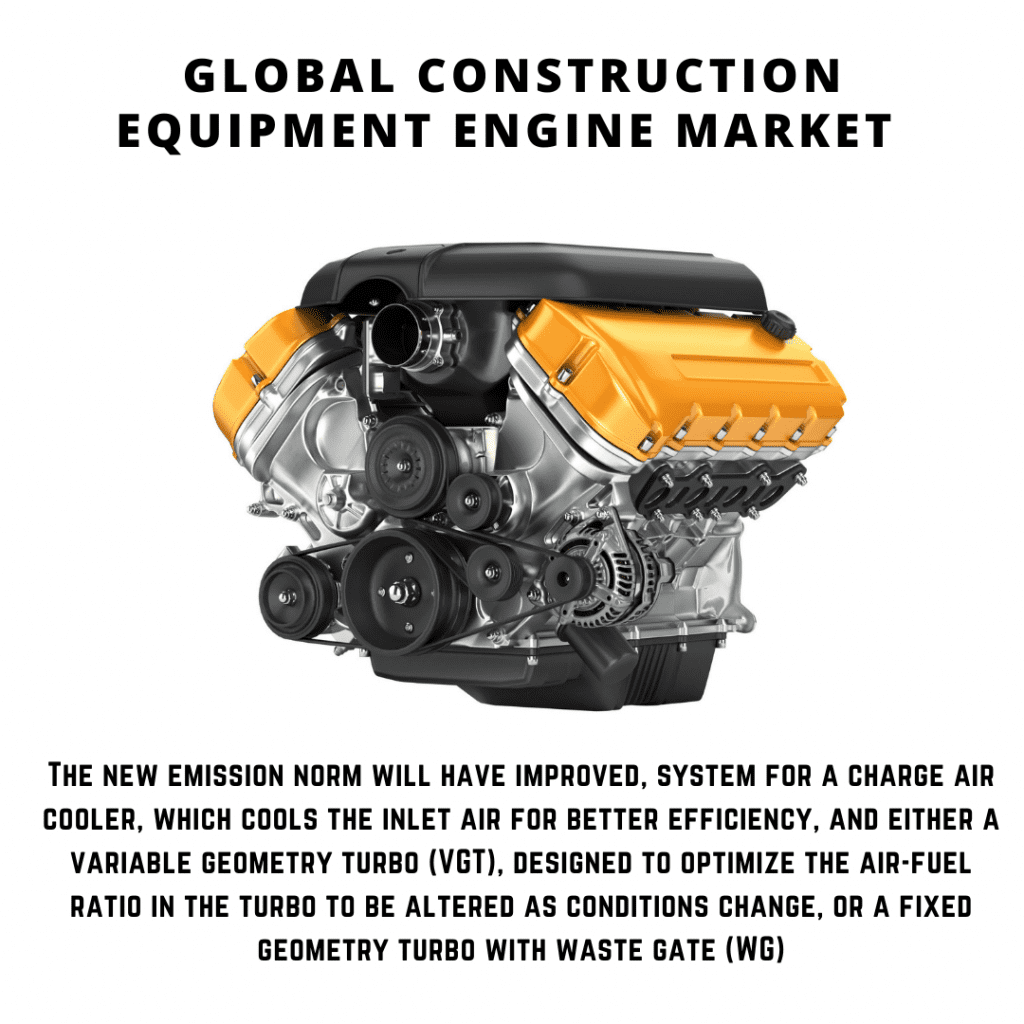 It's a somewhat different tale being told in the US. With exports down, American hopes are being increasingly pinned on rising domestic plant demand. Contrasting the US, China, the nation with the world's biggest demand for construction equipment, has seen domestic sales dip, with many firms now looking to up their percentage of exports against total machine sales.
However, the Asia-Pacific region, with China at the forefront, is still the key region for aggregate demand due to its huge government-led investment in new transport and other vital infrastructure. In fact, leading independent research tips the region's share of overall global aggregates demand to grow over the next two years. Such a big demand for aggregates tends to go hand in hand with big demand for construction equipment.
US CONSTRUCTION EQUIPMENT ENGINE MARKET
Many OEM's have their engines to meet U.S. EPA Tier 4 emissions and EU Stage IV emission standards with an aftertreatment system.

Most of the engines have displacement of 4.4L with power output of 75HP-120HP and torque of 400Nm – 600Nm in construction machines.

Engines in U.S are designed to withstand cold temperatures and harsh environments in order to maintain smooth operations, OEM's are more concentrated on innovating HVAC systems.

Engine suppliers have R&D centers to develop engine technologies with sustainable environment and promoting green emission machines.

Diesel has unmatched and unique combination of power, performance, reliability, fuel efficiency and now low emissions, it is the technology of choice and the workhorse of the nation's construction sector, powering more than three-fourths of all heavy construction equipment.
SL No
OEM
Engine Manufacturer
Displacement
Power Output

1

Caterpillar

Caterpillar

0.8L-106L

18 – 4000HP

2

Terex

Cummins

4.5L-6.7L

110-550HP

Mercedes

6.4L

228-282HP

MTU Engines

12.8L

429-523HP

3

Bobcat

Bobcat Engines

–

14-131HP

4

JCB

JCB

4.4L

74-173HP

Cummins

6.7L

173-183HP

MTU Engines

7.7L

241-281HP

Kohler

2.4L

74HP

5

John Deere

John Deere Powertech

4.5L- 13.5L

102-367HP

Yanmar

0.9L-3.3L

14.5-73HP

Isuzu

3L-15.7L

101-512HP

6

Hitachi

Isuzu

3L-15.68L

101-520HP

Yanmar

0.9L-3.3L

14.5-56.9HP

Deutz

2.9L-3.6L

66-95HP

Kubota

1.64L-1.83L

24-44HP

Cummins

4.5L-6.7L

142-194HP

7

Komatsu

Komatsu

1.6L-60L

24.4-1892HP

8

Volvo

Volvo

0.8L-16.1L

20.9-630HP
EUROPE CONSTRUCTION EQUIPMENT ENGINE MARKET
Engine and construction equipment manufacturers are facing their toughest emissions challenge yet with the release of new EU Stage V emissions legislation. OEM's will be delivering maximum power and performance with new engine technology that is one further step towards a more sustainable tomorrow.

Stage V introduces particulate number (PN) limits for all manufacturers of engines between 19 kW and 560 kW, requiring diesel particulate filters (DPF) to be part of the EATS (Exhaust gas after treatment system) on the engine installation in the machines. In addition, there will be an increased focus on emissions during the machine's usage.

The new emission norm will have improved, system for a charge air cooler, which cools the inlet air for better efficiency, and either a variable geometry turbo (VGT), designed to optimize the air-fuel ratio in the turbo to be altered as conditions change, or a fixed geometry turbo with waste gate (WG). A DPF has been designed to remove diesel particulate matter or soot from the exhaust gas of a diesel engine, while a diesel oxidation catalyst (DOC) serves to oxidize hydrocarbons and carbon monoxide into carbon dioxide and water.

Highly sold construction equipment engines have 4.0-4.5L displacement and power of 74-150HP.

Turbochargers plays vital role in power delivery in heavy machinery by providing boosting hydraulic power instantaneously when required.

Most of the parts in Europe are Cold temperature regions. So, Cold starting the engines increases the emissions, when it is integrated with direct injection process.
SL No
OEM
Engine

Manufacturer

Displacement
Power Output.

1

Liebherr

Deutz

3.6L

116-126HP

Liebherr

7L-16.16L

204-571HP

2

Volvo

Volvo

0.8L-16.1L

16.1-630HP

3

JCB

JCB

4.4L-4.8L

74-172HP

MTU

7.7L

241-281HP

Kohler

1.8L-2.48L

56-74HP

4

Case

Isuzu

2.9L-7.79L

102-206HP

FPT

3.4L-6.7L

97-246HP

5

New Holland

FPT

3.4L

58-121HP

Kubota

1.26L

24.8HP

Mitsubishi

0.9L

16.8HP

Yanmar

1.6L-3.3L

24.4-64.7HP

6

Wirtgen Group

Deutz

2.9L-6.1L

72-214HP

Cummins

4.5L-6.7L

154-250HP

Kubota

1.1L-3.3L

21.6-74.2HP

7

Wacker Neuson

Yanmar

0.8L-1.6L

21-25HP

Perkins

1.6L-3.6L

45-83.8HP

Deutz

2.9L-4L

74-154HP
INDIAN CONSTRUCTION EQUIPMENT ENGINE MARKET
Most of the OEM's have created joint venture in order to supply their engines. As, Indian manufacturers do not have R&D centers domestically. So, companies buy the engines by suppliers.

Kirloskar and Cummins are major engine suppliers in India.

Coming to new emission norms, Manufacturers are integrating exhaust after treatment technology and solutions. These solutions are designed to meet the highest emissions standards worldwide offering not only performance and reliability, but fuel economy and significant cost savings as well.

Mostly sold engines have displacement of 3.5L-4L with power output of 50-90HP
SL No
OEM
Engine Manufacturers
Displacement
Power Output

1

JCB

KOEL

3.2L-4L

49.5-76HP

JCB

4.4L-7.2L

75-221HP

Cummins

3.9L-5.88L

100-140HP

Perkins

2.2L

50-60HP

2

L&T-Komatsu

Komatsu

6.6L-60L

60-4020HP

Ashok Leyland

–

76-131HP

3

Mahindra

Mahindra

3.5L

79.9-91HP

4

BEML

KOEL

4L

57-76HP

BEML

4.1L-6.4L

96-808HP

5

Escorts

Kirloskar

–

76HP

Cummins

3.9L-5.9L

101-147HP

Escorts

–

50-90HP

6

Hyundai

KOEL

4.1L

76-105HP

Cummins

5.9L-11L

139-353HP

Hyundai

8.2L-11.1L

265-276HP

7

ACE

Cummins

5.9L-8.3L

100-215HP

Mahindra

–

47.5-230HP

Kirloskar

–

76HP

Ashok Leyland

–

101-133HP

8

Tata Hitachi

Tata

–

55-75HP

Cummins

5.9L-120L

132-3880HP

Isuzu

6.4L-15.68L

169-402HP
COMPANY PROFILES