Global CVT Transmission Market 2019-2025
March 24, 2020

Request Sample
COMING SOON
Multi User License - $2,500
CVT TRANSMISSION MARKET
KEY FINDINGS
In China, 1,767 car models are on sale, CVT transmission is offered on ~30% of them.In Japanese cars manufactured locally,  CVT penetration is ~68%
In US, 484 car car models are on sale, CVT transmission is offered on ~22% of them. Torque converter automatics trump CVT by a big margin in US
In Japan, CVT transmission is offered on almost all top 45 best-selling vehicles
Nissan, Honda, Toyota and Subaru cumulatively accounted for ~70% fitment of CVT transmissions globally in 2018
CVT Transmission in motorcycles/scooters reached a global penetration of 38% in 2019. De-growth in world`s biggest two-wheeler market, India, poses a risk to the CVT transmission market
INTRODUCTION
CVT(Continuously variable transmission) is a Japanese technology and can be found in almost all Japanese origin cars and scooters worldwide.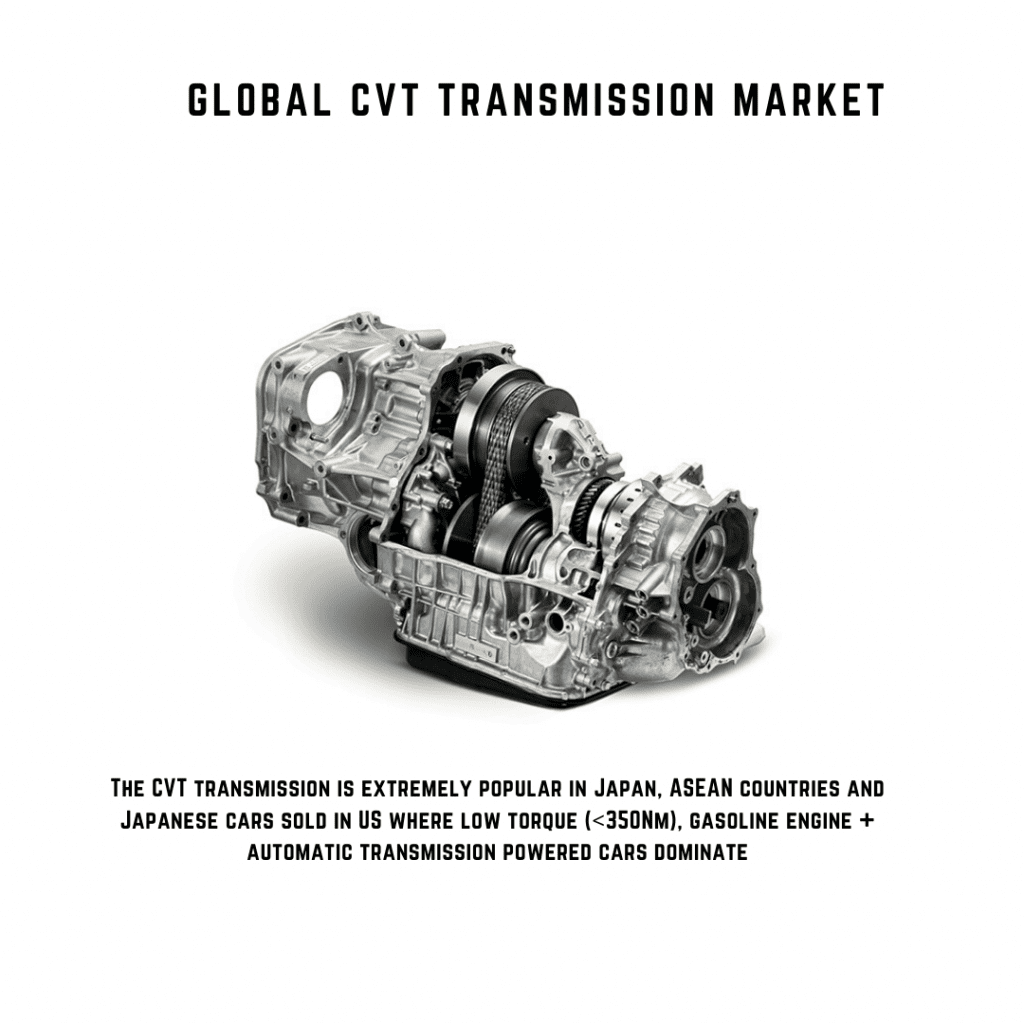 The CVT transmission is known for its efficiency/fuel economy (comparable to a manual transmission), jerk free gear shifts, low maintenance and owing to limited electronics content, it offers better long-term reliability.
Now that automatic transmission specced cars are growing in popularity even in emerging countries, CVT transmission has the potential to grow at even faster rate.
MARKET DYNAMICS
CVT transmission equipped cars started to get more acceptance in mid 2000s and by 2007, Nissan alone sold 1 Million cars globally, equipped with CVT.
In Europe, DCTs (Dual clutch transmission) have gradually replaced CVT. In the Indian market, CVTs accounted for ~3% share of auto transmission market in 2018 because AMTs have been gaining strong foothold.
The CVT transmission market is also facing risks in terms of substitution by other transmission technologies like DCT in premium segment, torque converter in the standard and AMT in the budget segment.
But, it is in the compact segment where CVT transmission truly shine. For example, in the kei car segment which accounts for ~35-40% of new car sales in Japan, the rated fuel economy for some CVT equipped cars has even exceeded 30km/L, as tested on JC08 cycle.
IMPACT OF GROWING HYBRIDIZATION ON CVT TRANSMISSION MARKET
There have been numerous developments in the CVT transmission market in a bid to further improve the efficiency, including low viscosity oil, low friction belt and pulley, integration of idle-stop system using a high-efficiency electric oil pump etc.
Also, now many CVT transmissions have a unit-type body construction resulting in fewer parts and better control system to negate the infamous "rubber-band" effect.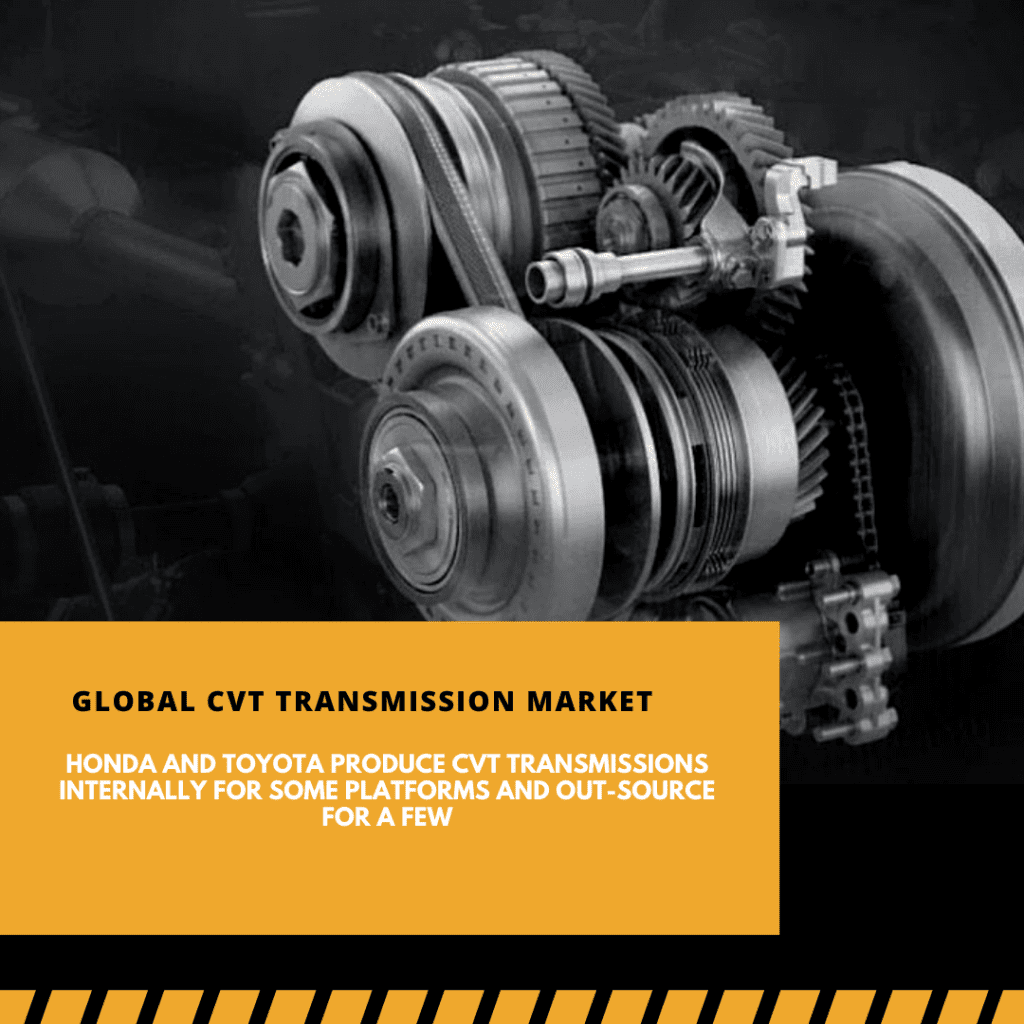 Honda has specifically designed CVT for hybrid vehicles. It is being produced at Honda's wholly owned transmission plant to in Foshan in  China's Guangdong province.
Jatco has already showcase its new E-axle concept at Shanghai auto show 2019 and could being mass production from 2021. To know more about E-axle, read our Global E-axle market 2019-2025 report
MARKET SEGMENTATION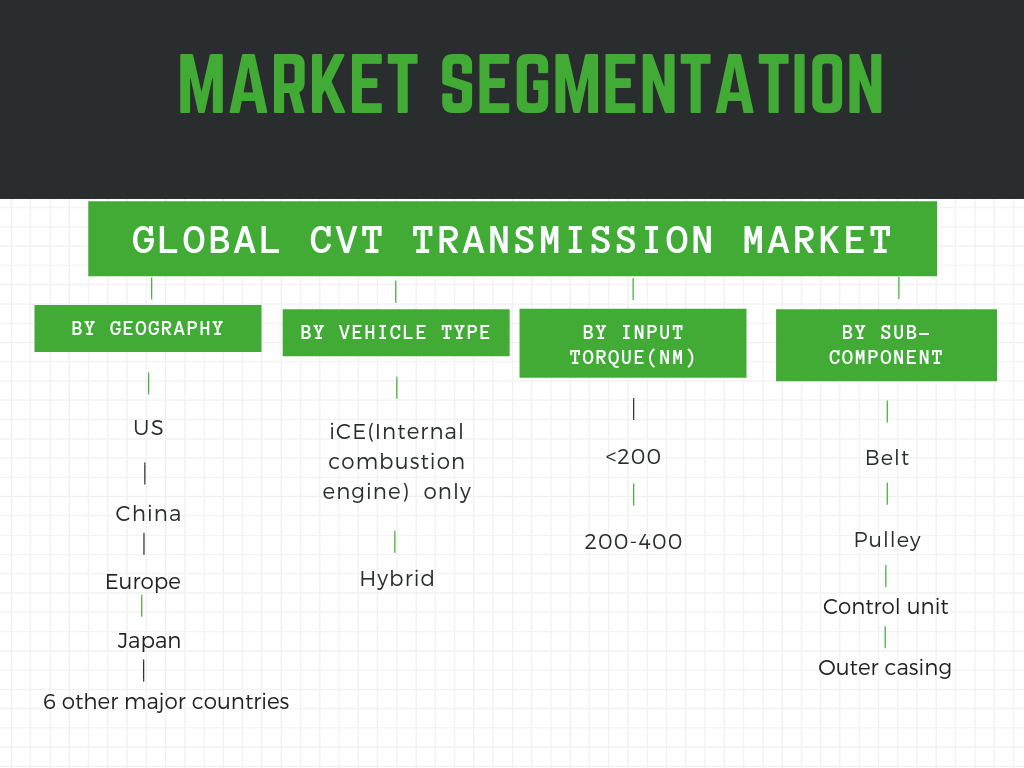 CVT TRANSMISSION MARKET SIZE AND FORECAST
In 2018, CVT was the second most popular automatic transmission used in passenger cars after Torque converter automatic transmission, accounting for 16% global share. But it also faces a limitation in the sense that it cannot handle high input torque(>350Nm) and is rather suited for front wheel drive vehicles only.
The CVT transmission is extremely popular in Japan, ASEAN countries and Japanese cars sold in US where low torque (<350Nm), gasoline engine + automatic transmission powered cars dominate.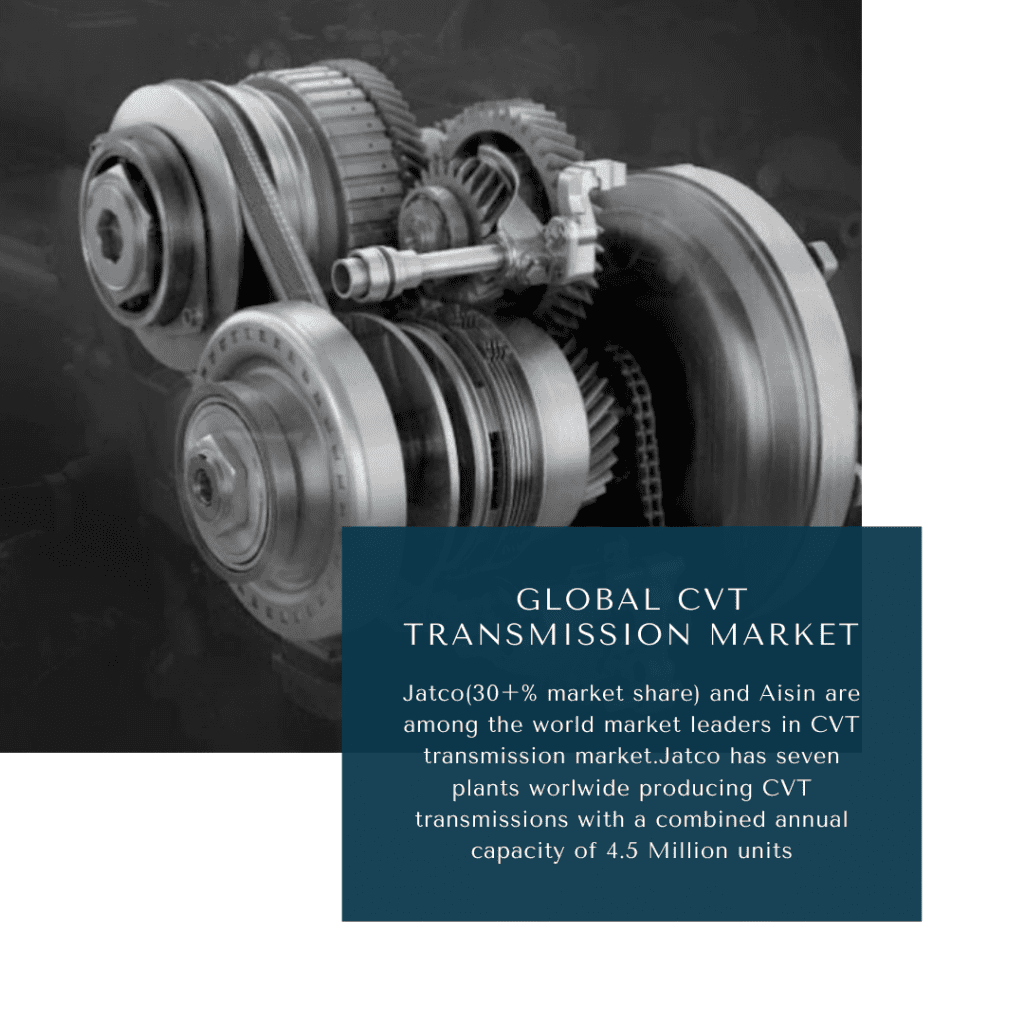 In two-wheeler segment,owing to growth in gearless scooter segment in urban India,(34% in FY 2019 from 21% in FY 2013) TVS and Hero Motocorp have developed their own proprietary CVT transmission in past decade. CVT transmission equipped scooters now account for 7 Million units annually.
The global CVT transmission market was estimated at $XX Billion in 2019 growing at –% CAGR till 2025
COMPETITIVE LANDSCAPE
The Japanese suppliers dominate CVT transmission market. Among leading European powertrain Bosch and Continental are only supplying the sub-components. For example, Bosch is among the leading sub-component (Pushbelt) supplier whereas Continental is the leading Transmission control unit supplier for global CVT transmission market.
Jatco(30+% market share) and Aisin are among the world market leaders in CVT transmission market.Jatco has seven plants worlwide producing CVT transmissions with a combined annual capacity of 4.5 Million units.
Honda and Toyota produce CVT transmissions internally for some platforms and out-source for a few.
With the blistering growth of Electric vehicle market, it will be interesting to see how the CVT transmission market shapes up for the industry participants.
COMPANIES PROFILED
Jatco Corporation
Fuji Heavy Industries
Daihatsu Motor Co., Ltd.
Zhejiang Wanli Transmission Co, Ltd
Torotrak Group
THIS REPORT WILL ANSWER THE FOLLOWING QUESTIONS
How will the CVT transmission market grow/decline in key geographies globally?
Market size and forecast of global CVT transmission market
Impact of e-mobility on CVT transmission market, new CVTs for hybrid vehicles?
Which vehicle segment will generate the highest CVT transmission demand in top 10 countries?
Upcoming vehicle platforms with CVT transmission
Average B-2-B price in all segments
Future technology trend of CVT transmission and manufacturing capacity in US, Europe, China, and India
CVT transmission market volume, split by major OEMs and vehicle platforms
Reasons behind growing adoption of CVT transmission in Chinese market
Potential for CVT in off-highway heavy duty transmission
Who are the leading CVT transmission sub-component( oil pump, belt, pulley, control unit) suppliers
What`s happening in the CVT transmission material supply chain?
OE- Supplier alignment in CVT transmission market
Market share of leading players in different segments and geographies
CVT transmission manufacturing in Asia(number of plants, capacity, planned expansion etc)
To enquire about the report, write to us at sales@mobilityforesights.com
| | | |
| --- | --- | --- |
| 1 | Market Segmentation | 3 |
| 2 | Executive Summary | 5-6 |
| 3 | Introduction | 7-10 |
| 4 | Insights from Industry stakeholders | 11 |
| 5 | Key criteria for CVT transmission adoption by OEMs | 12-13 |
| 6 | Raw material supply chain and CVT transmission manufacturing in US, Europe and China | 14-15 |
| 8 | New product development and innovation | 18-19 |
| 9 | Global automotive transmission trends | 20-21 |
| 10 | Impact of growth in EV market on CVT transmission market | 22-23 |
| 11 | Market Size ,Dynamics and Forecast By Product type | 29-38 |
| 12 | Market Size ,Dynamics and Forecast By Application | 29-38 |
| 13 | Market Size ,Dynamics and Forecast By sub-component | 39-48 |
| 14 | Market Size ,Dynamics and Forecast By Geography | 49-65 |
| 16 | Competitive Landscape | 79-82 |
| 17 | OEM-supplier relationship in CVT transmission market | 27-28 |
| 18 | Company Profiles | 80-95 |
| 19 | Unmet needs and Market Opportunity for suppliers | 96-97 |
| 20 | Conclusion | 98-99 |
| 21 | 5 Key predictions | 100 |
| 22 | Appendix | 101 |