Global Electric Boat Market 2020-2025
September 1, 2020

Request Sample
Coming Soon
Multi User License - $2,500
GLOBAL ELECTRIC BOAT MARKET
As emissions concerns mount on all transportation sectors, boating industry has not been left behind either and we are seeing interesting developments here.
The electrification wave is not just limited to boats but now has also engulfed PWC market. Montreal`s Taiga Motors launched two new electric jet skis starting from $15,000 in July 2020.
COVID-19 has given an unprecedented boost to the overall boating industry in US and Europe and the same could accelerate electric boat adoption as more people now get used to clearer skies.
GLOBAL ELECTRIC BOAT MARKET DYNAMICS
Asia Pacific is comparatively smaller market for boats than EU and US but growing water activity in ASEAN region could change this medium term.
In Japan, an electric tugboat with towing capacity of 50 tons driven by a combination battery – hydrogen fuel cell system has been announced by E5Lab and Tokyo Kisen, Japan's largest tugboat manufacturer in Oct 2019.
In New Zealand, the Port of Auckland has set the goal of being a zero emissions harbour by 2040. Netherlands based Damen Shipyards has decided to take on development of a 70-tonne all-electric tug boat for delivery in 2021.
BATTERY CAPACITY IN ELECTRIC BOAT MARKET
High price of Lithium ion batteries has so far not allowed car manufacturers to make a sizeable profit on battery electric vehicles. It is no different in case of electric boats.
Ingenity has developed 124 kWh battery for GS22E which can provide 2 to 3 hours of run time in typical water sports use scenario. It can be recharged using a 12kW onboard charger (10 hours), an 80kW supercharger (1.5 hours) or a DC 25kW EV charger (4 hours).
Laneva`s 26ft dayboat has twin 60kW axial flux motors supplied by 140kWh lithium polymer NMC (Nickel Cobalt Manganese) battery packs. 
GROWTH IN ELECTRIC FERRY MARKET
SCANDINAVIAN COUNTRIES
Sweden: Green City Ferries is about to commercialize their successful 24m prototype
Norway: It already has electric ferries and working on high speed models
Denmark: In Aug 2019, world's largest battery powered ferry, e-Ferry Ellen, took its first journey
NORTH AMERICA
US + Canada: Some of the busiest ferry systems are adding hybrids to their fleets
ASIA
Thailand: The country has more than 200 e-ferries planned, and could possibly  become the electric ferry capital of the world
India: The Southern state of Kerala has already commissioned a solar ferry in Feb 2019 and transports ~600k passengers per annum
GLOBAL ELECTRIC BOAT MARKET SEGMENTATION
By Application
By Boat length
Under 30 ft
30-60ft
More than 60 ft
By Region
US
Europe
Asia
Rest of the world
GLOBAL ELECTRIC BOAT MARKET SIZE AND FORECAST
The global Electric boat market is estimated at $XX Billion in 2020, growing at –% CAGR till 2025.
COMPETITIVE LANDSCAPE
The electric boat market is young and agile, marked by presence of several new players.All market players are innovating and focus on Research is much higher than conventional boat manufacturers.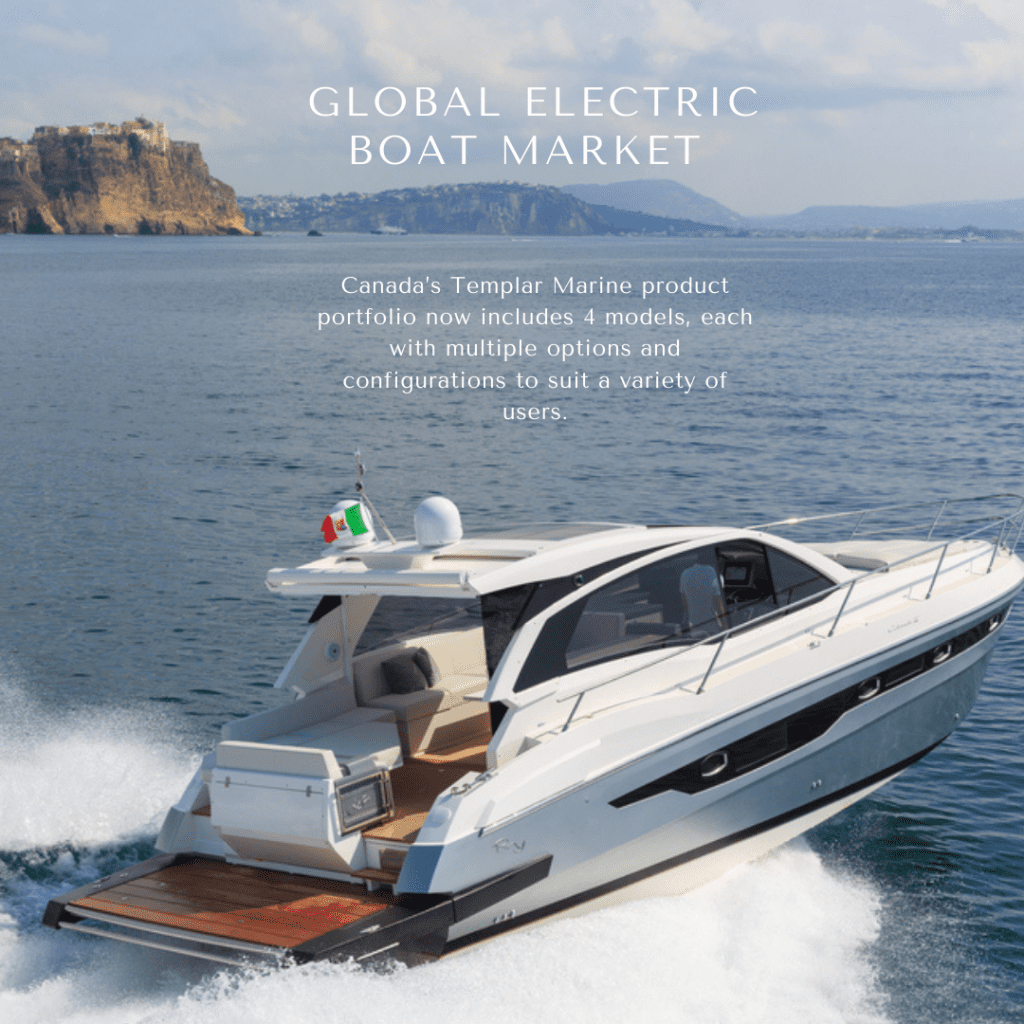 Azura builds the Aquanima line of solar powered catamarans, ranging from a 28 foot to 45 foot with a speed of up to 12 knots and a range of 120 nautical miles in a day.
Voltaire builds the 33 Sky electric power catamaran with a flax-fibre composite hull. The motor is supplied by electric outboard specialist Torqeedo and has 2*42kWh batteries
Canada's Templar Marine product portfolio now includes 4 models, each with multiple options and configurations to suit a variety of users.
COMPANY PROFILES
Ingenity
Azura
Voltaire yachts
Templar Marine 
THIS REPORT WILL ANSWER FOLLOWING QUESTIONS
Market Size and Forecast (2020-2025), Units and $M
Market split by region, end use segment and battery capacity
Market share of leading vendors, 2020
COVID impact on Electric boat market and suppliers` earnings
Electric boat market technology trends
| | |
| --- | --- |
| Sl no | Topic |
| 1 | Market Segmentation |
| 2 | Scope of the report |
| 3 | Abbreviations |
| 4 | Research Methodology |
| 5 | Executive Summary |
| 6 | Introduction |
| 7 | Insights from Industry stakeholders |
| 8 | Cost breakdown of Product by sub-components and average profit margin |
| 9 | Disruptive innovation in the Industry |
| 10 | Technology trends in the Industry |
| 11 | Consumer trends in the industry |
| 12 | Recent Production Milestones |
| 13 | Component Manufacturing in US, EU and China |
| 14 | COVID-19 impact on overall market |
| 15 | COVID-19 impact on Production of components |
| 16 | COVID-19 impact on Point of sale |
| 17 | Market Segmentation, Dynamics and Forecast by Geography, 2020-2025 |
| 18 | Market Segmentation, Dynamics and Forecast by Product Type, 2020-2025 |
| 19 | Market Segmentation, Dynamics and Forecast by Application, 2020-2025 |
| 20 | Market Segmentation, Dynamics and Forecast by End use, 2020-2025 |
| 21 | Product installation rate by OEM, 2020 |
| 22 | Incline/Decline in Average B-2-B selling price in past 5 years |
| 23 | Competition from substitute products |
| 24 | Gross margin and average profitability of suppliers |
| 25 | New product development in past 12 months |
| 26 | M&A in past 12 months |
| 27 | Growth strategy of leading players |
| 28 | Market share of vendors, 2020 |
| 29 | Company Profiles |
| 30 | Unmet needs and opportunity for new suppliers |
| 31 | Conclusion |
| 32 | Appendix |