Global Electric Outboard Motor Market 2020-2025
September 2, 2020

Request Sample
Coming Soon
Multi User License - $2,500
GLOBAL ELECTRIC OUTBOARD MOTOR MARKET
The viability of electric propulsion rests on the notion that a smaller motor can achieve the same power, torque and efficiency as a gas/ diesel motor.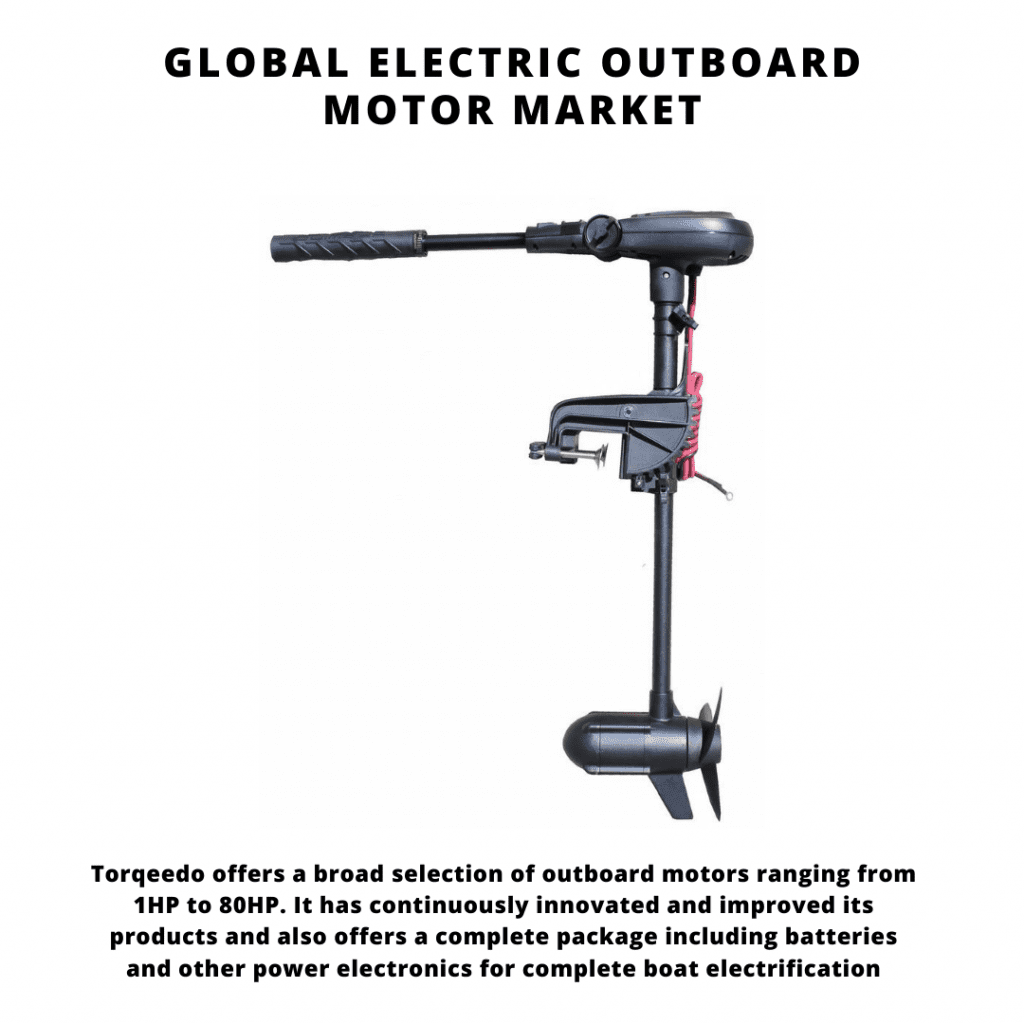 The torque characteristics of electric are much better than diesel. A diesel engine develops peak torque between 1,600-2,000rpm, whereas electric motors delivers it from 0 RPM making it far more efficient.
The high initial torque from electric motors facilitates usage of slimmer, higher efficiency propellers that are more steeply pitched.
GLOBAL ELECTRIC OUTBOARD MOTOR MARKET DYNAMICS
Stealth E18KW is to offer an all-in-one complete electric outboard system to power most smaller lightweight boats at planning speeds of 18-20MPH for at least an hour.
Torqeedo offers a broad selection of outboard motors ranging from 1HP to 80HP. It has continuously innovated and improved its products and also offers a complete package including batteries and other power electronics for complete boat electrification
Norway's Evoy is about to complete development of one of the most powerful electric outboard motors on the market. The electric Evoy Pro is rated at 150 HP
GLOBAL ELECTRIC OUTBOARD MOTOR MARKET SEGMENTATION
By Power output
Under 25hp
25hp-50hp
More than 50hp
By Yacht length
Under 35 ft
36-60ft
More than 60 ft
By Region
US
Europe
Asia
Rest of the world
GLOBAL ELECTRIC OUTBOARD MOTOR MARKET SIZE AND FORECAST
The global Electric Outboard Motor market is estimated at $XX Billion in 2020, growing at –% CAGR till 2025.
COVID IMPACT ON ELECTRIC OUTBOARD MOTOR MARKET
As boat sales have been going up in US and EU due to pandemic, we expect a similar growth in interest for electric outboard motors.
GLOBAL ELECTRIC OUTBOARD MOTOR COMPETITIVE LANDSCAPE
There are more than 15 players in electric outboard motor market and most of them are based in Europe. The competitive landscape of this market is lot more fragmented than gasoline powered marine outboard engine market.
Yamaha, the global market leader in gasoline powered outboard engine market has already started sea trials of its twin electric boat motor unit with an integrated steering control system.
Seattle, US based Pure Watercraft is pursuing a strategy of partnering with well-known hull manufacturers to attract boaters who want electric propulsion but not sure whether how it will play out in real world.
UK`s Equipmake supplies its APM line of electric motors and drive trains to various auto and transportation OEMs, and sees a lot of opportunity in marine electrification. UK based another company called Lynch Motors when coupled with a large diameter slow-running propeller – is capable of providing very economical cruising, the thrust is comparable to a 10HP 4-stroke petrol outboard.
COMPANY PROFILES
Pure Watercraft
FLOREN MARINE TECHNIK
Elva Electric Boat Motors
Stealth Motors
Parsun
Navigaflex
Combi Outboards
e'dyn
THIS REPORT WILL ANSWER FOLLOWING QUESTIONS
Market Size and Forecast (2020-2025), Units and $M
Market split by region, end use segment and generator Power output
Market share of leading vendors, 2020
COVID impact on Electric Outboard Motor market and suppliers` earnings
Electric Outboard Motor Technology trends
| | |
| --- | --- |
| Sl no | Topic |
| 1 | Market Segmentation |
| 2 | Scope of the report |
| 3 | Abbreviations |
| 4 | Research Methodology |
| 5 | Executive Summary |
| 6 | Introduction |
| 7 | Insights from Industry stakeholders |
| 8 | Cost breakdown of Product by sub-components and average profit margin |
| 9 | Disruptive innovation in the Industry |
| 10 | Technology trends in the Industry |
| 11 | Consumer trends in the industry |
| 12 | Recent Production Milestones |
| 13 | Component Manufacturing in US, EU and China |
| 14 | COVID-19 impact on overall market |
| 15 | COVID-19 impact on Production of components |
| 16 | COVID-19 impact on Point of sale |
| 17 | Market Segmentation, Dynamics and Forecast by Geography, 2020-2025 |
| 18 | Market Segmentation, Dynamics and Forecast by Product Type, 2020-2025 |
| 19 | Market Segmentation, Dynamics and Forecast by Application, 2020-2025 |
| 20 | Market Segmentation, Dynamics and Forecast by End use, 2020-2025 |
| 21 | Product installation rate by OEM, 2020 |
| 22 | Incline/Decline in Average B-2-B selling price in past 5 years |
| 23 | Competition from substitute products |
| 24 | Gross margin and average profitability of suppliers |
| 25 | New product development in past 12 months |
| 26 | M&A in past 12 months |
| 27 | Growth strategy of leading players |
| 28 | Market share of vendors, 2020 |
| 29 | Company Profiles |
| 30 | Unmet needs and opportunity for new suppliers |
| 31 | Conclusion |
| 32 | Appendix |