Global Electric Van Market Size,Trends, Forecast & Risks 2019-2025
February 20, 2020

Request Sample
COMING SOON
Multi User License - $2,500
ELECTRIC VAN MARKET
The ongoing vehicle electrification wave has not been limited to passenger vehicles and scooters/motorcycles. It is also spreading rapidly to another popular category of vehicles i.e. light commercial vehicles (LCV).
China, US and Europe are the top the three markets for LCVs, accounting for more than 60% LCV sales. But it will be China and Europe driving the growth of electric van market.
ABOUT EUROPE VAN MARKET
There are three major segments in Europe van market i.e. a) Car derived van 2) Medium duty van and 3) Heavy duty van.
The car derived vans typically have seating for 2 with 600 kg payload and GVW less than 2 Tonnes(T). Length is less than 4.5 Metre and Engine capacity (1L – 2L) with power varying from 75hp-162hp and torque 170Nm to 260Nm
The Medium duty vans are based on designated LCV platform( Panel vans (cargo vans), passenger vans and mini buses)
.length is 4.7m-5.1m, typically have seating for 2-4 with 1T – 1.5T payload and GVW between 2T – 3.5T. They are usually powered by Diesel engines with (1.8L – 2.3L capacity) with power varying from 160hp- 200hp and torque 250Nm to 360Nm
The Heavy duty vans are deployed for a wide range of services, construction and parcel deliveries.This class is often sold in chassis form for specialized application in industries such as construction, road repair, waste management, removals and automotive recovery.Length varies between 4.8m to 5.6m and Engines  (2L-3L) produce power from 160hp- 260hp and torque 260Nm to 400Nm
EUROPE LCV FLEET BREAKUP BY COUNTRY
France, Spain and UK account for more than 14 Million vans on their roads.

OPPORTUNTIES IN ELECTRIC VAN MARKET
LCVs comprise 60-65% of commercial vehicles sold globally, per annum or (6-6.5 million units). In Europe, LCVs sales outgained the passenger car market in 2018, buoyed by new launches and sustained economic growth, reaching 2 Million+ units.
The van market is heavily influenced by economic trends, especially in housing and retail. Most of the electric vans/ LCVs spend most of their time inside city centers, either for last mile delivery/commute or short haul deliveries.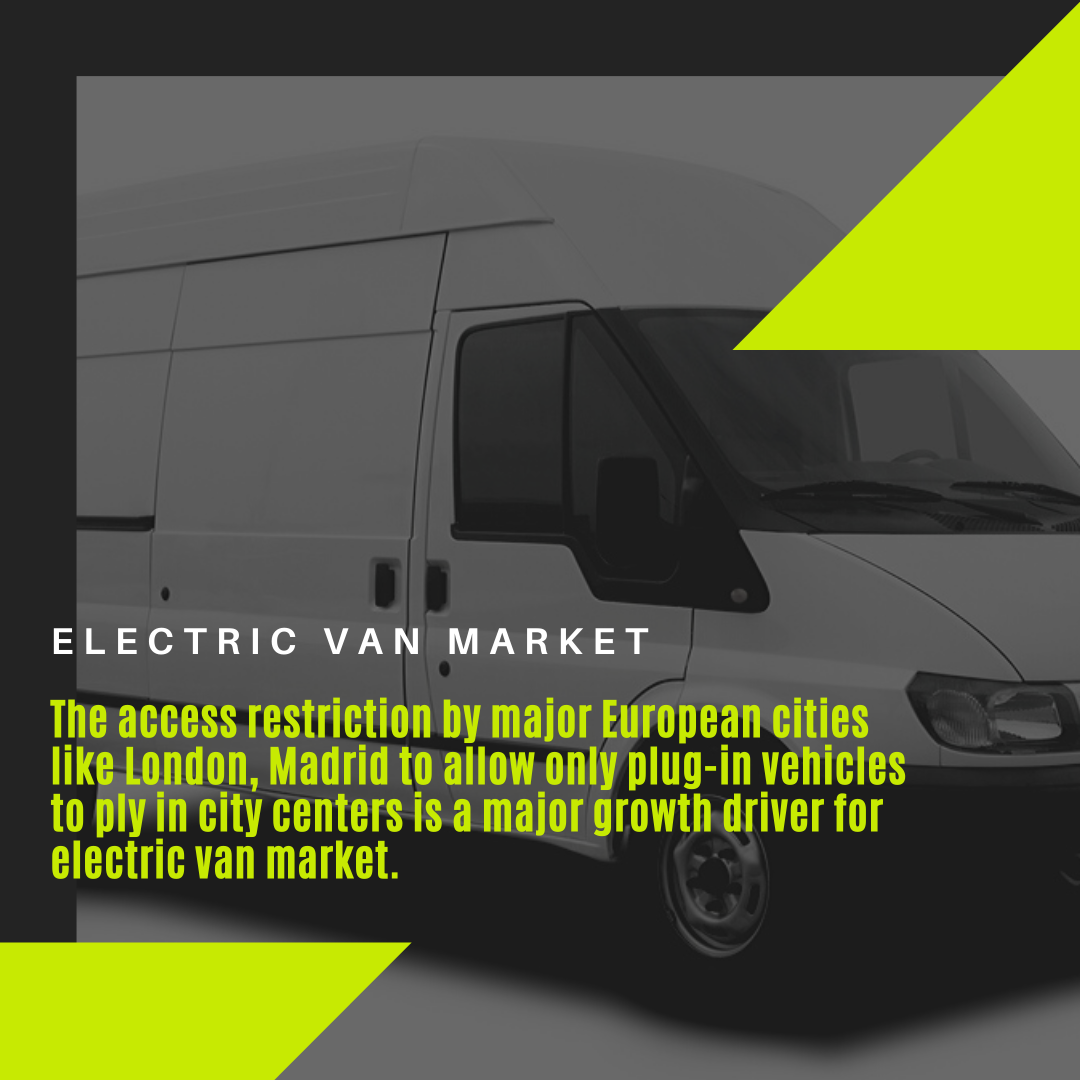 The average daily distance travelled by these vehicles is in the range of 200-250kms and mostly in urban confines. Therefore, range anxiety is much lower for drivers and fleet operators, not to mention low operating costs and even lower down time could boost a fleet operator`s earnings by a significant margin.
IKEA plans to make ladt mile furniture deliveries with electric vans in Shanghai, Paris, Los Angeles, New York, and Amsterdam and has partnered with China based company called DST
DEVELOPMENTS IN EUROPE ELECTRIC VAN MARKET
The access restriction by major European cities like London, Madrid to allow only plug-in vehicles to ply in city centers is a major growth driver for electric van market.
| | | | |
| --- | --- | --- | --- |
| Sl no | OEM | BEV/PHEV | Deliveries to begin |
| 1 | LEVC(Geely) | PHEV | 2021 |
| 2 | Ford | BEV | 2021 |
| 3 | PSA | BEV | 2020 |
| 4 | Volkswagen | BEV | 2022 |
| 5 | Mercedes | BEV | 2020 |
| 6 | Toyota | BEV | 2020 |
| 7 | Fiat | BEV | 2020 |
Geely(owner of London Electric vehicle company) will begin will begin deliveries of the PHEV van in 2021 first in London and the UK market, and later expanding to Europe.
The demand for campers / recreational vehicles which are normally converted from vans by third parties is also growing.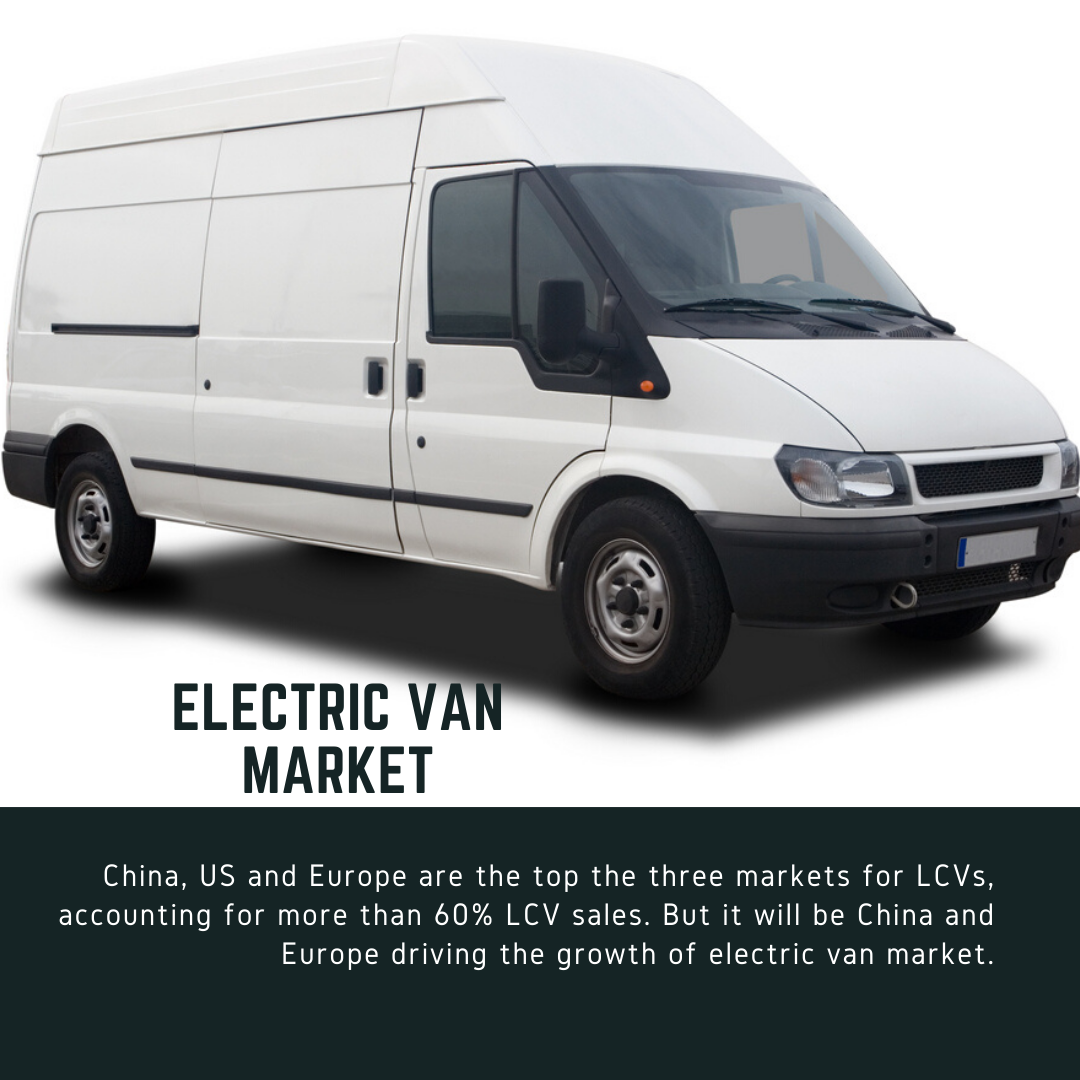 Ford's midsize Transit Custom PHEV van is expected to arrive towards end of 2019. Ford will also sell a fully electric van post 2021 to join Street Scooter, a company set up by the Deutsche Post DHL Group, which has a partnership with Ford.
Most of the electric vans will be available with two battery sizes (50-55/70-75 kWh) and are expected to deliver range of  200 and 300 kilometers respectively as per the new WLTP cycle.
VAN MARKET SHARE IN EUROPE
Vans comprise almost 90% of Europe`s LCV market, highest globally.The market is evenly split between car derived van , small commercial van and medium commercial vans. Pickups comprise a very small 9% share of the LCV market in Europe.
Ford Transit custom,Citroen Berlingo and Mercedes Sprinter are the leaders in Small commercial, car derived van and Medium commercial vans respectively.
RECENT DEVELOPMENTS IN GLOBAL ELECTRIC VAN MARKET
Jan 2020– Hyundai-KIA invested $110 Million in UK based electric van startup, Arrival(now valued at $3.4 Billion). Arrival plans to manufacture and sell electric vans in all major markets. It has alrready received orders for 10,000 electric vans from UPS
Dec 2019– Mercedes-Benz  started  production of a fully electric version of  Sprinter van at its factory in Dusseldorf, Germany.It has a 55kWh quad-pack battery and  ~170km range per charge. The eSprinter delivers 85kW power output and 300Nm maximum torque, same as its  diesel equivalent with  900kg payload capacity. A tri-pack battery option is also available that offers more (1040kg) payload capacity, but has a shorter range of 115km
Dec 2019– Ford has planned self-driving vans and drones that could make high speed deliveries in coming years. The concept envisions electric self-driving vans working together with drones to pick up and drop off goods and packages once the van reaches the assigned drop off address
Nov 2019– DHL announced it will debut StreetScooter's zero-emission Work L delivery van in two urban U.S. markets, one on each coast, startingQ1- 2020. Full deployment could happen around 2022 -2023
Sep 2019– After Rivian got Amazon order worth $4 Billion from Amazon. It showcased  a full-size commercial delivery van with a large wheelbase.Deliveries of the 100,000 van orders will start in 2021 and should be completed by 2024.
RISKS IN ELECTRIC VAN MARKET
The recent shutdown of DHL joint venture with Ford called Street-scooter after suffering years of losses come as a reality check to electric van market. When the production ceases later this year, the total financial writedown is expected to be in the range of $330-$440 Million .
COMPANIES PROFILED
StreetScooter
THIS REPORT WILL ANSWER FOLLOWING QUESTIONS
List of upcoming electric and PHEV vans, by OEM, by region, by powertrain
Market size and forecast for 2019-2025
Profitability analysis for OEMs and suppliers
Opportunity for electric battery, motor, power electronics suppliers in electric van market
List of top 20 fleet operators in US, Europe, China, India and ROW
Detailed breakdown of incentives offered by governments, by region
| | | |
| --- | --- | --- |
| 1 | Market Segmentation | 3 |
| 2 | Executive Summary | 5-6 |
| 3 | Introduction | 7-10 |
| 4 | Insights from Industry stakeholders | 11 |
| 5 | Key criteria for EV battery capacity, and vendor selection by OEMs | 12-13 |
| 6 | EV battery manufacturing in US, Europe and China | 14-15 |
| 7 | Breakdown of new EV concept vehicles by powertrain and battery capacity | 16-17 |
| 8 | Upcoming BEV platforms utilizing high capacity batteries | 18-19 |
| 9 | Disruptive innovations in EV battery chemistry and future of solid-state batteries | 20-21 |
| 10 | Details on legislation, subsidy and incentives linked with battery capacity | 22-23 |
| 11 | Growth in fuel cell vehicle market | 29-38 |
| 12 | Market Size ,Dynamics and Forecast By Sub-component | 29-38 |
| 13 | Market Size ,Dynamics and Forecast By Battery capacity | 39-48 |
| 14 | Market Size ,Dynamics and Forecast By EV type | 49-65 |
| 15 | Market Size ,Dynamics and Forecast By Geography | 66-78 |
| 16 | Competitive Landscape | 79-82 |
| 17 | OEM-supplier relationship in EV battery market | 27-28 |
| 18 | Company Profiles | 80-95 |
| 19 | Unmet needs and Market Opportunity for suppliers | 96-97 |
| 20 | Conclusion | 98-99 |
| 21 | 5 Key predictions | 100 |
| 22 | Appendix | 101 |