Global Electric Vehicle HVAC Market 2019-2025
July 29, 2019

Request Sample
Number of pages – 94
Multi User License - $2,500
INTRODUCTION
We are midway 2019, and half yearly financial results for most auto companies and suppliers have been announced. Most of the companies are reducing their earlier set sales/revenue targets, doing significant restructuring to contain costs, cutting jobs and everything possible to prepare themselves for difficult times ahead.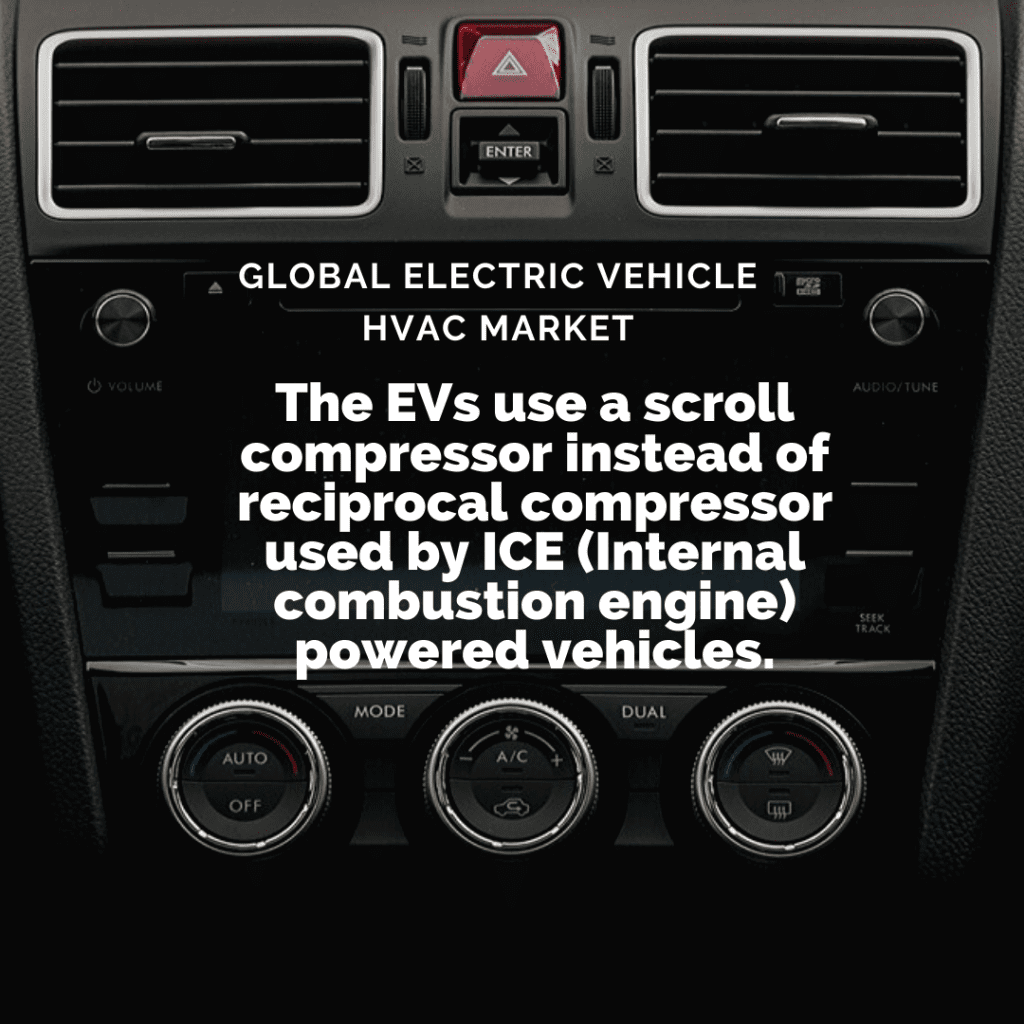 The auto industry is facing multiple headwinds in terms of declining sales, lower profitability, tariff war and higher capex requirements. Amid this gloomy scenario, what is the scope of automotive HVAC suppliers?
The answer lies in the mega trend of the auto industry- Electric and Electrified vehicles.
MARKET SEGMENTATION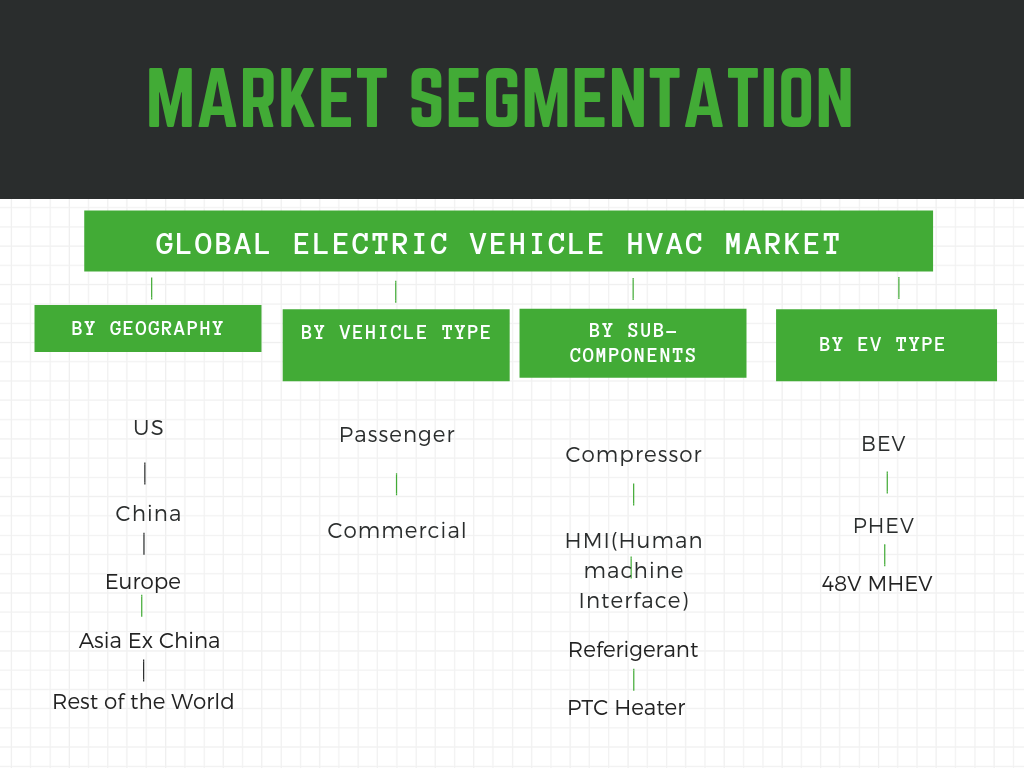 MARKET DYNAMICS
The biggest difference between HVAC in ICE vehicles and Electric vehicles is the type of compressor used and HMI (Human machine interface).
The EVs use a scroll compressor instead of reciprocal compressor used by ICE (Internal combustion engine) powered vehicles. The scroll compressors have an electric motor to compress refrigerant which is achieved by reciprocal movement of pistons in reciprocal compressors (powered by engine) in gas vehicles.
To know more about  Electric Vehicle HVAC compressors, read our report – Global EV HVAC  Compressor Market.
Many EVs in the D and E segment for example- Tesla Model 3, Audi E-Tron, Polestar 1,2 in have touch control HVAC.
We might see specialized EV HVAC solutions being sold in certain US and European markets which are routinely affected by extreme cold temperatures. The reason being the electric HVAC compressor absorbs significant power when the ambient temperature drops below 0 degree Celsius- could even bring down the BEV range by 30-35%. There could also be some changes in the interior cockpit materials, insulation, which could allow the cabin to heat up quickly and efficiently.
MARKET SIZE AND FORECAST
EVs have been grown at ~51% CAGR for past 5 years (albeit due to low base), Electrified vehicles have grown at ~20+% CAGR and the growth momentum is strong enough to accommodate many new entrants (both OEMs and suppliers).
The EV sales volume including electrified vehicles could go past 15 Million or even more by 2025.
The HVAC system in BEVs and PHEVs will primarily differ in the compressor capacity. For example, long range BEVs like Tesla Model S and X have a 33cc scroll compressor whereas Toyota Prius PHEV has a 20cc scroll compressor.
The 48V MHEVs(Mild Hybrid electric vehicles) will grow at the fastest rate in Europe, due to 2021 95gm/km CO2 targets, could substitute Diesel vehicles to a certain extent. VW, the market leader brand(11.5% market share in Europe) will offer 48V mild hybrid on select variants of its best-selling models only, unlike its premium brand Audi which plans to offer the 48V system, gradually as a standard on all models.
The global Electric Vehicle HVAC market is estimated at $XXM growing at –% CAGR till 2025.
COMPETITIVE LANDSCAPE
For most of the car manufacturers, as the share of EVs in the overall sales rises, they will seek to offset the lower profitability of electric cars by accelerating cost/workforce cuts, and implement a sharper purchasing process. Therefore, the EV HVAC suppliers will have to focus on developing efficient HVAC system for EVs at a reasonable cost.
Another important datapoint is that the suppliers must look into is that the battery packs of BEVs are getting bigger, the battery thermal management also needs to be upgraded accordingly, therefore the role of a quiet HVAC system becomes even more important.
BMW is already looking for innovative cooling technologies for EV batteries producing <35dB noise. In the luxury segment, where low NVH(Noise vibration and Harshness) and overall refinement are key parameters, a BEV could potentially have 2 electric compressors per vehicle. An important opportunity for EV HVAC suppliers.
In commercial vehicles, the electric commercial vehicles form a very small 1.4% of all commercial vehicles sold in 2019 which is expected to grow to 6.6% by 2025.
COMPANY PROFILES
Panasonic Corporation
Calsonic Kansei Corporation
THIS REPORT WILL ANSWER THE FOLLWING QUESTIONS
The market size (both volume and value) of global electric vehicle HVAC Market in 2019-2025, segmented by four categories
Top 3 vehicle segments and 10 most important platforms with a significant Electric vehicle HVAC market volume
Opportunity in EV HVAC sub-components- Compressor,HMI, refrigerants etc
Biggest pain point of car manufacturers related to Electric vehicle HVAC system
Latest developments in HMI (Human -Machine interface) in Electric vehicleHVAC market
The most important global trends in automotive HVAC market
Average B2B price and cost breakup of Electric vehicle HVAC
Market share of electric vehicle HVAC manufacturers
Innovation in scroll compressor technology, which supplier has an edge?
EV HVAC manufacturing capacity globally
Future growth strategy and upcoming products of EV HVAC manufacturers
| | | |
| --- | --- | --- |
| 1 | Market Segmentation, Scope, Methodology and Definition | 3-6 |
| 2 | Executive Summary | 8-11 |
| 3 | Introduction | 13-15 |
| 4 | Insights from Industry stakeholder | 16 |
| 5 | An overview of global automotive HVAC market | 17-19 |
| 6 | Upcoming EV platforms and HVAC system | 20-21 |
| 7 | Disruptive innovations in EV HVAC market | 22-24 |
| 8 | Cost breakdown of EV HVAC market by sub-components and average profit margin | 24-25 |
| 9 | Global EV HVAC compressor manufacturing capacity, by region | 25 |
| 10 | New product launches and ongoing developments | 26 |
| 11 | Market Size ,Dynamics and Forecast By Geography | 27-42 |
| 12 | Market Size ,Dynamics and Forecast By Application | 44-54 |
| 13 | Market Size ,Dynamics and Forecast By Sub-components | 56-65 |
| 14 | Market Size ,Dynamics and Forecast By EV type | 66-75 |
| 15 | Competitive Landscape | 76-78 |
| 16 | OEM-Supplier alignment for EV HVAC market | 79 |
| 17 | Company Profiles | 81-88 |
| 18 | Unmet needs and opportunity for suppliers | 90 |
| 19 | 5 key predictions | 91 |
| 20 | Conclusion | 92-94 |