Global Automotive Electric HVAC Compressor Market 2020-2025
May 12, 2020

Request Sample
Number of pages – 104
Multi User License - $2,500
GLOBAL AUTOMOTIVE ELECTRIC HVAC COMPRESSOR MARKET
INTRODUCTION
Heating , Ventilation and Cooling(HVAC) of a car is a major criterion in a buyer`s purchasing experience as it has a direct effect on the cabin comfort and overall driving experience. Till early 2000`s, >97% of cars produced had reciprocal compressors, which sapped engine power to compress the intake ambient air. But, now as the industry progresses towards fuel efficient and electrified cars, electric/scroll compressors are getting prominence.
The first shift from the reciprocating compressor to E-compressor started happening in the 2012-2013 time frame when European luxury car manufacturers started using it in their luxury cars to improve fuel economy by 2-3%. More than E-compressor, the market was driven towards a variable displacement compressor, which was in line with the growth in other ancillaries like variable displacement oil pump and electric coolant pump.
At that point of time, the volume shift was driven by fuel economy benefits and vehicle electrification trend but the reach was limited to higher segment cars. The move to e-compressor gained real momentum only after 2015, when sales of low-cost Chinese branded electric vehicles in China started growing by 100%.
AUTOMOTIVE ELECTRIC HVAC COMPRESSOR MARKET SEGMENTATION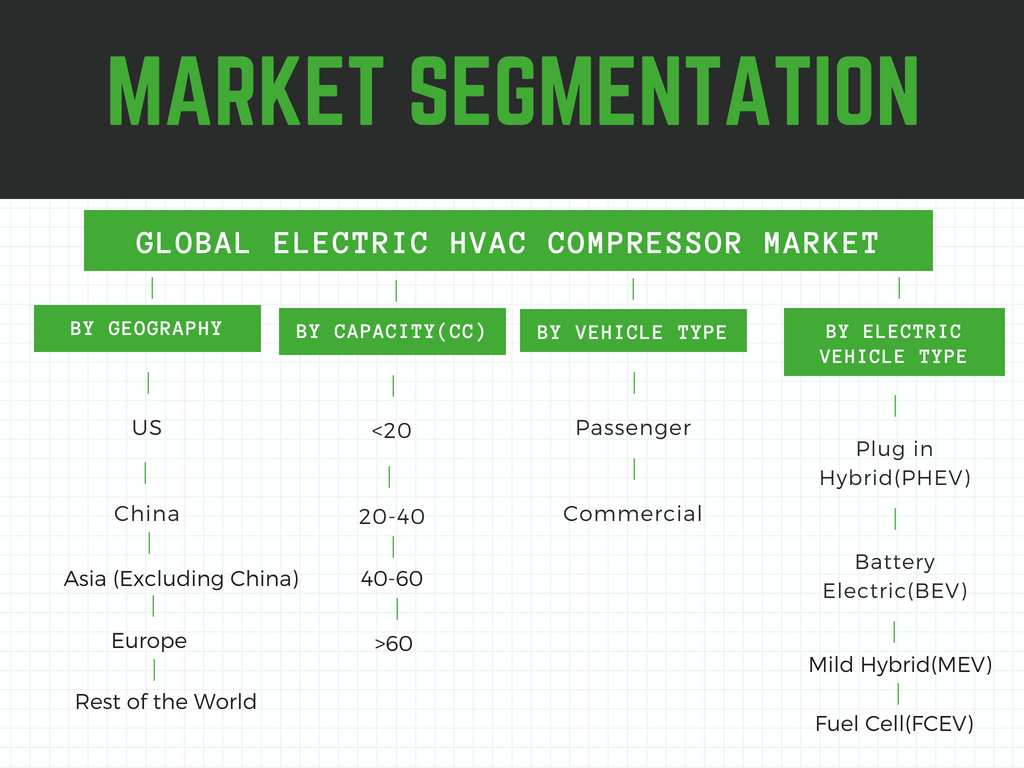 MARKET DYNAMICS
Although, one would think that the growth of electric vehicles in China will majorly drive this market but we believe it will be the luxury car segment that will drive the market. Our rationale is, electric vehicle sales totaled ~1.2 million units in China in 2019, whereas the luxury car segment was at ~2.3 million units. Even if we assume that only 40% of the luxury car segment will be using E-compressors that would still be ~0.9-1 million units. In terms of value, the per unit cost of compressors in luxury cars will be at least 50-60% higher than the ones used in Chinese brand low-cost EVs.
To further add to our theory, there were innumerable announcements in 2018 and 2019 about every luxury car OEM launching more than 30 electric models by 2022 in China. Now, this will further augment the automotive electric HVAC compressor market size.
Denso included its first electric compressors into product line-up first in 2012. Denso was responsible for the world's first mass-produced electric compressor with an integrated inverter and motor.In terms of e-compressors for passenger cars they were first installed in Ford's Focus electric vehicle in 2012. Denso has been the world's largest OE suppliers of A/C compressors.  As per the company, its` thermal management technologies including engine cooling is fitted as original equipment to almost 25% of European cars.
In November 2019, Pierburg developed an "Electric Climate Compressor" driven by an electric motor. The new unit is of compact design so that it can fit in the usual installation spaces and serves the regular voltage levels HV2 and HV3. The three modules—mechanical compressor unit, electric motor and power electronics—are modularly integrated.
AUTOMOTIVE ELECTRIC HVAC COMPRESSOR MARKET SIZE AND FORECAST
The present market size is driven by growing BEV sales in China but in Europe, it's the replacement of Diesels by 48V Mild hybrids that are driving the market.
In 2019, Shanghai Highly group witnessed an YoY increase of 7.4% in the automotive HVAC market, as the sales volume reached 30,680,000 units. In case of electric scroll compressors, they achieved a sales volume of 188,100 units, 86.93% up on a YoY basis. Highly's market share in new energy vehicles accounted for 15% with 7% points up on YoY basis.
Reciprocal compressors are still the dominant HVAC technology for the automotive application, accounting for >70% of the market but the electric scroll compressors are expected to grow at more than XX% CAGR during next 5 years. To know more about Electric Vehicle HVAC market– read our report
The global automotive electric HVAC compressor market size in terms of value is estimated at 5.4 Million units in 2019  growing at a 19% CAGR till 2025.
COMPETITIVE LANDSCAPE
About 62% of total automotive Electric HVAC compressors are manufactured in Asia. High technology maturity being the prime reason for that. Scroll compressors are fast replacing rotary compressors globally as well as in Asia. Since the avg cost of an electric scroll compressor lies between $XX-$XX, the suppliers predominantly manufacture in high volumes in Asia and getting it shipped to Europe and North America.
The high scale protects the margin and the added burden of long distance transportation. As of now, most of the suppliers are working on reducing the weight and size of compressors to make it an easy fit for mild-hybrid architecture.
In August 2019, Marelli the subsidiary of Calsonic Kansei has entered into a partnership Chinese firm Shanghai Highly Group expert in compressor manufacture. The JV is between the JCH (Johnson Controls-Hitachi Air Conditioning) and Highly group. This will allow Marelli with greater access to Chinese market and strengthen its business in EDC for passenger vehicles. The JCH holds 25% of the JV and the total investment in the JV is $38 Million.
In August 2018 MAHLE opened its first production plant for electric compressors in Balassagyarmat/Hungary. It started the production of e-compressors in 2019.
Valeo a leading thermal management system  supplier gravitated towards the e-compressors, as a result of developing an Electrically Driven Compressors (EDC) in early 2017.In Q1-2020, thermal systems witnessed 1,000 million Euros business. South America witnessed  higher  sales in the Thermal Systems Group.
COMPANY PROFILE
Shanghai Highly Group
Pierburg GmBH
THIS  AUTOMOTIVE ELECTRIC HVAC COMPRESSOR MARKET REPORT WILL ANSWER FOLLOWING QUESTIONS
The market size (both volume and value) of global electric HVAC compressor Market in 2019-2025, segmented by four categories
Market share of electric compressor manufacturers
Future growth strategy and upcoming products of compressor manufacturers
Cost breakup of electric HVAC compressor
Latest trends in automotive HVAC
Impact of a trade war on electric HVAC compressor production
Role of China in global electric HVAC compressor production and price
The impact of Mobility as a Service on automotive component production
Global Electric vehicle outlook for the next 5 years
Impact of growth in electrified bus market on automotive electric HVAC compressor market
To enquire about the report write to us at sales@mobilityforesights.com
| | | |
| --- | --- | --- |
| 1 | Market Segmentation, Scope, Methodology and Definition | 3-6 |
| 2 | Executive Summary | 8-11 |
| 3 | Introduction | 13-15 |
| 4 | Insights from Industry stakeholder | 16 |
| 5 | An overview of global automotive HVAC market | 17-19 |
| 6 | Upcoming EV platforms and HVAC system | 20-21 |
| 7 | Disruptive innovations in EV HVAC market | 22-24 |
| 8 | Cost breakdown of EV HVAC market by sub-components and average profit margin | 24-25 |
| 9 | Global EV HVAC compressor manufacturing capacity, by region | 25 |
| 10 | New product launches and ongoing developments | 26 |
| 11 | Market Size ,Dynamics and Forecast By Geography | 27-42 |
| 12 | Market Size ,Dynamics and Forecast By Application | 44-54 |
| 13 | Market Size ,Dynamics and Forecast By Sub-components | 56-65 |
| 14 | Market Size ,Dynamics and Forecast By Cooling capacity | 66-75 |
| 15 | Competitive Landscape | 76-78 |
| 16 | OEM-Supplier alignment for EV HVAC compressor market | 79 |
| 17 | Company Profiles | 81-88 |
| 18 | Unmet needs and opportunity for suppliers | 90 |
| 19 | 5 key predictions | 91 |
| 20 | Conclusion | 92-94 |