Global Electric Vehicle (EV) Solid State Battery Market 2018-2025
October 2, 2019

Request Sample
Number of Pages- 80
Multi User License - $2,500
INTRODUCTION
Battery technology is witnessing the biggest disruption in past 200 years, as renewable energy and green vehicles gain prominence. Investments worth~$14B has been put in automotive and energy industry stakeholders, alone in past two years.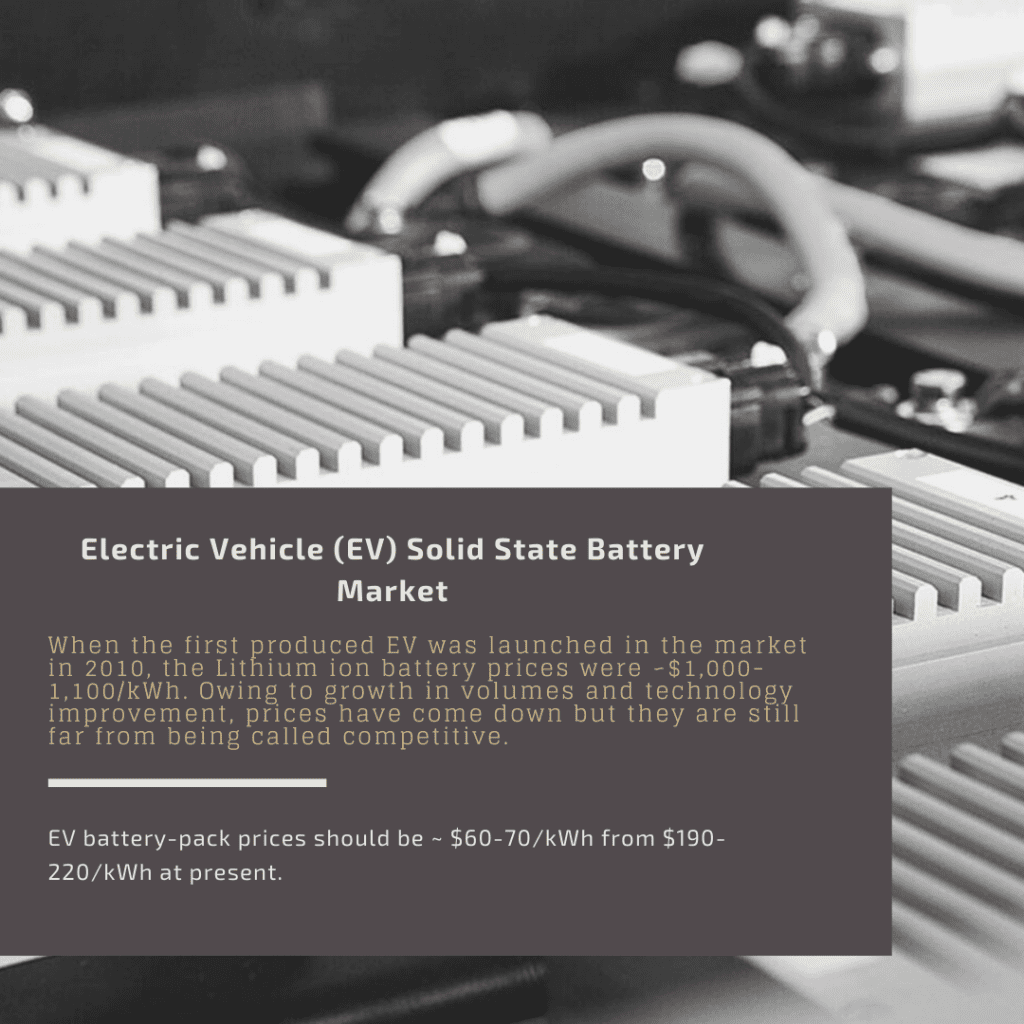 When the first produced EV was launched in the market in 2010, the Lithium ion battery prices were ~$1,000-1,100/kWh. Owing to growth in volumes and technology improvement, prices have come down but they are still far from being called competitive. We believe that for EVs to compete effectively with gas powered vehicles, EV battery-pack prices should be ~ $60-70/kWh from $190-220/kWh at present.
MARKET DYNAMICS
Solid-state battery technology have so far found applications in terms of micro batteries to power sensors and other very small semi-conductors. The solid-state batteries are still in testing phase and there is not clear roadmap to mass production. But, the sheer inefficiency of present day Li ion batteries has created a lot of interest in solid state battery market.
The most efficient Li ion battery at present i.e Tesla`s offers energy density of ~250Wh/kg. For solid state batteries to better that, it will probably need energy density of 400-450Wh/kg.
Solid state batteries also have a limitation in terms of fast charging, and it can charge quickly only to a certain degree. It is also to be noted that unlike liquid electrolytes, solid electrolytes do not deform easily. Thus, preparation of ceramic or glassy electrolytes including assembly is a completely new and different process.
MARKET SIZE AND FORECAST
The German OEMs are way ahead in their research on this technology, followed by Asian OEMs and it has a lot to do with the declining popularity of Diesel as preferred fuel choice. The Detroit Big 3 are not so active in this space, apart from GM, which has partnered with Honda to develop "next gen electric car batteries".
BMW and VW are leading the charge in solid state battery development and has invested in Quantumscape- a solid state battery start-up. It wants to be the first to commercialize solid state battery production, preferably by 2020 or early 2020s. Renault- Nissan- Mitsubishi are targeting 2025 timeline.
The EV battery technology has continued to evolve. Lithium Titanate and Lithium-iron Phosphate, are prime examples and both are gaining importance in the EV battery market as they do away with cobalt.Other battery chemistry involving magnesium and Sodium are also gaining prominence as they offer better energy density than Li ion at a lower cost.
OEMs WORKING ON SOLID STATE BATTERY TECH
Hyundai
Volkswagen
General Motors
BMW
Toyota
Honda
Nissan
Mercedes Benz
Fisker
PARTNERSHIPS IN SOLID STATE BATTERY MARKET
| | | |
| --- | --- | --- |
| Sl no | Partners | Partnership type |
| 1 | Volkswagen-QuantumScape | Investment |
| 2 | Honda-Nissan-Toyota-Panasonic | Public-private |
| 3 | BMW-Solid Power | Investment |
| 4 | Hyundai-Ionic Material | Investment |
| 5 | Bosch-Seeo | Acquisition(Now sold) |
| 6 | Dyson-Sakti3 | Acquisition |
| 7 | Volkswagen- Quantumscape | Investment |
COMPETITIVE LANDSCAPE
Till 2013, Japanese battery manufacturers had ~71% of the global automotive EV battery market. By H1 2018, their share had come down to 39%, so what exactly happened in past 5 years? Well, the EV boom happened in China and the local Chinese players expanded their share from less than 5% then to ~27% now. All thanks to the protectionist policies of Chinese government, which allowed only EVs with domestically manufactured batteries eligible for incentives, it drove all foreign companies out of the market.
South Korean players like LG Chem and Samsung SDI also gained ~22% market share in this period. This unexpected development prompted Japanese govt to step in and create a new consortium for solid state battery research, in order to develop solid state battery market.
Continental, world`s second biggest automotive tier-1 supplier is holding off its battery investments till some sizeable progress is made in solid state battery market. In next few years, we expect some new players entering the market , depending on how viable the production is.
COMPANY PROFILES
Fisker Inc.
Hitachi Zosen
Seeo Inc.
| | | |
| --- | --- | --- |
| 1 | Market Segmentation | 3 |
| 2 | Executive Summary | 5-6 |
| 3 | Introduction | 7-10 |
| 4 | Market Size ,Dynamics and Forecast By Sub-Components | 11-19 |
| 5 | Market Size ,Dynamics and Forecast By Geography | 20-35 |
| 6 | Market Size ,Dynamics and Forecast By Power output | 36-44 |
| 7 | Competitive Landscape | 45-49 |
| 8 | Company Profiles | 50-72 |
| 9 | Unmet needs and Market Opportunity for suppliers | 73-74 |
| 10 | Conclusion | 75-76 |
| 11 | Appendix | 77-80 |