INTRODUCTION
US – a country that runs on cars, has highest car ownership of 800 cars per 1000 inhabitants. US has always been home to bulky cars and trucks. The V6 and V8 engines have been a hallmark of American car manufacturers and consumers.
The new car market in US peaked in 2016 with 17.4M units and has been declining ever since, reaching 17.2 M units in 2018. Electric vehicles accounted for ~2.2% share in 2018, Tesla being the market leader with 53% market share.
MARKET DYNAMICS
In US, the electric car craze started when Nissan launched its first EV, Leaf in Dec 2010.Although, US was one of the first market to receive an electric car 8 years ago but the EV(BEV+PHEV) share in annual new car sales is still abysmally low.The lukewarm interest in EVs can be attributed to extremely slow charging infrastructure growth, limited number of car models on sale, lower gas prices and absence of any EV mandate like China.
EV sales in US(world`s second biggest EV market) have been driven equally by consumer demand and $7,500 Federal tax credit, unlike China, where EV sales are completely legislation and incentive driven.
The EV traction motor market in US is in a growth mode after the launch of mass segment, long range models from Tesla and GM. A strong push for the local traction motor market came in 2018, when Tesla started delivering its mass segment EV," Model 3".
Among the biggest challenge for the EV traction motor market in US will be the phase out of tax credits.  Tesla has already sold more than 200,000 cars in total, the federal $7,500 tax credit for its cars was cut to $3,750 in January 2019 – and will be further reduced to $1,875 by H2 2019.
The Detroit "Big 3" are lagging behind in EV sales. Their combined EV sales volume in 2018 was ~54.5k units,15% market share. Although, GM sold ~36k units(10% market share), Ford and FCA cumulatively sold just half of that i.e. 18.5k units.
An important trend in the global and US EV traction motor market is active collaboration between OEMs and suppliers to produce motors. To know more about global trends, read our report titled Global EV Traction motor market  Honda has setup a company called EM motive with Hitachi to manufacture electric traction motors on a bigger scale, not just to source it for itself but also to sell it to other companies.GM has outsourced motor manufacturing for Chevrolet Bolt to LG Electronics,
MARKET SEGMENTATION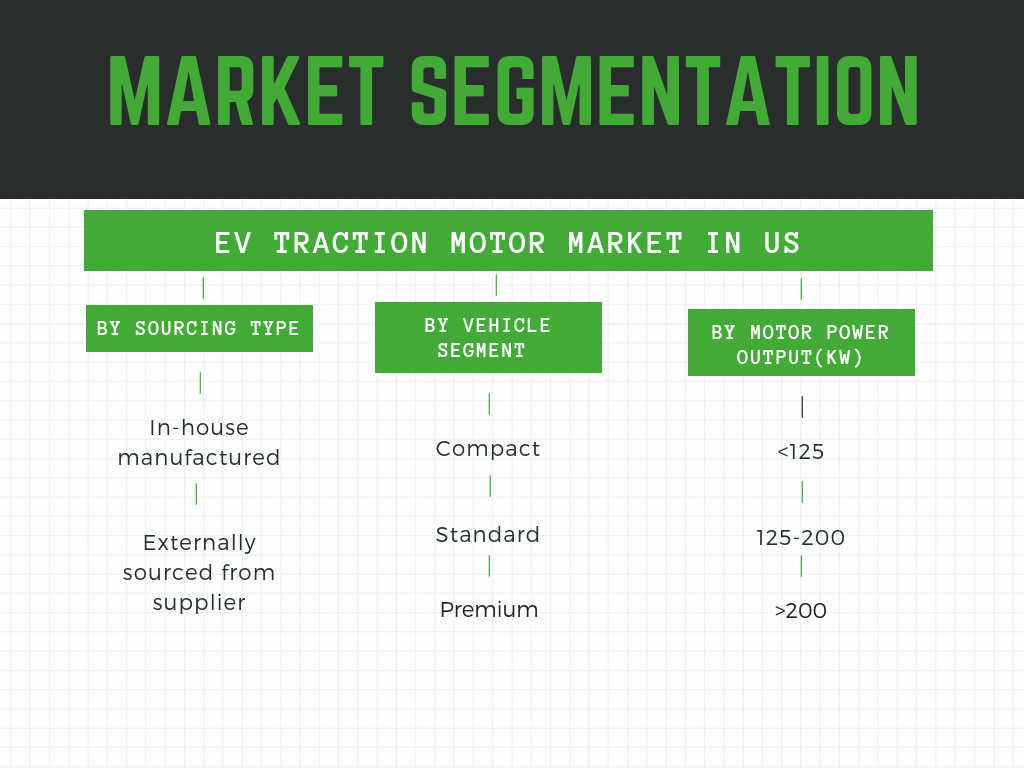 MARKET SIZE & FORECAST
As of May, `19, there were 45(BEV +PHEV) car models on sale in US, only 16 are BEV and the rest are PHEVs. The top 5 electric vehicles sold in US included three models from Tesla. Nissan Leaf and Chevrolet.
In 2018, Tesla accounted for 53% of EV(BEV) sales in 2018 in US. Model 3 alone accounted for sales volume of ~140k units – ~39% market share.
About 63% of the 3 Tesla models on sale were specced with dual traction motors, giving it a very high 56% market share of US EV traction motor market. The year 2020, will be a very crucial year for Tesla as 3 new premium vehicle launches are planned, all will require traction motors of high power and high torque output.
The growth in EV traction motor market in US will depend a lot on future policies of the biggest EV adopter state i.e. California. Its Zero Emission vehicle program has been adopted by more than 9 other states in US.  In 2018, California Governor signed an executive order with total $2.5B worth investment in electric and hydrogen charging infrastructure. It also set a goal of having five million electric vehicles on the California's roads by 2030 and is actively promoting electric buses in public transportation fleets.
As of May`19, Toyota Prius Prime, Honda Clarity and Ford Fusion are among the top-selling plug in hybrid models in US.
COMPETITIVE LANDSCAPE
About 60% of traction motors are manufactured in-house by various OEMs therefore in this unique scenario, car manufacturers have a bigger market share than traction motor suppliers.
Toshiba, Tesla and General Motors have been manufacturing traction motors in US for more than 5 years now.
The EV traction motor manufacturers in US are facing serious problems in terms of electrical steel availability and many car manufacturers are reliant on imports from Asia.
COMPANY PROFILES
Toshiba International Corp
Toyota Industries Corporation
Hitachi Automotive Systems America, Inc.
LG Electronics
Tesla Motors
Hyundai Mobis Co., Ltd
BorgWarner Inc
UQM Technologies Inc
Nissan Motors
THIS REPORT WILL ANSWER THE FOLLOWING QUESTIONS
How is the EV market in US shaping up? What is the expected market growth till 2025?
Which EV segment (BEV/PHEV/FCEV) will have highest volume in 2019-2025? What kind of traction motors will they use?
What are the most prominent sourcing trends in the US EV traction motor market?
Which supplier has the highest market share and widest product offerings?
Expected new entrants in the market? Effect of tariff war
Which EV segment will grow the most? B,C or D?
What is the future of electric Class 6-8 truck market in US? Will Tesla, Nikola and others be successful in the trucking ambitions?
Will Chinese passenger cars and commercial vehicle OEMs be able to foray in the US EV market after a successful domestic run?
Growth in EV traction motor market for city transit bus and select off-highway applications
Upcoming long-range BEV models, their traction motor output and sourcing
The impact of low gas prices and roll back of 54.5MPG, CAFÉ 2025 norms
Will the entry of Rivian shakeup the pickup truck market and kick start electric pickup craze in US?
Who are the biggest aluminium diecast suppliers in US
How much of negative influence will maintenance taxes on EVs in 24 states($60-$200) have on EV sales in US?
Which motor type will have highest share by 2025 and why?
| | | |
| --- | --- | --- |
| 1 | Market Segmentation | 3 |
| 2 | Executive Summary | 5-6 |
| 3 | Introduction | 7-15 |
| 4 | Global EV trends and its impact on North American Market | 16-17 |
| 5 | About EV Start-ups in US- Rivian, Workhorse and Bollinger | 18-19 |
| 6 | Cost breakdown of EV traction motors in US, by weight and components | 20 |
| 7 | EV traction motor sourcing trends in US | 21 |
| 8 | Upcoming EV platforms and their traction motors | 22 |
| 9 | Market Size, Dynamics and Forecast, By EV Type | 23-30 |
| 10 | Market Size, Dynamics and Forecast, By Motor type | 31-40 |
| 11 | Market Size, Dynamics and Forecast, By Power output | 41-48 |
| 12 | Market Size, Dynamics and Forecast, By sourcing type | 49-55 |
| 13 | Competitive Landscape | 56-58 |
| 14 | Company Profiles | 59-70 |
| 15 | Details on die-cast aluminium suppliers in US | 71 |
| 16 | Unmet needs and Market Opportunity for suppliers | 72-73 |
| 17 | Conclusion | 74 |
| 18 | 5 Key Predictions for next 5 years | 75 |
| 19 | Appendix | 76-80 |