Farm Tractor Market in China 2020-2025
November 16, 2020

Request Sample
Coming Soon
Multi User License - $1,800
FARM TRACTOR MARKET IN CHINA
KEY FINDINGS
Large Tractors are Projected to Grow at a Fast Pace despite their high purchase cost.
Large Tractors are more likely to sell due to the changes in subsidy scheme.
Third-party contractors prefer large tractors as they are suitable to handle any agricultural tasks.
Northern China especially the north eastern part will continue to show rapid growth in sales of tractors.
China's small tractor sales have been continuously declining since 2011 and will continue to do so.
INTRODUCTION
China is one of the largest producers of farming equipment and the largest market for agricultural machinery, worldwide. Before the pandemic, the agricultural equipment market in China was expected to grow at a compound annual growth rate of 6.8%.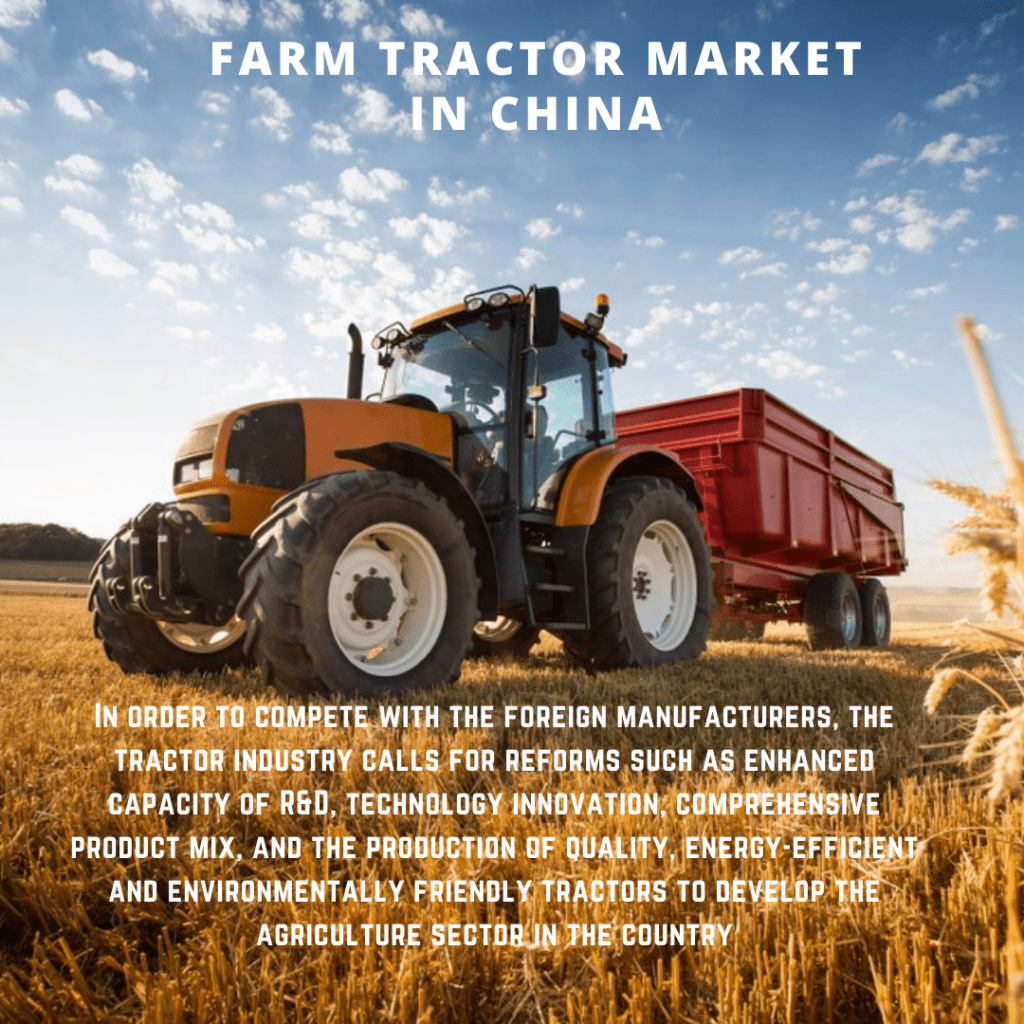 This report primarily discusses the pre-COVID market forecasts, trends and growth rate of the farm tractor industry in China and the impact due to COVID is discussed in a brief way.
MARKET SEGMENTATION
End Applications
Row crop.
Garden type.
Orchard type.
Rotary tillers.
Implement carriers.
Horse Power
<30 HP
31-70 HP
71-130 HP
131-250 HP
>250 HP
Driveline Type
2 Wheel drive
4 Wheel drive
Utility tractors are a general-purpose machine designed for plowing and driving other equipment. Utility tractors account for major market share.
MARKET FORECAST
After subsidies were given by the Chinese government for mechanizing farming, there has been a drastic increase in the production of low-quality tractors. These tractors were produced in huge numbers exceeding the demand and forced low-profit margins for all the tractors in the market.
Due to the decline in the crop prices, the changes in subsidies and insufficient returns on investments made on agricultural equipment, the demand among the farmers reduced drastically during 2016 and 2017.
As the government aims to improve productivity and yield, the subsidy system is currently more favorable towards the purchase of large high power tractors. The main benefactor of this are the farm owners in northern china where farmlands are generally large in area while in southern China, they are small.
 Farm owners with smaller areas of land outsource the harvesting work to third party contractors. The third-party contractors easily achieve quick return on their investments on these tractors.
COMPETITIVE LANDSCAPE
Lack of human capital and the necessary infrastructure to develop sophisticated farming machines, which are able to compete with foreign products is restraining the growth of the market. Due to this, China relies heavily on foreign imports for high-tech farming machinery.
Mostly the farm equipment industry in China is dominated by a large number of unspecialized manufacturers producing low technology machinery.
In order to compete with the foreign manufacturers, the tractor industry calls for reforms such as enhanced capacity of R&D, technology innovation, comprehensive product mix, and the production of quality, energy-efficient and environmentally friendly tractors to develop the agriculture sector in the country.
The top five domestic manufacturers account for less than 25% of the market.
COMPANIES PROFILED
| | |
| --- | --- |
| Sl no | Topic |
| 1 | Market Segmentation |
| 2 | Scope of the report |
| 3 | Abbreviations |
| 4 | Research Methodology |
| 5 | Executive Summary |
| 6 | Introduction |
| 7 | Insights from Industry stakeholders |
| 8 | Cost breakdown of Product by sub-components and average profit margin |
| 9 | Disruptive innovation in the Industry |
| 10 | Technology trends in the Industry |
| 11 | Consumer trends in the industry |
| 12 | Recent Production Milestones |
| 13 | Component Manufacturing in US, EU and China |
| 14 | COVID-19 impact on overall market |
| 15 | COVID-19 impact on Production of components |
| 16 | COVID-19 impact on Point of sale |
| 17 | Market Segmentation, Dynamics and Forecast by Geography, 2020-2025 |
| 18 | Market Segmentation, Dynamics and Forecast by Product Type, 2020-2025 |
| 19 | Market Segmentation, Dynamics and Forecast by Application, 2020-2025 |
| 20 | Market Segmentation, Dynamics and Forecast by End use, 2020-2025 |
| 21 | Product installation rate by OEM, 2020 |
| 22 | Incline/Decline in Average B-2-B selling price in past 5 years |
| 23 | Competition from substitute products |
| 24 | Gross margin and average profitability of suppliers |
| 25 | New product development in past 12 months |
| 26 | M&A in past 12 months |
| 27 | Growth strategy of leading players |
| 28 | Market share of vendors, 2020 |
| 29 | Company Profiles |
| 30 | Unmet needs and opportunity for new suppliers |
| 31 | Conclusion |
| 32 | Appendix |