GLOBAL FOOD LOGISTICS MARKET
INTRODUCTION
Logistics is the detailed flow of the products from the point of origin to the point of consumption to meet the requirements of corporations and consumers. It aids in planning, controlling as well as implementing the storage and flow of goods and services. It also helps to maintain a continuous supply of non-durable and durable products from various distributors and suppliers.
Owing to this, logistics plays a crucial role in the food industry. Transportation and logistics providers use different equipment, expertise and technologies to control and improve the supply chain operations.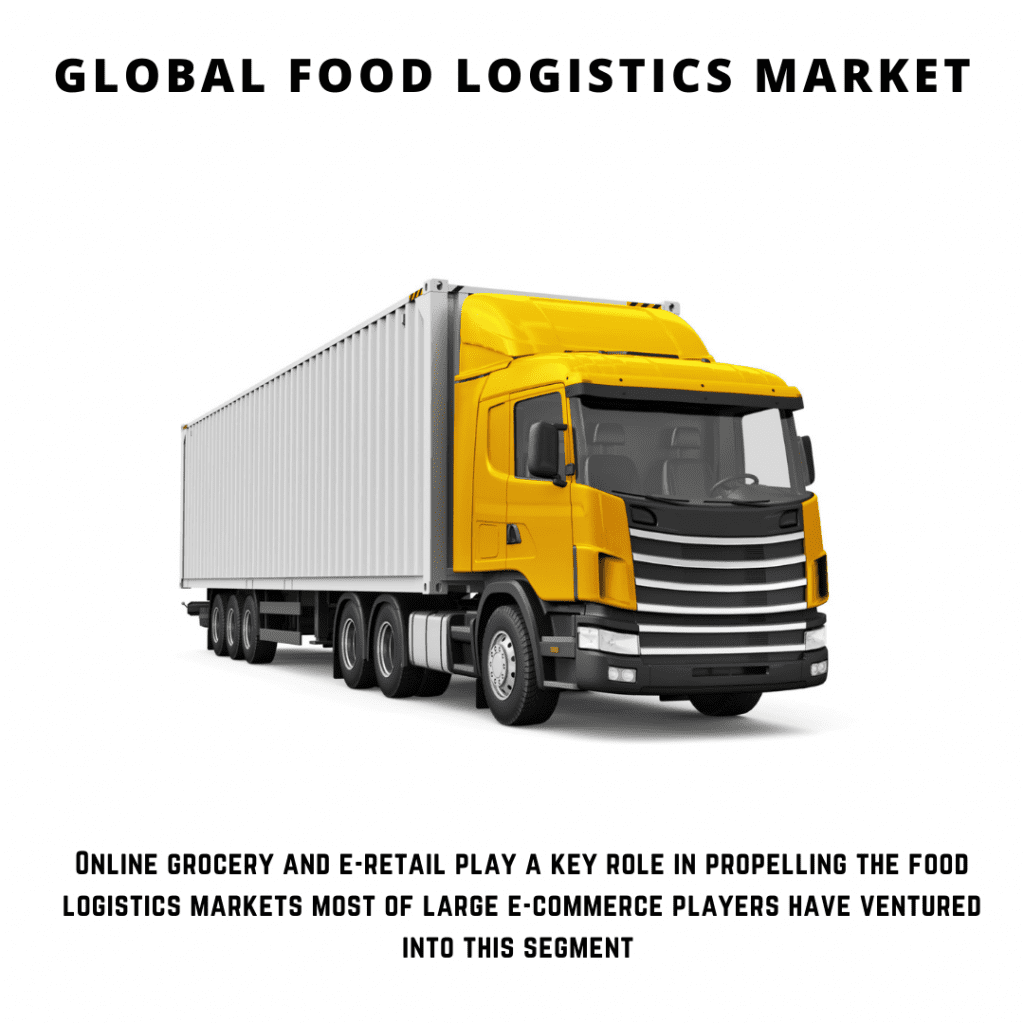 The growth of the global food logistics market is majorly driven by a rapid rise in the prevalence of e-retail in the food and retail sector. As logistics forms a significant part of the storing, transporting and delivery of the goods purchased online, this has provided a positive thrust to the market growth.
Apart from this, the advent of artificial intelligence (AI) has enabled logistics companies to increase delivery efficiency. For instance, United Parcel Service (UPS), an American multinational package delivery and supply chain management company, utilizes AI algorithms for intelligent route planning. This helps in reducing delivery times without damaging perishable food products.
Some of the other factors which are positively influencing the market include improving distribution networks and infrastructure in developing regions, and the adoption of new technologies by logistics providers for enhancing their business processes.
FOOD LOGISTICS

MARKET SEGMENTATION
Product Temperature Requirement
Ambient

Fresh food

Chilled

Frozen
Products which can be stored at room temperature are classified as ambient, ex: Potatoes, Onions, packed foods like chips, cookies and biscuits, cereals and food grain.
Products that require a temperature of less than 20⁰C, these fruits, vegetables come under this classification, products that require a temperature range of 5⁰C to -10⁰C are called chilled some of the consumer products, milk and other dairy products like cheese, butter etc. require such temperatures and products that need to be stored below -20⁰C are classified as frozen, these products include frozen foods like meat, fish and ice creams.
Globally not all players serve each of these temperature ranges, because of lack of market penetration, high infrastructure and operating costs.
Mode Of Transportation
Airways

Sea/ Ocean ways

Railways

Road ways
In the ocean cargo industry refer containers are specifically used to carry the food products as the temperature can be regulated in the refer containers, some companies charter reefer ships to carry the food items, like dole bananas are shipped from south American countries to Europe and North American this way.
Air shipments of food is a very limited market, as temperature-controlled containers in the air cargo industry are rarely used for food products, specific types of shrimps are transported this way. Rail and Road are the most widely used for inland transport of food material.
Countries like India are focusing more on building rail infrastructure to transport the food materials, the recent move to induct kisan rail to transport the cold stored products from Northern India to JNPT port in Mumbai asserts that government of India's strong intent for this.
FOOD LOGISTICS

MARKET

TRENDS IN THE INDUSTRY
Rise In Online Grocery And E-Retail
Online grocery and e-retail play a key role in propelling the food logistics markets most of large e-commerce players have ventured into this segment and coronavirus pandemic has accelerated the growth of the market.
Some of players in the industrializing nations have ventured into this space, other players include food delivery players like Zomato, but most of these players play in the ambient market and very little have ventured into the cold chain space.
Digital And IOT For Better Yield
Companies are leveraging on technologies like Internet of things (IoT) to improve their yield, one of the prime challenges in the industry is perishability, to tackle these newer digital technologies help optimise the operating costs and improve the yield.
Better Forecasting
With smarter sales forecasting techniques companies are making their supply chains more efficient and responsive, smart forecasting coupled with cloud technologies are helping to reduce the IT related costs come down. Companies like SAP are specifically designing modules to address their food logistics players.
Infrastructure Investments From Governments
Governments across the globe are investing in the development of cold chain infrastructure needed, many of the African nations have invested in their cold chain infrastructure by the help of Chinese investment through Belt and Road Initiative (BRI). Indian government is also pushing for more food grain storage infrastructure and cold chain facilities.
Other Trends
Moreover, food logistics providers are employing the latest technologies, including GPS-enabled sensors, on the inbound ocean, rail, and truck freight, which offer location status and real-time temperature to end users.

Additionally, they are also adopting artificial intelligence (AI) for intelligent route planning and reducing delivery time.

Rising income levels and growing health-consciousness have increased the demand for fresh food and exotic fruits and vegetables that require optimum food logistics management to maintain their freshness and quality.
SERVICES OFFERED BY FOOD LOGISTICS PLAYERS
Global cover, maritime, airfreight and land services without controlled temperature.

Cargo in dry containers.

Specific tankers to transport food products (wines, liquors, vegetable oils, etc.).

Specialised dry bulk chartering: sea freight of all types of ships

Contract of Affreightment.

Following up cargo.

Cross booking.

Terminals with automated storehouses to handle food and agriculture products.

Stowage and ship unloading services for food and agriculture products: cereal, legumes and all types of sub-products.

Added-value services like agencies at destination/origin to speed up procedures, Port Captains, Groupage of goods, labelling, pick and pack, area for phytosanitary inspection or authorised quarantine treatments.
COMPANIES PROFILED