Global Gaming Console Market 2020-2025
November 9, 2020

Request Sample
Coming Soon
Multi User License - $2,500
GLOBAL GAMING CONSOLE MARKET
INTRODUCTION
From light gun accessory for Magnavox (Brown Box), Xbox to Xbox Series X, PlayStation to PlayStation 5, and SEGA SG-1000 to SEGA Advanced Pico Beena, the main rivals in the gaming market have evolved drastically with the advancement in technology.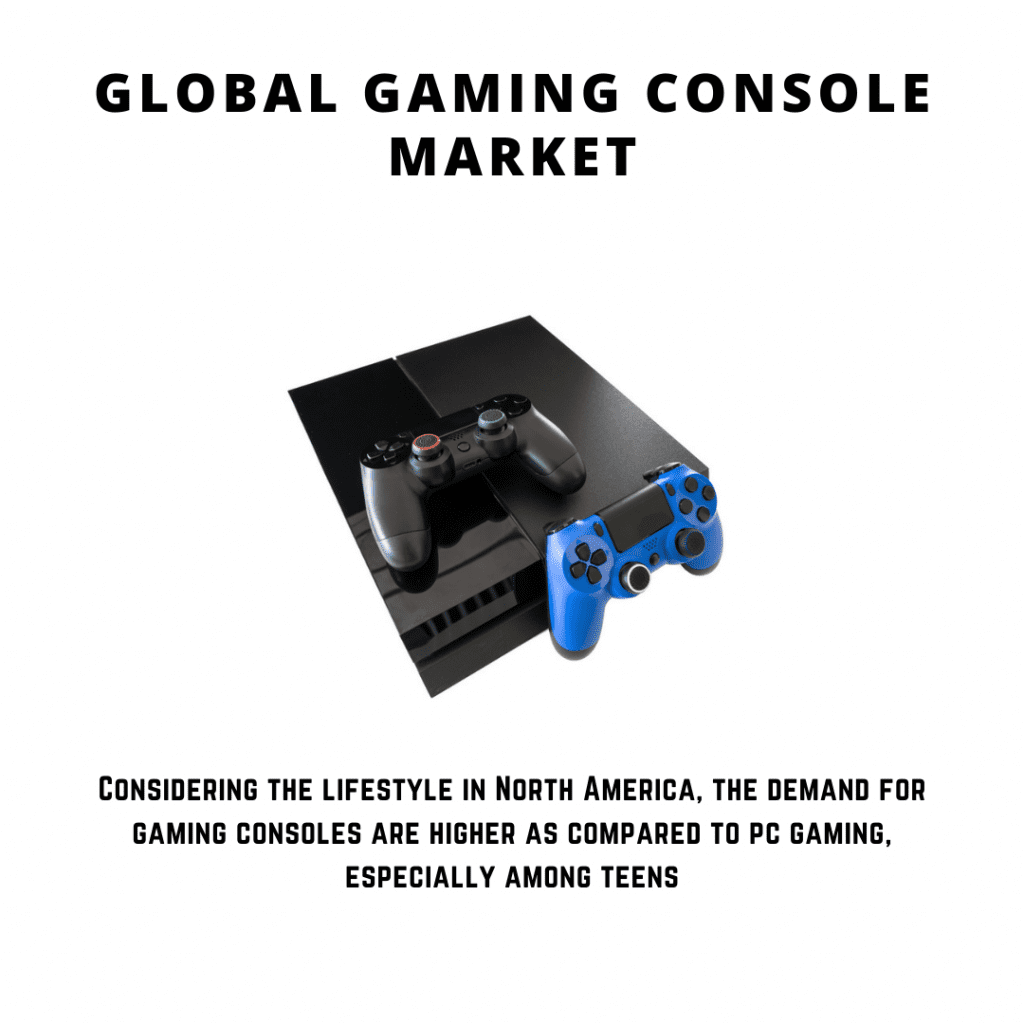 The evolution of the gaming community also pushed the growth of the market, ranging from Super Mario to Far Cry 6 and Watch Dogs (legion).
MARKET DYNAMICS
The gaming console market examines all types of gamers and different types of consoles. On analysing the global gaming market, it was found out that each vendor also scrutinizes on different types of gamers where, some love to game on handheld consoles rather than Tv gaming consoles whereas others prefer Tv gaming consoles over handheld ones.
Earlier, handheld gaming consoles were ruling the market with Sony PSP and Nintendo Game Boy. As technology developed, the basic platform for gaming also changed. This introduced a new path for TV gaming consoles like Sony PlayStation Series and Xbox Series.
As the gaming community grew, Tv Gaming consoles were considered as the next level of gaming. They gained much popularity which resulted in 91.9% of the gaming consoles being TV based. While the gaming market produced products with enhanced features for hardcore gamers, they initiated the production of gaming suitable for casual gamers as well.
For casual gamers, vendors released consoles like Nintendo Switch, Nintendo Switch Lite, and Sony PSP Series. Along with that a series of consoles like smartphones, tablets, and Budget Laptop were also introduced for casual gamers. This brought in a large number of casual gamers into the gaming industry.
MARKET SIZE AND FORECAST
Eventually, on extension and evolution of the gaming market globally, North America and Europe gained the highest popularity for gaming console. Considering the lifestyle in North America, the demand for gaming consoles are higher as compared to pc gaming, especially among teens. As a result, this encourages vendors and game developers to develop and introduce more games.
Coming to the popularity of gaming consoles and market growth in Asia, India to be specific is decreasing by a huge amount. The main root reason is the high tax on gaming consoles. Consumers have to pay a huge amount as taxes for gaming consoles.
The global gaming console market is estimated at $XX Billion in 2020 growing at –% CAGR till 2025.
POPULAR PRODUCTS IN THE GAMING CONSOLE MARKET
The best top-selling gaming console was Sony's PlayStation 4 (released in 2013) in 2019.
The sales unit count of Sony's PlayStation was almost double as that of Xbox One and almost two million units more than Nintendo.
The two main key factors that are responsible for the massive growth of gaming consoles are online gaming and high performance.
 Grand Theft Auto 5 is a true valid game that pushed the sales of gaming consoles like PlayStation 4 and Xbox One, because after the release of their "Online Version" for the game, the demand for TV gaming consoles doubled. Advertisement plays a huge role in creating awareness for gaming products.
When Xbox released a video for Xbox 360 in 2011 with the title "Xbox 360 Kinect", it widely received attention from the consumers. They used the caption "No Controller Required" at the starting of the video which created huge anticipation and excitement among consumers.
TECHNOLOGY TRENDS IN GAMING CONSOLE MARKET
This incorporation of the latest technology and providing additional features to the gaming consoles can boost the revenue of the global gaming market
Gaming with consoles in 2020 is more like a real-life experience with superfine quality in terms of both video and audio by the application of Augmented Reality and Virtual Reality.
The upcoming release of Sony's PlayStation 5 and Microsoft's Xbox Series X are important developments in this market
Even though its rival Xbox Series X shares similar specifications, Sony's PlayStation 5 has more sheer power processing compared to Xbox Series X. This advantage can result in a lead even though they share the same price in the market.
COMPETITIVE LANDSCAPE
The key market players are Sony, Microsoft, Nvidia Corporation, Valve Corporation, PlayJam, BlueStacks, Nintendo Co. Ltd., Mad Catz, OUYA Inc.
The three main vendors in the gaming console market are Microsoft, Nintendo, and Sony. Product features, latest game release, and the price are the main areas where the vendors compete on.
Since there are a large number of gamers who play a vital role in influencing the gaming market, each model is released with new features every five to six years.
One of the most successful products in terms of performance and sales unit was "Nintendo Switch" introduced by Nintendo. It was released during early 2017 and it gained much popularity between casual gamers who prefer to game with handheld consoles.
 New updates, changes, and the addition of new features are always appreciated as they enhance the growth of the market. The audio and video experience for a user has improved each time with the release of a new product in the market.
COMPANIES PROFILED
| | |
| --- | --- |
| Sl no | Topic |
| 1 | Market Segmentation |
| 2 | Scope of the report |
| 3 | Abbreviations |
| 4 | Research Methodology |
| 5 | Executive Summary |
| 6 | Introduction |
| 7 | Insights from Industry stakeholders |
| 8 | Cost breakdown of Product by sub-components and average profit margin |
| 9 | Disruptive innovation in the Industry |
| 10 | Technology trends in the Industry |
| 11 | Consumer trends in the industry |
| 12 | Recent Production Milestones |
| 13 | Component Manufacturing in US, EU and China |
| 14 | COVID-19 impact on overall market |
| 15 | COVID-19 impact on Production of components |
| 16 | COVID-19 impact on Point of sale |
| 17 | Market Segmentation, Dynamics and Forecast by Geography, 2020-2025 |
| 18 | Market Segmentation, Dynamics and Forecast by Product Type, 2020-2025 |
| 19 | Market Segmentation, Dynamics and Forecast by Application, 2020-2025 |
| 20 | Market Segmentation, Dynamics and Forecast by End use, 2020-2025 |
| 21 | Product installation rate by OEM, 2020 |
| 22 | Incline/Decline in Average B-2-B selling price in past 5 years |
| 23 | Competition from substitute products |
| 24 | Gross margin and average profitability of suppliers |
| 25 | New product development in past 12 months |
| 26 | M&A in past 12 months |
| 27 | Growth strategy of leading players |
| 28 | Market share of vendors, 2020 |
| 29 | Company Profiles |
| 30 | Unmet needs and opportunity for new suppliers |
| 31 | Conclusion |
| 32 | Appendix |