Global Gasoline Direct Injection System Market 2020-2025
October 20, 2020

Request Sample
Coming Soon
Multi User License - $2,500
GLOBAL GASOLINE DIRECT INJECTION SYSTEM MARKET
INTRODUCTION
Emissions from automobiles contributed to more than half of the carbon monoxide and nitrogen oxides in the atmosphere. Therefore, it makes sense that automotive OEMs are focussing on cleaner and more efficient engines.
In a combustion engine, one of the most efficient strategies for injecting fuel into the cylinder is the Gasoline Direct Injection or the GDI type of fuel injection. Basically in a GDI type of injection, the gasoline is highly pressurized, and injected via a common rail fuel line directly into the combustion chamber of each cylinder, as opposed to conventional multipoint fuel injection that injects fuel into the intake tract or cylinder port.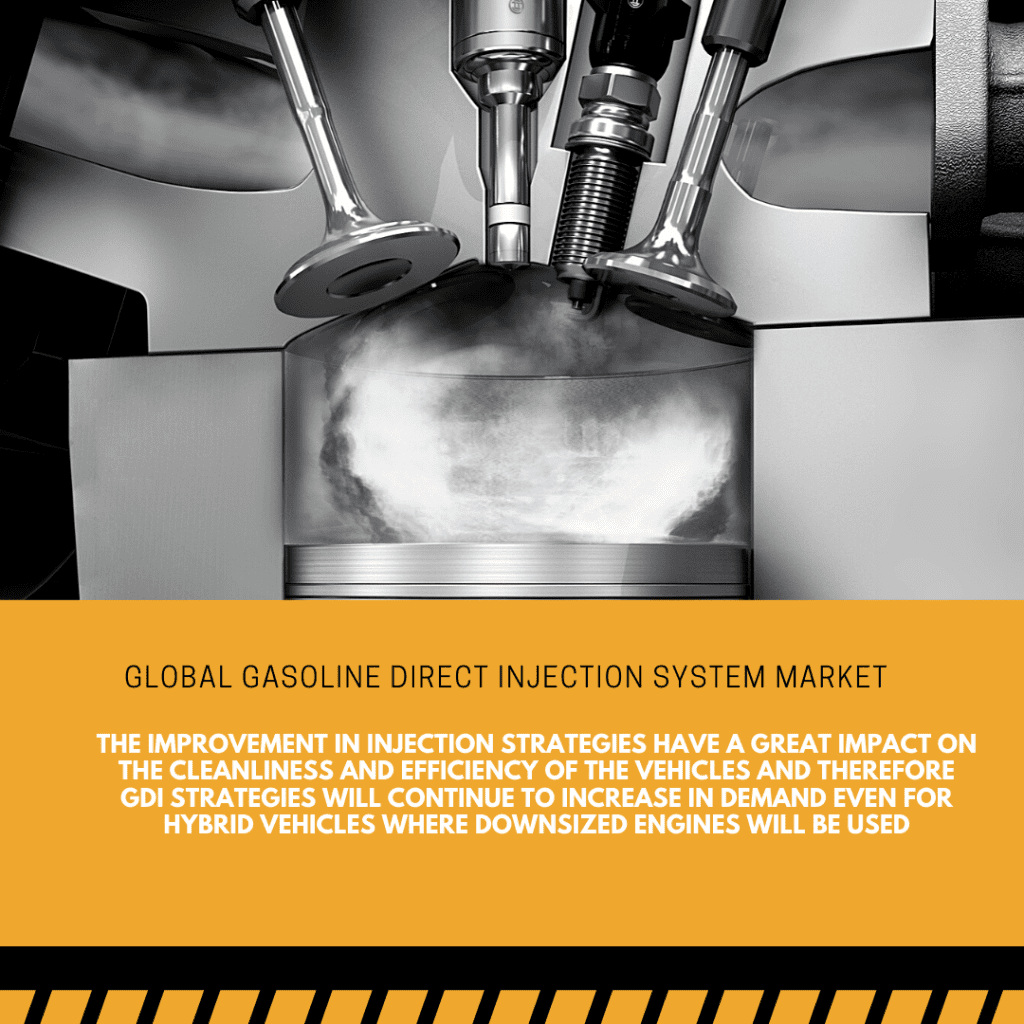 Increase in demand for fuel efficient, high performance and low emission vehicles combined with stringent regulations is driving the need for improvement and implementation of GDI strategies in new vehicles. Some of the significant advantages of GDI are engine downsizing, improved engine performance & thermal efficiency, high fuel efficiency, turbocharging, and significant reduction in emission.
Nevertheless, challenges lie in being able to address the challenges of GDI for its high cost and high particulate emission through exhaust systems.  
GASOLINE DIRECT INJECTION SYSTEM MARKET DYNAMICS
The global GDI market is expected to grow at roughly 9.2% CAGR until 2024 due to the current ongoing need to improve efficiency of combustion engines. In 2015, the global gasoline direction injection market was valued at about USD 3.5billion and is expected to reach USD 9.7billion by the year.
Many auto manufacturers including BMW, Audi, Daimler, Volvo are implementing GDI strategies to make their gasoline engines more and more efficient, and therefore the demand for GDI systems is expected to surely see an increase in demand in the upcoming years.
MARKET PLAYERS
Magneti Marelli S.Pa : Currently known as Marelli, it is an Italian automotive part manufacturer which generated a turnover of €8.2 billion in 2017 and specializes in providing parts to the motorsport industry as well. They provide cam driven GDI pumps to the motorsport racing industry, which is known for its high volumetric efficiency over 90%. They also provide injectors for the motorsport industry.
Robert Bosch GmBH : Popular and well known part manufacturer to the automotive industry, Bosch has been pioneering in GDI systems since 1951 and since then been a leader in supplying GDI systems to automotive OEMs. In terms of GDI, Bosch pioneered a enhanced homogeneous and lean burn combustion.
Denso: is a leading Japanese automotive parts manufacturer which has now produced gasoline injectors for more than 40 years and specializing in the fuel spray and GDI pumps. 50% of Denso's products are singly sold to Toyota for their passenger vehicles. Denso is aggressive in their R&D and spent 9.4% of their revenue on R&D in the previous fiscal year. The company made an operating revenue of 474billion USD in the previous year.
Delphi: Among other, Delphi is proud of their GDI system due to substantially reduced particulate emissions, 70% fewer and smaller particles, advanced componentry built for precision and endurance, improved performance, and lower fuel pump noise thresholds and greatly improved efficiency.
OTHER MARKET PLAYERS
Continental
Hitachi
Stanadyne
Mahle GmBH
Eaton
MARKET SEGMENTATION
By Geography
China
Asia Ex China
Europe
US
ROW
By Engine Displacement
Less than 1.5L
5-2.5L
More than 2.5L
By Components
Fuel pump
Injector
Common rail
By OEM
Toyota
GM
VW Group
Hyundai-KIA
Renault-Nissan-Mitsubishi
Ford
Chinese OEMs
Other OEMs
MERGERS AND ACQUISITIONS
On 22 October 2018, FCA announced that Magneti Marelli was being bought by its holding company CK Holdings, to be merged with the Japanese automotive company Calsonic Kansei for $7.2 billion, a deal that would create one of the world's largest auto parts suppliers.
THE INDIAN LANDSCAPE
Since April1, 2020, the Government of India has banned the sale and registration of motor vehicles conforming to the emission standard Bharat Stage IV in the entire country. This has given rise to auto manufacturers also needing to comply with the new Bharat Stage VII guidelines.
According to these BS6 norms, the NOx limit has been reduced from 80mg to 60mg, PM limit which was non existent has been set at 4.5mg/km for gasoline vehicles. As far as diesel vehicles are concerned, the NOx limit has been reduced from 250mg to 80mg, PM limit from 25mg to 4.5mg/km, and HC+NOx limits have been reduced from 300mg to 170mg.
Such stringent requirements have also forced auto manufacturers to release BS6 compliant vehicles which are much cleaner and more efficient. Some standout points of the BS6 in terms of the engine are mandatory DPF and SCR in all diesel vehicles.
Besides these, Real Driving Emission (RDE) will measure a vehicle's emissions in real time conditions against laboratory conditions. OBD and catalytic convertors have also been made mandatory.
The most relevant point is the introduction of EFI (Electronic Fuel Injection) instead of carburettor and this is surely going to change the need for better and more efficient fuel injection systems. GDI, in principle, ensures higher pressure of fuel injection into the cylinder and therefore better combustion of the fuel-air mixture.
Better combustion means better efficiency and therefore direct injection strategies will be largely implemented in the cars in the future. Since gasoline vehicles contribute to a major chunk of the Indian passenger car market, GDI will certainly see a boom in the upcoming years.
CONCLUSION
The automotive industry is going through a transformational time where the powertrain is taking new shapes. The drivetrain is changing from a completely fuel driven variant to either hybrid or fully electric driven variants.
Nevertheless, in terms of fully electric drive, the implementation and usability still remain a challenge and therefore will take a few years until it confidently reaches the hands of a common man. Until then, there are visible changes we can witness in terms of drive train improvements and its efficiency.
The improvement in injection strategies have a great impact on the cleanliness and efficiency of the vehicles and therefore GDI strategies will continue to increase in demand even for hybrid vehicles where downsized engines will be used. Especially in countries in the Europe, implementation of superior GDI technologies will be fast paced due to their stricter emission regulations and CO2 targets.
COMPANIES PROFILED
Magneti Marelli S.Pa
Continental
| | |
| --- | --- |
| Sl no | Topic |
| 1 | Market Segmentation |
| 2 | Scope of the report |
| 3 | Abbreviations |
| 4 | Research Methodology |
| 5 | Executive Summary |
| 6 | Introduction |
| 7 | Insights from Industry stakeholders |
| 8 | Cost breakdown of Product by sub-components and average profit margin |
| 9 | Disruptive innovation in the Industry |
| 10 | Technology trends in the Industry |
| 11 | Consumer trends in the industry |
| 12 | Recent Production Milestones |
| 13 | Component Manufacturing in US, EU and China |
| 14 | COVID-19 impact on overall market |
| 15 | COVID-19 impact on Production of components |
| 16 | COVID-19 impact on Point of sale |
| 17 | Market Segmentation, Dynamics and Forecast by Geography, 2020-2025 |
| 18 | Market Segmentation, Dynamics and Forecast by Product Type, 2020-2025 |
| 19 | Market Segmentation, Dynamics and Forecast by Application, 2020-2025 |
| 20 | Market Segmentation, Dynamics and Forecast by End use, 2020-2025 |
| 21 | Product installation rate by OEM, 2020 |
| 22 | Incline/Decline in Average B-2-B selling price in past 5 years |
| 23 | Competition from substitute products |
| 24 | Gross margin and average profitability of suppliers |
| 25 | New product development in past 12 months |
| 26 | M&A in past 12 months |
| 27 | Growth strategy of leading players |
| 28 | Market share of vendors, 2020 |
| 29 | Company Profiles |
| 30 | Unmet needs and opportunity for new suppliers |
| 31 | Conclusion |
| 32 | Appendix |