Global Aircraft Brakes Market 2020-2025
October 15, 2020

Request Sample
COMING SOON
Multi User License - $2,500
GLOBAL AIRCRAFT BRAKES MARKET
INTRODUCTION
Brakes are generally used to slow down the aircraft during the roll out on the runway and at the time of landing. It is necessary to ensure safety and directional control of aircraft during ground operations. With the development of new technologies, electronic braking systems provide anti-skid and fully integrated brake control.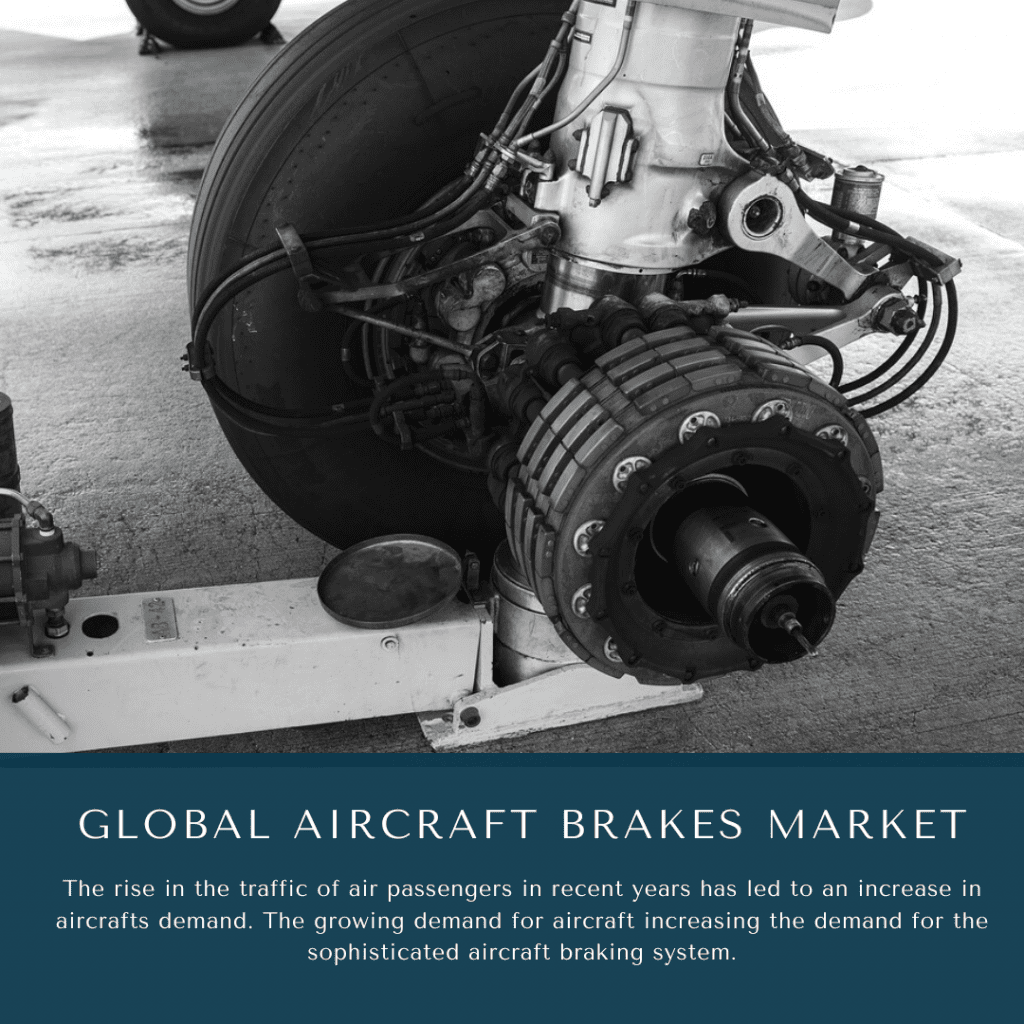 The airlines tend to use electric brakes to avoid fuel consumption and high maintenance costs, which further adding better performance than air brakes/disc brakes. The dependent factors on designing the braking system are: minimum stopping distance, a higher amount of heat dissipation, ease of use and design parameters are dependent on the size of the aircraft.
AIRCRAFT BRAKES MARKET DYNAMICS
The rise in the traffic of air passengers in recent years has led to an increase in aircrafts demand. The growing demand for aircraft increasing the demand for the sophisticated aircraft braking system.
Moreover, brakes need to work at extreme conditions, which results in degradation of the material due to wear and corrosion, which creates an opportunity for industries to develop materials with a good life. Another key condition is in search of lighter aircraft brakes. This opens the research opportunities in the metallurgy sector.
AIRCRAFT BRAKES MARKET SEGMENTATION
By Type of Brake

Electric brake
Carbon brake
Steel brake
By Application

Civil aircrafts
Commercial aircrafts
Défense/Military aircrafts
COVID-19 IMPACT AIRCRAFT BRAKES MARKET
In commercial aviation segment, companies are facing disruption in production of aircraft as workers affected due to COVID-19, passengers stop travelling like before, and new changes demanding by the customers according to the pandemic situation in the aircraft (technology, safe interiors, delivery time). This effects key component suppliers.
Honeywell's aerospace segment has seen a decline in revenues from $14.8 billion in 2017 to $14.0 billion in 2019 due to spin-off of the company's transportation business. Including the recent COVID-19 pandemic this segment is likely to be the worst hit for the company, expected to a revenue drop of 14% to $12.1 billion in 2020.
Parker Hannifin aerospace segment has experienced a loss of 4.19% of total net sales from $14.3 billion previous years to $13.7 billion. Sales for the aerospace segment in 2020 were higher than in 2019 due to the higher volume of military OEM and aftermarket businesses.
Operating income margin has decreased from 19.4% to 17.4% due to production half of Boeing 737 MAX during 2020. There is a huge decline in diversified industrial segment operating income by approximately 14% in the North America region and approximately 17% international regions (Asia-Pacific, Europe combined).
Crane Co. operating sales were $798 million during the first quarter of 2020 which is 4% less compared to 2019, which reduced operating profits range from $114 million in 2019 to $80 million in the first quarter of 2020.
In aerospace segment, Crane Co. experienced loss in net sales from $194.6 million in 2019 to $192.9 million in the first quarter of 2020 and loss in operating profits from $44.8 million in 2019 to $43.8 million in the first quarter of 2020.
MARKET SIZE AND FORECAST
The global aircraft brakes market is estimated at $XX Million in 2020 growing at –% CAGR till 2025
COMPETITIVE LANDSCAPE
The key prominent suppliers of aircraft braking systems/parts in the market are Honeywell, Crane Co., Meggitt PLC, Parker Hannifin Corp., Mersen Corporate services SAS. They produce and supply brakes, wheels, braking systems with latest technological progression to most of military and civil aircraft.
The companies now likely improve and make more integrated electric brake technology and develop steel braking systems for better performance factor.
KEY PLAYERS IN AIRCRAFT BRAKES MARKET
Honeywell: has business consists of various segments such as aerospace, healthcare, performance materials and technologies, software solutions and safety and productivity solutions. The company offers carbon brakes under the brand CARBENIX, produced using new generation carbon friction materials. It is also continuing to optimize the cerametalix friction material to improve thermal capability and performance on wear. Honeywell recently started its research on the steel braking system and continues to develop steel or metal-ceramic brakes and wheel system.
Crane Co.: has business in various segments such as fluid handling, aerospace and technologies and engineered materials. The company is offering carbon brakes for commercial and business aircraft. It has various systems for different purposes like Antiskid systems to increase the contact with the pavement, Autobrakes which serves on two modes (Landing mode and RTO mode), Parking brakes to hold the aircraft during chocks.
Meggitt: Meggitt's business operations are divided into four segments: aerospace, defence, energy and equipment, services and support. The company provides Hydraulic or electric actuation, steel or carbon friction materials for civil/military aircraft. They provide complete integrated braking systems including brakes, wheels, and brake control elements.
Mersen Corporate Services SAS (carbon brakes): has business operations in energy, electronics, transportation. They provide complex carbon brakes under the brand AEROLOR which are capable of working under extreme conditions with strict industry safety standards.
Parker Hannifin Corp.: providing its business operations for two segments; aerospace and industrial systems. They provide various carbon brake assemblies including multiple disc carbon brake assembly to the aerospace sector.
COMPANY PROFILE
| | |
| --- | --- |
| Sl no | Topic |
| 1 | Market Segmentation |
| 2 | Scope of the report |
| 3 | Abbreviations |
| 4 | Research Methodology |
| 5 | Executive Summary |
| 6 | Introduction |
| 7 | Insights from Industry stakeholders |
| 8 | Cost breakdown of Product by sub-components and average profit margin |
| 9 | Disruptive innovation in the Industry |
| 10 | Technology trends in the Industry |
| 11 | Consumer trends in the industry |
| 12 | Recent Production Milestones |
| 13 | Component Manufacturing in US, EU and China |
| 14 | COVID-19 impact on overall market |
| 15 | COVID-19 impact on Production of components |
| 16 | COVID-19 impact on Point of sale |
| 17 | Market Segmentation, Dynamics and Forecast by Geography, 2020-2025 |
| 18 | Market Segmentation, Dynamics and Forecast by Product Type, 2020-2025 |
| 19 | Market Segmentation, Dynamics and Forecast by Application, 2020-2025 |
| 20 | Market Segmentation, Dynamics and Forecast by End use, 2020-2025 |
| 21 | Product installation rate by OEM, 2020 |
| 22 | Incline/Decline in Average B-2-B selling price in past 5 years |
| 23 | Competition from substitute products |
| 24 | Gross margin and average profitability of suppliers |
| 25 | New product development in past 12 months |
| 26 | M&A in past 12 months |
| 27 | Growth strategy of leading players |
| 28 | Market share of vendors, 2020 |
| 29 | Company Profiles |
| 30 | Unmet needs and opportunity for new suppliers |
| 31 | Conclusion |
| 32 | Appendix |