Global Connected Car Market Size, Trends, Forecast & Risks 2020-2025
February 4, 2020

Request Sample
COMING SOON
Multi User License - $2,500
GLOBAL CONNECTED CAR MARKET
KEY FINDINGS
Electric vehicles and autonomous cars are the future and a complete transition from ICE powered vehicles to pure EV, as well as human driven car to autonomous is impossible without connected cars
Partnerships between OEMs ,suppliers and acquisition of tech start-ups by OEMs and tier-1 suppliers have become a common occurrence in connected car market
In commercial vehicle segment, truck platooning can result in reduced accident rate and significant savings on fuel economy
ADAS ,in-vehicle infotainment (IVI), as well as autonomous vehicles will depend on huge volume of data streamed internally within the vehicle and externally
The automakers are opting for high speed ethernet switches as there are numerous computing applications that call for a strong and secure in-vehicle-network
RECENT PARTNERSHIPS/AGREEMENTS IN CONNECTED CAR MARKET
| | | | | |
| --- | --- | --- | --- | --- |
| Sl no | Timeline | Region | Companies involved | Aim |
| 1 | Nov 2019 | US | Nissan- SiriusXM | Nissan and INFINITI vehicles will begin offering SiriusXM with 360L(delivers content via both satellite and streaming) |
| 2 | Oct 2019 | US | Hyundai- Netradyne | To utilize the road and driving behaviour data collected by Netradyne to support HD mapping and map updates for Hyundai L2+ autonomous vehicles |
| 3 | Oct 2019 | Europe | Audi- Deutsche Telekom-City of Ingolstadt | To build communication between different road users, automated driving and connections to the Internet of Things (IoT) |
| 4 | Oct 2019 | India | KIA- Vodafone-Idea | KIA to utilize Vodafone-IDEA e-sim for UVO connected car solution |
| 5 | Aug 2019 | Europe and Asia | Cubic-Metaswitch | Cubic's connected car solution to support new technologies as 3G voice services are phased out |
ABOUT US CONNECTED CAR MARKET 
Among top-selling Ford vehicles, like F-150,Escape, Fusion and Edge, 4G LTE Wi-fi with e-sim is offered on 90%( almost all trims). 8 inch screens can be widely found on almost all vehicles
In Chevrolet, 4G LTE Wi-fi is surprisingly unavailable on the best-selling pickup Silverado, but it is almost standard on best-selling SUVs and sedans like Equinox,Traverse,Malibu and Colorado
Toyota has 100% fitment of Wi-fi on best-selling vehicles like Tacoma, Camry,Corolla and RAV4, powered by Verizon. The lower trims have 7- inch touchscreen whereas the mid and higher trims have 8-inch screen as standard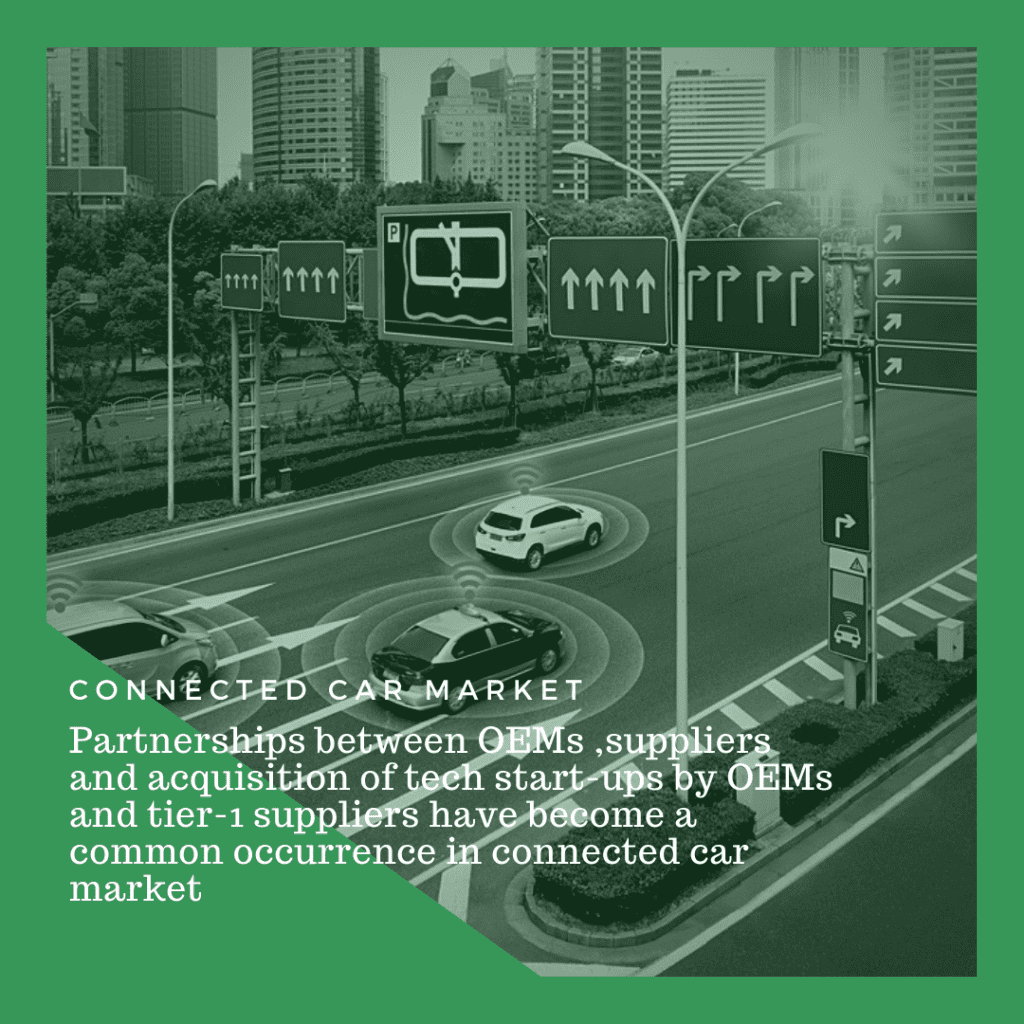 ABOUT  EUROPE CONNECTED CAR MARKET 
Top selling cars of Ford like Fiesta, Focus are provided with 4G LTE Services which is powered by FordPass App and providing Android auto and Apple car Play as standard except base trim
Best-selling cars of Volkswagen like Golf, Polo, Tiguan, T-roc and Passat dont have 4G Wi-fi Services but has e-sim for Navigation and e-call purpose. 8-inch touchscreen is standard on many cars
Top selling Skoda cars like Octavia, Fabia are provided with Android auto and Apple car Play and  8-inch touch screen display is standard on Octavia and 6.5 inch on Fabia.
OEM DEVELOPMENTS IN EUROPE CONNECTED CAR MARKET
Mercedes Benz : The OEM will now  test how safety on wintry roads  can be improved with car-to-X communication. It is working with Telefonica Deutschland and network supplier Ericsson, putting in place the 5G mobile network for automobile production in its "Factory 56" in Sindelfingen, Germany.
BMW: The OEM has introduced 'Remote Software Upgrade' to ensure that the vehicle software in all BMW's with Operating System 7.0 is updated at all times, just like a mobile phone.
Audi : Audi introduced the vehicle-to-infrastructure (V2I) service "Traffic Light Information" to Europe. This feature  will allow Audi drivers to see in the cockpit what speed is required to reach the next traffic light on green.
JLR: Jaguar Land Rover is testing connected car services that will enable drivers to earn cryptocurrency and make payments on the move. The technology is called 'Smart Wallet' . It selected Spirent solutions to develop and verify next-generation automotive Ethernet in-vehicle networking.
SEAT: In March 2019, SEAT and Telefonica launched the '5G Connected Car' pilot test in the framework of the 5G Barcelona project, which was aimed at promoting Barcelona as one of the benchmark European capitals of 5G technology
VW: Volkswagen  annonced in Jan 2019 that it will deploy the OPTIGA Trusted Platform Module (TPM) 2.0 a security solution for the connected car from Infineon Technologies AG.
SUPPLIER DEVELOPMENTS IN EUROPE CONNECTED CAR MARKET 
Ficosa : The supplier received  European RED certification for its CarCom platform in June 2019.  It has developed solutions for connecting cars with infrastructures and with other vehicles through the available technologies: both with DSRC (802.11p) and (C-V2X) technology
Continental: World`s fourth biggest automotive supplier by revenue has  developed an adaptive voice-activated digital assistant for vehicles. With the digital assistant the company focuses on the most natural means of communication: the spoken words.
TomTom : In Sep 2019, TomTom announced  that it`s navigation has been integrated with Microsoft connected platform.
Bosch : World`s biggest automotive supplier by revenue, Bosch  demonstrated a cloud-based wrong-way driver alert system that can protect human lives form danger of encountering a wrong-way driver on freeways
Keysight Technologies : Entered into an alliance with Nordsys GmbH to combine the two companies' cellular vehicle-to-everything (C-V2X) and testing competences.
ABOUT  JAPAN CONNECTED CAR MARKET 
Toyota the leading car maker in Japan is providing its cars with Toyota Connect on  premium models  like Prius, Corolla, C-HR, and Crown. MPVs  like Alphard, Velfire and Esquire get it as option.
Toyota cars are provided with lot of options in Infotainment system like 7inch and 8 inches are preferred options and Apple car play is the only mobile interconnect service and cars like Prius, Corolla, C-HR, Crown get e-sim as Standard and other cars like Alphard, Velfire ,Esquire , Voxy get e-sim as option.
Car manufacturers in japan has given less preference to connected services and Infotainment system over safety and provided with safety features like Pre car safety (Collision avoidance support type with pedestrian detection function/ Millimeter wave radar + monocular camera system), Lane departure alert, Automatic high beam and ACC.
CONNECTED CAR MARKET TRENDS
Highly accurate positioning has now become an important element of connected vehicle solutions to support Vehicle-to Everything (V2X) and other applications . For example,. Nexar's new AI-powered image retrieval algorithm claims to improve localization in cities(dense environment), solving a problem that has long plagued both rideshare operators and navigation apps
Vehicle to pedestrian detection is now an important topic of research. For example,Viziblezone( a provider of 'vehicle-to-pedestrian' (V2P) solution) announced that its prototype system can detect pedestrians even hidden behind objects at distances of up to 150 meters

Toyota in 2018 had announced that all its cars in US will have DSRC(Dedicated short range communication) for V-2-V communication from 2021. But earlier in 2019, it suspended the connected car program due to lack of "industry commitment". Lack of enthusiasm from OEMs could become a dangerous trend in coming years
THIS REPORT WILL ANSWER THE FOLLOWING QUESTIONS
The market size (both volume and value) of global connected car market in 2019-2025 and every year in between?
Upcoming electric vehicles and their connectivity platform
Cost breakup and average margin on connected car hardware
Average B-2-B connected car hardware price in all segments
New development and technical trends in connected car market 
Market share of connected car suppliers in BEV and PHEV segment respectively
Their future strategies to outdo competition
Potential new entrants in connected car market
To request customization, write to us at sales@mobilityforesights.com
| | |
| --- | --- |
| Sl no | Topic |
| 1 | Market Segmentation |
| 2 | Scope of the report |
| 3 | Abbreviations |
| 4 | Research Methodology |
| 5 | Executive Summary |
| 6 | Introduction |
| 7 | Insights from Industry stakeholders |
| 8 | Cost breakdown of Product by sub-components and average profit margin |
| 9 | Disruptive innovation in the Industry |
| 10 | Technology trends in the Industry |
| 11 | Consumer trends in the industry |
| 12 | Recent Production Milestones |
| 13 | Component Manufacturing in US, EU and China |
| 14 | COVID-19 impact on overall market |
| 15 | COVID-19 impact on Production of components |
| 16 | COVID-19 impact on Point of sale |
| 17 | Market Segmentation, Dynamics and Forecast by Geography, 2020-2025 |
| 18 | Market Segmentation, Dynamics and Forecast by Product Type, 2020-2025 |
| 19 | Market Segmentation, Dynamics and Forecast by Application, 2020-2025 |
| 20 | Market Segmentation, Dynamics and Forecast by End use, 2020-2025 |
| 21 | Product installation rate by OEM, 2020 |
| 22 | Incline/Decline in Average B-2-B selling price in past 5 years |
| 23 | Competition from substitute products |
| 24 | Gross margin and average profitability of suppliers |
| 25 | New product development in past 12 months |
| 26 | M&A in past 12 months |
| 27 | Growth strategy of leading players |
| 28 | Market share of vendors, 2020 |
| 29 | Company Profiles |
| 30 | Unmet needs and opportunity for new suppliers |
| 31 | Conclusion |
| 32 | Appendix |