Global Container Shipping Market 2017-2022
April 20, 2018

Request Sample
Number of Pages – 80
Multi User License - $1,800
THIS REPORT IS BEING UPDATED AND WILL BE PUBLISHED IN OCT 2019
INTRODUCTION
International trade is the backbone of container shipping market.The international trade across the world continued its robust growth in spite of the economic crisis of 2008-09.It has almost quadrupled in past 18 years to about $24 trillion estimated in 2018 from ~$5.5 trillion in 2000. The developed countries continue to be the main players in international trade, and have consistently growing their share. As of 2017, almost half of world trade originated from developing countries up from less than 1/3rd in early 2000s.
China, US, Germany, Japan and France were the top five traders for merchandise in 2017, accounting for 39% of world merchandise trade. The US and the EU are major suppliers of agro based products. This is partly due to the predominance of US and European MNCs in this sector. In 2017, EU was the biggest exporter and importer of food, fuel products, manufactured goods, Chemicals and automotive products with share of ~40% in all the product categories. China is the world`s biggest exporter of textile.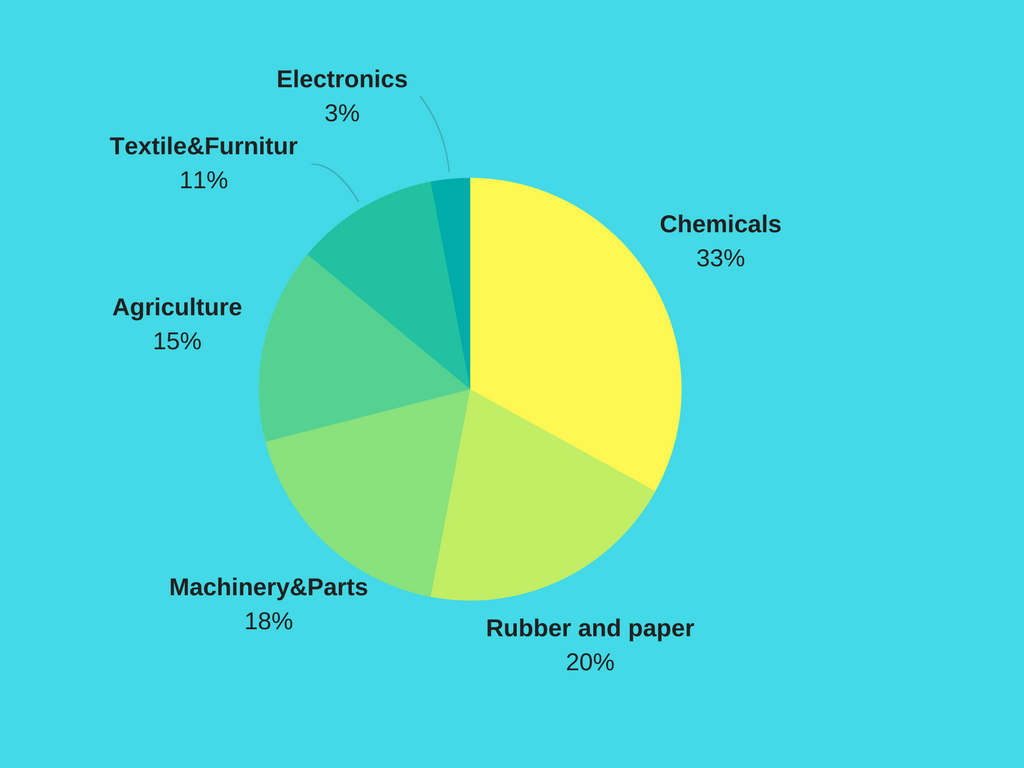 MARKET DYNAMICS
Specialization in the shipbuilding industry has brought massive changes to ocean shipping. Special ships have increasingly been constructed for different types of freight for e.g. tankers for crude oil, petroleum products, chemicals, liquid gas  fruit juice concentrate etc.By speeding up cargo handling, specialization has been responsible for reducing the costs per transported unit. Where special ships can be utilized to capacity, therefore, economies of scale have been achieved.
One of the biggest problem of this industry is that it continues to add capacity which puts downwards pressure on the freight rate leading to low margins and reduced income. Container ship deliveries grew by 25% in 2017 adding a total of 1.2 million TEU in capacity with ultra large carrier ships accounting for majority of them. In 2018 and 2019, more than 80 ships of 10,000-teu and above are scheduled to be delivered, half of them are 18,000-TEU+ capacity. Most carriers are offering similar services to all customers, negating the opportunity of offering value added higher margin services which is further supressing the profitability.
With the increase in demand for alternative propulsion systems that not only improve the overall efficiency of the ship but also reduce the carbon footprints, innovators in the shipping industry are leaving no stone unturned to find a solution to this grave problem. With all the options presently available at hand, electric propulsion system seems to have a promising future. Norwegian company Yara has teamed up with maritime technology company Kongsberg to build the world's first all-electric and autonomous container ship, which is set to hit the high seas late in 2018.
GROWING SIZE OF SHIPS
The top 100 ship size has grown more than three fold in past 18 years i.e. from ~4,500 TEU in 2000 to ~15,000 TEU in 2018.The biggest vessels are deployed on the Asia-Europe route whereas Intra-Asia route have the smallest ships. By 2022, the largest container ships to be travelling along the Asia-Europe route will be around ~17,000 TEU compared to the 11,200 TEU now. Ships with a capacity in the range of 8,000+ TEU have been docking in US ports for many years now but since 2016 opening of new locks of the Panama Canal now allow passage of container ships of up to 13,000 TEU.
Also Read: 5 Important container Shipping trends
MARKET SIZE AND FORECAST
The Asia-Europe trade lane is one of the busiest trade lanes both by volume and value. Exports from China account for more than 2/3rd of the trade, followed by South Korea, Vietnam, japan and Thailand. Dry containers account for 98% of the trade and refers accounting for the remaining 2%. Of late, the growth in exports in dry containers has remained more or less constant but reefer trade went up by 5% in 2016 and 3% in 2017. In 2017, volumes on the China and South Korea to Europe route expanded by ~5% in 2017.
The shipping rates have been in turmoil for most of 2015-2017 period. In 2017 the average rate for 20-foot TEU on this route was $770 which was even ~10% and 5% lower than the average rate in 2016 and 2015 respectively. Chinese imports of beef, has seen an unprecedented rise in past one decade, reaching more than 0.85 million tonnes in 2017 – compared to less than 10,000 tonnes in 2017.Rising incomes and restrictions on the import of American premium grain-fed beef has boosted meat imports in China from Europe.
India, China and South Korea are the top-three Asian countries trading with Africa with trade value of $143 billion, $48 billion and $19 billion respectively. These three countries jointly make up for more than 70% of trade between the two continents. Although, Africa is primarily viewed as a major source for natural resources but many Asian auto companies are setting up their production base in Africa.
In our opinion, the future outlook of Asia and Africa holds tremendous promise. The reason being, they both complement each other in every possible manner. On one side, Africa provides many natural resources to Asia  and on the other hand, Asia's investments in Africa will provide much needed impetus to African economic development. It will also create new jobs for the African population, which is very crucial at this stage.
CONTAINER SHIPPING MARKET- IMPORTANT TRADE ROUTES
In 2017, Asia-North America trade route saw a very healthy rise in volumes. 6 out of 9 major ports in US reported high single digit rise in shipping volumes from Asia. The inbound traffic to US from Asia mostly contains appliances, auto parts, toys and furniture, whereas the outbound traffic usually contains scrap paper, cars which have completed their useful life in US . The inbound traffic in US usually builds up around July and August every year, when retailers start piling stocks ahead of holiday season.
The Europe-East Coast South America trade continued to strengthen in 2017, whereas the long term downward trend of Europe- North America started reversing towards the end of 2017.The Europe-South America container volumes continued to grow every month starting from December 2016.Seven out of past 13 months have seen volume growth in double digits. Imports to Brazil have benefited from appreciation in its currency owing to decline in inflation, all of which is linked to the recession the country has been facing for past 3 years. Majority of the turnaround for Brazil in recent past is a result of massive increase in soy crop production. The future growth of container shipping market on this route will depend on fruit exports from Brazil which it intends to increase by 4% and 5% respectively in 2018 and 2019.
COMPETITIVE LANDSCAPE
The container shipping market with few dominant players (top 10 companies account for more than 70% of global cargo transported via sea) is very competitive and subject to unpredictable highs and low. Over the past few years, the industry has been operating at a loss, and by the end of financial year 2017, cumulative loss incurred was close to $5 billion. These losses can be attributed to the challenges which the industry faces such as oversupply of vessels, fall in demand and production by China, anti-dumping duties imposed on Chinese goods etc. Recent years have seen closures and bankruptcy filed by major container shipping giants like Copenship, Daiichi Chuo Kisen, Winland Ocean Shipping Corporation, Shagang Shipping and Hanjin Shipping Company.
It is expected that the Chinese and Japanese carriers to play a more dominant rolein the container shipping industry going forward. The integration of China Cosco and CSCL into COSCO Shipping has resulted in a combined market share of 8% and it has become the fourth largest carrier globally.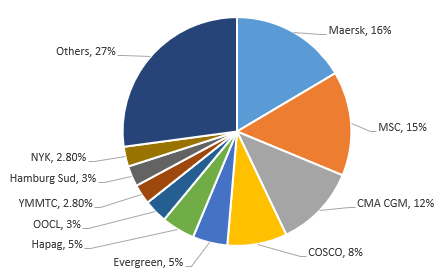 In such a volatile industry, ports and shipping companies are struggling to stay competitive in terms of cost and services without compromising shipping standards. Ports are fighting to attract shipping lines and offer efficient services and better facilities.
Prices for coal, iron ore, and crude oil are likely to remain less volatile for the next few years, which translates into depressed rates for shipping, particularly dry bulk shipping. As a result, alliances and mergers of the top players in major sea routes have taken place to improve the global supply chains and focus has shifted from port performance to supply chain performance.
THIS REPORT WILL ANSWER FOLLOWING QUESTIONS
The market size (both volume (Million TEU) and value($Billion) of container shipping market in 2017-2022 and every year in between?
The impact of upcoming mandates on this market
The impact of protectionist policies on container shipping market
The market size and forecast segmented by container type (Dry cargo and reefer)
The market size and forecast segmented by major container shipping trade routes(Asia-Europe, Asia-North America,Intra-Asia,Asia-  South America, Europe- America,North America-Latin America, Asia- Middle East)
How will scrapping of smaller-mid-sized vessels affect theis market?
The impact of construction of specialized ships
Latest trends in container shipping market
Will electric and autonomous ships become a reality?
How will blockchain impact the container shipping industry?
To enquire about the report, write to us at sales@mobilityforesights.com
1. SCOPE OF THE REPORT
2. RESEARCH METHODOLOGY
3. INTRODUCTION
3.1. GLOBAL INTERNATIONAL TRADE
3.2. GLOBAL CONTAINER SHIPPING SHARE BY INDUSTRY
3.3. GROWTH IN SHIP CAPACITY OVER PAST DECADE
3.4. AVERAGE SIZE OF TOP 100 SHIPS
3.5. TOP 5 CONTAINER PORTS IN THE WORLD
3.6. BUNKER FUEL PRICES OVER THE YEARS
3.7. THE CHARTER SHIP MARKET
4. MARKET SUMMARY
4.1. BY VOLUME
4.2. BY VALUE
5. MARKET DYNAMICS
5.1. MARKET DRIVERS
5.1.1. New initiatives like Canada – EU trade alliance will boost trade
5.1.2. Driver 2
5.1.3. Driver 3
5.1.4. Driver 4
5.1.5. Driver 5
5.1.6. Driver 6
5.1.7. Driver 7
5.2. CHALLENGE
5.2.1. Challenge 1
5.2.2. Challenge 2
5.2.3. Challenge 3
5.2.4. Challenge 4
5.2.5. Challenge 5
5.3. TRENDS
5.3.1. Trend 1
5.3.2. Trend 2
5.3.3. Trend 3
5.3.4. Trend 4
5.3.5. Trend 5
5.3.6. Trend 6
5.3.7. Trend 7
5.3.8. Trend 8
6. MARKET SIZE AND FORECAST,SEGMENTATION BY TRADE ROUTE 2017-2022
6.1. ASIA-NORTH AMERICA
6.2. ASIA- EUROPE
6.3. ASIA- SOUTH AMERICA
6.4. ASIA-AFRICA
6.5. ASIA-MIDDLE EAST
6.6. EUROPE-AMERICA
6.7. INTRA-ASIA
6.8. NORTH AMERICA-LATIN AMERICA
7. MARKET SIZE AND FORECAST,SEGMENTATION BY CARGO TYPE 2017-2022
7.1. DRY CARGO
7.2. REEFER
8. COMPETITIVE LANDSCAPE
8.1. MARKET SHARE OF SHIPPING CARRIERS
9. COMPANY PROFILES
9.1. A.P. MOLLER–MAERSK GROUP
9.2. MEDITERRANEAN SHIPPING COMPANY (MSC)
9.3. CMA CGM
9.4. CHINA COSCO SHIPPING
9.5. EVERGREEN MARINE
9.6. A.P. HAPAG-LLOYD
9.7. ORIENT OVERSEAS CONTAINER LINE (OOCL)
9.8. HAMBURG SUD
9.9. YANG MING MARINE TRANSPORT CORPORATION
9.10. NIPPON YUSEN KABUSHIKI KAISHA