Global Electric Vehicle On Board Charger Market 2019-2025
June 1, 2020

Request Sample
Number of pages: 118
Multi User License - $1,900
KEY FINDINGS
As of June 2020, 273  BEV models are available for sale in China, as compared to 37 in Europe and 21 in US. BAIC Group's NEV unit BJEV sold the highest 150,000 units in 2019, the market leader of battery-only electric vehicles in China since 2013.
Europe is the new growth driver of global EV on board charger market as many new incentives announced in May-early June 2020 by France and Germany are aimed at accelerating EV sales
In China,by 2021, we expect high priced models(>$20,000) from foreign manufacturers will start production, resulting in higher demand for 6.6kW and 7.4kW on-board chargers.Most of the average price increase will be attributed to phasing out of low range, city only EVs being replaced by long range more practical, long range BEVS
The average battery capacity of top 10 Chinese EVs jumped from 28kWh in 2018 to 42kWh in 2019, necessitating use of >5kW on-board chargers in many vehicles 
On-board charger with 6-7 kW power output is most preferred in Europe whereas Chinese market was  dominated by <5kW OBC till June 2019 (before steep cut in subsidy for low range vehicles)
PHEVs typically employ <5kW on-board charger and their share in global EV sales declined by 400 basis points in 2019 as compared to 2018, but they are expected to rebound in 2020-21 in Europe
The roll back of 54.5mpg CAFÉ norms has been major demand dampener for vehicle electrification in US, but still there are many SUV/pickup hybridisation programs underway which could create demand for On-board chargers
Japan and South Korea account for >95% of EV sales in Asia Ex China market.A lot of work needs to be done from policy and legislation perspective to jump-start the EV market in this region
The EV on board charger market is extremely fragmented at present(8 suppliers have 67% cumulative market share), and most OEMs are aligned to regional vendors. Therefore, serving a global platform can be difficult for small scale regional suppliers.
INTRODUCTION
Now, that the electric vehicles are treading the path towards being mainstream,the biggest hurdle for their widespread adoption is still "range anxiety". This can be countered by adding a bigger battery and developing an inter-operable fast charging network.
On one hand, a well established  charging infrastructure requires time,patience and a concerted effort from multiple stakeholders viz OEMs,energy companies and politicians.On the other hand, the long range batteries, which could offer an optimal mix of 600km+ range,weight, reliability and price are still under development.
The charging device for Level 1 and Level 2 charging comes factory-installed and is called the "on-board charger".
A 3.7 kW on board charger provides ~12 miles per hour of charge whereas a 7 kW on board charger provides ~22 miles per hour of charge.The charging speed may vary, but the most common on board chargers in US and EU are 6.6 kW on battery electric vehicles (BEVs) and 3.3/3.7 kW on plug-in hybrid electric vehicles (PHEVs).In China, where low speed EVs manufactured by domestic companies became very popular in 2016-2018 had a 3.7kW on board charger.
THE NEED FOR AN ON-BOARD CHARGER
The cost to charge an EV at public charging stations varies by a reasonable amount. A few stations are free, while others can cost over twice as much as home charging. Be that as it may, the effect of high open charger costs is regularly quieted by the high dominance of home charging. Public chargers, like those at malls or near highways, and those at workplaces are subject to commercial electricity rates, which are higher than residential rates. At times, it can cost so much to charge an electric car that it makes more sense to drive a gasoline-powered vehicle. This universal reason warrants the presence of an on board charger in an electric vehicle.
MARKET DYNAMICS
The high price of electric cars, thin and inconsistent infrastructure, and range anxiety, as compared to same segment ICE (internal combustion engine) powered car has been a major barrier to EV adoption. But, cost is no longer as daunting as electric car batteries have gotten cheaper, government subsidies have increased, and dealerships have begun offering affordable leases.
Now, the question of where to charge is a bigger issue, especially for the urban population, who live in multi-unit apartment buildings. Many of them don't have a dedicated parking spot, which makes it difficult to charge an electric car at home.
In past 5 years, the Chinese government has been making a concerted push towards what it calls " new energy vehicles" to help reducing greenhouse gas emissions, smog, and traffic congestion.The mandatory sales quota introduced by Chinese government for 2019,2020 and 2021 was supposed to be a major driver for EV on board charger market.But, the subsidy cut in June 2019 resulted in de-growth of EV volumes in July- Nov 2019. As a result, Chinese EV sales volume declined by 4% in 2019 YOY, which grew at ~30% in H1-2019 as compared to H1-2018.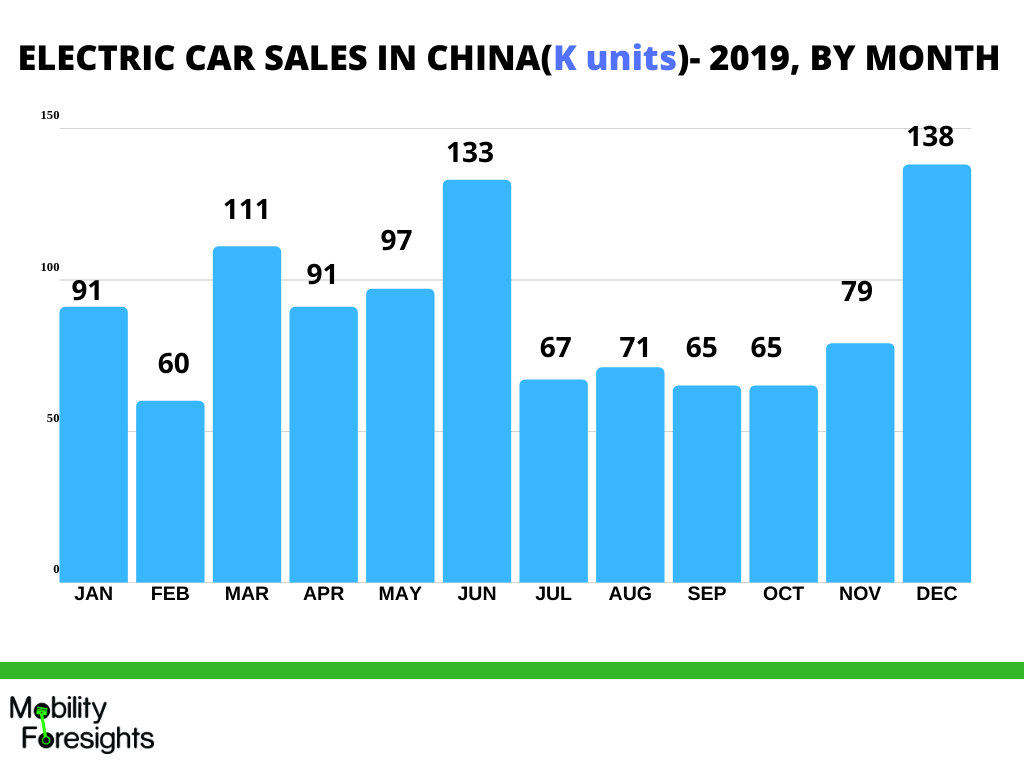 The cost of building the EV infrastructure requires massive capital investment and co-operation from state and local administration, which of course is not very easy to find.As of Nov 2019, ~220,000 DC fast chargers were installed across the globe.Read our EV fast charger market report to know more about the charging infrastructure issues globally.
BEV sales in Europe, grew YOY by ~90% in 2019 whereas PHEV sales declined by ~10%. Norway,Germany and Netherlands accounted for almost 50% share of BEVs sold in Europe. Growing BEV sales in Europe is an important growth driver for global EV on board charger market.
In Jan-April 2020, EV sales in Europe totalled 260k units(47% market share) as compared to China with just 190k units sales.
ON-BOARD CHARGERS IN BEST-SELLING EV & PHEV MODELS-2018
| | | | | |
| --- | --- | --- | --- | --- |
| SL.No | Vehicle brand | Model | Battery capacity(kWh) | Onboard charger capacity(kW) Standard/optional |
| 1 | BAIC | EC Series | 22 | 3.7 |
| 2 | Zhidou | D2 | 18 | 3.7 |
| 3 | Tesla | Model 3 | 50-75 | 7.7 |
| 4 | BYD | E5 | 60 | 3.7 |
| 5 | BYD | Qin | 58 | 3.7 |
| 6 | Tesla | Model X | 75-100 | 11.5 |
| 7 | SAIC | Roewe Ei5 | 35 | 3.7 |
| 8 | Chevrolet | Bolt | 60 | 7.2 |
| 9 | Renault | ZOE | 22/40 | 3.7 |
| 10 | BYD | Tang | 83 | 7.2 |
| 11 | BYD | Yuan | 42 | 3.7 |
| 12 | Toyota | Prius PHEV | 9 | 3.3 |
| 13 | Chery | EQ | 22.3 | 3.7 |
| 14 | BMW | i3 | 33 | 7.7 |
| 15 | Geely | Emgrand EV | 41 | 6.6 |
| 16 | JAC | IEV | 30 | 3.7/6.6 |
| 17 | Mitsubishi | Outlander PHEV | 13.8 | 3.7 |
| 18 | Nissan | LEAF | 40 | 3.6/6.6 |
| 19 | Volkswagen | e-Golf | 30 | 7.2 |
| 20 | Tesla | Model S | 75-100 | 9.6/11.5 |
Chinese EVs produced by domestic OEMs occupied 10 out of top 20 best-selling spots in 2018. Most of those EVs had a 3.3/3.7kW on-board charger but post changes in subsidy by the Chinese government, many Chinese OEMs had to upgrade the battery capacity on those vehicles to improve range and thus the demand grew for higher power on-board chargers in 2019.

MARKET SEGMENTATION

MARKET SIZE AND FORECAST
Most  plug-in hybrid electric vehicle (PHEV) makers have adopted on board chargers with 3.3- 3.7 kilowatts (kW). Presently, BEV makers are moving towards on-chargers with more than 6.6 kW  power output to reduce the home /workplace charging time.
The  VW ID hatchback went into production in Nov 2019 will underpin 1 Million+ vehicles annually, after 2020, will have a standard 7.2kW and optional 11kW on board charger. While top-end PHEVs are adding to this trend, low-end PHEVs are still utilizing 3.7 kW on board chargers.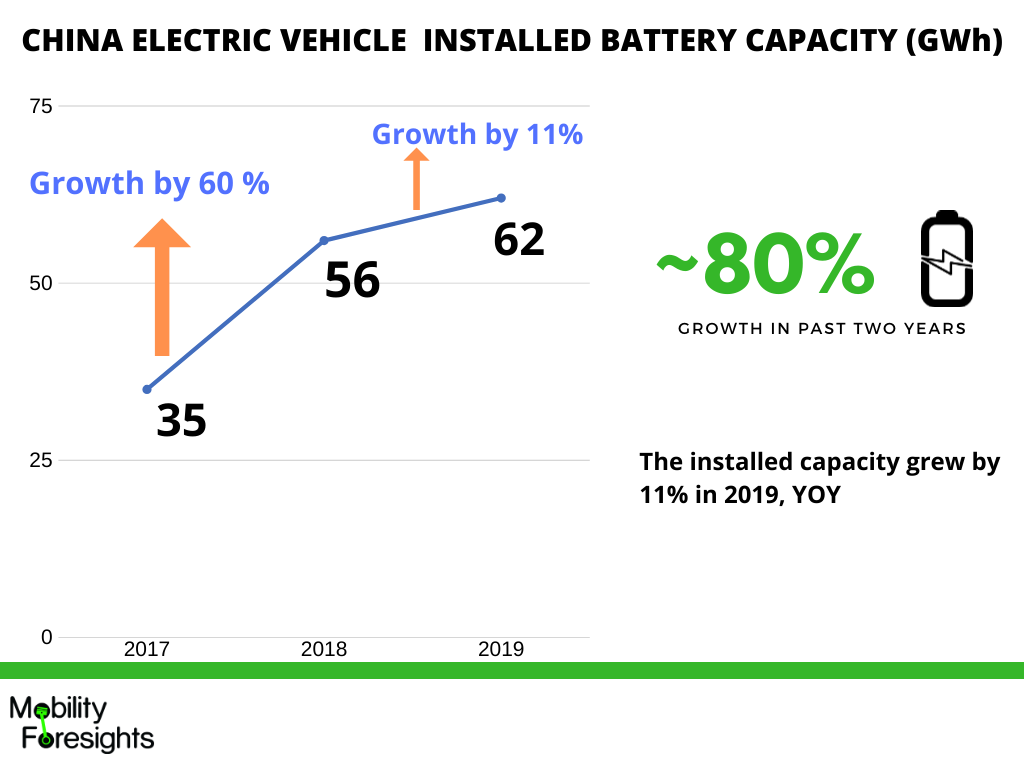 In commercial vehicle segment, we see stronger demand from LCVs(Light commercial vehicles). As, city planning authorities tighten the noose on urban CO2 emissions, the LCVs used for last mile distribution will be electrified first.They are also well suited for electrification because they are driven within city limits at <60kph and do high number of trips but low overall distance.
The market size(volume) of on-board chargers will  be proportional to EV market growth(2.2 Million units in 2019),but market value will have close co-relation with the battery capacity.
COMPETITIVE LANDSCAPE
More than 15 companies are active in the on board charger market. Meta Systems S.p.A, and LG Electronics are among the global market leaders. Leopold Kostal and Dilong Technology are the leading players in the European and Chinese on board charger market respectively.
World`s two biggest EV  manufacturers, Tesla and BYD produce on-board chargers in-house.
The average B-2-B price of an on-board charger is $xx per KW, which will come down by XX% by 2025.
The competitive landscape of EV on board charger market is extremely fragmented due to presence of many low volume domestic regional suppliers in China.
BorgWarner recently(May 2019) forayed in EV on-board charger market with its Silicon Carbide On-board charger, power rating of (7.4,11 and 22)kW. It is also offering an integrated package which combines on-board charger with DC-DC converter.To know more about Automotive DC-DC converter market, read our report
As of March 2020, there are just 4 suppliers excluding BorgWarner who are offering a combined package(DC-DC Converter and Inverter) i.e Delphi, Hyundai Mobis, Contitnental and Delta Electronics. But, in coming years we expect many more suppliers to offer an integrated power electronics package including on board charger to increase their dollar content per vehicle.
In terms of new product development, utilization of GaN HEMTs in onboard chargers is being worked on to increase efficiency to 98% from 94%.  Safety and thermal management are the top 2 areas of research undertaken by on-board charger manufacturers globally as power output of on-board chargers has been continuously increasing.
COMPANIES PROFILED
Leopold Kostal GmbH
THIS REPORT WILL ANSWER THE FOLLOWING QUESTIONS?
The market size (both volume and value) of global EV on-board charger Market in 2019-2025 and every year in between?
Market size and forecast segmented by Application segments  by application ,charging power and geography
Upcoming electric vehicle platforms and on-board charger capacity
Cost breakup and average margin of on-board charger,by sub-components
Global production breakup of on-board chargers,by suppliers and their OEM relationship
Latest trends in EV on board chargers,by every market segment
The impact of of EV fast charger network on on-board charger market
The associated risks to on board charger market with growing volume of 48V Mild-hybrid system in Europe
Average B-2-B on-board charger price in all segments
New development and trends in on board charger thermal management
Market share of  EV on board charger suppliers in BEV and PHEV segment respectively
Their future strategies to outdo competition
Potential new entrants in onboard charger market
Cost advantage for OEMs who manufacture on-board chargers  in-house
5 key predictions for next 5 years in EV on-board charger market
To enquire about the report write to us at sales@mobilityforesights.com
| | | |
| --- | --- | --- |
| 1 | Market Segmentation | 3 |
| 2 | Executive Summary | 5-6 |
| 3 | Introduction | 7-15 |
| 4 | Insights from Industry stakeholders | 16-17 |
| 5 | Breakdown of new EV concept vehicles by powertrain | 18-24 |
| 6 | Disruptive innovations in on-board charger market | 25-26 |
| 7 | Technical improvements in new gen on-board chargers | 27-28 |
| 8 | Cost breakdown of EV on-board charger by sub-components and average profit margin | 29-30 |
| 9 | Upcoming 50 EVs(BEVs+ PHEVs), estimated annual OBC volume by model | 31-35 |
| 10 | Market Size ,Dynamics and Forecast By EV Type | 36-50 |
| 11 | Market Size ,Dynamics and Forecast By Geography | 51-69 |
| 12 | Market Size ,Dynamics and Forecast By Charging power | 70-78 |
| 13 | Competitive Landscape | 79-80 |
| 14 | About new companies in on-board charger market | 81-82 |
| 15 | OEM-supplier relationship in on-board charger market | 83-86 |
| 16 | Market share of major vendors | 87 |
| 17 | Company Profiles | 88-99 |
| 18 | Unmet needs and Market Opportunity for suppliers | 100 |
| 19 | 5 Key predictions | 101 |
| 20 | Conclusion | 102 |
| 21 | Appendix | 103-104 |