Global Marine Solar Panel Market 2019-2025
December 5, 2019

Request Sample
COMING SOON
Multi User License - $2,500
GLOBAL MARINE SOLAR PANEL MARKET 
A solar panel is fundamentally a battery charger that transforms solar energy into electrical energy(DC charge).Most marine solar systems comprise  three major components i.e solar panels,charge controller and batteries. To know more about Marine batteries, read our Marine Lithium battery market report
Solar Panel Applications in Marine/ boating industry
1. Maintenance charging for boats on anchoring/moorings
2. Supplementing engine-based charging during cruising
3. Sole-energy source in absence of  on-board Diesel generator
MARKET DYNAMICS
Solar-power efficiency has undergone significant developments in recent years. Small boat owners often use solar panels as supplementary power generator which are also environment friendly with zero noise.There are three type of marine solar panels on sale today.
Mono-crystalline -Cells have the highest efficiency rates because they are cut from a single crystal of the high grade silicon, have the superior life expectancy (20+ years), and consume less space due to their high efficiency
Poly-crystalline- Cells, made from recycled silicon, comparatively less efficient and often less durable
Amorphous/Flexible – These solar panels are flexible panels , low cost, and least efficient.
Efficiency of solar panels  range from as low as 9-10%, for flexible panels, to about 16-18% for poly-crystalline panels, and 21-23% for mono-crystalline panels.
Crystalline panels degrade much slower than flexible/amorphous type and therefore produce energy for a longer period of time(20+ years), as compared to flexible/amorphous type which have shorter warranties (3-5 years).
MARKET SEGMENTATION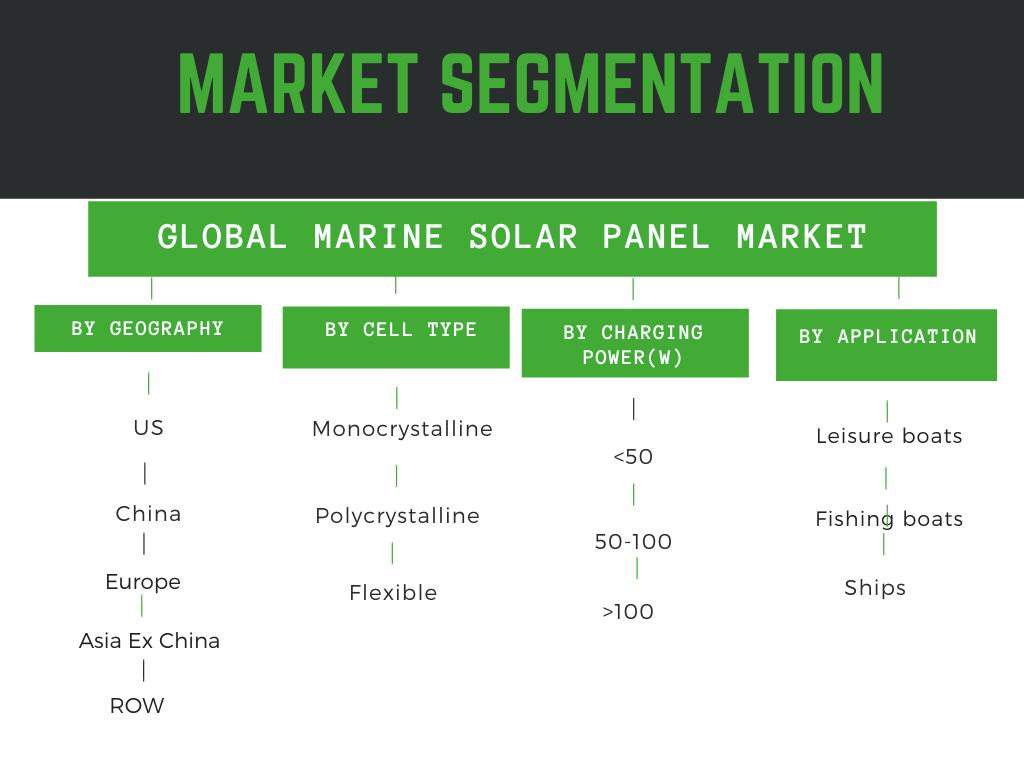 MARKET SIZE AND FORECAST
The aluminum-framed solar panels are the least expensive, as they are manufactured via a modular construction process. The crystalline panels are highly specialized items made in small quantities, so they're more expensive.
The marine solar panel market is estimated at XX units per annum, growing at ~X% CAGR till 2025.US accounts for almost ~30% of global marine solar panel sales per annum
COMPANY PROFILES
HQST
Newpowa
ECO-Worthy
WindyNation
Kingsolar
Instapark
ACOPOWER
THIS REPORT WILL ANSWER THE FOLLOWING QUESTIONS
  Market Size and Forecast of marine solar panel market, by region, by price and by power output(Volume and Value)
  Market Trends,risks, drivers and opportunities in  global marine solar panel market
  Market share of suppliers, and their painpoints
  Growth strategy of marine solar panel suppliers and opportunity in charter market
  Important distributors of marine solar panels in US , Europe and Asia
| | |
| --- | --- |
| Sl no | Topic |
| 1 | Market Segmentation |
| 2 | Scope of the report |
| 3 | Abbreviations |
| 4 | Research Methodology |
| 5 | Executive Summary |
| 6 | Introduction |
| 7 | Insights from Industry stakeholders |
| 8 | Cost breakdown of Product by sub-components and average profit margin |
| 9 | Disruptive innovation in the Industry |
| 10 | Technology trends in the Industry |
| 11 | Consumer trends in the industry |
| 12 | Recent Production Milestones |
| 13 | Component Manufacturing in US, EU and China |
| 14 | COVID-19 impact on overall market |
| 15 | COVID-19 impact on Production of components |
| 16 | COVID-19 impact on Point of sale |
| 17 | Market Segmentation, Dynamics and Forecast by Geography, 2020-2025 |
| 18 | Market Segmentation, Dynamics and Forecast by Product Type, 2020-2025 |
| 19 | Market Segmentation, Dynamics and Forecast by Application, 2020-2025 |
| 20 | Market Segmentation, Dynamics and Forecast by End use, 2020-2025 |
| 21 | Product installation rate by OEM, 2020 |
| 22 | Incline/Decline in Average B-2-B selling price in past 5 years |
| 23 | Competition from substitute products |
| 24 | Gross margin and average profitability of suppliers |
| 25 | New product development in past 12 months |
| 26 | M&A in past 12 months |
| 27 | Growth strategy of leading players |
| 28 | Market share of vendors, 2020 |
| 29 | Company Profiles |
| 30 | Unmet needs and opportunity for new suppliers |
| 31 | Conclusion |
| 32 | Appendix |