Global Motorcycle Brakes Market 2019-2025
November 27, 2019

Request Sample
COMING SOON
Multi User License - $2,500
GLOBAL MOTORCYCLE BRAKES MARKET
MARKET DYNAMICS
Motorcycle brake suppliers are looking at ABS legislation to increase their dollar content per vehicle.The ABS legislation for two- wheelers in India which came into effect in April 2019 will be the biggest growth driver for motorcycle brakes market in Asia as well as globally. To know more about Motorcycle ABS market in India, read our report.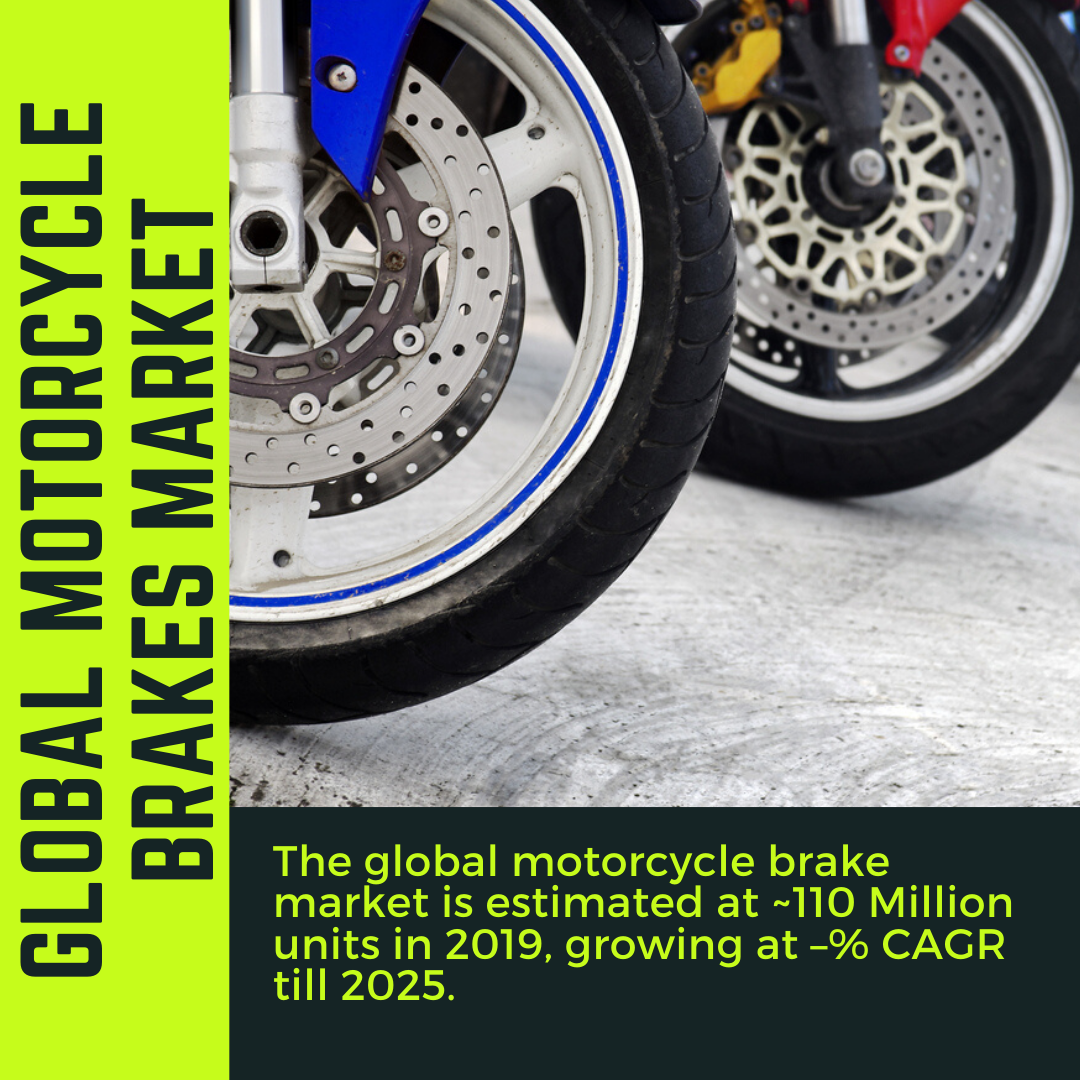 MOTORCYCLE BRAKES MARKET SEGMENTATION

MARKET SIZE AND FORECAST
Since motorcyles/scooters in Asia are predominantly used for commuting to work and other intracity usage, the share of 50-125cc bikes in total sales is more than 85%. These vehicles either have dual drum brake setup or just a front disc with rear drum.
 The Indian market is dominated by utilitarian 100cc motorcycles and scooters. The motorcycles are popular in tier-3 cities and rural areas, whereas gear-less scooters enjoy strong following in urban areas.The automatic/gearless scooters,powered by a small 100-125cc engines, predominantly have front-rear drum brake setup.
The motorcycle brake market growth is closely related to new motorcycle sales, which has been growin at mid-single digits for past 5 years. 

The global motorcycle brake market is estimated at ~110 Million units in 2019, growing at –% CAGR till 2025.
INDIA MOTORCYCLE BRAKES MARKET
India is the world`s biggest two-wheeler market accounting for 37% global share in 2018 or 21 Million units. But in H1-2019 the Indian market has de-grown by 23%. The overall Indian economy has slowed down to various structural reforms in the economy and legislative reforms( ABS legislation, BS III to BS VI in two years etc). 
There are 813 auto component suppliers in India and ~70% of them are Micro-small and Medium Enterprises (Revenue< $35Million). They have been adversely affected due to the prolonged slowdown
India motorcycle brakes market got a significant boost in July 2019, when the ABS legislation came into effect for >150cc motorcycles and scooters. It has allowed motorcycle brake manufacturers to increase their dollar content per vehicle.This is very significant because disc brake penetration in India  is significantly lower than other Asian markets. In the fast growing(2013-2018) scooter segment , the disc brake penetration is even lower. 
COMPANY PROFILES
Nissin Kogyo
Brembo
Mando
Akebono-Brakes
EBC Brakes
DP Brakes
Federal-Mogul
Beringer SAS
TRW
NCY Motorsports
THIS REPORT WILL ANSWER THE FOLLOWING QUESTIONS
The growth in 150cc+ motorcycle segment in India and overall brake manufacturing capacity post BS VI in 2020 and ABS legislation in 2019
A detailed assessment of Chinese and Indian motorcycle brake market and the impact of ban on ICE motorcycles in major cities ?
What will be the impact of growth in electric motorcycle sales on motorcycle brake market?
Which countries account for majority of motorcycle brake manufacturing?
How will on-demand micro-mobility,metro expansion and ride hailing impact motorcycle sales in Asia?
Trends in brake-pad manufacturing and the shift from drum brakes to disc brakes
TO REQUEST CUSTOMIZATION, PLEASE FILL THE  CONTACT US FORM
| | |
| --- | --- |
| Sl no | Topic |
| 1 | Market Segmentation |
| 2 | Scope of the report |
| 3 | Abbreviations |
| 4 | Research Methodology |
| 5 | Executive Summary |
| 6 | Introduction |
| 7 | Insights from Industry stakeholders |
| 8 | Cost breakdown of Product by sub-components and average profit margin |
| 9 | Disruptive innovation in the Industry |
| 10 | Technology trends in the Industry |
| 11 | Consumer trends in the industry |
| 12 | Recent Production Milestones |
| 13 | Component Manufacturing in US, EU and China |
| 14 | COVID-19 impact on overall market |
| 15 | COVID-19 impact on Production of components |
| 16 | COVID-19 impact on Point of sale |
| 17 | Market Segmentation, Dynamics and Forecast by Geography, 2020-2025 |
| 18 | Market Segmentation, Dynamics and Forecast by Product Type, 2020-2025 |
| 19 | Market Segmentation, Dynamics and Forecast by Application, 2020-2025 |
| 20 | Market Segmentation, Dynamics and Forecast by End use, 2020-2025 |
| 21 | Product installation rate by OEM, 2020 |
| 22 | Incline/Decline in Average B-2-B selling price in past 5 years |
| 23 | Competition from substitute products |
| 24 | Gross margin and average profitability of suppliers |
| 25 | New product development in past 12 months |
| 26 | M&A in past 12 months |
| 27 | Growth strategy of leading players |
| 28 | Market share of vendors, 2020 |
| 29 | Company Profiles |
| 30 | Unmet needs and opportunity for new suppliers |
| 31 | Conclusion |
| 32 | Appendix |