INTRODUCTION
There is a lot of buzz about Mobility as a service claiming to be the most popular business model for the automotive industry. It is also one of the major reasons why autonomous vehicles are being looked up with all that seriousness. Autonomous vehicles offer many advantages in terms of improved safety, efficiency and congestion. The use of technology to implement a shared autonomous taxi system adds further advantages in terms of comfort and, above all, to significantly reduce congestion during peak times. Because the stand-alone shared taxi system offers door-to-door service, its level of comfort is comparable to that of conventional cars.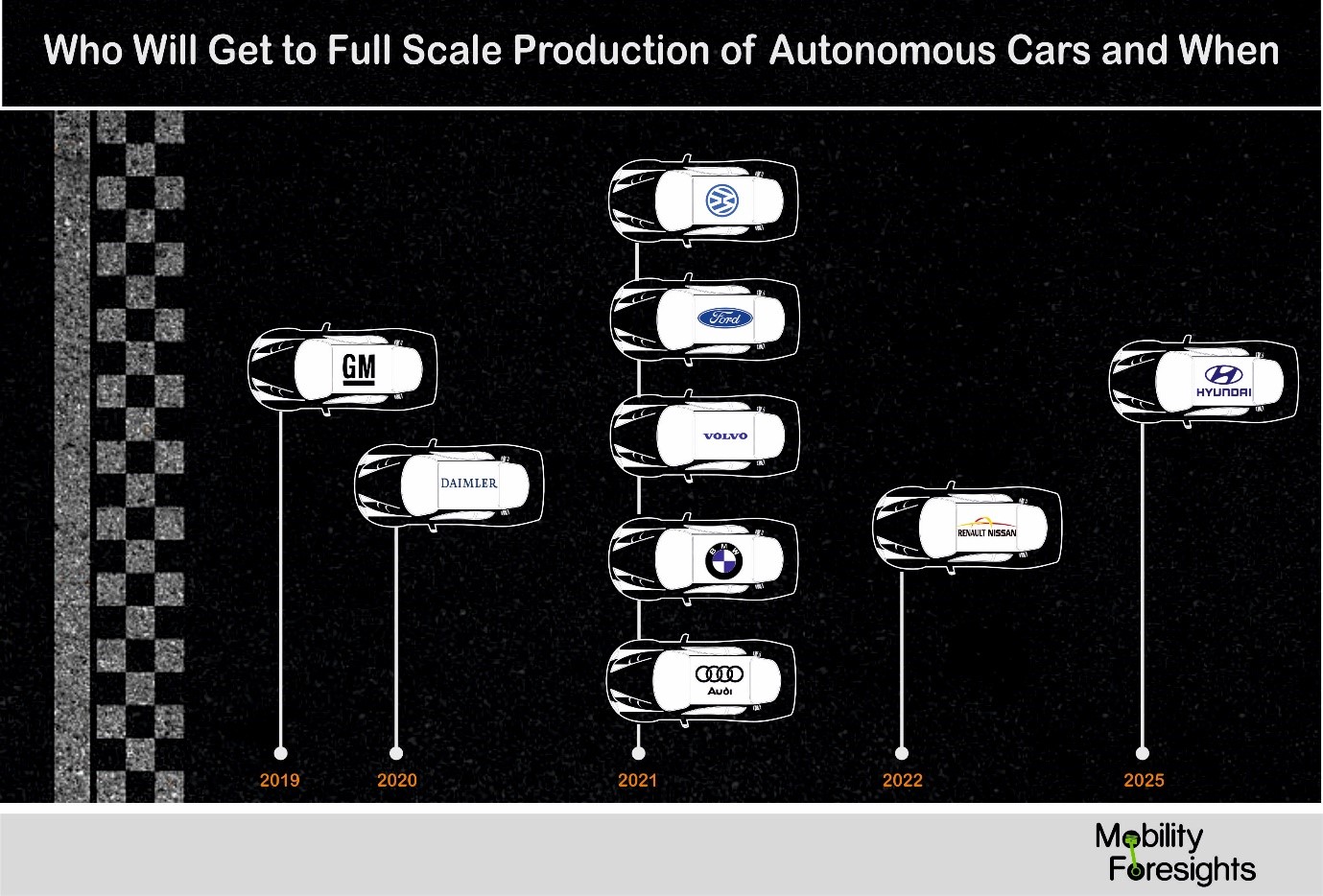 MARKET DYNAMICS
Considering mobility as a service instead of a single transaction, car players could open new avenues for increasing their top line and bottom line. The robot-taxis could recreate profit groups and ownership of "checkpoints", which are profitable locations controlled by specific players with offers that are difficult to replicate and of high value. For autonomous taxis, checkpoints can include critical autonomous vehicle technologies or customer-specific contact points. These changes will have knock-on effects in other sectors such as insurance companies, aerospace, railways, and infrastructure.
AUTONOMOUS VEHICLE MARKET SIZE AND FORECAST
Upcoming important developments  which will ultimately determine autonomous car market size
General Motors plans to mass-produce self-driving cars without steering wheels and pedals by 2019. The vehicles will be used in on-demand taxi application by Cruise automation.

Ford will build a production version autonomous car by 2021

Waymo is preparing to launch its first commercial ride-hailing service in Phoenix, Arizona featuring fully driverless minivans(Chrysler Pacifica) later in 2018
Advanced Driver Assistance Systems (ADAS) has been one of the fastest-growing sectors in automotive industry Presently, developed nations in Europe and America have had almost 18% of new vehicles outfitted with ADAS, in contrast to about <6% in emerging markets. It is anticipated that more than 25% of new vehicles will have ADAS by 2019 which will simultaneously increase the market for the autonomous car hardware components.  The global advanced driver assistance system (ADAS) market is expected to reach $67 billion by 2025.
The move towards self-driving cars is relentless and China as the world's largest auto  market  wants to be at the cutting edge of this revolution. China has been increasingly involved in the research and development of autonomous driving technologies, with the vision that it will benefit the society and make it energy independent. In China alone, it is estimated that by 2035 there will be around ~8 million autonomous vehicles on the road, with about ~3 million likely to be fully autonomous, while 5.2 million are semi-autonomous.
For Self-driving car hardware market volume, the year 2018 is expected to be close to XX thousand units increasing to XX thousand units in 2019. 2019 will see a strong volume growth to XX thousand units mostly as a result of many new EV models being launched by multiple manufacturers. Overall the growth of this market in the next 5 years will remain encouraging at XX% marked by multiple highs in between. Most of the growth will only come towards XX.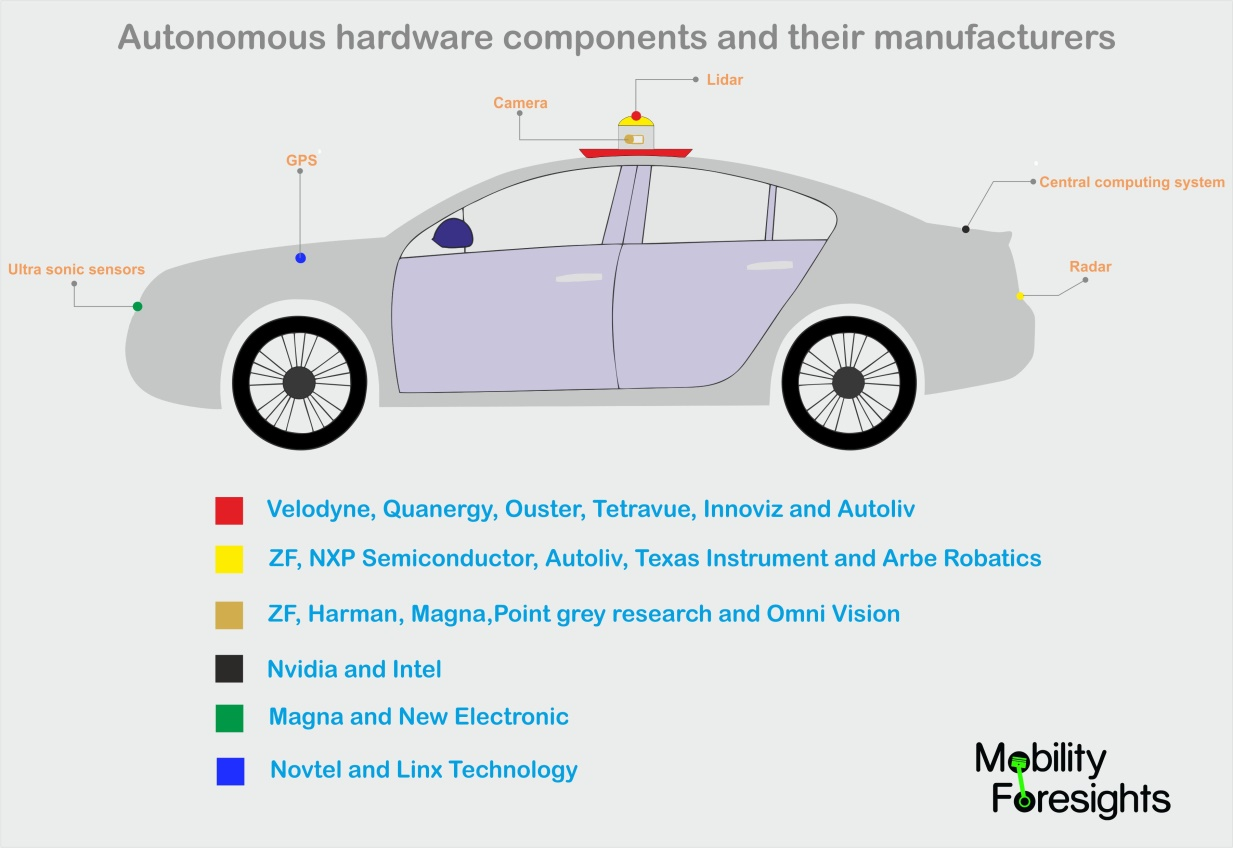 COMPETITIVE LANDSCAPE
 As more cars are equipped with advanced driver assistance systems (ADAS) and self-driving technology, suppliers of these components are ready for a win. In 2025, automakers are expected to produce ~XX million vehicles equipped with collision-avoidance systems. The tier 1 hardware suppliers are promoting their ability to integrate the necessary array of sensors, computer chips, hardware, and software. The surge in demand for highly automated vehicles, increasing safety concerns, and stringent government regulations are the primary factors responsible for the growth of this market.
THIS REPORT WILL ANSWER FOLLOWING QUESTIONS
Will electric and autonomous cars really happen?

Will 2030 be the death of internal combustion engine powered cars?

Is Mobility as a service the future?

The market size (both volume and value) of Self-driving car hardware market in 2018-2023 and every year in between?

The market size and forecast segmented by Autonomous level

The market size and forecast segmented by geography

Market share of suppliers in all components(LIDAR, Camera, Sensor, Central Computer and GPS)

Cost breakup of every component(LIDAR, Camera, Sensor, Central Computer and GPS)

Latest trends in Self-driving car hardware components

Supplier-OEM relationship in the Autonomous vehicle industry
To enquire about the report write to us at sales@mobilityforesights.com