Global Self-Driving Car Maps Market 2018-2025
August 24, 2018

Request Sample
Number of Pages-80
Multi User License - $2,500
UPDATED REPORT(2019-2025)- Click here
INTRODUCTION
A High Definition (HD) map serves as a navigation guide for an autonomous/self-driving car.The GPS-based maps, used at present are not accurate enough for self-driving cars as they require centimetre level accuracy. The maps for the self-driving cars must be very detailed (HD), containing all the critical characteristics of the road, including the slope, curvature, lane markings and pavements. Moreover, it is necessary to build the mapping system for autonomous cars that will become part of the autonomous car software, to ensure almost real-time incorporation of contextual awareness of the situation of traffic around the vehicle.
MARKET SEGMENTATION

MARKET DYNAMICS
A self-driving car collects more than 1 TB data per day. The high volume of data storage and processing are not the only technical problems that many of the brightest engineering minds are facing. Many companies are yet to discover how to actually store data on-board, which is why many autonomous test vehicles are geo-fenced.
A continuous exchange of data between vehicles and the cloud can overload data networks and data storage, creating additional challenges for software vendors. As of now,Map providers are making efforts to reduce the amount of data exchanged between a vehicle and the cloud by augmenting the amount of information handled inside the vehicle. A proposed solution is a so-called "self-repair map" that would use on-board artificial intelligence algorithms and in-depth learning to navigate without going too far into the cloud. The built-in artificial vision algorithms may recognize milestones and road signs captured by cameras.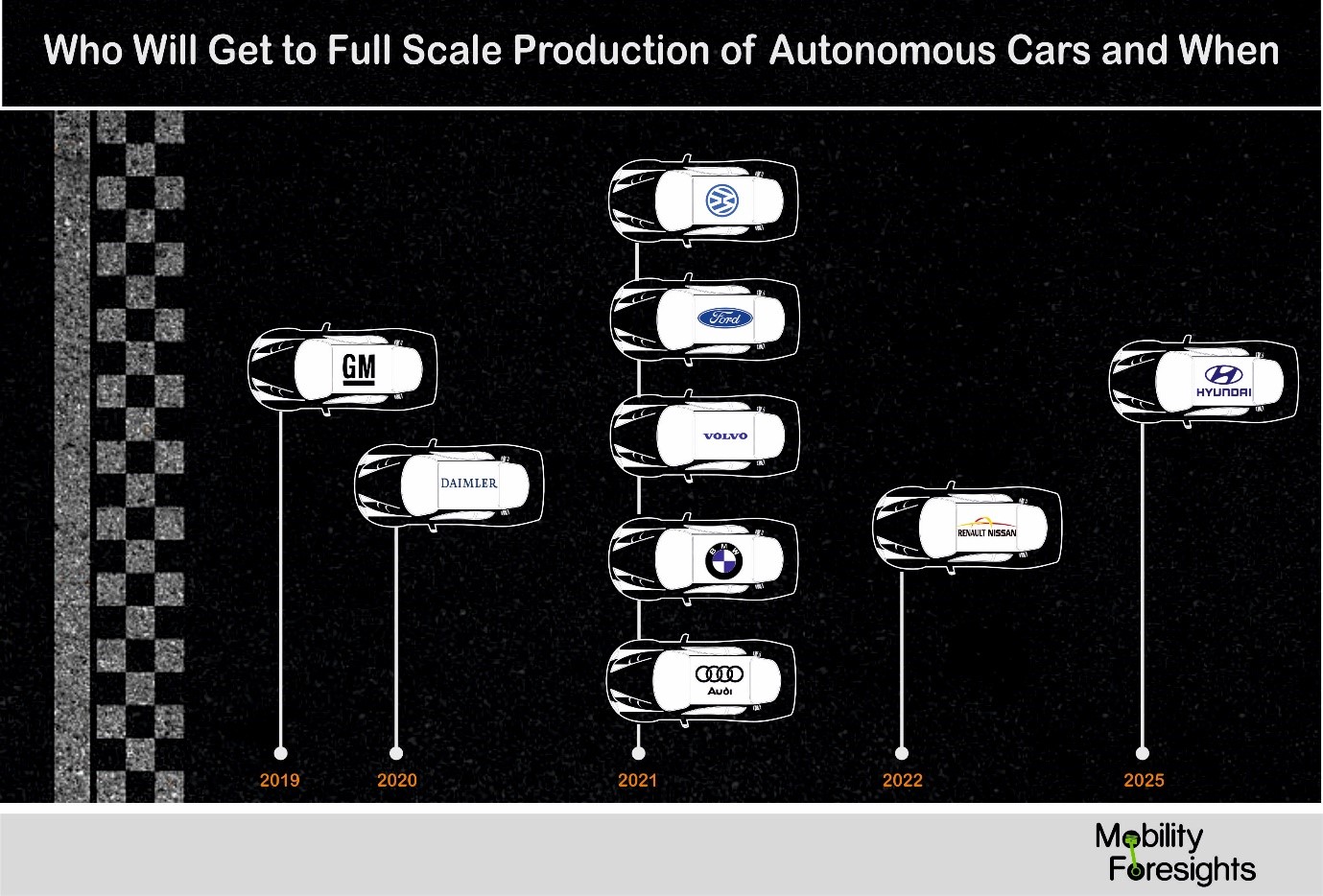 A major challenge for self-driving car map market is to keep them updated continuously so that they provide the latest information to the cars. Unlike conventional digital maps, self-driving car maps require almost constant updates. The slightest variation on the road, a construction zone that opens during the night or a bit of debris could stop a self-driving car. For full autonomous cars to be deployed, it needs to have a high-definition map of the area, like a map annotated with the permanently fixed objects in that area.
NO COMMON STANDARD
There is no common standard for these HD maps. Everyone is trying to develop its own internal HD mapping in other words, everyone is reinventing the wheel and wasting a lot of resources. This could probably be one of the reasons that could stop cars from becoming a commodity in the era of self-driving cars. Because companies do not share cartographic data and use different standards, they need to create new maps for each city they want to be in. As of now, every autonomous car map looks different because it depends on the sensor system of the vehicle that creates it.
CHINA`S PROTECTIONIST POLICY
China has closed its doors for foreign companies to create HD maps for the growing autonomous vehicles market. Till Aug `18, only 14 domestic companies have been granted a license to map the Chinese roads.The local administration is particularly concerned about data security and this was probably,the most important reasons to shut foreign companies out of this race.
MARKET SIZE AND FORECAST
Most of the companies at present are developing maps by driving cars fitted with LiDAR rotating units mounted on the top of their cars that shoot lasers, taking pictures of the street and surroundings. Engineers, in a time-consuming process, review images and label objects that are found, such as stop signs, buildings, traffic lights, and non-entry signs. The LiDAR needed to perform this scan is expensive; it can cost a lot to equip with only one car to do this job.
Most of the mapping company's use LiDAR technology to create their maps for self-driving cars. but the cost of the LiDAR system is >$10,000 per unit at present Therefore, we believe there is a strong possibility of a subscription model in self-driving car maps market, to reign in the high initial mapping cost. Depending on the market volume of autonomous cars, the market value for autonomous car maps could reach multi-billion dollars by 2025. Most of the companies have entered into agreements to pool their resources to map the world.
NEW TECHNOLOGIES
Radar based mapping– Bosch is using its own Road Radar Signature Technology to map the roads. The "signature" refers to the individual reflection points of the radar, which can be compiled to create a map.A new startups called Wavesense is using ground-penetrating radars (GPR).These 126Ghz radars can penetrate rain, fog, dust, and snow.
AI based mapping– Mitsubishi is using an AI based automated mapping technology to quickly and accurately create 3D road maps. The solution takes information from point cloud fed by the LiDAR scanner as well as camera data collected by Mobile Mapping System. Similarly,Apple's technology uses an AI based model for predicting routes using sensors and processors in the vehicle.
STRICT LAWS RELATED TO DATA COLLECTION
Although digital maps are widely available today, many countries regulate their geospatial data and even prohibit the export. This problem is inherent to normal navigation maps. When it comes to HD maps, this will be a big challenge, as government regulations are still not clear. There will be all kinds of sensitivities, since LiDAR have high resolution cameras are constantly able to scan the streets and see in areas such as private roads, etc. Therefore, being able to protect people's privacy and also follow governmental regulations from a security point of view will be a tough challenge. Ensuring that data is sufficiently encrypted so that no accidental loss occurs, is another challenge.
COMPETITIVE LANDSCAPE
The first generation digital map war was won by google, which collected data by its street mapping cars and was perfectly complemented by its software expertise. The second generation map race is on among more than 25 companies to create most detailed, multi-layered road and highway maps, and there's still a lot of work to be done.
In May 2018, OneMap Alliance was formed by  HERE, Pioneer, NavInfo  and SK Telecom .The alliance, aims to create a global, standardized and scalable HD maps for auto OEMs. It is open to additional members,  and we expect the number of members to go up.

The mapping companies are yet to figure out an apt business model for this technology. As of now, there is no clear winner who has 3D maps of entire world or even an entire country. Established companies like HERE and TomTom have been present in this market for quite some time now. Apple has already filed a patent titled Autonomous Navigation System in Dec`17.There are also many well-funded start-ups active in this market like Mapillary, Carmera, Deepmap and Civil maps. Going forward, as autonomous cars move closer to production, we believe the list will grow.
COMPANIES PROFILED
TomTom
Here
Apple
Sanborn
Baidu
Mobileye
Waymo
NavInfo
Navmii
AutoNavi(Alibaba)
TELENAV
Nvidia
Micello
Civil maps
Deepmap
Lvl5
Carmera
Mapbox
Mapper
Mapillary
Comtech
Point one navigation
| | |
| --- | --- |
| 1 | Market Segmentation |
| 2 | Executive Summary |
| 3 | Introduction |
| 4 | Autonomous vehicle trial fleet deployed at present, by region |
| 5 | Evolution of Lidar, present status, cost and manufacturing |
| 6 | Top 10 autonomous vehicles in development |
| 7 | Role of machine learning in map updation |
| 8 | Challenges faced in data collection |
| 9 | Average cost of mapping per km in US, Europe and China |
| 10 | Developments in Chinese market and its impact on global self-driving car maps market |
| 11 | Market Size, Dynamics, and Forecast by Level of Autonomy |
| 12 | Market Size, Dynamics, and Forecast by Geography |
| 13 | Market Size, Dynamics, and Forecast by Mapping Technology |
| 14 | Competitive Landscape |
| 15 | Company Profiles |
| 16 | All about start-ups active in the HD maps market |
| 17 | Investment opportunity in self-driving car map startups |
| 18 | Unmet needs and Market Opportunity for suppliers |
| 19 | Conclusion |
| 20 | Appendix |