Global LED Headlight Market Size,Trends, Forecast & Risk 2019-2025
October 14, 2020

Request Sample
COMING SOON
Multi User License - $2,500
LED HEADLIGHT MARKET- KEY FINDINGS
LED headlamps, despite lower penetration than LED tail-lamps, generate almost 60% revenue for auto LED lighting suppliers
The delta between halogen and LED headlights is 3-3.5x in passenger cars and 2-2.5x between two-wheelers. CVs have less than 3% penetration of LED headlights, globally. 
In passenger cars, use of LEDs in the styling elements of headlamps such as position lamps and signature lamps is on the increasing trend This trend looks to continue in the near future
In the motorcycle (two-wheeler) segment, LED headlamp penetration in India(world`s biggest motorcycle market) was 19% as of Oct 2019
What HID(Xenon headlights) were to 1990s, LED headlights are the same to present. LED headlights are now an important distinguishing feature for car manufactures and buyers, serving dual purpose of improving aesthetics as well as frontal visibility.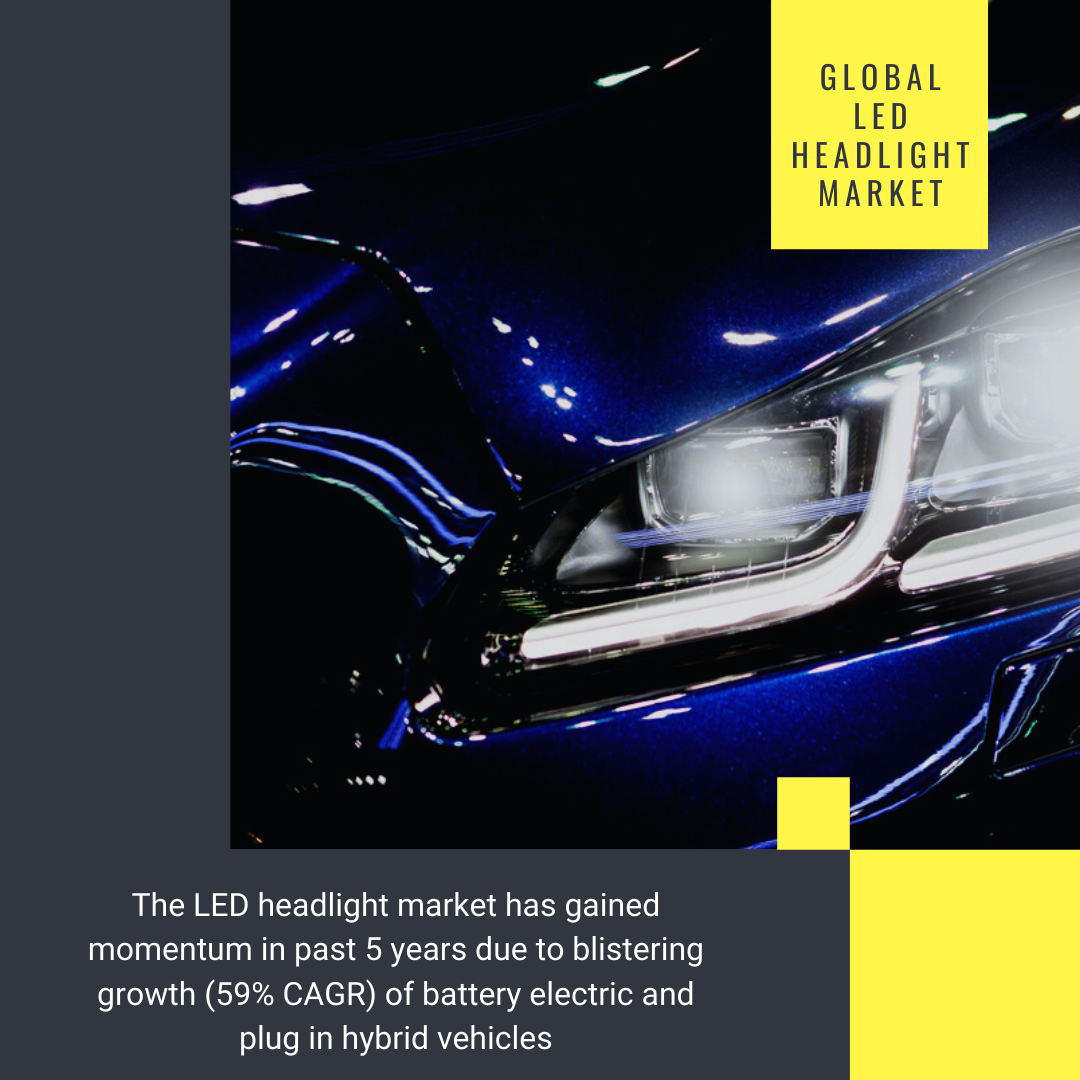 Vehicle headlights remained more or less the same during 1920s-1980s.But they have come a long way in past 2 decades or so. The technology evolved from halogens to HIDs (High Intensity Discharge/Xenon) in 1990s to LEDs-2013 onwards and now OLEDs and Laser lights are being worked upon- may even become commercialized post 2020.
MARKET SEGMENTATION
MARKET DYNAMICS
As per our estimates, SUVs accounted for 36% of new car sales in 2018, up from 20% in 2013. As we know, SUVs are better equipped, high margin vehicles for many OEMs, they are better suited to absorb high cost of LED headlights and we can expect further growth in LED headlight fitment.
On the flip side, halogen is still the dominant lighting technology for passenger cars and commercial vehicles, due to its low cost and matured supply chain globally. It is also the biggest challenge to the growth of LED headlight market.
A notable trend seen in the recent past is that in the mass market segment, which is now replacing halogen with LED is adopting single beam headlights and the higher segment cars are upgrading to multi-beam LED headlights from single/bi-beam. And, the future for premium car makers is definitely LED headlights synced with front camera to create "Intelligent adaptive headlights".
TOP 10 BEST-SELLING VEHICLES AND LED HEADLIGHTS REMARKS
| | | | | |
| --- | --- | --- | --- | --- |
| Sl no | Brand | Model | 2018-Annual global sales(M Units) | LED Headlights penetration in 2018 |
| 1 | Ford | F-Series | 1.01 | 57% |
| 2 | Toyota | Corolla | 0.94 | 94% |
| 3 | Honda | Civic | 0.80 | 18% |
| 4 | Toyota | RAV 4 | 0.81 | 97% |
| 5 | Nissan | X- Trail | 0.78 | 14% |
| 6 | Honda | CRV | 0.74 | 21% |
| 7 | Volkswagen | Golf | 0.73 | 44% |
| 8 | Volkswagen | Passat | 0.66 | 95% |
| 9 | Chevrolet | Silverado | 0.65 | 53% |
| 10 | RAM | 1500 Series | 0.65 | 57% |
                                                                               Source- Dealer Interviews, Internal database and various auto publications

LED HEADLIGHT MARKET SIZE AND FORECAST
The LED headlight market has gained momentum in past 5 years due to blistering growth (59% CAGR) of battery electric and plug in hybrid vehicles(sold 2 million units in 2018), where they are helpful in reducing overall energy consumption.
In China, world`s biggest passenger vehicle market, LED headlight penetration has grown at double digits in past 3 years and is effectively replacing HIDs in mid and premium segment.
To know more about China headlight market, read our report-  Projector Headlamp market in China -This report is complimentary with the Global LED Headlight market report.
In Europe, premium cars(priced >$40,000) account for 20-21% of new car sales annually, LEDs are fast gaining ground across all major  premium brands.
In US, LED headlights are offered on best-selling vehicles like Ford F-150,Honda Accord and Jeep Wrangler on higher variants since MY 2014-2015. 
In high value US Class 8 truck market, Trucklite has been one of the pioneers of LED headlights. It launched world`s first LED headlights for commercial application in 2008.Freightliner started offering LED headlights by Trucklite since 2013 on its best-seller Cascadia.
IIHS has said in 2018 that the number of vehicles with good headlights (frontal illumination >300 feet at night) has jumped from 2 in 2016 to 32 in 2018. We believe, this can be attributed to LED headlights, especially because LED projector setup allows drivers to see twice as far as halogen-reflector setup.
In the motorcycle LED headlight market, highest volume growth will come from India and ASEAN region where many commuter segment motorcycles sold by Honda and Yamaha now have LED headlights are standard. To know more about India automotive LED lighting market, read our report.
LED HEADLIGHT MARKET SHARE
The global passenger car LED headlight market is extremely consolidated and largely controlled by European and Japanese suppliers.
Many Chinese players,  well established in the domestic passenger car aftermarket LED lighting segment are looking to get the certification required for OEM and thus we can expect some shakeup in the competitive landscape in medium term.
Hella and ZKW are the leading European supplier for LED headlights to almost all premium European manufacturers.
In two-wheeler segment Lumax and Fiem Industries, both based in India are the leading players in motorcycle LED headlight market.
COMPANY PROFILES
Varroc Group
Lumax Industries
LED HEADLIGHT MARKET REPORT WILL ANSWER THE FOLLOWING QUESTIONS
Segmentation of passenger vehicles by segment and their respective lighting technology
Penetration of LED Headlights in new car sales in top 20 passenger car markets, two wheelers and commercial vehicles
Value chain of LED headlight manufacturing
Present and upcoming passenger vehicle platforms with LED headlights
Growth of Adaptive LED headlights and related market dynamics
What could be the scope of LED headlights in commercial vehicles? Which segment is most important?
Role of Taiwan in automotive LED chip manufacturing
Threat to the LED headlight after-market from counterfeit LEDs manufactured in East Asia
Future of HID and halogen headlight market in all segments
Market share of LED headlight manufacturers and their OEM alignment
Impact of BS Vi emission norm on motorcycle LED headlight market in India
Which headlight technology ( projector /reflector) will grow at a faster rate?
Growth in LED DRLs(Day time running lamps) in all major countries 
Details on motorcycle LED headlight market in ASEAN countries
Consumer feedback- the aspect of LEDs on overall aesthetics of a vehicle
| | | |
| --- | --- | --- |
| 1 | Market Segmentation | 3 |
| 2 | Executive Summary | 5-6 |
| 3 | Introduction | 7-15 |
| 4 | Global LED lighting technology trends | 16-17 |
| 5 | About EV market and LED lighting used | 18-19 |
| 6 | Cost breakdown of LED headlight by weight and components | 20 |
| 7 | Global LED headlight sourcing trends | 21 |
| 8 | Upcoming vehicle platforms and their LED headlights | 22 |
| 9 | Market Size, Dynamics and Forecast, By Headlights | 23-30 |
| 10 | Market Size, Dynamics and Forecast, By Vehicle segment | 31-40 |
| 11 | Market Size, Dynamics and Forecast, By Vehicle type | 41-48 |
| 12 | LED headlight manufacturing in US, Europe and Asia | 49-55 |
| 13 | Growth in adaptive/Intelligent LED lighting | 56-68 |
| 14 | Competitive Landscape | 69-70 |
| 15 | Company Profiles | 71-85 |
| 16 | Details on LED lighting chip suppliers | 86-87 |
| 17 | Unmet needs and Market Opportunity for suppliers | 88 |
| 18 | Conclusion | 89 |
| 19 | 5 Key Predictions for next 5 years | 90-91 |
| 20 | Appendix | 92-100 |