Global Marine Outboard Engine Market 2019-2025
August 2, 2020

Request Sample
COMING SOON
Multi User License - $2,500
GLOBAL MARINE OUTBOARD ENGINE MARKET 
KEY FINDINGS
The average horsepower of outboard motors in 2019 was 120, compared to ~42 for Europe
Light weighting is catching up thick and fast in the marine outboard engine market. The 200hp engines now weight anywhere between 200kg-250kg- 12-15% reduction over previous gen engines.
In US, the current trend is towards high powered 4-cylinder engines. Honda and Yamaha have shunned old V6 engines in favour of lighter 4-cylinder units. Also, new range of engines developed by all companies have aluminium block and increased alternator capacity
There is a growing interest in alternative powered outboard motors. Electric outboards are gaining popularity and initiatives like Swedish govt offering 25% subsidy on electric outboards will further grow this segment
Evinrude was offering world`s longest 7-year warranty on its outboard engines until it ceased production in May 2020
Outboard engines owing to their superior power to weight ratio are the best power option for many boaters. They are the only engine family designed from scratch for marine use. Inboard or stern drive engines are fundamentally a tweaked version of car/ truck engines. They may not be appropriate for every application but offer tremendous value for money for most applications.
Outboard engines are not only space efficient( occupies unused space outside the sitting area of the boat) but also require less maintenance than gasoline/Diesel inboard engines.
MARKET SEGMENTATION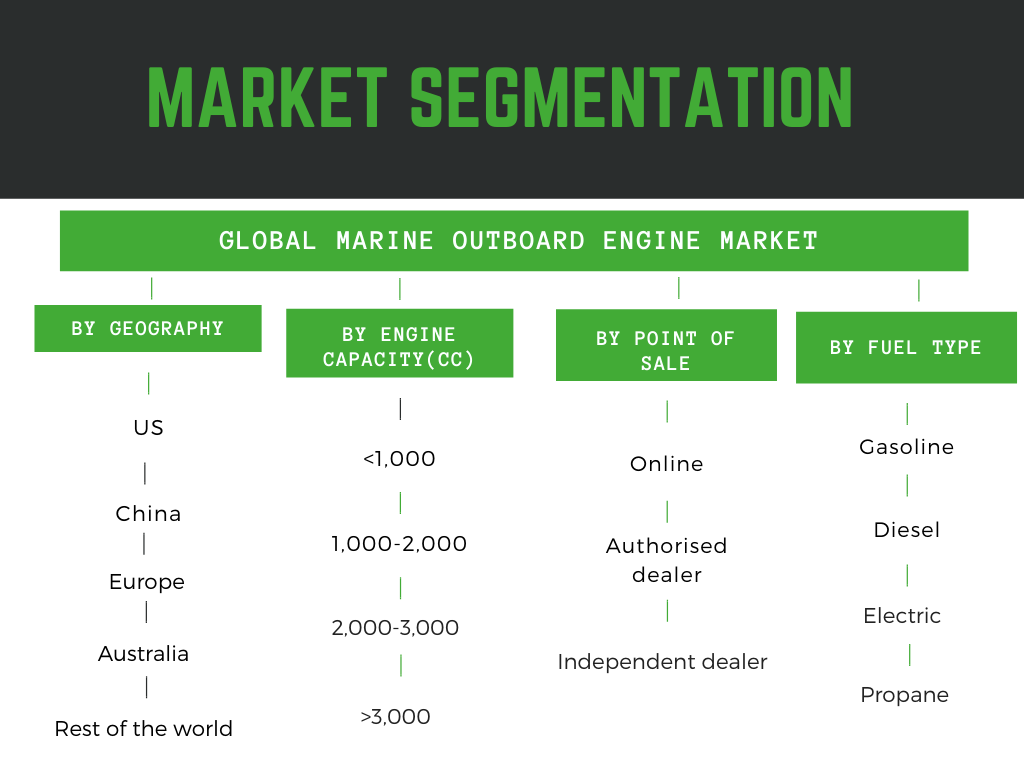 COVID IMPACT ON MARINE OUTBOARD ENGINE MARKET
In Q1-2021, Suzuki reported a decline in revenue from outboard motors by ~8% YOY to $200M, majority of decline stemmed from weaker European markets.
OXE Marine, Sweden based Diesel outboard engine manufacturer that its sales were impacted as orders were deferred due to COVID-19. It also said that it had built sufficient OXE200 series units during Q1 to meet its sales targets in Q2 and Q3 2020.It undertook cost saving activities to navigate the COVID-19 crisis, including a reduction in non-essential R&D, temporary salary reduction of senior executives and a short-term recruitment freeze.
In May 2020, Yanmar which has already invested in Getmyboat a leading on-demand boat rental market player strengthened its service by signing up more boat owners and operators to meet the new demand from local renters. It is anticipated that the demand for With the massive decline in travel and vacations in the coming months, staycations are expected to go up.
MARKET DYNAMICS
Outboard engine manufactures ,Yamaha and Mercury are locked in a battle to produce most powerful outboard engine.Within months of Yamaha claiming the title of the world's most powerful mass-market  outboard engine(425hp) Mercury stole it back in Sep 2019 with its supercharged 450hp version of its 4.6-litre V8 engine.
The  growing importance of >300hp segment can be sensed by the fact that Mercury Marine launched 400hp verado outboard in Feb 2019, after getting numerous requests for the same.  
The marine outboard engine market has witnessed launch of Diesel outboard motors in past 3 years, ex Yanmar, OXE and now Cox marine being the most recent entrant(June 2019) with its $39,000 motor. Cox plans to manufacture 2,000 units of its new CXO300 outboard diesel engine in 2020 once it has the required approvals from the US's EPA.
Diesel outboards are likely to appeal to a limited set of recreational buyers and most of them will be used in commercial application, as they have 3x service life , 50% higher fuel economy and longer maintenance interval as compared to gasoline motors.
At present, Lehr(manufacturing in China), West marine and Mercury are among the few manufacturers who are promoting propane powered outboards.
MARKET SIZE AND FORECAST
The marine outboard engine market is estimated at 800k units per annum, growing at ~4% CAGR till 2025.US and Europe collectively account for almost ~75% of global outboard engine sales per annum.
Asia accounts for a very small share of the overall marine outboard engine market. A large chunk of fishing boats still have low power Diesel engines with higher emissions due to cost issues and thus there is tremendous scope for this market to grow in the region.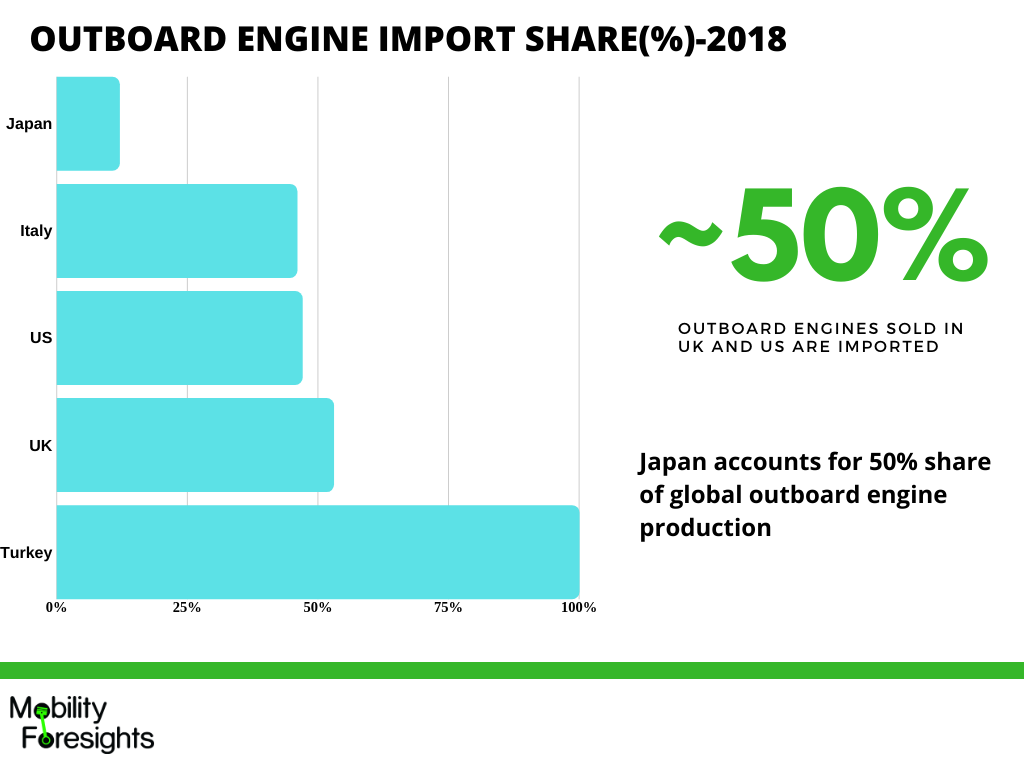 ELECTRIFICATION OF MARINE OUTBOARD ENGINE MARKET
As electrification gathers steam in global automotive market it was just a matter of time before it hit marine outboard engine market.
Marine electric drive systems are a lot different from their gasoline/Diesel counterparts. They include batteries, charging technology, user interface, inverters and converters to supply hotel loads if required.
Torqeedo commercialized its electric outboard engines in 2005 and by April 2020, it had sold 100,000 units. The 100,000th unit- a 100kW system will power a 34M (111ft) Superyacht. The development of high-powered Deep Blue systems in 2013 proved to be a game changer and enabled marine electric mobility to larger yachts, workboats and even passenger ferries.
Feb 2020, Electric Dynamic Nautics  launched three new electric outboard motors and two pod motors, all under the brand name e'dyn. is the offshoot of Podkriznik d.o.o., an industrial gear and parts manufacturing company in Slovenia(Since 1987)
July 2020, Norway based Evoy electric outboard opened pre-sales to ITS first 150 horsepower electric outboard. Its initial application will be the Zodiac Milpro MARK 5, which is a dinghy for ferrying cruise ship passengers.
July 2020, Seattle electric outboard manufacturer Pure Watercraft expanded the company's range to five motor and hull combinations for different uses.The product is a 25kW all electric outboard with a comparable outputs to that of 50HP gas motor. The motor weighs 53 kg and the lithium-ion battery has 8.8kWh capacity with energy density of 165wH/kg. The top speed is 21kts and range is 32km at top speed.
July 2020, ePropulsion( founded in 2012) launched Spirit 1.0 electric boat motor – the Spirit 1.0 Plus – in the US market, along with a new range of LiFePo4 batteries called the E-Series.
Flux Marine -A Boston based startup has so far raised $150k and is now developing its fourth prototype. The Flux team is in discussion with more investors to secure funding that will allow them to launch beta testing within six months.
The inroads made into electric outboard motors have been so impressive that the global market leader Yamaha is planning to start trials for its twin twin electric boat motor unit is integrated with a steering control system – HARMO from August 7 2020. Yamaha believes Europe with its thousands of kilometres of canals, will be the key market for the HARMO.
COMPETITIVE LANDSCAPE
Yamaha is the global market leader with 40% market share and reported revenue of $2.6 Billion in Jan-Sep 2019 period, 4% up YOY.It has also said that sales of high margin 200hp outboard motors went up in US and well as Europe in 2019.
Suzuki generated ~$0.7 Billion in annual sales in FY 2020 from outboard motors and had a gross margin of ~20%. The gross margin improved by ~17% last year due to growth in higher margin DF350A outboards in North America.
In past 5 years there have been quite a few new entrants successfully operating in the market. China based outboard engine manufacturer Parsun is one such example. It has now even sold 60hp EFI engines to the United Nations after a detailed tender and selection process.China is fast becoming the hub of outboard engine production with ~10 brands with Parsun and Hidea being the leading companies.
Evinrude shook up the marine outboard engine market when it introduced its revolutionary two-stroke E-Tec G2 motors in 2014. It then expanded its product portfolio in 2019 and introduced 115hp, 140hp and 150hp versions, all based on a 1.9L in-line 3-cylinder direct injection engine. But, the sudden announcement to discontinue production of Evinrude E-TEC and E-TEC G2 outboard engines in May 2020 has shocked many in the marine industry.
Mercury is now using smaller turbo-charged engines for more power with the low fuel consumption and emissions.
Honda generates ~90% of its sales from 200-250hp outboard engines.
Volvo Penta acquired Seven Marine in 2017, which gave them an exciting portfolio of outboard engines, it will to not only help them improve their reach in the marine outboard engine market but also inject their technology into the biggest marine engine segment. Seven Marine was the first outboard engine manufacturer to put closed-loop cooling system in outboard engines when it launched the most powerful 557 hp engines in 2011.
In June 2020, YANMAR's UK distributor Barrus appointed three dedicated dealers for the Dtorque 111 Turbo Diesel outboard. Yanmar`s diesel outboard is equipped with dual crankshaft with common rail fuel injection(smallest marine engine with this technology).The 50hp turbo  Turbo Diesel is well suited for various applications like workboats, fishing boats, government and port authority boats, passenger boats and even superyachts tenders.
COMPANY PROFILES
Cimco Marine AB
Tohatsu
PropEle Electric Boat Motors, Inc
Parsun(Eastern Precision)
THIS REPORT WILL ANSWER THE FOLLOWING QUESTIONS
  Market Size and Forecast of marine outboard engine market, by region, by price and by displacement(Volume and Value)
  Market Trends,risks, drivers and opportunities in  global marine outboard engine market
 Growth in alternative powered engines and important regions
  Market share of suppliers, and their painpoints
  Growth strategy of engine manufacturers and opportunity in charter market
  Important distributors of marine outboard engines in US , Europe and Asia
| | |
| --- | --- |
| Sl no | Topic |
| 1 | Market Segmentation |
| 2 | Scope of the report |
| 3 | Abbreviations |
| 4 | Research Methodology |
| 5 | Executive Summary |
| 6 | Introduction |
| 7 | Insights from Industry stakeholders |
| 8 | Cost breakdown of Product by sub-components and average profit margin |
| 9 | Disruptive innovation in the Industry |
| 10 | Technology trends in the Industry |
| 11 | Consumer trends in the industry |
| 12 | Recent Production Milestones |
| 13 | Component Manufacturing in US, EU and China |
| 14 | COVID-19 impact on overall market |
| 15 | COVID-19 impact on Production of components |
| 16 | COVID-19 impact on Point of sale |
| 17 | Market Segmentation, Dynamics and Forecast by Geography, 2020-2025 |
| 18 | Market Segmentation, Dynamics and Forecast by Product Type, 2020-2025 |
| 19 | Market Segmentation, Dynamics and Forecast by Application, 2020-2025 |
| 20 | Market Segmentation, Dynamics and Forecast by End use, 2020-2025 |
| 21 | Product installation rate by OEM, 2020 |
| 22 | Incline/Decline in Average B-2-B selling price in past 5 years |
| 23 | Competition from substitute products |
| 24 | Gross margin and average profitability of suppliers |
| 25 | New product development in past 12 months |
| 26 | M&A in past 12 months |
| 27 | Growth strategy of leading players |
| 28 | Market share of vendors, 2020 |
| 29 | Company Profiles |
| 30 | Unmet needs and opportunity for new suppliers |
| 31 | Conclusion |
| 32 | Appendix |