Global Marine Outboard Engine Market 2019-2025
December 28, 2019

Request Sample
COMING SOON
Multi User License - $2,500
GLOBAL MARINE OUTBOARD ENGINE MARKET 
KEY FINDINGS
Lightweighting is catching up thick and fast in the marine outboard engine market. The 200hp engines now weight anywhere between 200kg-250kg- 12-15% reduction over previous gen engines.
The current trend is towards high powered 4 cylinder engines.Honda and Yamaha have shunned old V6 engines in favour of lighter 4-cylinder units. Also,new range of engines developed by all companies have aluminum block and increased alternator capacity
There is agrowing interest in alternative powered outboard motors. Electric outboards are gaining popularity and initiatives like Swedish govt offering 25% subsidy on electric outboards will further grow this segment
Evinrude is offering world`s longest 7 year warranty on its outboard engines
Outboard engines owing to their superior power to weight ratio are the best power option for many boaters. They are the only engine family designed from scratch for marine use. Inboard or stern drive engines are fundamentally a tweaked version of car/ truck engines. They may not be appropriate for every application but offer tremendous value for money for most applications.
Outboard engines are not only space efficient( occupies unused space outside the sitting area of the boat) but also require less maintenance than gasoline/Diesel inboard engines.
MARKET SEGMENTATION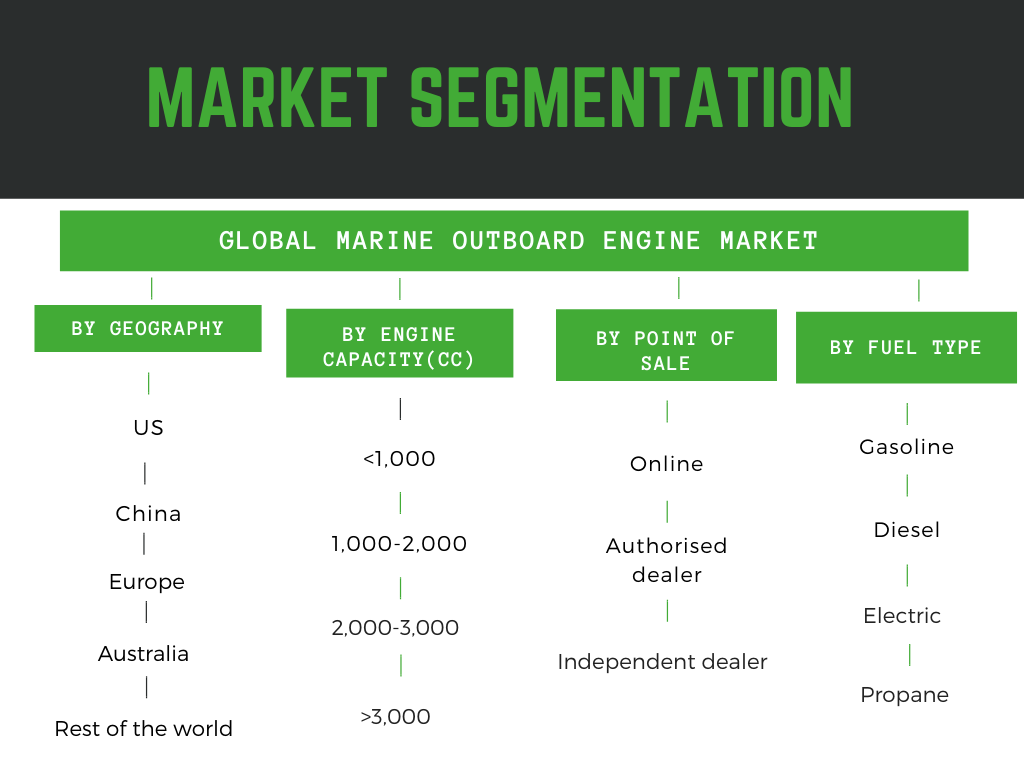 MARKET DYNAMICS
Outboard engine manufactures ,Yamaha and Mercury are locked in a battle to produce most powerful outboard engine.Within months of Yamaha claiming the title of the world's most powerful mass-market  outboard engine(425hp) Mercury stole it back in Sep 2019 with its supercharged 450hp version of its 4.6-litre V8 engine.
The  growing importance of >300hp segment can be sensed by the fact that Mercury Marine launched 400hp verado outboard in Feb 2019, after getting numerous requests for the same.  
The marine outboard engine market has witnessed launch of Diesel outboard motors in past 3 years, ex Yanmar, OXE and now Cox marine being the most recent entrant(June 2019) with its $39,000 motor. Cox plans to manufacture 2,000 units of its new CXO300 outboard diesel engine in 2020 once it has the required approvals from the US's EPA.
Diesel outboards are likely to appeal to a limited set of recreational buyers and most of them will be used in commercial application, as they have 3x service life , 50% higher fuel economy and longer maintenance interval as compared to gasoline motors.
At present, Lehr(manufacturing in China), West marine and Mercury are among the few manufacturers who are promoting propane powered outboards.
MARKET SIZE AND FORECAST
The marine outboard engine market is estimated at 800k units per annum, growing at ~4% CAGR till 2025.US accounts for almost ~35% of global outboard engine sales per annum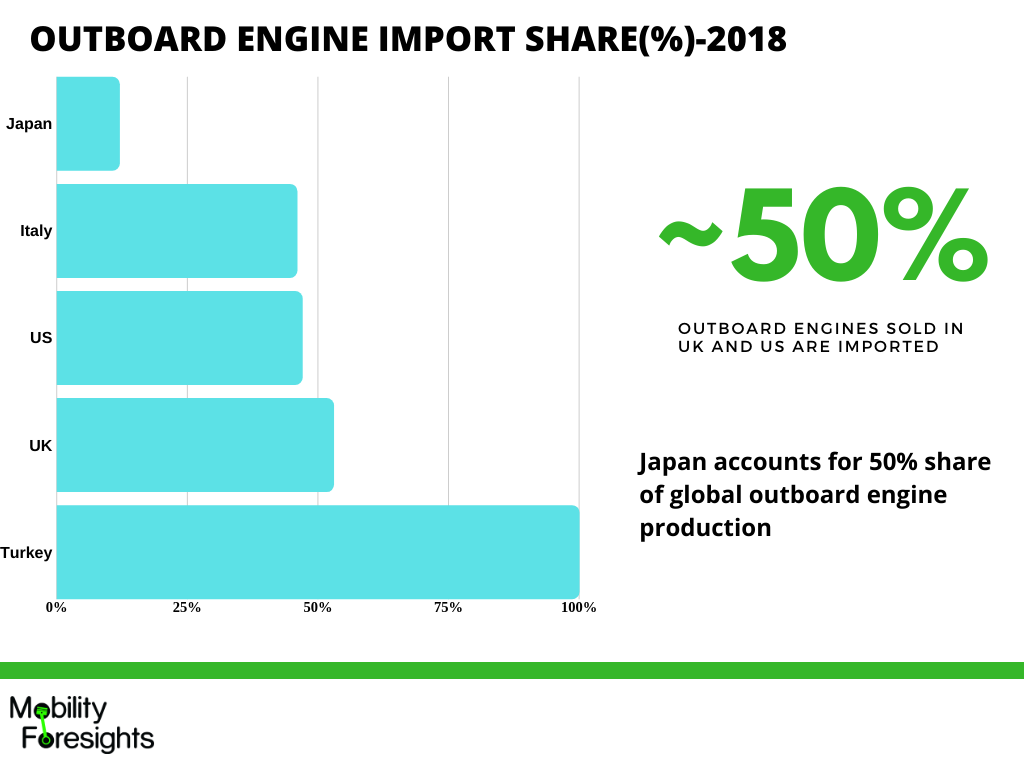 COMPETITIVE LANDSCAPE
Yamaha is the global market leader with 40% market share and has reported revenueof $2.6 Billion in Jan-Sep 2019 period, 4% up YOY.It has also said that sales of high margin 200hp outboard motors have gone up this year in US and well as Europe.
 In past 5 years there have been quite a few new entrants succefully operating in the market.Chinese based outboard engine manufacturer Parsun is one such example.It has now even sold 60hp EFI engines to the United Nations after a detailed tender and selection process.China is fast becoming the hub of outboard engine production with ~10 brands with Parsun and Hidea being the leading companies.
Evinrude shook up the marine outboard engine market when it introduced its revolutionary two-stroke E-Tec G2 motors in 2014.It has now expanded its product portfolio in 2019. The company has introduced 115hp, 140hp and 150hp versions, all based on a 1.9L in-line 3-cylinder direct injection engine.
Mercury is now using smaller turbo-charged engines  for more power with the low fuel consumption and emissions.
Honda generates ~90% of its sales from 200-250hp outboard engines.
Volvo Penta's acquired Seven Marine in 2017, which gave them an exiting portfolio of outboard engines, it will to not only help them improve their reach in the marine outboard engine market but also inject their technology into the biggest marine engine segment. Seven Marine was the first outboard engine manufacturer to put closed-loop cooling system in outboard engines when it launched the most powerful 557 hp engines in 2011.
COMPANY PROFILES
Cimco Marine AB
Tohatsu
PropEle Electric Boat Motors, Inc
Parsun(Eastern Precision)
THIS REPORT WILL ANSWER THE FOLLOWING QUESTIONS
  Market Size and Forecast of marine outboard engine market, by region, by price and by length(Volume and Value)
  Market Trends,risks, drivers and opportunities in  global marine outboard engine market
 Growth in alternative powered engines and important regions
  Market share of suppliers, and their painpoints
  Growth strategy of engine manufacturers and opportunity in charter market
  Important distributors of marine outboard engines in US , Europe and Asia