Global Media & Entertainment Industry 2020-2025
September 7, 2020

Request Sample
Coming Soon
Multi User License - $2,500
GLOBAL MEDIA & ENTERTAINMENT INDUSTRY
OVERVIEW
The Global Media & Entertainment Industry is said to be one of the largest markets in the world in terms of its size and revenues generated. It mainly comprises five sub categories: Television, Films, Video games, Publishing & Music.
The market trends and drivers for each of these segments and sub segments vary greatly in terms of region, location, language and consumers among other factors. What makes this industry unique is that although these segments function individually in the market, they compete, combine and compliment each other in the global spectrum in order to provide for the increasing and fast-changing demand for information & entertainment needs among its varied consumer base.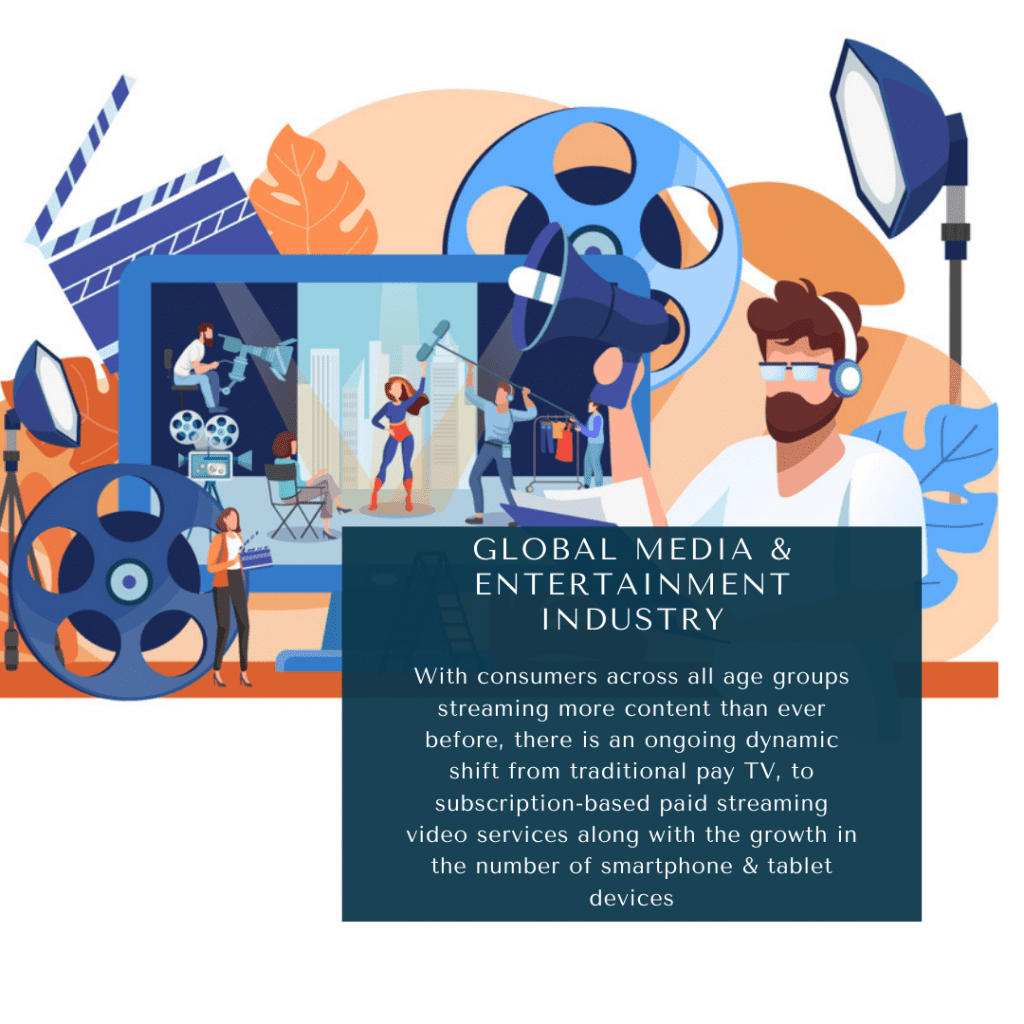 The industry also relies upon certain external factors for its smooth functioning like  development in technology vis-a-vis the rising Internet penetration across the globe and the evolving digitization in almost every segment backed with the evolution and reach of social media and the changing consumer analytics in the recent past.
The Media & Entertainment Industry have had to figure out ways to adapt to these new technological deployments while still attracting consumers and staying relevant in the current scenario as media and the ways in which we engage with it is constantly evolving, the media and entertainment industry is going through a major transformation while finding a way for coexistence of traditional and modern practices.
Virtual reality (VR), over-the-top (OTT) video (including streaming services like Netflix and Amazon Video) and Internet advertising is expected to witness the most annual growth in the upcoming years.Thus it is safe to say that, Digital is the way forward into this industry as demand for personalised content and enhanced user experiences is on the rise.
GLOBAL MEDIA & ENTERTAINMENT INDUSTRY MARKET SEGMENTATION
BY TYPE
Print Media
Newspaper
Magazines
Billboard
Banner, Leaflets & Flyers
Other Print Medias
Digital Media
Television
Music & Radio
Electronic Signage
Mobile Advertising
Podcasts
Other Digital Media
Streaming Media
OTT Streaming
Live Streaming
BY GEOGRAPHY
North America
Asia Pacific
Europe
Middle East & Africa
GLOBAL MEDIA & ENTERTAINMENT INDUSTRY MARKET TRENDS
Shift from Ad-revenue to Consumer revenue: Traditionally, paid advertising has always been a primary source of income for the media industry be it in the form of full page ads on magazines, Sponsored ads on Newspaper columns, television ads or radio commercials. But recently, there has been a shift in this phenomenon with the rise of subscription based revenue generated by online platforms, the media and entertainment industry is also making a transition from ad-revenues to consumer-revenue models.
This subscription economy is still relatively new but looks very promising. There has been a recent surge in this trend as consumers' taste and preference pattern changes. Companies are still experimenting their way out in this relatively new model in an attempt to acquire, engage, convert and retain their consumer base.
This shift is not limited to Netflix or a Spotify subscription alone, it can be witnessed industry-wide including written media. Digital advertising by means of social media tools has also seen an upward curve in terms of audience engagement and revenue generation.
Elevation of the user experience: Consumers are swiftly moving from one-size-fits-all to custom made user experiences. Technology, data and personalisation are tactics that are becoming essential tools in order to analyse customer behaviour and preferences so that the media houses can deliver them just that.
Although the drift to digitisation is still at its early stage, it is driven by increased customer expectation and an obsession to deliver the most ideal user experience. For example, HBO, home of shows like Game of Thrones offers online media streaming to its paying subscribers. They have multiple packs targeting different audience groups, user's preferences, pain points and behavioural patterns.
Personalisation tools are becoming increasingly popular in order to develop key market insights, customise product offerings and stay ahead of their immediate competitors. AI technologies for  analysing and producing highly personalized products and services is also on the rise.
Media & Entertainment industry is slowly and steadily adapting to these technologies and customer behaviour in order to stay relevant in the market. Even a simple "recommended for you" feature added by Netflix based on customer ratings is going a long way in the current market scenario.
GLOBAL MEDIA & ENTERTAINMENT INDUSTRY MARKET DRIVERS
Streaming Media Sector is Gaining Traction Due to Emergence of OTT Media Across Online Platform: In the recent past, several live streaming virtual multichannel video programming distributors (MVPDs) had launched multiple offerings with a combination of live networks and on-demand contents.
With consumers across all age groups streaming more content than ever before, there is an ongoing dynamic shift from traditional pay TV, to subscription-based paid streaming video services along with the growth in the number of smartphone & tablet devices.
The rising popularity of high-quality videos in terms of their clarity is expected to boost the demand for better streaming media services. Furthermore, the focus of the OTT service providers such as Netflix and Amazon towards providing 3D movies along with the increasing popularity of 4K UHD content will be primary growth for the global media and entertainment contents thereby influencing the market's growth positively.
Television has been transformed after digitization, not only the way content was produced changed, but also the devices have transformed drastically, internet television is gaining popularity in the developed economies. The emergence of social media is also vastly contributing to this growth phenomenon.
Increased preference for mobile devices: Increased smartphone penetration along with low data tariff as well as investment in localised and regional content in the Media & Entertainment industry are further proving to be favourable for market growth. Rise in content access and content supply as its counterpart is driving the online consumption across the media & Entertainment industry.
COMPETITIVE LANDSCAPE
The Media & Entertainment industry market landscape is based on survival of the fittest owing to the presence of some of the prominent players in the industry who are dominating the market,  the competition is relatively high and in this segment.
The industry is constantly innovating and bringing in new applications to the market. However, digital media is disrupting the industry as players in the traditional medium are losing the market with the rise in internet ad revenues and streaming platforms, many new players have entered the market to expand their business models by engaging more audiences.
Many industries are following strategic partnerships and mergers in order to stay relevant in the market as the world moves towards a digital-only environment. Some of the prominent players in the industry include, Walt Disney Corporation, Warner Media Group, Comcast, News Corporation, Google among others.
COMPANIES PROFILED
| | |
| --- | --- |
| Sl no | Topic |
| 1 | Market Segmentation |
| 2 | Scope of the report |
| 3 | Abbreviations |
| 4 | Research Methodology |
| 5 | Executive Summary |
| 6 | Introduction |
| 7 | Insights from Industry stakeholders |
| 8 | Cost breakdown of Product by sub-components and average profit margin |
| 9 | Disruptive innovation in the Industry |
| 10 | Technology trends in the Industry |
| 11 | Consumer trends in the industry |
| 12 | Recent Production Milestones |
| 13 | Component Manufacturing in US, EU and China |
| 14 | COVID-19 impact on overall market |
| 15 | COVID-19 impact on Production of components |
| 16 | COVID-19 impact on Point of sale |
| 17 | Market Segmentation, Dynamics and Forecast by Geography, 2020-2025 |
| 18 | Market Segmentation, Dynamics and Forecast by Product Type, 2020-2025 |
| 19 | Market Segmentation, Dynamics and Forecast by Application, 2020-2025 |
| 20 | Market Segmentation, Dynamics and Forecast by End use, 2020-2025 |
| 21 | Product installation rate by OEM, 2020 |
| 22 | Incline/Decline in Average B-2-B selling price in past 5 years |
| 23 | Competition from substitute products |
| 24 | Gross margin and average profitability of suppliers |
| 25 | New product development in past 12 months |
| 26 | M&A in past 12 months |
| 27 | Growth strategy of leading players |
| 28 | Market share of vendors, 2020 |
| 29 | Company Profiles |
| 30 | Unmet needs and opportunity for new suppliers |
| 31 | Conclusion |
| 32 | Appendix |