US Media & Entertainment Industry 2020-2025
September 7, 2020

Request Sample
Coming Soon
Multi User License - $2,500
US MEDIA & ENTERTAINMENT INDUSTRY
OVERVIEW
The U.S. Media and Entertainment (M&E) industry is known to be the largest in the world. At around $717 billion, it represents one-third of the global Media & Entertainment industry, including various segments: motion pictures, television programs and commercials, streaming content, music and audio recordings, broadcast, radio, book publishing, video games, and ancillary services and products.
The North American media and entertainment industry is the fastest growing industry that includes a vast range of product offerings and services, along with the evolving social media presence over the region.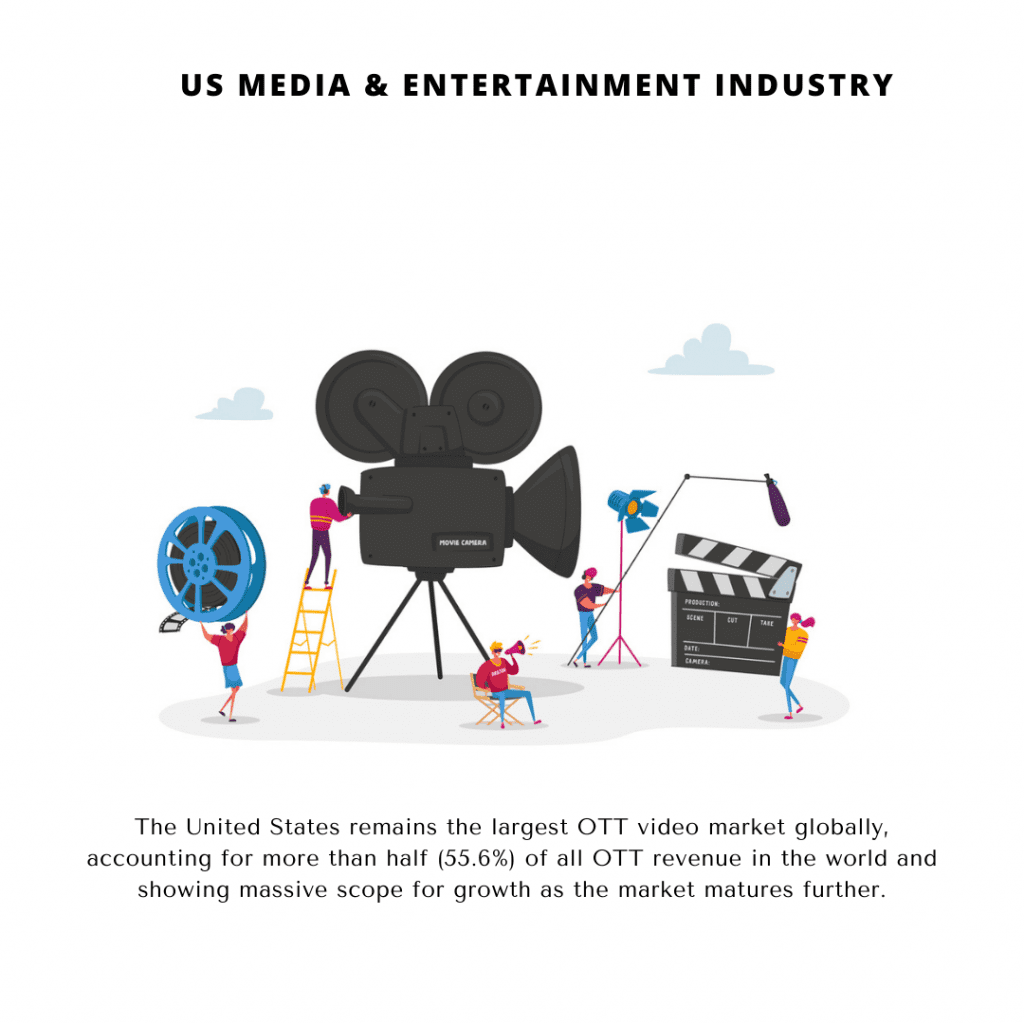 The U.S. industry is under a phase of transition with both traditional and new models working hand-in-hand across multiple devices and platforms and the market is expected to further expand in the upcoming years. Digitisation as well as globalisation of services have further fostered a revolution in the US Media and Entertainment industry.
Integration of new OTT services across the already existing subscription-based streaming devices among the US household is expected to drive the media & entertainment sector across the region. For instance, Comcast added Amazon Prime Video to the online content available through its service thereby enhancing the application of the OTT media, which already included streaming services such as Netflix, YouTube, and Pandora.
Further, Netflix is estimated to capture around 74% of the total penetration of US OTT households, followed by Youtube with 54% and Amazon by 33% penetration. Such high deployment of the OTT services across the region is expected to drive the demand of the video & entertainment industry in the forthcoming years.
US MEDIA & ENTERTAINMENT INDUSTRY MARKET SEGMENTATION
Filmed Entertainment (Motion Pictures, Television, and Video)
Traditionally the film industry consisted of multinational corporations, major studios, and independent studios. Today, multi-channel networks engage in the filmed entertainment sector and Streaming Video On Demand (SVOD) platforms are major drivers in the filmed entertainment sector. 
Alternatively, media houses are trying to diversify concession options, offer consumer products such as movie or brand related merchandise, and offer membership discounts to attract viewership.
The market overall is becoming increasingly polarized. Drawing on formidable strengths, the U.S. film industry has a proven ability to produce films that generate a buzz and garner the interest of millions, alternatively generating massive revenues from distribution across strong domestic and international networks. Success in the industry is based on creativity and financing, and the industry is largely self-regulated.
Many of the leading motion picture studios are part of larger media conglomerates that often include television, video and streaming services, music services, newspaper, cable and magazine segments.
The industry offers lucrative opportunities for international companies, both large and small, and provides advanced film production resources and technologies. With the shift towards a digital mode of production and distribution, foreign firms are continually seeking out U.S. digital and animation expertise and new formats.
Music
The U.S. recorded music industry (including concerts and touring) is said to be the largest global music market. Apart from contracting physical music sales, all segments of recorded music are up, including digital, streaming, and sync licensing. Overtaking physical music sales, digital sales have helped the music industry adapt to a fast-changing entertainment landscape.
Live and recorded music sales are rising, and digitally recorded music is expected to further grow. Many companies in the industry have diversified via signing up for sync deals with vertical businesses for TV ads, in-flight entertainment, satellite radio, restaurants, touring, live entertainment, and merchandise.
Digital technologies have greatly contributed in revolutionising the music industry by creating high quality, low-cost recording techniques and digital distribution, along with the proliferation of devices to download and listen to music.
Future industry growth is likely to come from diversified services like licensing brand name products and services, packaging consumer experiences around touring and live music, bundling music services with other online content services and more.
Video Games
The U.S. gaming industry accounts for a significant amount of the M&E industry, and revenues are expected to grow exponentially. Today's consumers have access to multiple devices for gaming, including PCs, mobile phones, digital or physical consoles, and tablets.
The sector comprises: physical, digital, and online games; mobile apps; and virtual and augmented reality (VR/AR). Electronic sports, also known as "e-sports", includes professional gaming, in which players compete before a live audience, and the industry is growing quickly.
The industry is constantly innovating and bringing new applications to the market. The use of digital technology like virtual reality and augmented reality to replace reality with a complete and realistic, immersive simulation coupled with interactive computer-generated content is garnering quite the attention of its consumers recently.
OTT Platforms
The United States remains the largest OTT video market globally, accounting for more than half (55.6%) of all OTT revenue in the world and showing massive scope for growth as the market matures further.
Streaming services will continue to grow and offer more personalized services in the form of user experiences for consumers. The consumers have the power to influence digital entertainment industries now more than ever before.
Notably, SVOD's share of total revenue will increase over the upcoming years as the popularity of streaming services continues to grow. The increase in competition means new entrants will have to work to differentiate themselves from mainstream SVOD players in order to attract subscribers.
Content generated is particularly exclusive and original, which has proven to be the crucial determinant in the battle to attract subscribers to streaming services. The level of content being poured into the market by both new and existing players is prodigious and is only expected to further grow among local and regional networks as well as national and international markets.
Internet Advertising
While the US still lags behind China and other Asian markets in some areas, it remains a hotbed of innovation and consolidation making it the largest global internet advertising market.  Furthermore, some of the defining recent trends in the internet advertising market, like the rise of video and mobile advertising, have taken hold much earlier in the US than in many other markets. Mobile is now dominant, accounting for 65.1% of US internet ad spend.
US MEDIA & ENTERTAINMENT INDUSTRY MARKET DRIVERS
As the streaming wars continue to intensify, industry players have deployed new technologies in order to reach out to their broader customer base:
Thriving popularity of Artificial intelligence (AI) and Virtual Reality
The M&E industry is poised to look on to a major transformation due to the advent of transformative technologies such as AI, which has been deployed by several companies in the entertainment industry in order to make personalized recommendations based on consumer usage and further making the system more effective for content creation.
In addition, AI also assists companies in streamlining both pre as well as post-production processes, thereby making all steps cohesive and therefore less resource consuming.
The industry is putting VR to use in order to captivate the attention of consumers by making consumers interact with brands. By the help of consumer engagement, the companies are able to improve the commercial success on their business front.
Personalised user experiences
As media and e-commerce experiences become more personal, gratification for consumers is becoming more instant and immediate. In response, content creators and distributors are devising new ways to appeal to consumers as individuals, and marketers are busy figuring out how to meet people at the point of consumption and guide them instantaneously towards purchase. The result is a rapid expansion of and evolution in consumer experiences.
The central theme of this growing world of media is that it's highly customised and increasingly digital. And it is constructed by the individual for his or her own enjoyment and gratification, and delivered through personal devices.
Companies, in turn, are tailoring their offerings and business models to revolve around personal preferences, using data and usage patterns to pitch their products not at audiences of billions, but at billions of individuals.
COMPETITIVE LANDSCAPE
Trends in this industry are in constant flux and it is thereby pertinent for any brand looking to strike a chord with customers, to keep up with the latest trends impacting the M&E industry. The ever-changing trends, specifically in the entertainment industry, have transformed the way in which people consume content via new platforms, mediums as well as features.
In the present scenario, it is rather clear that the growth of video streaming will continue to show decent growth.
While the slowdown in the global economy owing to the Coronavirus pandemic is expected to take a toll on the overall growth of the M&E industry globally, higher time spent by individuals at home due to the lockdown in different parts of the world is expected to continue to support the digital and video-streaming platforms.
An increasingly customised world has major implications for every E&M business across every segment. Whether the subject is business and revenue models, emerging technologies or regulation and trust, companies must keep on top of current and future developments, as well as stay agile and ready to respond proactively and at pace.
Major global media and entertainment companies include:
As of 2019, 90% of US media was controlled by four conglomerates:
Comcast (via NBC Universal)
Disney
Viacom CBS (controlled by National Amusements)
AT&T (via Warner Media)
| | |
| --- | --- |
| Sl no | Topic |
| 1 | Market Segmentation |
| 2 | Scope of the report |
| 3 | Abbreviations |
| 4 | Research Methodology |
| 5 | Executive Summary |
| 6 | Introduction |
| 7 | Insights from Industry stakeholders |
| 8 | Cost breakdown of Product by sub-components and average profit margin |
| 9 | Disruptive innovation in the Industry |
| 10 | Technology trends in the Industry |
| 11 | Consumer trends in the industry |
| 12 | Recent Production Milestones |
| 13 | Component Manufacturing in US, EU and China |
| 14 | COVID-19 impact on overall market |
| 15 | COVID-19 impact on Production of components |
| 16 | COVID-19 impact on Point of sale |
| 17 | Market Segmentation, Dynamics and Forecast by Geography, 2020-2025 |
| 18 | Market Segmentation, Dynamics and Forecast by Product Type, 2020-2025 |
| 19 | Market Segmentation, Dynamics and Forecast by Application, 2020-2025 |
| 20 | Market Segmentation, Dynamics and Forecast by End use, 2020-2025 |
| 21 | Product installation rate by OEM, 2020 |
| 22 | Incline/Decline in Average B-2-B selling price in past 5 years |
| 23 | Competition from substitute products |
| 24 | Gross margin and average profitability of suppliers |
| 25 | New product development in past 12 months |
| 26 | M&A in past 12 months |
| 27 | Growth strategy of leading players |
| 28 | Market share of vendors, 2020 |
| 29 | Company Profiles |
| 30 | Unmet needs and opportunity for new suppliers |
| 31 | Conclusion |
| 32 | Appendix |