Global Military Radar Market 2020-2025
June 16, 2020

Request Sample
Coming Soon
Multi User License - $2,500
INTRODUCTION
Radars have been used by Militaries across the globe for past 80 years now. What used to be just a blip on the screen when a contact was made, now even basics radars can detail on the size of object and type of contact.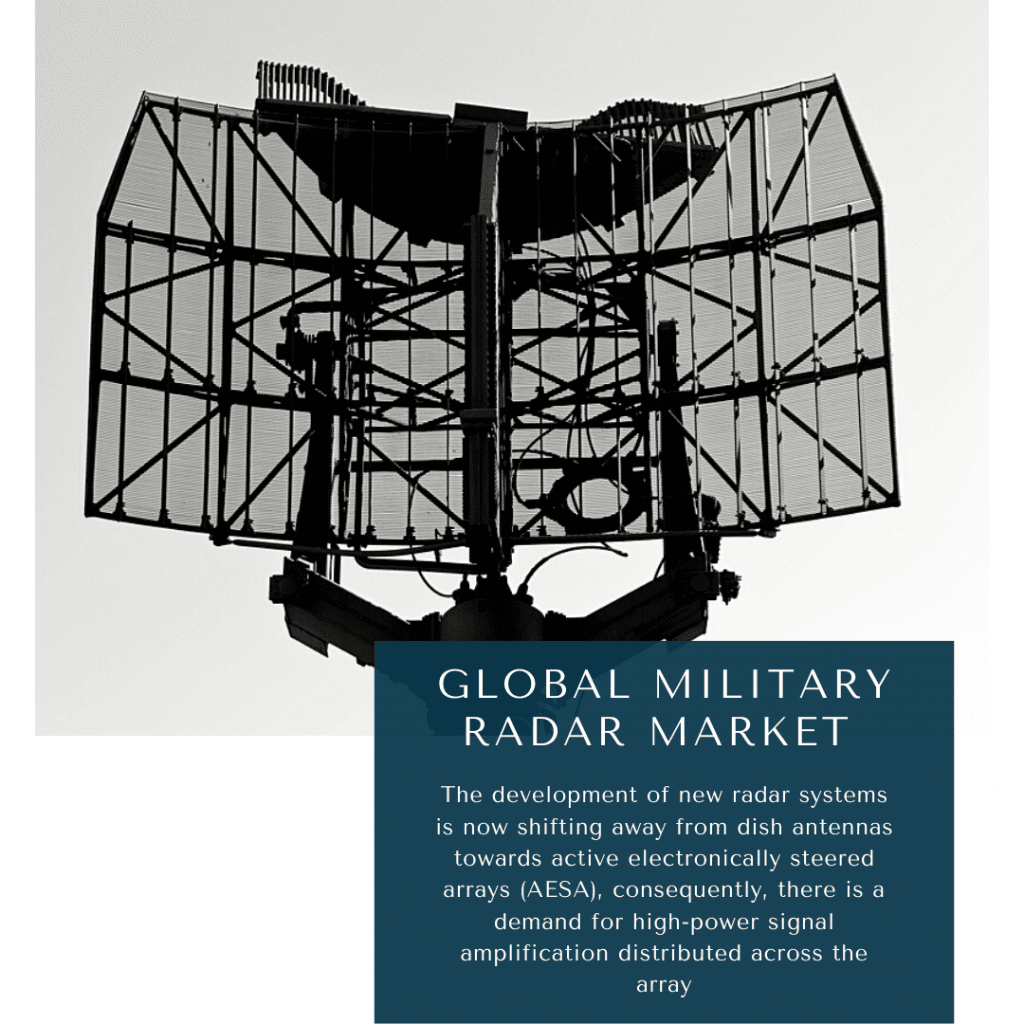 As battlefields become non-linear and a 360-degree protection is more important than ever, the role of an advanced radar system is even bigger now.
MARKET DYNAMICS
The military radars have come a long way and the market is moving towards modern electronically-scanned array radars, the advantage is that a simple software change can change what targets they're optimized against: without making any changes to the hardware.
Solid-state technology turned out to be the biggest game changer in development of new age radars. Coupled with RF chips, allowed them to move to active electronically steered arrays
Russia is looking to further expand and upgrade its surveillance capabilities in the arctic region. During 2014-2019, Russia constructed three Resonance-N radar installations, two of which are located in the Arctic. The advanced radar system is designed to detect and track up to 500 targets simultaneously traveling at speeds up to Mach 20.
Among the important opportunities that every Radar manufacturer must look into is that today's radar systems are not capable of seeing far enough out to detect hypersonic weapons. The new gen Radar systems will need to see thousands of kilometres (rather than hundreds) out to provide warning about incoming hypersonic threat. To know more about Hypersonic missiles market, read our report
TRENDS IN MILIATRY RADAR MARKET
The development of new radar systems is now shifting away from dish antennas towards active electronically steered arrays (AESA), consequently, there is a demand for high-power signal amplification distributed across the array.
Makers of traditional radar and electronic warfare equipment are, introducing modular instruments and additional modelling and simulation during different test phases. Modelling and simulation reduce the need for expensive full-system testing and aids in identifying and solving problems earlier in the testing process to reduce schedule risk
Platform miniaturization is driving the consolidation of radio frequency systems. Next gen radars, Electronic Warfare receivers, and communications will share the same sensor platform and will be tested as on integrated unit.
NEW CONTRACTS AWARDED IN MILITARY RADAR MARKET
March 2020- Northrop Grumman won a $262 Million contract for Active Electronically Scanned Array (AESA) radars to be fitted on F-16 aircraft for the U.S. Air Force to be completed by December 2022
December 2019–   SAAB received an order for components and subsystems from US Marine Corps. The contract value was $31.9 Million, and included options for additional systems over a five-year period. Deliveries expected between 2020 and 2024.
Nov 2019– Mercury Systems was chosen by Raytheon for its signal-processing and RF solutions as part of its advanced Lower Tier Air and Missile Defense Sensor (LTAMDS) program.
Sep 2019– Lockheed Martin signed a contract with the U.S. Army, worth $281 Million to develop Sentinel A4 radar, a high-performance modification of the Sentinel A3 (AN/MPQ-64A3) air and missile-defense radar
Sep 2019– Raytheon gained more than $500 Million in a modified contract for R&D of two types of advanced surveillance radar systems i.e. Transportable Radar Surveillance Control Model-2 (AN/TPY-2), and the Sea-Based X-Band (SBX) radar system
Aug 2019– HENSOLDT to deliver four TRS-3D radars with latest solid-state technology and signal processing software from 2021
Aug 2019– U.S. Army awarded Lockheed Martin a contract for a third lot of 15 Full Rate Production systems. Q-53 radar helps in protecting troops in combat by detecting, classifying, tracking, and identifying the location of enemy indirect fire.
July 2019– Raytheon won the contract to design, develop, produce, and sustain active electronically scanned array (AESA) radar systems for the entire U.S. Air Force B-52 fleet. The upgrade will improve mapping and detection range, increase in the number of targets it can simultaneously engage, and enhanced reliability. Production is scheduled to begin in 2024
June 2019– Saab received a follow-on order from the U.S. Navy for the Sea Giraffe Multi Mode Radar (MMR) for the Coast Guard
MARKET SEGMENTATION
By Geography
US
China
Russia
India
Saudi Arabia
France
Germany
UK
Japan
South Korea
Rest of the world
By Component
Sensor
Thermal Management
Power Electronics
Signal Processing
GLOBAL MILITARY RADAR MARKET SIZE AND FORECAST
The global Military Radar market size is estimated at $XXM in 2020, growing at –% till 2025.The market will continue to be driven by retrofit and tech upgrade programs undertaken by Militaries across the globe.
COMPETITIVE LANDSCAPE
Raytheon is using extensive automation and a new gen high-efficiency gallium nitride (GaN) material instead of the traditional gallium arsenide (GaS), to accelerate development of the Lower-Tier Air & Missile Defense Sensor(LTAMDS). In Oct 2019, it won the $384 Million contract to deliver six production-representative units of the Lower Tier Air and Missile Defense Sensor, or LTAMDS by end of 2022. In May 2020, it was also announced that Raytheon's SPY-6 radar will be integrated into several US NAVY ships.
In Jan 2020, Italian defense group Leonardo announced that it will provide a RAT 31DL/M air-defence radar system to the Indonesian Air Force (IAF)
COMPANY PROFILES
Technovative Applications
Finmeccanica SPA
THIS REPORT WILL ANSWER THE FOLLOWING QUESTIONS
Market Size and Forecast. Million units and $M(2020-2025)
COVID-19 impact on Défense and Radar development spending
Radar development strategies of Top 5 global Military spenders in 2020-21
Market share of leading vendors,2020
New product development in Military Radar Market
| | |
| --- | --- |
| Sl no | Topic |
| 1 | Market Segmentation |
| 2 | Scope of the report |
| 3 | Abbreviations |
| 4 | Research Methodology |
| 5 | Executive Summary |
| 6 | Introduction |
| 7 | Insights from Industry stakeholders |
| 8 | Cost breakdown of Product by sub-components and average profit margin |
| 9 | Disruptive innovation in the Industry |
| 10 | Technology trends in the Industry |
| 11 | Consumer trends in the industry |
| 12 | Recent Production Milestones |
| 13 | Component Manufacturing in US, EU and China |
| 14 | COVID-19 impact on overall market |
| 15 | COVID-19 impact on Production of components |
| 16 | COVID-19 impact on Point of sale |
| 17 | Market Segmentation, Dynamics and Forecast by Geography, 2020-2025 |
| 18 | Market Segmentation, Dynamics and Forecast by Product Type, 2020-2025 |
| 19 | Market Segmentation, Dynamics and Forecast by Application, 2020-2025 |
| 20 | Market Segmentation, Dynamics and Forecast by End use, 2020-2025 |
| 21 | Product installation rate by OEM, 2020 |
| 22 | Incline/Decline in Average B-2-B selling price in past 5 years |
| 23 | Competition from substitute products |
| 24 | Gross margin and average profitability of suppliers |
| 25 | New product development in past 12 months |
| 26 | M&A in past 12 months |
| 27 | Growth strategy of leading players |
| 28 | Market share of vendors, 2020 |
| 29 | Company Profiles |
| 30 | Unmet needs and opportunity for new suppliers |
| 31 | Conclusion |
| 32 | Appendix |